The Colorado Avalanche has been a long storied franchise going back to the Quebec Nordique days. They have seen plenty of Hall of Fame-caliber players don their sweaters throughout the years. But, there is one player that stands out far and above the rest and has contributed to the team's success both on and off the ice.
As we continue to gear up for Christmas, we break down why current general manager and Hall of Famer Joe Sakic is the best gift the franchise could have ever asked for.
Sakic as a Nordique (1988-1995)
British Columbia should be very proud to have produced one of the best players in the history of the game. The Burnaby native has become so well known that he is commonly referred to as "Burnaby Joe". The Nordique franchise was very uncompetitive prior to selecting Sakic in the 1987 NHL Entry Draft and little did they know the impact one player would have on the franchise's future.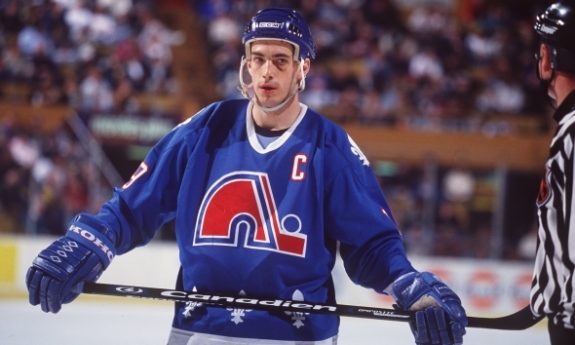 After a successful rookie season, it was evident that he would be the most important piece in restoring success to the Quebec franchise. Known as one of the best leaders the game has ever seen, these qualities showed when he was named as a co-captain for the 1990-91 season before being named captain of the team in 1992-93 at only 23 years of age.
Sakic's Avalanche Playing Tenure (1995-2009)
Sakic was with the team through thick and thin and continued to lead the team as they moved to Denver and became the Colorado Avalanche. At this time, Sakic was at the prime of his career and continued his dominance as a star in the league. He would lead the franchise to its first Stanley Cup title in 1996 thanks to his 120 points in the regular season. The captain also captured the Conn Smythe Trophy for his playoff performance with 34 points in 22 games played.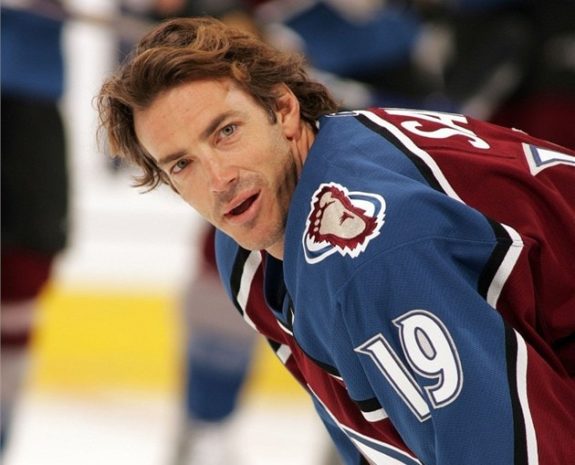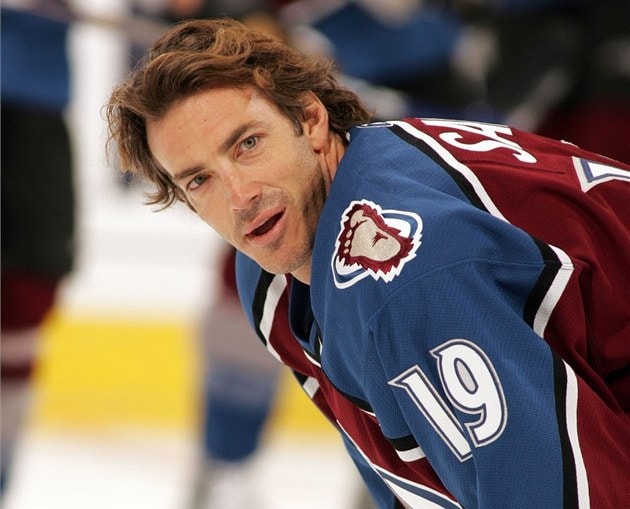 Known to many as "Super Joe", he would go on to help bring a second Stanley Cup championship back to Denver in the 2000-01 season, finishing the regular season with 118 points and his career-high 54-goals. It was during the Stanley Cup ceremony, where Sakic famously refused to be the first to lift the Stanley Cup. He instead passed it to NHL veteran and now Hall of Famer Ray Bourque to hoist the Cup for the first and only time in his 22-year career.
Sakic was a quiet leader both on and off the ice and let this play do the talking. His leadership was second to none and his demeanor speaks volumes to the type of player and person Sakic was throughout his lengthy career.
Sakic's Post Playing Career & Retirement
Sakic spent his entire 20-year playing career pouring his blood, sweat and tears into the Avalanche organization. He retired from hockey in July of 2009 due to injury complications and had his No. 19 retired by the team at the team's 2009-10 home opener the very next season.
Related: What Joe Sakic Means to the Avalanche
After taking a few years away from the game, he returned to the Avalanche organization as a member of the team's front office. The Hall of Famer was hired by the team as an executive advisor and alternate governor after the conclusion of the 2010-11 season.
Role as Avalanche GM
Sakic moved quickly up the managerial ranks as he was promoted to Executive Vice President of Hockey Operations in 2013. It was in this season where Sakic began to put his stamp on the team before taking over as the general manager of the team a year later.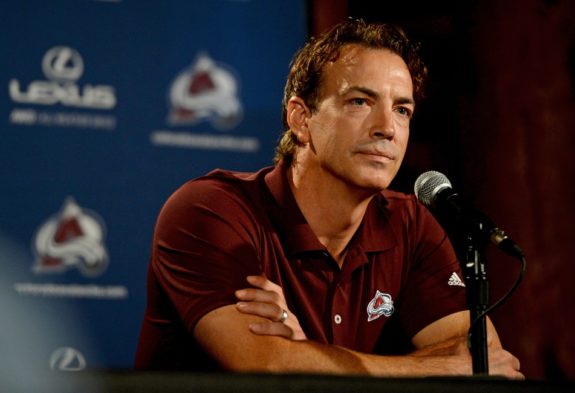 Now heading into his tenth season as an executive with the club, the team is beginning to reap the rewards of his regime. Sakic's ability to draft and develop players well, and complete several trades for impactful players and manage the salary cap has made the team into legit Stanley Cup contenders.
Related: How the Avalanche Became Contenders Under Sakic
Some of his more notable moves include drafting and locking up superstar forward Nathan MacKinnon on one of the best bargain deals in the NHL at a cap hit of $6.3 million per year. Sakic also solved the team's revolving door of goalies by acquiring Philipp Grubauer and is responsible for drafting the likes of Cale Makar, Bowen Byram, and Alex Newhook, all of whom should be high-impact players at the NHL level.
Notable Acquisitions Under Sakic's Reign as General Manager
Date of Trade
Acquired
Traded Away
October 12, 2020
Devon Toews
2021 2nd Round Pick, 2022 2nd Round Pick
October 10, 2020
Nikita Zadorov, Anton Lindholm
Brandon Saad, Dennis Gilbert
July 1, 2019
Nazem Kadri, Calle Rosen, 3rd Round pick 2020 (Jean-Luc Foudy)
Tyson Barrie, Alexander Kerfoot, and a 2020 6th Round Pick (Joe Miller)
June 28, 2019
Andre Burakovsky
2020 2nd Round Pick (Tristen Robins), 2020 3rd Round Pick (Jake Boltmann), and Scott Kosmachuk
June 22, 2018
Philipp Grubauer, Brooks Orpik
2018 2nd Round Pick (Kody Clark)
February 26, 2018
Ryan Graves
Chris Bigras
November 5, 2017
Andrew Hammond,
Shane Bowers, 2019 conditional 1st Round Pick (Bowen Byram), 2019 3rd Round Pick (Matthew Steinburg), Vladislav Kamenev, Samuel Girard, 2018 2nd Round Pick (Filip Hallander)
Matt Duchene
The Duchene trade is one that rocked the hockey world at the time and looking back at it now looks like a sizeable victory for the Avalanche. Joe's competitive edge has translated from player to manager, and like his playing days, he does not like to lose, especially when making trades.
Sakic's Career Milestones and Awards
For a player of this stature, there is a long laundry list of awards and accomplishments that come along with such an established career.
Two-time Stanley Cup Champion (1996, 2001)
Conn Smythe Trophy Winner (1996)
Hart Memorial Trophy Winner (2001)
Lester B. Pearson Award Winner (2001)
Lady Byng Memorial Trophy Winner (2001)
13 NHL All-Star Appearances (including All-Star Game MVP in 2004)
Member of the Triple Gold Club (winning Olympic Gold, World Championship, and the Stanley Cup)
Current Colorado Avalanche franchise leader in games played (1,378), goals (625), assists (1016), power play goals (205), shorthanded goals (32), game-winning goals (86), and points (1641)
Current Colorado Avalanche franchise playoff leader in games played (160), goals (77), assists (100), and points (177)
World Junior Championship Gold medal (1988)
Sakic would eventually go on to be inducted into the Hockey Hall of Fame in 2012 in his first year of eligibility and be named as one of the NHL's Top 100 Greatest Players.
Sakic – The Gift That Keeps Giving
Sakic's resume is already very long and is still growing. He is a proven winner who will continue to strive for nothing but the best in any role. His leadership qualities off the ice have translated nicely into his off-ice role and is one of the most respected members of the Avalanche brass.
Related: Los Angeles Kings' Greatest Gift-Giver: Marcel Dionne
Not only was he the greatest player the Avalanche franchise was gifted back in the 1987 NHL Draft, but his past and present contributions make him the gift that continues to give. Next on his to-do list is to deliver the fan base the greatest gift of all yet again with another Stanley Cup title.
---
---