When the initial plans for the IIHF's World Junior Championship began to unfold, it looked like the Chicago Blackhawks would get to watch upwards of seven of their prospects battle on behalf of their respective country. Unfortunately, a few have since been deemed unfit to play, so their chance to make a case for cracking Chicago's rebuilding roster is currently on hold.
RELATED – Dear Santa: Chicago Blackhawks' 2020-21 Wish List
However, the Blackhawks still have talent represented across Team Canada, Team USA, and Team Czech Republic. Four of their potential stars, all under the age of 20, are taking part in this tournament. With every team comprised of its nation's all-stars, the Blackhawks get to be the beneficiary of watching those involved fight for their share of the spotlight.
Unfit to Play
Chicago's first-round pick from the 2020 NHL Entry Draft, Lukas Reichel (left wing), was set to represent Germany for the second year in a row in hopes that he'd have an even greater impact on the underdog. While Team USA was looking forward to improving their chances with the efforts of Drew Commesso (goalie) and Alex Vlasic (defense).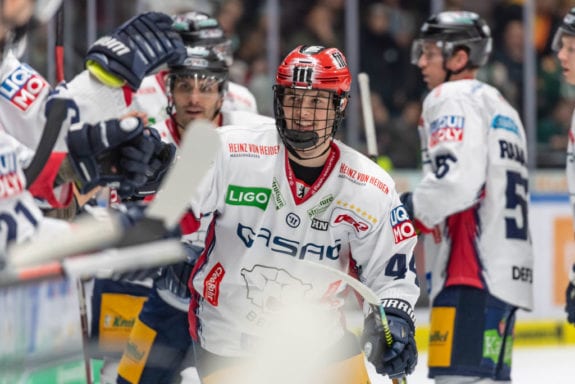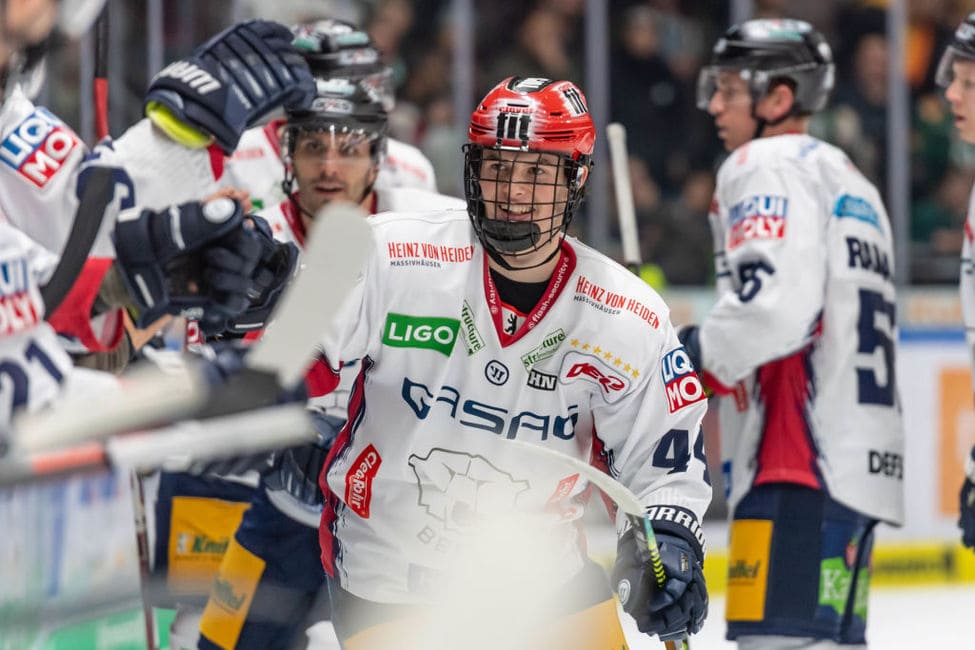 Unfortunately, after these players were named to their respective teams, it was later determined that they wouldn't be able to participate after all. As should always be the case, health comes before hockey. Regardless of the fact that they can't currently showcase their skills, the focus should be on these athletes getting back to full health. Besides, only then can they look forward to finding an opportunity to make a case for cracking Chicago's roster.
Team Czech Confident in Teply & Krutil
Michal Teply, drafted by the Blackhawks in 2019, led the Czech Republic in 2020's tournament with five points. All were assists, so it'll be interesting to see if the playmaking winger can also score some of his own this time around. Although this is only his second attempt at this competition, he has been suiting up with the Czech Republic's national program since 2016-17.
RELATED – Blackhawks Siphon More Skill From Overseas By Drafting Reichel on Day 1
As a more recent Chicago selection, from the 2020 NHL Entry Draft, Michael Krutil is looking forward to his first shot at representing his country in this particular tournament. While the defenseman's main priority is keeping pucks out of his own net, Team Czech would benefit from production exceeding the only six points he's earned through 32 games of past international play.
Outside of his experience with the Czech crest on his chest, Teply racked up 63 points in an impressive rookie campaign with the Winnipeg Ice of the Western Hockey League (WHL) in 2019-20. Krutil has one goal thus far, through his first four games of 2020-21, with HC Stadion Litomerice of the 2nd Czech Republic Hockey League.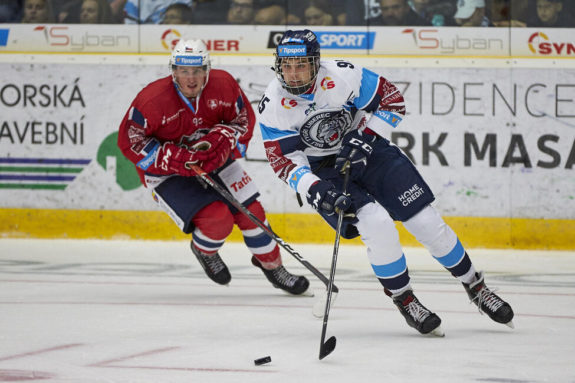 Team Czech is looking to improve upon their seventh-place finish from last year. Despite the country being well-represented amongst the NHL's best, they don't typically fare well at this level of play. They last reached the podium with the bronze medal they earned in 2005. We'll see if Teply and Krutil can help them rise to more respectable heights.
Slaggert Hopes for Team USA Success
After being chosen in the third round of the 2020 Draft, Landon Slaggert has earned his spot in Team USA's lineup for his first experience at the World Juniors. Development within his national program is far from new to the physical forward, though.
Slaggert has been wearing the red, white, and blue since 2018-19 on a multitude of clubs, including the U.S. National U17 Team, USNTDP Juniors, U.S. Nation U18 Team, and he also represented the USA at the World Under-17 Hockey Challenge.
RELATED – Blackhawks News & Rumours: Team USA, Swiss Cup, Outdoor Games & More
In his first year playing for the University of Notre Dame, Slaggert has accumulated one goal and two assists through the initial six games of the 2020-21 season. He's averaged a pace of around 0.5 points per game the past few seasons. As a nation that often aligns with the favorites at this tournament, Team USA hopes to utilize Slaggert's production to earn a better fate than their Quarterfinals finish last year.
Dach Poised to Dominate With Canada
It should come as no surprise that an eligible player with the professional progress that Kirby Dach enjoyed through 2019-20 would be a welcomed addition to their national team. Representing the reigning champion of this competition, let alone given the talent level throughout Canada's lineup, makes his captaincy that much more pressure-filled.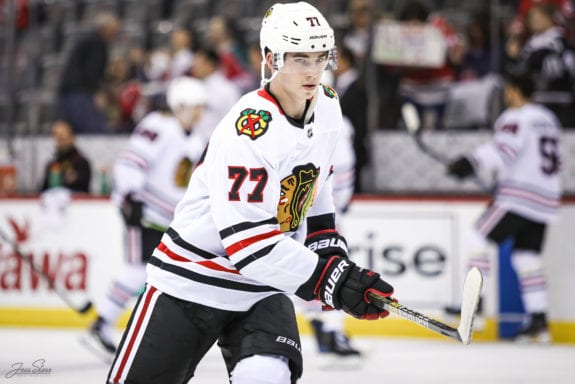 Dach's only other experience at the international level came when he played for Canada Black U17 at the World Under-17 Hockey Challenge in 2017-18. He earned one goal and six assists through five games in that tournament. More recently, Dach's 73 points with the WHL's Saskatoon Blades in 2018-19 made it an easy decision for Chicago to have him start the 2019-20 season with the American Hockey League's Rockford IceHogs.
It didn't take long for him to get the call to join the big club, in late October 2019, and he ended up playing with the Blackhawks for the rest of that campaign. Dach's progress has impressed many, including his superstar teammates, as he continues to prove how poised he is to take the next step in his career and as a leader with this franchise.
RELATED – Chicago Blackhawks' 'Untouchable' Prospects
For now, Dach's focus is on helping Team Canada earn back-to-back gold medals at the World Juniors. This is a star-studded lineup, entering the tournament as favorites. How Dach is able to lead this roster, amidst such expectations, will paint a more clear picture of what the Blackhawks can hope to expect when they look to him to form their future.
Rebuilding Franchise Expectations
International competition is not foreign to most NHL players. However, the World Junior Championship presents a unique opportunity in and of itself. As a U20 competition, these athletes are in a pivotal spot for their careers. Those who stand out, attracting the right type of attention, are far more prone to finding themselves playing professionally shortly thereafter.
Considering that Chicago is clearly in a rebuilding phase of their organization's timeline, having a chance to witness notable prospects showcase their skillsets can provide an optimistic glimpse of what's to come. If these young stars can elevate their performance, it's all the better for the Blackhawks.
RELATED – Breaking Down Blackhawks Expectations in 2021
The quicker Chicago can start to confidently pick from their prospect pool, the more effectively they can promote youth development. While Teply, Krutil, and Slaggert all have a chance to prove their value, Dach has been granted a rare opportunity to see his rise in ways only achievable following success at the World Juniors.
Catch Blackhawks Banter Every Week
Join us Mondays at 8:00 p.m. ET/7:00 p.m. CT as we host Blackhawks Banter with The Hockey Writers on our YouTube Channel. And if you miss it live, you can watch the uploads on our Facebook Page. Check out Episode 7, below:
---
---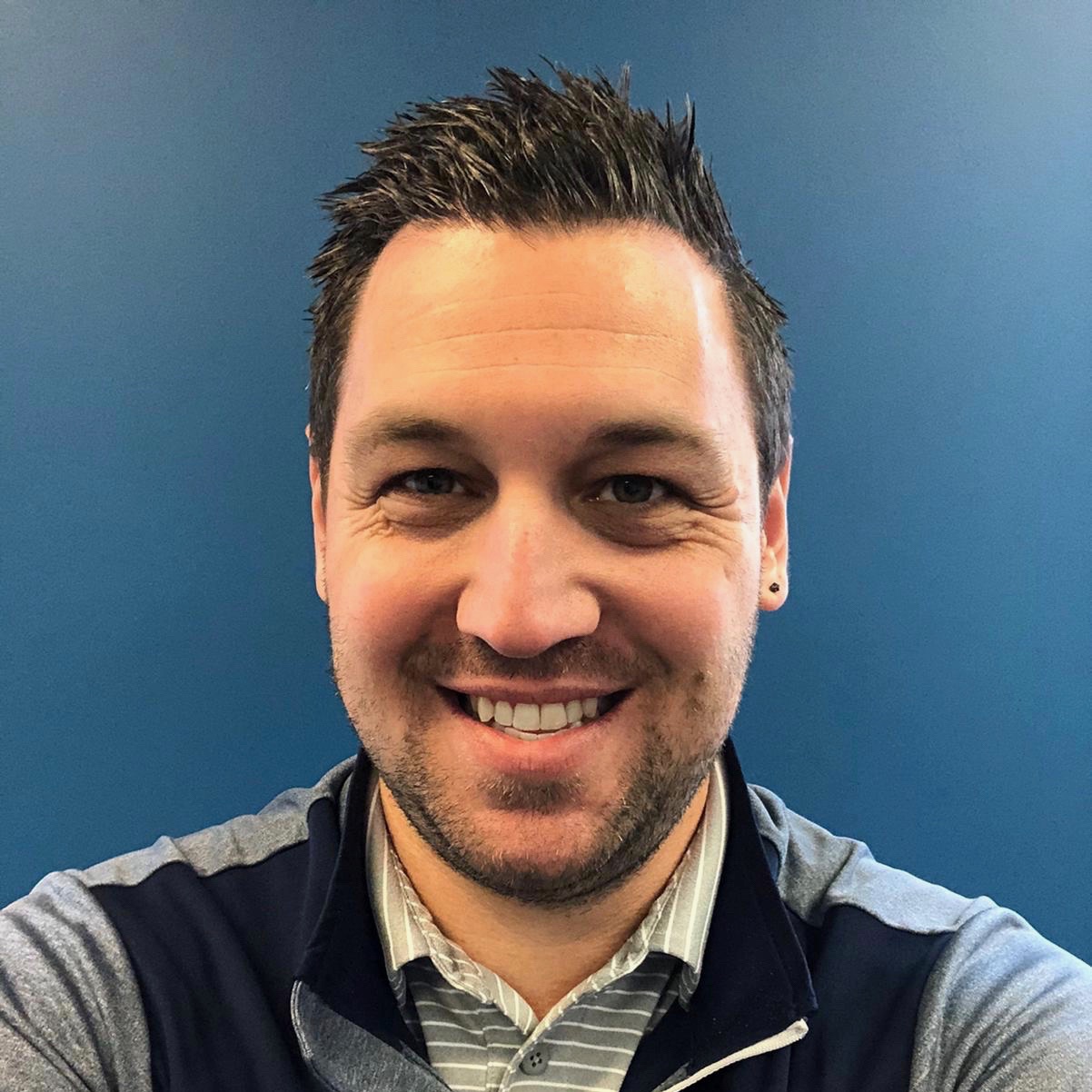 Freelance thinker, paying too much attention to digital aesthetic. Oxford comma enthusiast. Spider-Man supporter. Sports fan, with two favourite hockey teams. If the Blackhawks and Maple Leafs ever meet in the Stanley Cup Final, you can find me wherever they're playing that night.
Find me and more of my work at mralwayswrite.com and find me at @MrAlwaysWrite.