If it were December in any previous year, there would be a lot more Chicago Blackhawks content to discuss. The season would be a few months in and we'd have a chance to celebrate the parts of their game that are going to plan while dissecting what needs more attention. However, it's 2020. But that won't stop us from finding and talking all things Blackhawks.
RELATED – NHL Reverse Retro Winners & Losers
Where we do feel familiarity, though, is with the upcoming World Junior Championship. As NHL teams provide decisions on whether or not to permit their prospects to play, nations continue to set their rosters. Meaning, we can dive right into how the competition is taking shape and that's exactly where we'll start this edition of news and rumours.
Blackhawks Make Team USA
Earlier this week, USA Hockey confirmed their preliminary roster for the 2021 World Junior Championship. On it are three Chicago prospects, each looking to increase their value through a hopeful impact at the upcoming tournament. With the Blackhawks' narrative shifting to a focus on youth, these types of players are sure to be granted more opportunity to fill in the voids.
We'll start where the Blackhawks will have the most question marks next season, as goalie Drew Commesso looks to build off the progress he earned in his 2019-20 numbers while representing his nation on their U18 roster. Commesso was selected 46th overall by the Blackhawks in the 2020 NHL Entry Draft and this will be his first time participating in this competition.
Another of Chicago's second-round picks, but from the 2019 draft, is defenseman Alex Vlasic. Vlasic has also cracked his country's U20 roster for the first time after a number of years gaining experience in their U17 and U18 programs.
RELATED – Blackhawks Get 1st-Round Talent in 7th-Round Kubalik
Depth at centre is crucial to team success. Also entering his first such tournament with this team, after developing within its national program since 2018-19, Landon Slaggert will hope to help lead his country beyond last year's quarterfinals finish.
Worldwide Recognition
Chicago is preparing to enjoy representation that spans the globe, beyond just those who've made Team USA. They will also see players suit up for Canada, Germany, Finland, and the Czech Republic. This bodes well for the Blackhawks, as it positions their prospect pool of talent into a higher tier of recognition and value.
The organization hopes these athletes see as much playing time as possible, while earning impactful production for their respective nations, whereas these unproven prospects will look to leverage this opportunity to showcase why they deserve to be next on the team's call-up list.
Swiss Cup Sees Delays
Pius Suter signed with the Blackhawks as a free agent out of Europe this offseason and is one of their most accomplished and experienced prospects. Without the opportunity to attend development camp in Chicago just yet, Suter has continued to play overseas in the Switzerland National League-A.
Last year's league MVP, Suter hopes to help his ZSC Lions achieve greater success than they did last season when they fell one win short of making it to the championship game. He and his team will have a shot at redemption when they return to this year's semifinals.
However, as a result of recent cancellations occurring across the European sports scene, Suter and his team are now to quarantine until Dec. 9. We'll have to wait to see if he can help Zurich over the hurdle and earn a berth into the Final. If he can add another accolade to his trophy case, it will certainly help his chances of finding a fit with the Blackhawks.
Plan to Play Outdoors
Sportsnet recently reported that at least four NHL clubs have been exploring the option of hosting outdoor games as a regular occurrence throughout the upcoming season. Despite the fact that these seem to occur more regularly every year, enabled by a never-ending list of sponsored themes, they are still looked to as special events as opposed to being an expected norm.
RELATED – Patrick Kane Trade to Sabres Makes Sense for All Involved (Hear Me Out)
Playing outdoors would mean there are a different set of protocols and policies in place as opposed to those for indoor activity. Specifically related to attendance, as it's all in an effort to sell more tickets and bump an organization's bottom line.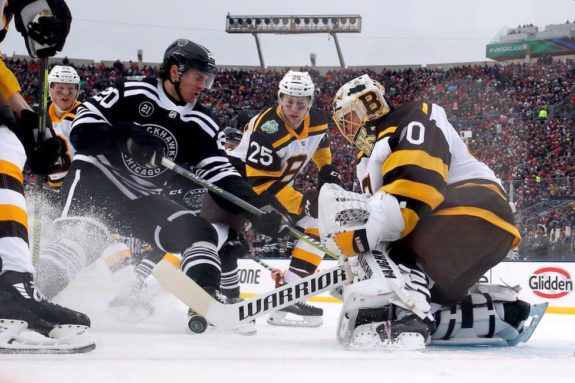 Blackhawks fans have become all too familiar with seeing their team take part in these types of games, ever since their rise into the league's spotlight. Despite some attempts by onlookers to pin the story to Chicago, they actually aren't amongst those currently being mentioned.
None of the clubs would comment, but they are Anaheim, Boston, Los Angeles and Pittsburgh. According to multiple sources, it was the Kings who first considered the idea several months ago. Owner Anschutz Entertainment Group also owns Dignity Health Sports Park, located 15 miles from the Kings' home, Staples Center.
With that said, it would be far from surprising if additional franchises are doing their due diligence into the plausibility of this plan. So it's certainly not impossible that the Blackhawks are amongst them. Time will tell if this is even a remote possibility, while eventually revealing all involved in making it so.
Congrats, Coach!
This edition of news and rumours wouldn't be complete without giving recognition where it's due, while celebrating what we can. Chicago's strength and conditioning Coach, Paul Goodman, has been recognized for his work in the field.
Goodman has been named the National Strength and Conditioning Association (NSCA)'s Professional Strength and Conditioning Coach of the Year, joining a long list of widely-respected names honored by the organization that he looked up to early in his career. 
Goodman is entering his 13th year with the organization, which means he was influential in building them into champions. This team's new wave of talent is in good hands, if Goodman can keep doing what he did to help the Blackhawks dominate the 2010s. Congratulations, coach!
Enjoy the Latest "Blackhawks Banter"
Thank you to those who have been tuning in to Blackhawks Banter. It is our weekly show, which streams live every Monday at 8:00 P.M. ET/7:00 P.M. CT on YouTube and Facebook. It is hosted by our Blackhawks writing team and is brought to you by The Hockey Writers. Enjoy our latest episode, below:
---
---