It was a rough offseason for the Vancouver Canucks faithful, as they watched a few fan favorites flee for free agency. Troy Stecher, who grew up a Canucks fan in Richmond, B.C., signed a two-year, $3.4 million contract with the Detroit Red Wings after four full seasons in Vancouver. Jacob Markstrom, who had repped the green and blue since 2014 and served as the number one netminder since 2017, left for rival Calgary Flames on a six-year, $36 million deal. Another big loss for the Canucks was Chris Tanev, who joined Markstrom in relocating to Calgary. His deal was for four years at $18 million for the 10-year NHL veteran, all of which in Van City.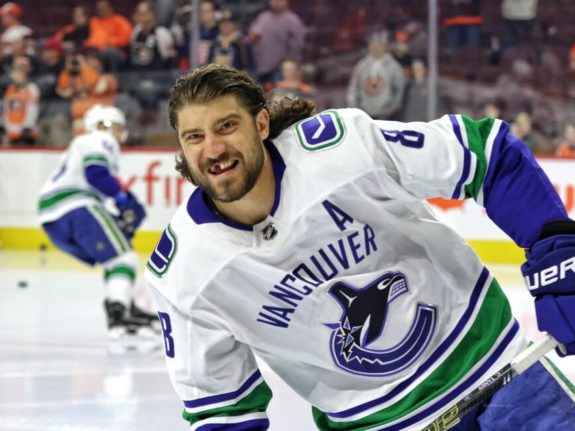 With Tanev gone, the Canucks are not only losing a mobile, heady puck-moving defenseman; they're also losing their assistant captain of four years. Brandon Sutter and Alex Edler have each worn the "A" the past two seasons, and they will likely retain their titles for the 2020-21 season. The Canucks have historically designated at least three assistant captains, so it's likely they will appoint one more before next season kicks off. Replacing Tanev's role as a leader won't be easy, but these are the candidates who would be the best fits.
J.T. Miller
Initially a heavily criticized trade in June of 2019, J.T. Miller silenced the doubters with a career year in his first season with the Canucks. He led the team in goals, assists and points in the regular season, which were all career highs. Miller was instrumental in the powerplay, scoring nine powerplay goals and a team-leading 25 powerplay points, which were personal bests. He was also tied for first on the team for points in the playoffs, notching 18 in 17 games.
Furthermore, his contributions extended beyond his offensive capabilities. Miller was a solid penalty killer that Travis Green could rely on, and he was capable of winning key faceoffs in pivotal points of the game. He also brought over 60 games of playoff experience, which was invaluable for a young core making their first postseason appearance.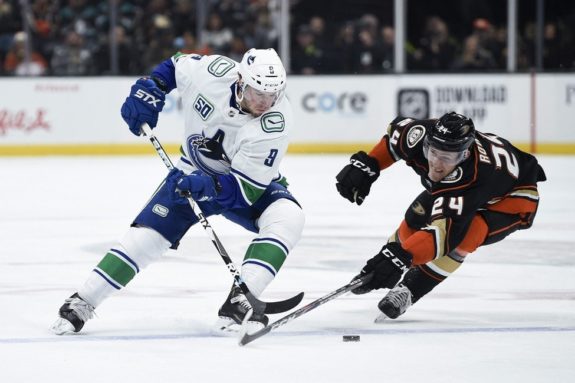 Miller is signed through the 2022-23 season and will only be 30 years old when that contract expires, so it looks like he will remain in Vancouver for at least three more years. When naming captains, longevity plays a big part in the decision, and given his chemistry and mentoring of Jake Virtanen and Elias Pettersson, one would think that the Canucks' front office has him in their long term plans. So Miller is the frontrunner for the assistant captain vacancy.
Tyler Myers
The 30-year-old Houston-native will play a much bigger role in his second season with the Canucks. Tanev's departure leaves a hole on the right side of the top defense pairing, and Myers is the projected replacement. His offensive statistics took a nosedive in 2019-20, but playing with Quinn Hughes gives Myers the chance to regain some of the offensive success he had during his Calder Trophy-winning season in 2009-10. Tanev was also the team's number one penalty-killing defenseman, so Myers' 6-foot-8 frame and long reach will likely be used by the Canucks more often when down a man this season.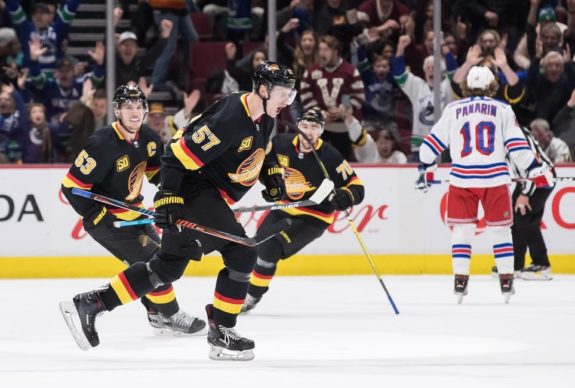 Myers will surely become someone his young teammates can look up to with this increased role if he isn't already, so naming him assistant captain makes a lot of sense. Like Miller, Myers also has some term on his contract, as he's in year two of a five-year deal. And with Vancouver's depleted back end, it doesn't appear Myers will be going anywhere either. Tack on the possibility of Green wanting to split the captaincies evenly between forwards and defensemen, and Myers is certainly a qualified candidate.
Jay Beagle
There may not be a player in the NHL more worthy of an "A" than no. 83 for Vancouver. He's been a winner in every level of his professional career, winning a Kelly Cup in the ECHL in 2007, back-to-back Calder Cups with the Hershey Bears in the AHL in 2009 and 2010, and a Stanley Cup with the Washington Capitals in 2018. Beagle is the only player in NHL history to accomplish this feat.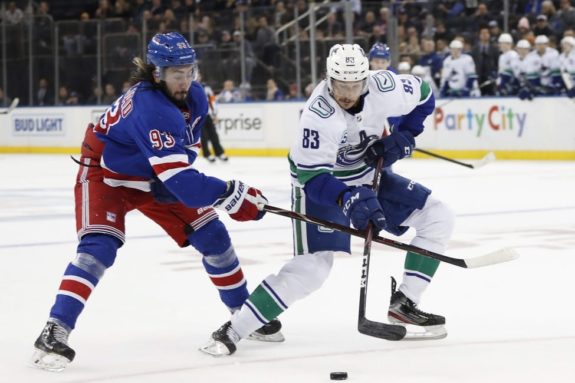 Beagle's offensive capabilities may be lacking, but he makes up for it in ways that don't always show up on the scoresheet. He wins crucial defensive zone draws, sacrifices his body with countless blocked shots, and is regularly on the ice for 5-on-4 and 5-on-3 penalty kills, as well as 6-on-5 empty net scenarios at the end of the game.
Everyone knows what Pettersson and Brock Boeser can do on offense, but Beagle's leadership and experience can help evolve these youngsters into effective two-way players. He is also the elder statesman of his club, and Travis Green loves his veterans. Beagle getting an "A" on his chest would be incredibly well deserved, but he's the kind of player that doesn't need a letter to still be a leader on his squad.
All in Good Time
If all goes to plan, Pettersson and Boeser will be franchise cornerstones for the Canucks for several years to come. They will undoubtedly have letters on their jerseys at some point down the road, so there is no need to rush the process. Pettersson is still in his entry-level contract, and Boeser is going into his fourth full season. Let them continue to grow as players and as human beings and perfect their games; when the time comes, it will only make getting an "A" that much more meaningful.
---
---