Dominik Kubalik began his offseason by signing a well-deserved two-year extension to remain with the Chicago Blackhawks. With the 2020 NHL Entry Draft now complete, the assessment of those chosen has already begun and there is no better time to highlight Kubalik's impressive rookie campaign. As a seventh-round selection, he helps prove that late picks can be just as impactful as any year's more sought-after prospects.
During the draft, most of the spotlight shines on the earlier selections and throughout the first few rounds. Rightfully so, as these are the high-profile players expected to break into their lineup and become instant different makers. Chicago's roster currently includes six forwards who are all former first-rounders. When compared to those with higher anticipation of success, Kubalik's numbers really begin to shine.
Producing Professionally
Entering the NHL in 2019-20 as a 24-year-old, Kubalik had already played professionally in Europe since 2014. However, despite having proven his ability to produce in the Czech Republic League and the Switzerland National League A, playing pro on this side of the world is a completely different challenge.
Related: Kris Versteeg – Forever A Blackhawk
The NHL is known as the best hockey league in the world. Just because an athlete has an impact in one place, doesn't mean their skill set will translate the same way in another. Kubalik, though, made sure to showcase that his strengths are transferrable.
An Unlikely Journey
Kubalik was drafted by the Los Angeles Kings in 2013, a mere 21 spots away from not being picked at all that year. Selected at 191st, it was unlikely that he'd see much game action with the Kings any time soon. Kubalik spent the next seven seasons playing in leagues other than the NHL.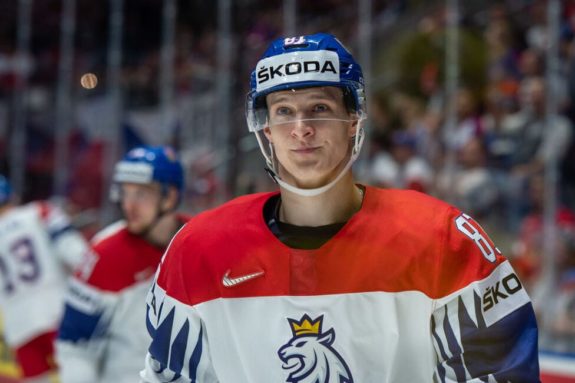 Los Angeles then traded Kubalik to Chicago in January 2019 for a fifth-round pick in that upcoming draft. He would finish the 2018-19 season with HC Ambri-Piotta and then join the Blackhawks at the start of 2019-20. This would prove to be a pivotal opportunity for the trajectory of Kubalik's career.
Former First-Round Picks
Although any organization would welcome additional firepower upfront, Chicago already had elite talent in Patrick Kane and Jonathan Toews along with an array of first-round picks spread throughout the lineup. Their recent struggles aren't tied to a lack of offense. So, what did they really expect to get out of this former seventh-round selection?
RELATED – Blackhawks Siphon More Skill From Overseas By Drafting Reichel on Day 1
To further showcase how special Kubalik's rookie year was, beyond his Calder Memorial Trophy nomination, we'll compare the former 191st-overall pick to Blackhawks' forwards selected in the initial round of their draft years. Of course, success in hockey isn't based solely on point production. Yet, that is what is expected of these types of players. Scoring stats will be focused on as what matters most to illustrate their impact.
Kirby Dach
Drafted at third overall in 2018, Kirby Dach was the earliest selection by the Blackhawks since Kane went first overall in 2007. Joining the team while they were in the midst of that decade's downturn wasn't necessarily ideal for this future star. However, Dach has continued to impress with his poise and potential.
Alongside Kubalik, 2019-20 was also Dach's rookie season. He played 64 games, scored eight goals, earned 15 assists, and accumulated 23 points, while garnering praise from his superstar teammate Kane. (from 'Blackhawks' Kirby Dach looks faster, smoother, bolder entering 'second' year,' Chicago Sun-Times, 07/18/2020)
Alexander Nylander
Originally drafted to the Buffalo Sabres at eighth overall in 2016, Alexander Nylander wasn't living up to their expectations before being dealt to the Blackhawks in July 2019. He's still yet to do much to impress his new franchise, but time will tell what more he can prove in Chicago.
RELATED – Blackhawks' Bad Season Still Brings Some Success
Throughout his rookie campaign in 2016-17, Nylander only played in four contests for the Sabres and earned a single assist. It would take entering his fourth year in the league before he finally saw consistent game time through 2019-20.
Dylan Strome
Being picked in a top spot of any year includes a brighter spotlight. The Arizona Coyotes hoped Dylan Strome would shine some much-needed success into their franchise following his third-overall selection in 2015. However, through three seasons with the club, Strome only participated in 48 contests.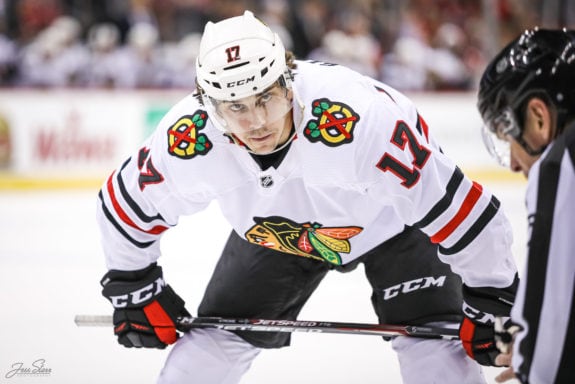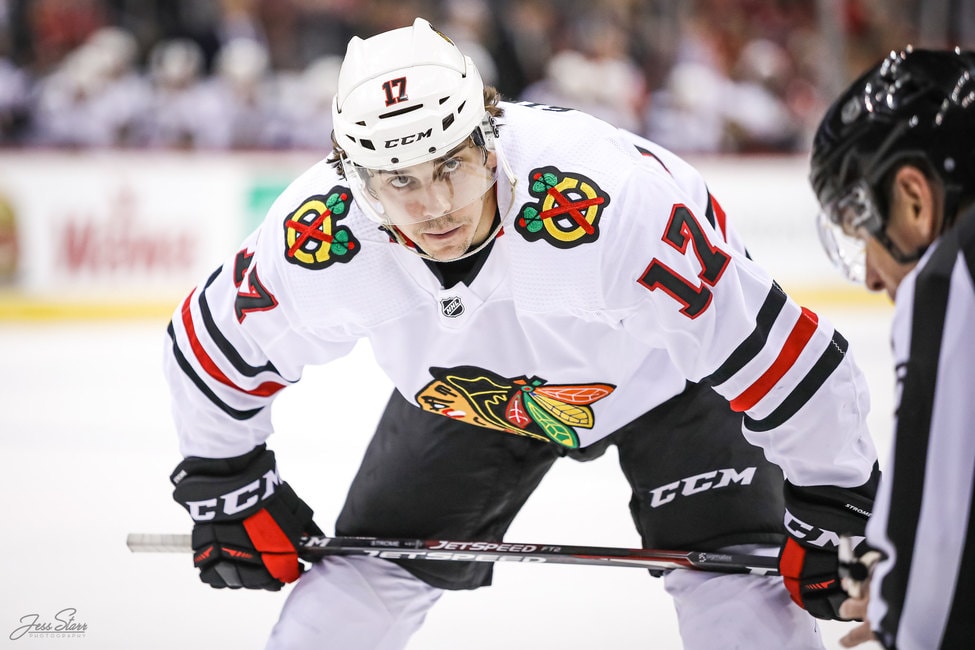 As would be the theme of his time in Arizona, Strome saw limited action in his rookie year of 2016-17. He achieved one assist through seven games played and never did materialize into what the Coyotes were looking for. He was traded to the Blackhawks for a fresh start in November 2018.
John Quenneville
Sneaking his way in during the latter end of 2014's first round, picked 30th overall, John Quenneville wouldn't crack the New Jersey Devils' roster until a few years later. Unfortunately for Quenneville and the Devils, he wasn't able to produce much of an impact for the franchise.
RELATED – Blackhawks' Roundtable: Goalies, Rebuilding & the Saad Trade
Playing 12 games through 2016-17, Quenneville was able to earn one goal and three assists for four points total in his first season. After four seasons in the league, he's only participated in 42 contests and might not be an answer for the Blackhawks.
Patrick Kane
With the organization's only first-overall pick, the Blackhawks selected Patrick Kane in 2007. Kane went on to win the 2008 Calder Memorial Trophy as a foreshadow of things to come. Since then, he's more than solidified his legendary status throughout Chicago.
Immediately entering the Blackhawks' lineup for the start of the 2007-08 campaign, Kane played in all 82 games that season. He scored 21 goals, assisted on 51, and racked up 72 points throughout his award-winning rookie year.
Jonathan Toews
As the 2006 NHL Entry Draft came into focus, Chicago was looking to turn the page on their struggles throughout the early 2000s. Landing Jonathan Toews with the third pick that year turned out to be the start of Chicago's climb to dynasty-level peaks.
RELATED – Jonathan Toews: Beyond the Glory
Toews got into 64 games in his rookie season of 2007-08, netting 24, earning 30 assists, and accumulating 54 points overall. Soon after, Toews was named as one of the youngest captains in league history and led his team to unfathomable achievements in the years to come.
How Kubalik Compares
Kubalik's 46 points in 68 games throughout 2019-20 should be a stat that stands alone for showcasing the type of rookie year he had. Considering that he scored 30 goals and led all first-timers in that category, it presents an even greater outlook.
Referencing the fact that his rookie efforts align him most with what Toews and Kane accomplished in their first years, it's more remarkable to consider that he already achieved a 30-goal milestone. Toews did that in his second season and it took Kane three to reach the mark.
As the Blackhawks continue to look for ways to regain dominance, having Kubalik there will help. At 25 years old, he's entering his prime years as a professional in this league and the team should do all they can to remain part of his story. Signing him for the next two seasons is a start.
RELATED – Corey Crawford's Legacy With the Blackhawks
Whether Kubalik is an influential aspect of a shift in organizational success, like Kane and Toews were when they broke into the league, is yet to be seen. However, there's no debating that he'll continue to be an advantageous asset to Chicago for as long as he's wearing a Blackhawks jersey. Kubalik proves that being drafted at any position, even as late as the seventh round, presents an opportunity to illustrate their impact to anyone prepared to take the chance.
---
---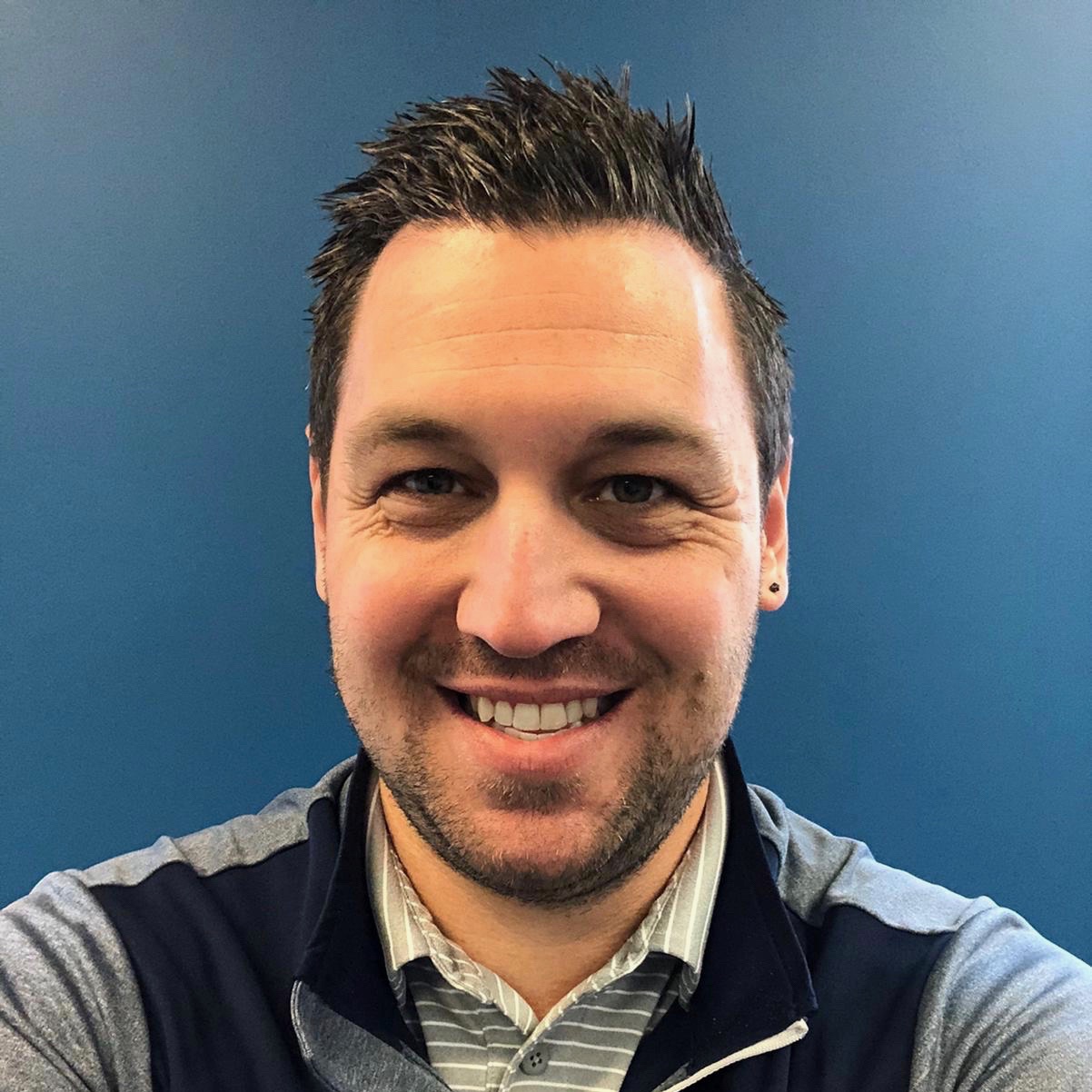 Freelance thinker, paying too much attention to digital aesthetic. Oxford comma enthusiast. Spider-Man supporter. Sports fan, with two favourite hockey teams. If the Blackhawks and Maple Leafs ever meet in the Stanley Cup Final, you can find me wherever they're playing that night.
Find me and more of my work at mralwayswrite.com and find me at @MrAlwaysWrite.