If the Chicago Blackhawks' confusing one-year offer to Corey Crawford wasn't indication enough that they didn't want to keep him, then their failure to fight any harder for him should have made it clear. Obviously, Crawford is not part of the organization's future plans. However, his impact playing in the crease will be impossible to forget.
Athletes moving on to new teams is normal. It happens. Yet, it doesn't mean it's easy to digest for fans who have witnessed their greatness along the way. Although Crawford never seemed to get the level of attention or admiration he deserved while wearing a Blackhawks jersey, what he accomplished during his tenure is legendary.
Making a Statement in His Rookie Season
Crawford took over Chicago's net as their undisputed started in 2010-11. The Blackhawks had just won their first Stanley Cup since 1961 and were looking to build on that dominance. Crawford stepped in and earned a record of 33-18-6 with a .917 save percentage (SV%), a goals-against-average (GAA) of 2.30, and four shutouts.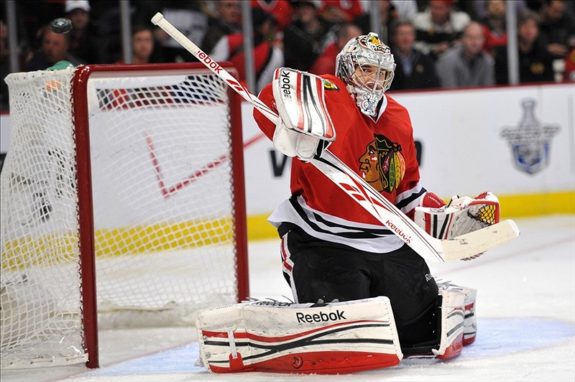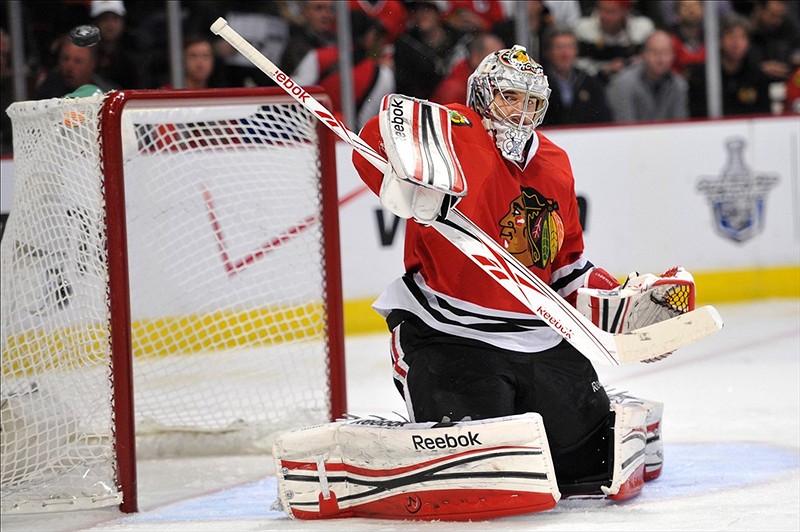 The impressive campaign earned Crawford a spot on the NHL All-Rookie Team. Players often make their mark when they enter the league, only to fail to reclaim their early production in later seasons. That couldn't be further from the truth for Crawford, who was influential in the franchise's unprecedented success.
Successful Seasons With the Blackhawks
In 13 seasons with the organization, and nearly 500 games played, Crawford accumulated a record of 260-162-53, ranked third in franchise history, behind Tony Esposito and Glenn Hall; Esposito racked up 418 wins through 873 contests, nearly twice as many games as Crawford. Hall is only 16 wins ahead with 276, yet had over 100 additional opportunities having played in 618 games.
RELATED – Blackhawks' Bad Season Still Brings Some Success
Crawford leaves the organization with a .918 SV% and 2.45 GAA. Compared to other former Chicago goalies, who played at least 100 games, Crawford's overall GAA is tied for second in franchise history while his SV% sits alone on top. His 26 shutouts are also impressive.
Playoff Performer Like No Other Before Him
Crawford is in a league of his own when it comes to playoff success for the Blackhawks. His 52 postseason victories rank first on Chicago's all-time list which is remarkable given the number of great goalies who have suited up for the franchise. Crawford ranks among the top-20 for playoff victories in NHL history.
Most impressive is that Crawford is the only goalie in the franchise's over 90 seasons to capture two of the six Stanley Cup wins in team history. He was a major part of their dynasty through the 2010s, helping them capture the Cup in 2013 and 2015. In those runs alone, he went 29-13 while saving 92.8% of the shots he faced and letting in only 2.08 goals per game.
Additional Accomplishments Along the Way
It's one thing to have been a member of the Blackhawks' prolific offense that seemed to outscore every opponent throughout the decade. Yet, Crawford crafted a different story with his ability to keep the puck out of the net during this time.
RELATED – Blackhawks' News & Rumors: Crawford, Toews & Suter
He earned the William M. Jennings Trophy twice as part of the tandem to allow the fewest goals against in 2012-13 and 2014-15. Of the 2,430 shots thrown his way in those two seasons, he turned away 2,247 of them.
As Crawford prepares to suit up for the New Jersey Devils to kickoff the 2020-21 season, their fans hope he can continue to post wins. If the Devils can build a successful team to complement his competitive nature, there's no telling how much more he'll be able to accomplish in his post-Blackhawks years.
Best Blackhawks Goalie of All-Time
Considering Crawford's achievements in his 13 years with the Blackhawks, we cannot overlook the legacy he leaves behind. He may not lead every all-time category, but the collection of his accomplishments is untouchable.
The most recent Blackhawks star to make their way into the Hockey Hall of Fame is Marian Hossa. Whether Crawford can add enough to his resume by the time he retires to join his former teammate is yet to be seen. However, if he hung up his skates tomorrow, he has undoubtedly done enough to earn the title as the greatest goalie in Blackhawks' history.
---
---