The 2020 NHL Draft finally over. Over three months later than expected, the highly-anticipated draft took place virtually over two days mid-week and was surprisingly long. Day two of the draft alone was over seven and a half hours. While many were excited about the draft, it seemed to drag on at some points.
However, given the circumstances, the NHL did a good job with their Zoom draft. But I think it's safe to say we're all hoping for an in-person draft in 2021.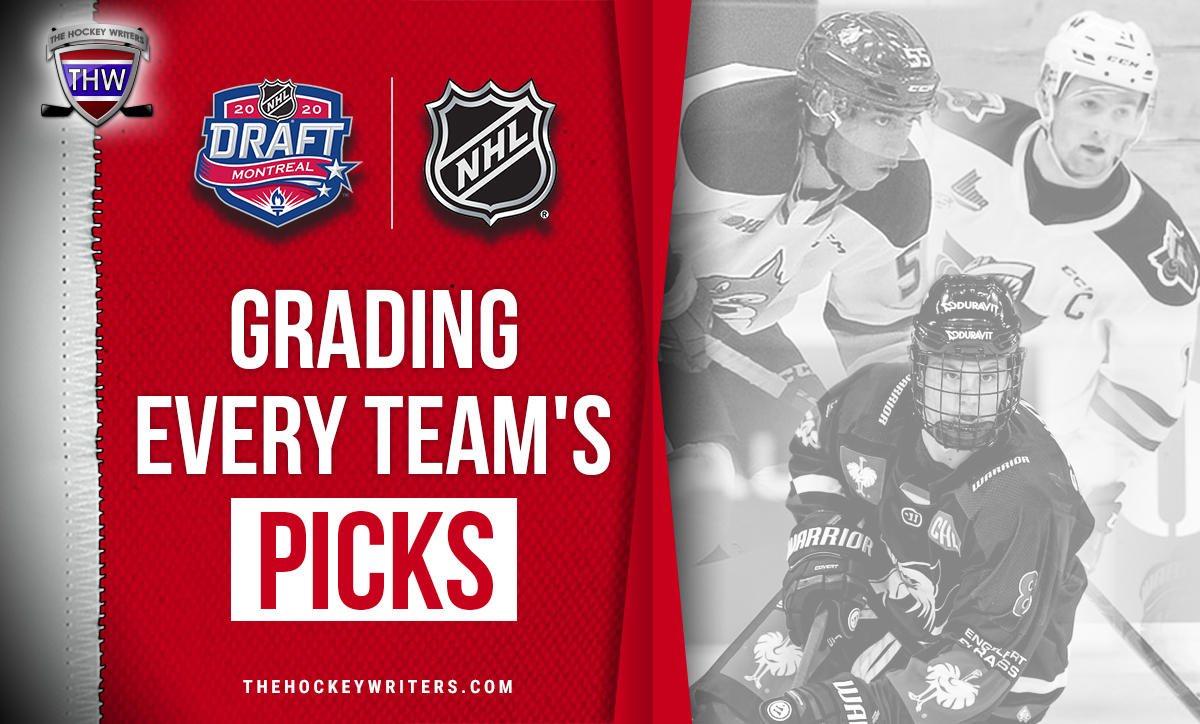 Back to the 2020 NHL Draft, I'm going to be going through each team, looking not only at their draft class but their trades on the day as well. I'll give a grade for each team, which I'll remind you is completely subjective – it's just my opinion. I'll look at the value they got in regards to the position of their picks and the number of picks they have.
I'll also point out that this is in no way a definitive list. Players exceed expectations in their development and players bust. My grades will be based on my early reaction to the team's selection. You may have different opinions and grades on teams, which is part of the fun of the NHL Draft. And looking back on this in a year, these grades will change.
If your opinion differs, I encourage you to drop a comment at the bottom of the page so we can discuss what we see differently. Scouting is a constant learning process and having an open mind is extremely important. I'm always looking to hear opposing opinions.
Without further adieu (pulls out red teacher's pen), let's get to the grading.
Anaheim Ducks
I think the Anaheim Ducks landed some excellent prospects in this draft. Did they get the best players available? Not always – in fact, maybe even most of their picks were not the best player available. Jamie Drysdale is the big prize here and I've already explained why I like him for the Ducks. This was definitely the right pick for them at No. 6. Next, they nabbed goal-scoring winger Jacob Perreault, who could challenge for the best shooter of this class. Getting him at 27 will likely be considered a steal very soon, if not already.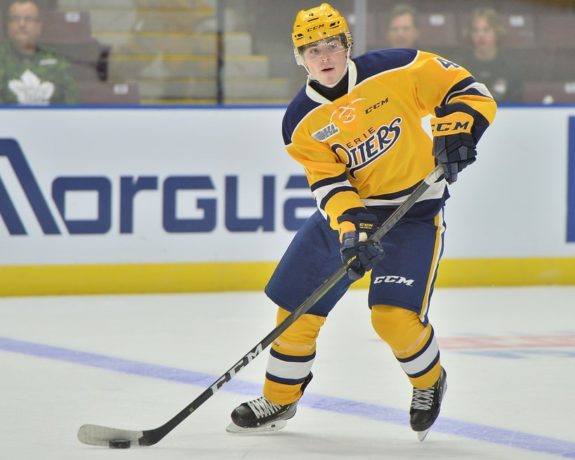 I like Sam Colangelo, but I think there were better options for them at No. 36. He ha a great season and if that continues into 2020-21 then this may help boost their grade. With the rest of their selections, I think they took some fairly big swings led by high-schooler Ian Moore. Thimo Nickl and Ethan Bowen are picks that I'll be watching moving forward.
Grade: B
Arizona Coyotes
After trading away their first- and third-round picks and then losing their second rounder as a penalty for breaking the NHL's draft rules, the Arizona Coyotes came away with just five picks and you'd be hard-pressed to find a future NHLer among them. Mitchell Miller was their first selection, down at pick No. 111. He's a mixed-review prospect and he's a bit of a risk. I think his ceiling could be a bottom-two defender but he'll need to make some improvements in his game.
Selecting Carson Bantle with the 142nd selection was arguably their best pick of the day, who despite his big 6-foot-4 frame, shows some excellent footwork and great hands. He could be one of those players that we look back on and think "how did he go that low?" These two could very well be the only two to come close to the NHL.
Grade: D+
Boston Bruins
The Boston Bruins didn't lose any picks to penalties, yet they came away with just four players, and I'm not sure any of them will see the NHL. The Bruins surprised with their first pick at No. 58, taking overager Mason Lohrei. It's definitely a bit high for my taste, but they obviously like his size (6-foot-4) and his two-way, mature game.
The rest of their draft continued with reaches in my mind, and while selecting Mason Langenbrunner is a nice story considering his father and former NHLer Jamie works for the Bruins, but the ceiling isn't very high on these players. The Bruins have some mixed results in recent drafts, and as of now, I'm not sure this one will have many – if any – NHL surprises.
Grade: D-
Buffalo Sabres
I've mentioned quite a bit that I don't love Jack Quinn. I still like him quite a bit, putting him at No. 21 in my final rankings, but I didn't and don't see him as a top-10 talent in this class. That being said, I do think with Alexander Holtz off the board and the Sabres hungry for a goal-scoring winger, Quinn fits. I can't shake the feeling that Buffalo might regret this one though.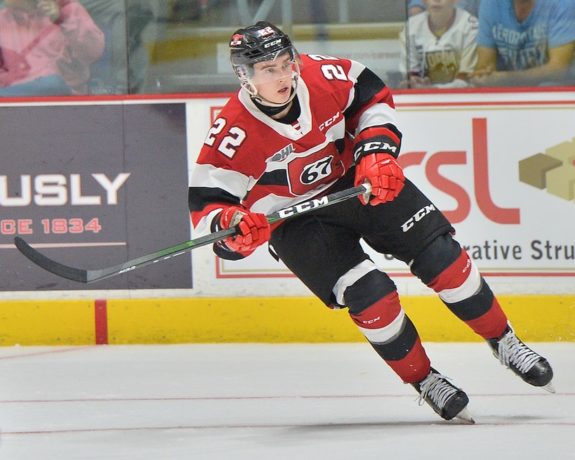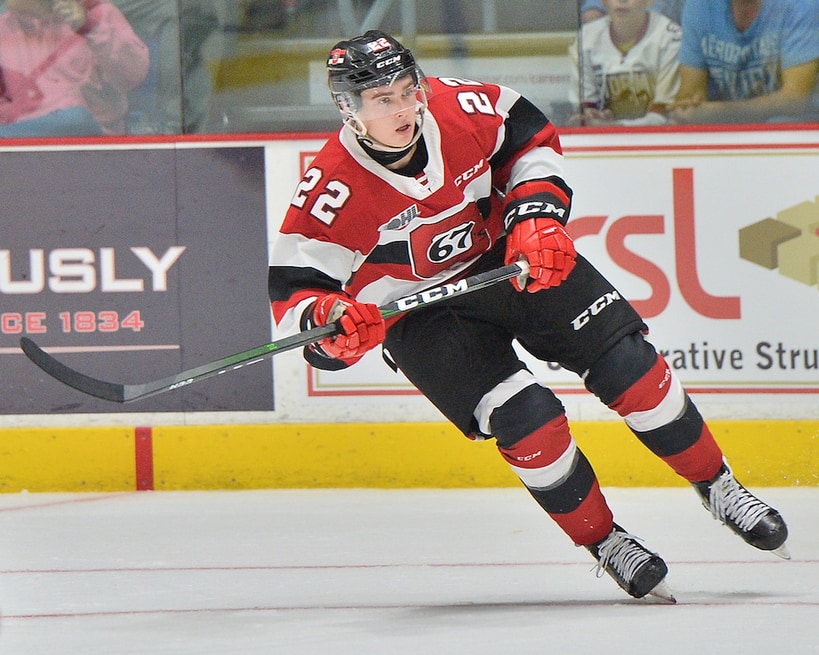 I like their second selection though, trading up for German winger John-Jason Peterka. This could be an excellent pick for Buffalo in the early second round. I have no doubts he'll be an NHLer. As for the final three selections of the day, I don't love it. Peterka gives their grade a boost, but overall I'm not overly excited about this class.
Grade: C-
Calgary Flames
The award for the craftiest general manager of the first round goes to Calgary Flames' Brad Treliving. Starting with the 19th overall pick, the savvy GM traded down TWICE adding two additional picks and still getting their guy by drafting top-20 talent Connor Zary at No. 24. Excellent work on the Flames end here.
There are picks throughout their draft I really like. I've been a fan of Yan Kuznetsov all season, and I love him in the second. If I was bolder, he would have been about there in my rankings. Drafting Jeremie Poirier is a risk, but if he can improve his defensive game and reach that offensive ceiling, he could be a great pick down at No. 72. Plus this was a free selection, coming from the Zary trades. Ryan Francis and Rory Kerins are two more prospects I like in the later rounds. It was a good day for Flames fans.
Grade: B
Carolina Hurricanes
Our first A, and on top of that, they get a "plus!" The best draft of 2020 (early analysis of course), goes to the Carolina Hurricanes, who have shown they know how to draft in a big way in recent years. Of their eight selections, four of them have been in my first round at one point this year, with one more a fixture of my second. Seth Jarvis will be the face of this draft, but Noel Gunler will be the one with the most to prove, falling out of the first to No. 41. Both excellent picks for the Canes.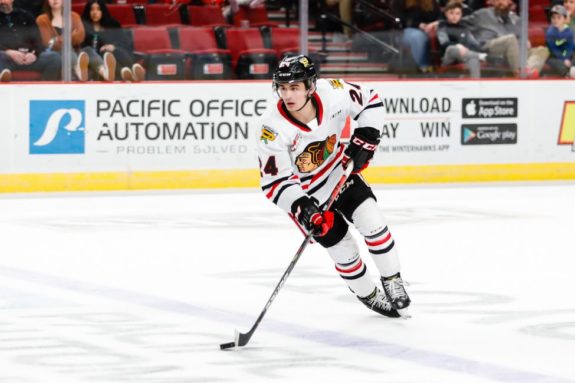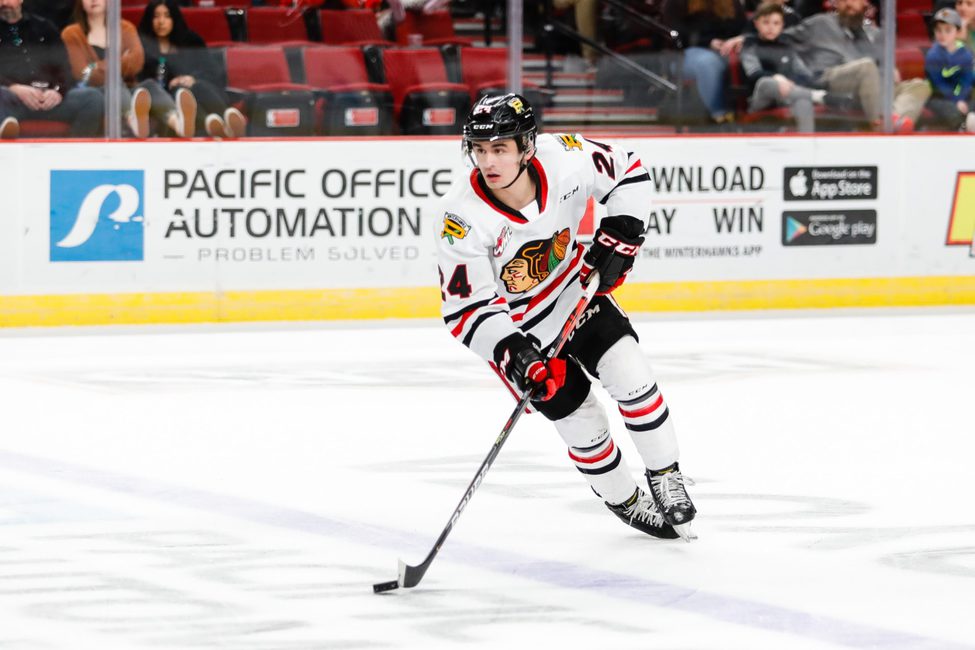 Vasiliy Ponomarev was a bubble first rounder all year for me, landing him at 53 could be a steal. Third rounder Alexander Nikishin, while by no means perfect, showed flashes of being great in Russia last season. Zion Nybeck at 115th overall might be one of the highest-value picks of the day. If their's one to challenge that, it's Alexander Pashin at No. 199. They may be small, but they play big games. Even their final pick of Ronan Seeley is a pick I really like. I might print out this draft class list, just look at it from time to time, and smile.
Grade: A+
Chicago Blackhawks
Taking the second German off the board, the Chicago Blackhawks selected Lukas Reichel at No. 17. I don't know about you, but I'm already imagining Kirby Dach-Reichel on-ice magic. Into the second round, the Blackhawks took the second goaltender off the board in Drew Commesso at No. 46. A little high? Maybe. But goalies tend to surprise in their picks. He was in the conversation for the second-best goaltender in the class, so I don't mind this at all.
Related: Blackhawks' 2020 Draft: Day 2 Analysis
Landon Slaggert isn't a player that I've been particularly high on, but I do think he's a safe pick. Maybe higher than I would have taken him, but he's a good prospect. Landing Wyatt Kaiser at No. 81 is very interesting, and a player that some out there had in their first round. Sure, he's coming out of high school, but this guy's a player. I thought he would have been the first high-schooler taken off the board. Their back half isn't as exciting, but I do like the value of Louis Crevier all the way down at No. 188.
Grade: B-
Colorado Avalanche
The Colorado Avalanche looked at ceiling and went for it, which I do admire. Justin Barron at 25th overall could look like a massive steal or it could be one where we wonder, "how didn't they see the flags?" His health concerns are the big worry here, but his play in 2018-19 had him in the conversation of the best defender of this class. If he can get back to that level and development curve, we'll be applauding Joe Sakic and staff.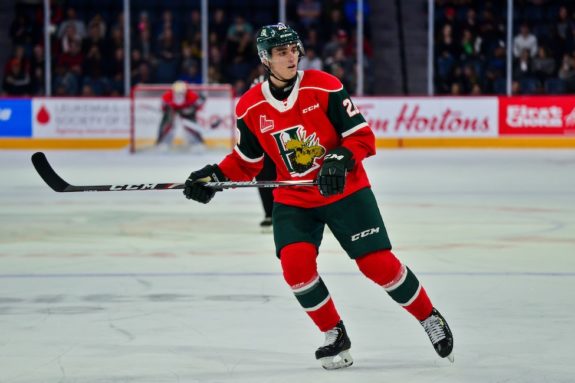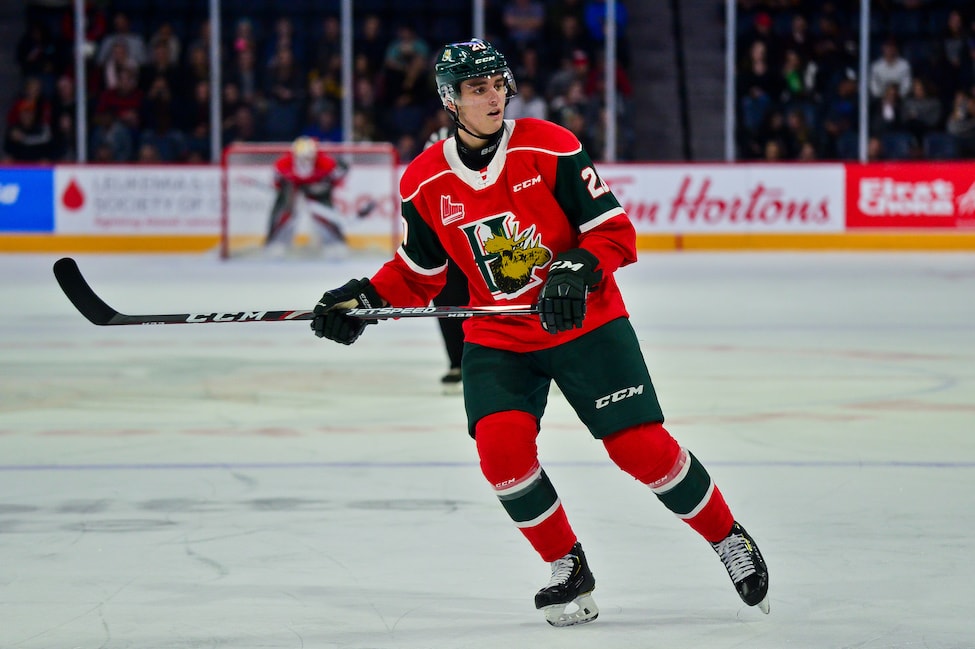 Jean-Luc Foudy is another big swing, who has numerous flags in his game yet could be one of the best skaters in this class. We saw what his brother Liam did for the Columbus Blue Jackets in the playoffs, so they're hoping for some similar play from Jean-Luc, I'm sure. Their next two picks of Colby Ambrosio and Ryder Rolston are interesting. I'm not the biggest fan of each, but I like parts of each of their games. I'm on the fence about this class and could easily fall on either side moving forward.
Grade: C+
Columbus Blue Jackets
There's a pretty good chance you hadn't heard of Yegor Chinakhov before Tuesday when the Blue Jackets drafted the double overager 21st overall. A reach? In a big way. But general manager Jarmo Kekalainen has made everyone look silly before, maybe he'll do it again?
Samuel Knazko might be an interesting player, but I think 78 is too high again. Mikael Pyythia could be the player I'm most interested in, but perhaps not one I would have selected. I'd argue that their best pick came at No. 176 in Samuel Johannesson, but looking at this class right now, I'm not feeling good. I hope you prove me wrong, Jarmo.
Grade: D
Dallas Stars
The Dallas Stars started off their draft with one of the bigger steals of the first round, landing Mavrik Bourque down at No. 30. The centreman could very well be a top-six guy for the Stars down the line, and I absolutely love the value here. The Stars didn't pick again until No. 123, landing the divisive Antonio Stranges. A risk, sure. But drafting on ceiling, this could be interesting. I think this was a very good spot for Stranges.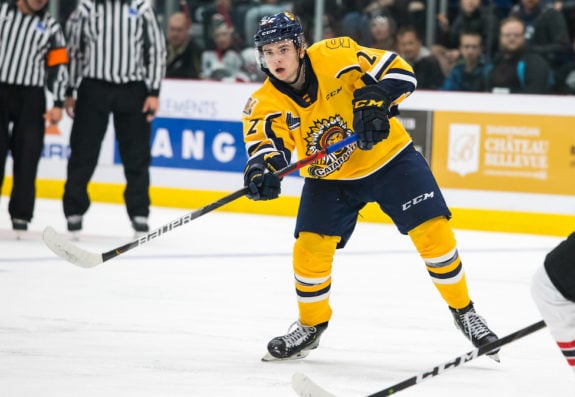 My favourite selecting of the Stars is Yevgeni Oksentyuk, an overager that I had in my second round as the best overager in the class. Landing him all the way down at No. 162 is one of my favourite picks of the day. Daniel Ljungman, while maybe not the highest ceiling, is a guy I could see as an NHLer as well. I think there were better goalies than Remi Poirier, but overall, this is a good class for the Stars.
Grade: B
Detroit Red Wings
The Detroit Red Wings made a ridiculous 12 selections through the draft, and this was one of the harder ones for me to grade. Let's start at the top. Lucas Raymond was the player I thought they should take and that was the right choice for sure. I love that pick. A+. They stuck with Swedish picks for the next two selections, landing defender William Wallinder and Theodor Niederbach.
Related: Grading the Red Wings' 2020 Draft
The rest of the draft has some mixed results for me. I like Cross Hanas and Donovan Sebrango, but I think they went too early. Eemil Viro is a great pick at No. 70. Alex Cotton is alright, but not one of my favourite overagers to be honest. Jan Bednar is one of the better goalies in this class, so that one is alright. The other four picks, I think there were better players out there. The Red Wings stocked the cupboard in a big way, but we'll have to see how the bottom nine selections pan out.
Grade: B
Edmonton Oilers
If I rank the first half of the Oilers draft, they get an A. Dylan Holloway is a very promising forward, who I think slipped a bit this year from being on a bad team. Carter Savoie was my No. 33 prospect, and the Oilers landed him at No. 100 (!). Tyler Tullio was another guy I saw in the top two/three rounds, and they got him at 126. All three are NHLers in my mind.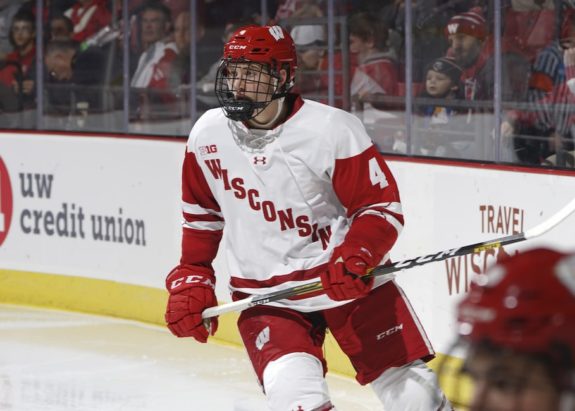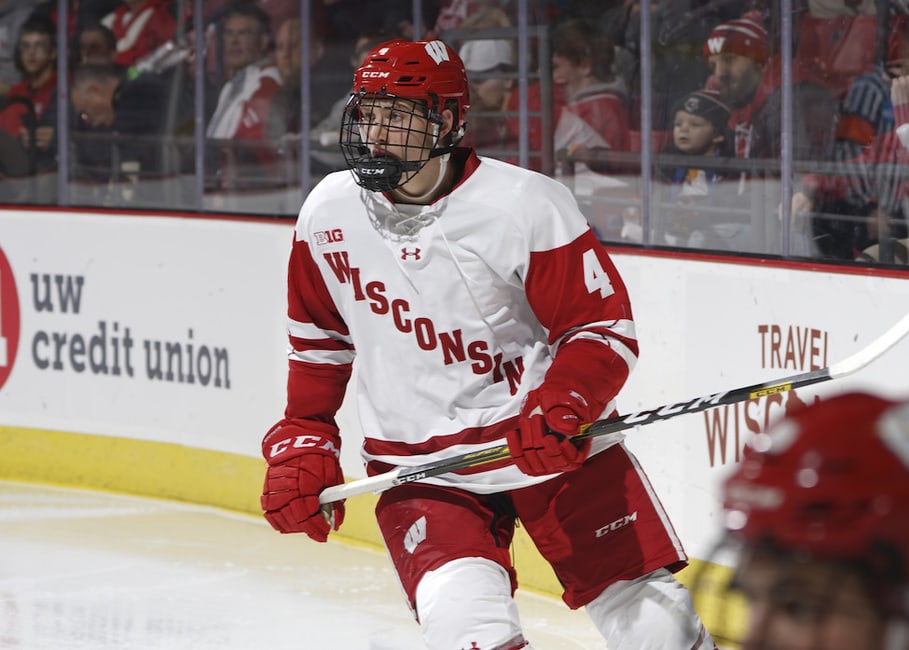 The bottom three picks I don't love as much. I think Maxim Beryozkin (which seems to be spelled all kinds of ways) is a great pick at 138 (I had him at 140), but I don't love Filip Engaras and Jeremias Lindewall. Overall, there's a lot to like about this class and the Oilers have injected some much-needed offensive firepower into their prospect pool.
Grade: B+
Florida Panthers
I absolutely love this draft for the Florida Panthers. This is an excellent draft class that I think could produce quite a few NHLers. I'm very much on team Anton Lundell, who I had ranked No. 7 in my final rankings. I can see him being an excellent 2C behind Aleksander Barkov. Their next three selections add onto the solid value picks in Emil Heineman, Ty Smilianic, and Justin Sourdif.
Even in the back half, I like who they got. Michael Benning is a widely underrated defender since he's coming from the AJHL, and fellow defenders Zachary Uens and Kasper Puutio could surprise, as could forward Elliot Ekmark. I think they likely could have picked some better players in these spots, but they did well overall. Their newest goalie, Devon Levi, is one of my favourites in this class. From top to bottom, well done, Florida.
Grade: A
Los Angeles Kings
Surprising to no one, the Los Angeles Kings nailed this draft. From their first selection, taking Quinton Byfield over Tim Stützle, they were off to the races. Then they added arguably the third-best defender in this class way down at 25 in Helge Grans. With thse two picks alone, I think they may have added a future 1C and top-two defender.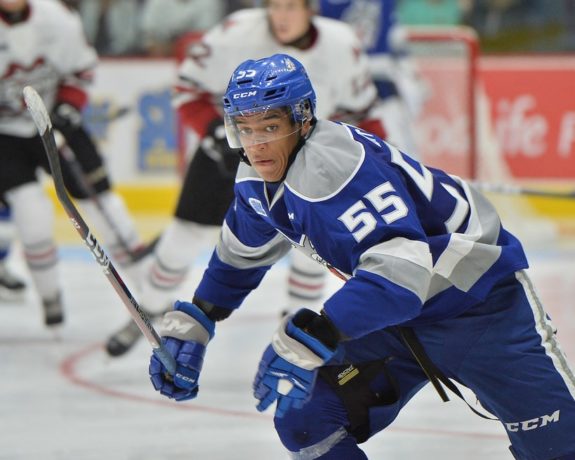 But they weren't done! They added promising defender Brock Faber as their second Round 2 selection, scooped up someone I had in the first round at 66 in Kasper Simontaival, and landed one of the best goalies in this class in Juho Markkanen. One of their best-value selections though? They absolutely robbed the league of Martin Chromiak, who many had pegged as a low-first, early-second rounder, way down at 128. They already had the best prospect pool in the league, and it very much improved – if that was possible.
Grade: A+
Minnesota Wild
We're on a run of some of my favourite draft classes, with the Minnesota Wild very much in that group. Of course, landing Marco Rossi all the way down at the ninth-overall pick is incredible. Most rankings had Rossi as a top-five pick. It's likely that his 5-foot-9 stature scared some teams off. The Wild weren't having it and probably would have skipped to the podium had it been in-person.
Related: Wild Wheel and Deal to Move Up on Day 2
They then traded up and selected Marat Khusnutdinov, one of the most skilled players in the entire draft. Their third pick may very well be their future captain, Ryan O'Rourke. These first three selections are incredible and I think all could have been first rounders. But they got the second two in the second. Daemon Hunt is a bit of a swing for the fences pick, as is Pavel Novak, but they definitely have NHL upside in my opinion. The Wild needed to improve their prospect pool and did so in a big way with just five picks.
Grade: A
Montreal Canadiens
The Montreal Canadiens were very hit-or-miss in my opinion, getting some excellent value choices and getting some… questionable ones. I'm not the biggest fan of Kaiden Guhle, and at No. 16 is a bit rich for me. However, I really like their back-to-back second-round picks, Luke Tuch and Jan Mysak. Mysak especially is a personal favourite of mine, who I had all the way up at No. 12.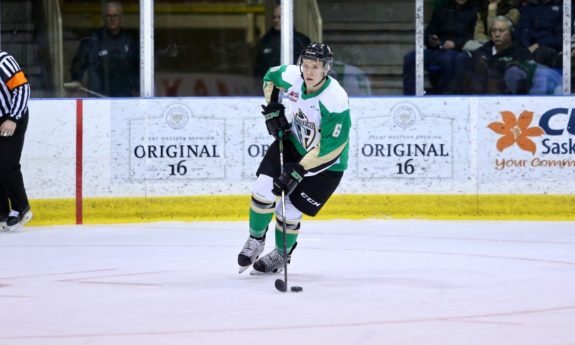 For the rest of their selections, I have big hopes for two of their fourth rounders, high schooler Blake Biondi and Sean Farrell. Farrell could have (and likely should have) been a second rounder at the very least. Good on the Canadiens for scooping him up. The other three selections I'm not particularly high on. As I said, this is a bit of a mixed bag of results in my opinion. The value of some of their picks keeps them in the B grade.
Grade: B-
Nashville Predators
The Nashville Predators were the ones to bite, landing Yaroslav Askarov with the No. 11 selection – right where I had him ranked. As we often see with goalies, they seem to slide due to the fact that they can be a bit unpredictable in their development. From what we've seen with Askarov, I think he's worth the risk.
Down the list, Luke Evangelista is a player that's grown on me. I watched him more over the summer and I likely would have bumped him up if I re-did my rankings. Maybe not quite to 42, but in the second round at least. The next two picks are alright, in Luke Prokop and Adam Wilsby. I really like the back-to-back Chicago Steel choices though in Luke Reid and Gunnarwolfe Fontaine. These two could definitely be players to make an impact down the line.
Grade: B
New Jersey Devils
Ah, the New Jersey Devils. For me, one pick is really holding this draft class back. But we'll get to that. The Devils had three first rounders, knocking the first two out of the park with Alexander Holtz and Dawson Mercer at 7 and 18. Excellent value at that spot, excellent fit, definitely the best players available in those spots. But with the third first rounder at 21, they threw a curveball and drafted Shakir Mukhamadullin, who I had in the fifth round and some left unranked. I hope the Devils are right in their selection, but this one scares me a lot.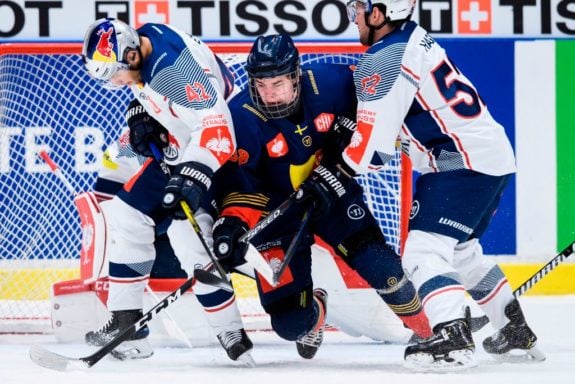 The good news is that they picked it back up after that. Nicolas Daws is one of the better goaltenders in this class. I'm a very big fan of Jaromir Pytlik, who I had up in the second round. Ethan Edwards is likely very underrated after playing in the AJHL, I think he could have been a top 62 player if he was in a different league. With their final pick, overager Benjamin Baumgartner is very intriguing. A very nice class overall with one major hiccup near the top.
Grade: B+
New York Islanders
Sorry, New York Islanders fan, but I'm not optimistic about the Isles draft class. After waiting until the 90th pick in the draft, they selected Alexander Ljungkrantz. You may be asking, "who?" and don't worry – most people are. He would have been an average pick in the seventh round. the third seems a little strange to me.
Moving down the list, the Islanders seems to continue to reach in their selections. I think William Dufour was probably their best pick of the draft, but I still don't feel great about it. At least your NHL roster looks pretty good, Islanders fans. But the prospect pool is dwindling.
Grade: D-
New York Rangers
This grade feels strange to me, but I really can't justify an A grade for the New York Rangers. Yes, they got Alexis Lafrenière, the top prospect of the 2020 NHL Draft, the obvious choice. But their picks after that, I'm not as big a fan. Braden Schneider at 19th overall – let alone trading up for him – is a reach in my opinion. The top of the second would have been closer for him. There were better options – even at defence.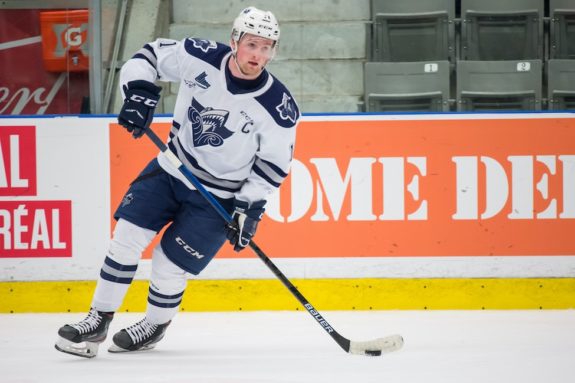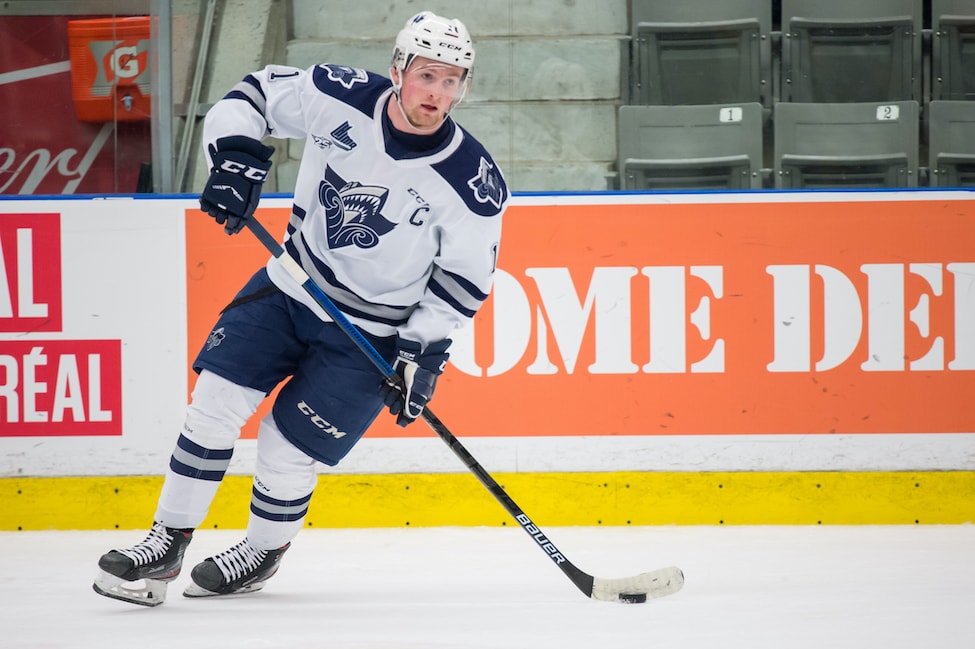 William Cuylle is a good player, maybe in the third or fourth round though, I don't think he's a great option in the second – even with the Star Wars fandom. I like Oliver Tarnstrom, Evan Vierling, and Brett Berard though. I'm okay with where they were picked as well. I don't love Dylan Garand in the fourth, or Rempe and Ollas. Obviously, Lafrenière gives this class a massive boost, but I'm a little underwhelmed by the rest.
Grade: B+
Ottawa Senators
The Ottawa Senators came into this draft with big expectations, and while they definitely padded the prospect pool, this was a bit of a weird one for me. Tim Stützle was the choice we all knew was coming, and while I think Lucas Raymond is likely going to be the better player, Stützle is right there with him. Their second pick in Jake Sanderson might be one we look back on as a miss though. I think they addressed a positional need, but the value just isn't there.
Related: Senators Get Bigger, But Not Better, on Draft Day 2
That became a theme in this draft I think. I think there were reaches in their next four picks with Ridly Greig, Roby Jarventie, Tyler Kleven, and Egor Sokolov. I like Greig, Jarventie, and Sokolov, but I would have preferred it a bit lower. Trading up for Kleven is a bit of a head-scratcher for me though. In their last four picks, I don't love any of them. Obviously, I'm not a huge fan of this group, but the Senators have a proven track record of surprising so I'll be keeping an eye on this class.
Grade: B
Philadelphia Flyers
I've seen some mixed reviews of the Philadelphia Flyers draft, but I like it. Compared to my rankings, Elliot Desnoyers is the only reach of the group, with all others being steals. Tyson Foerster was my 19th-ranked prospect and I have big hopes for him. I think he was one of the better grabs in the first round. I absolutely love their second-round pick in Emil Andrae, who I had as the third-best defender of the class at No. 22.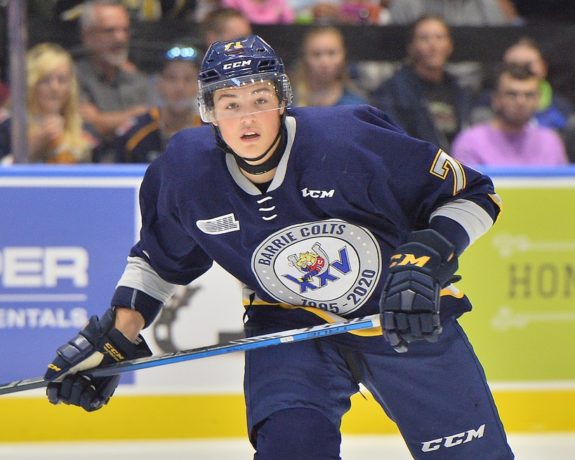 Zayde Wisdom is a player that I had at No. 67, and I think he might be the best fit for what we'd consider Flyers' hockey. I like what he could bring to this group, and his competitiveness will ensure he's an NHL. Their final pick of Connor McClennon is a big swing, and a big gamble, that I really like at 178th overall. Entering the 2019-20 season and prior, many thought that McClennon was a first or second rounder. He has a ton of talent and that's worth a sixth-rounder for sure.
Grade: A
Pittsburgh Penguins
The Pittsburgh Penguins have one of the emptiest prospect pools in the league and after the draft, it's not very full. They started their draft with two goaltender selections, drafting the goalie I had as second-best, Joel Blomqvist, at No. 52. The other netminder was Calle Clang at 77. While I like these two netminders, I would not have used my first two selections on goalies.
I'm a big fan of their third pick though, selecting Lukas Svejkovsky in the fourth round. I had him as a sleeper in this draft, so I'm happy he went higher than even I thought. Chase Yoder might be an interesting one to keep an eye on, but overall, I think the Penguins needed to try to add high-ceiling players, maybe even try to add some picks, and they missed the mark on that.
Grade: C+
San Jose Sharks
The San Jose Sharks started the draft at the end of the first round, drafting Ozzy Wiesblatt at 31 with Sharks director of scouting Doug Wilson Jr. signing the selection so that Wiesblatt's mom, who's deaf, could see her son selected. It was higher than I thought he'd go, but I still like this pick. The Sharks kept the solid picks rolling, taking Thomas Bordeleau, Tristen Robins, Danil Gushchin, and Brandon Coe with their next picks I'm a big fan of every one of these picks.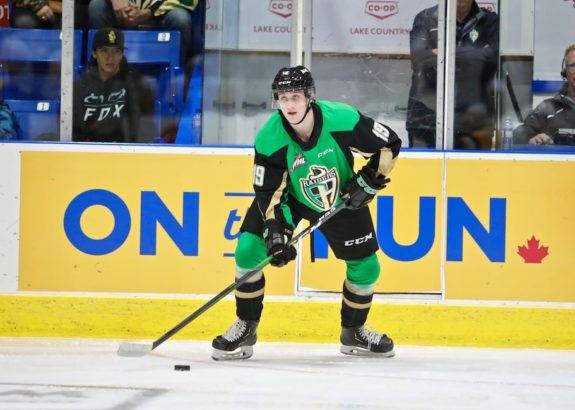 Their last four selection leaves a bit more to be desired, but with what they got in the first half in the draft, I'm okay with them taking some chances in the later rounds. defender Adam Raska is one that I don't mind, but overall, I like this class. The Sharks needed to add some talent to their prospect pool and they did just that.
Grade: A-
St. Louis Blues
The St. Louis Blues are a club that has seen a number of their prospects make the jump, and they needed to add some skill to that pool. They didn't really do that in the draft. Jake Neighbours is a good player, I didn't see him as a first rounder, but he does bring some of that skill they needed. I'm not a huge fan of Dylan Peterson, but I don't mind it too much in the third round.
The rest of their picks though, I think they missed the mark. Leo Loof might be a stretch to be an NHLer, and goaltender Will Cranley is a risky goaltender choice in my opinion. After Neighbours and possibly Peterson, I'm not sure how many of these guys we'll see in the NHL.
Grade: D
Tampa Bay Lightning
Overall, I think the Tampa Bay Lightning left better players on their board at every spot. That being said, there are a couple of their selections that I really like. Jack Finley, their first selection of the draft down at No. 57, is a player that I think could be poised for a bit year in the WHL. He's younger, he showed flashes of excellent feet and hands through the year, and I think he could be a surprise of this draft.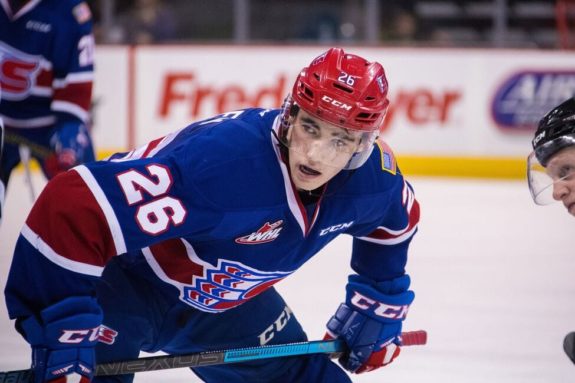 The other pick I really like is Eamon Powell, a defender that I think was very underrated in this class. I don't mind the Maxim Groshev and Jack Thompson picks (again, maybe not the best choices), but the rest are a bit concerning. The Lightning have shown they know what to look for in the later rounds in past drafts, but I think we'll be questioning this one for a while.
Grade: C
Toronto Maple Leafs
The Toronto Maple Leafs looked for one thing in the 2020 NHL Draft: ceiling. Which is just the best way to look at the draft. Sure, there may be some misses, but there could be some home runs here as well. I'm a big, big fan of their first seven picks. Rodion Amirov was very much the player I thought they'd go for – over a defender – and that's who they landed. He was a top-10 prospect for me.
Related: Maple Leafs Stock Up on Late-Round Talent at the 2020 Draft
Roni Hirvonen was another guy that I had in my first round, making this pick at 59 a steal in my books. Topi Niemela and William Villeneuve may have their warts, but there's a lot of potential in these two. If they come close to their ceiling and avoid their potentially low floors, these will turn out to be excellent picks. I like the swing on Dmitry Ovchinnikov, Veeti Miettinen could have been a first rounder if he was two inches taller, and I do like Joe Miller. This is an exciting class.
Grade: A
Vancouver Canucks
I'm a little underwhelmed by the Vancouver Canucks draft class overall. I like the Joni Jurmo selection with their first pick of the draft down at 82, but other than him, I'm not sure we'll see any of these guys in the NHL. Jacob Truscott would be the one other I recommend watching closely as he could have a chance.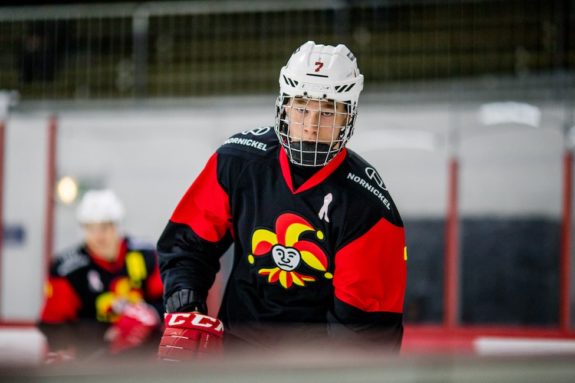 But heir other three selections, Jackson Kunz, Dmitry Zlodeyev, and Viktor Persson, I'm not as big of a fan. Zlodeyev would be my favourite if forced to choose one, but I don't have high hopes for this class overall. Jurmo could be the lone saviour of this draft for the Canucks.
Grade: C
Vegas Golden Knights
It's hard to believe that the Vegas Golden Knights weren't in the NHL a few short years ago. Now, not only do they have one of the best rosters in the NHL but they have one of the best prospect pools as well. That improved in a big way in 2020. Brendan Brisson is a guy that I should have had higher in my final rankings looking back, and landing him at 29 is an excellent choice. Imagining Peyton Krebs or Cody Glass and him working together in the future could be very exciting.
Related: New Golden Knights: Vegas' Day 2 Draft Picks
The second selection of Lukas Cormier way down at No. 68 may very well be one of my favourite picks of the class, as I had him up in the 20s. That's an excellent-value pick in my eyes. I also really like Noah Ellis all the way down at No. 184. I'm not as high on their other three picks, but overall, I think there's some very good potential in this group.
Grade: B
Washington Capitals
The Washington Capitals did very well in their 2020 NHL Draft. They took some chances, starting off with their first pick – that they traded up for – in Hendrix Lapierre. With the concussion and neck injury history, there's some risk here, but if you've seen him play you know he's probably worth the risk.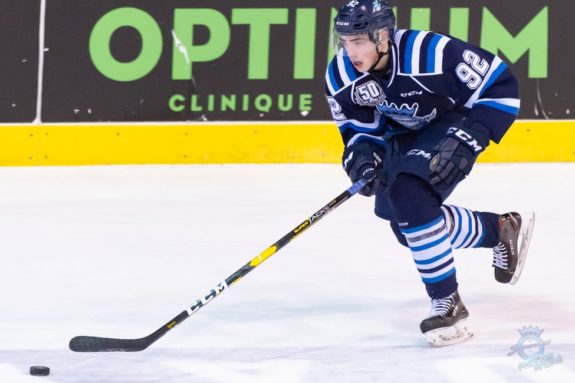 Bogdan Trineyev was one of the better Russian players in this draft, and getting him at No. 117 is a good pick in my mind. I think Bear Hughes is another risk, but if his development trajectory continues this could be one of the better stories in recent years. Oskar Magnusson down at No. 211 is a great pick as well, about 100 picks lower than I had him. This was a good draft for the Caps who are starting to need to think about the changing of the guard.
Grade: B+
Winnipeg Jets
With just four picks in the 2020 NHL Draft, I think the Winnipeg Jets did extremely well in their selections. After waiting patiently for the first nine selections in the draft, the team wasted no time in snatching Cole Perfetti with the 10th overall selection. Remember, there was talk about him going fourth overall. Grabbing him at 10th is extremely impressive for the Jets.
Related: Jets Get Their Future Top-Six Forward with Perfetti Draft Pick
Their next pick down at No. 40 is one of the better Swedes of the class, Daniel Torgersson. I think he's likely at the perfect spot for him. Anton Johannesson is a big swing that we'll have to see if the ball connects. Down at 133, I think he's very much the risk for the Jets. They didn't have a lot of picks, but they did well with what they had.
Grade: B+
---
---
Get the latest NHL Draft & Prospect rankings, news and analysis