The Vegas Golden Knights welcomed five new faces to the franchise on Day 2 of the 2020 NHL Entry Draft. Get to know your newest Knights down below!
Pick 68: Lukas Cormier, D, Charlottetown (QMJHL)
The Golden Knights added one of the most mobile defensemen available in the draft, at a steal in the third round. Lukas Cormier's speed and offensive upside fit right in with the direction that teams seem to be taking when it comes to building their blue line, which made him a favourite to go late in the first round, or slip to high in the second.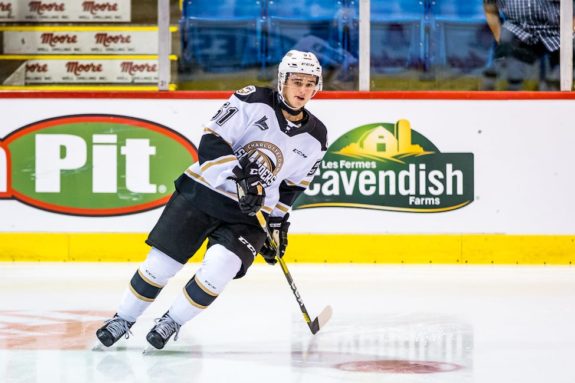 Cormier's sophomore season with the Charlottetown Islanders has been even more impressive than his first. He eclipsed his first-year point total of 36 points in 19 fewer games. He backs up strong offensive numbers with solid defensive zone play, finishing the shortened 2019-20 season with a plus-12 rating. Vegas has found themselves a high performing, two-way player, who appears to be built for the NHL of the future.
Pick 91: Jackson Hallum, C, St-Thomas (USHS)
Vegas went quite young with their second pick of the third round, taking high schooler Jackson Hallum. The youngster only committed to the University of Michigan in September of 2020 and has spent the last two seasons playing high school hockey in Minnesota. 
Related: 2006 NHL Draft – 5 Forgotten Picks
Hallum's biggest upside is his speed, as he has been regarded as one of the fastest skaters in this year's draft class. This should be encouraging to fans, seeing as speed can't always be coached, but offensive effectiveness can be, which is where the majority of the criticism on Hallum comes from. This pick is clearly a part of a long term vision for the Knights, but it makes it look as though the future is a bright one. 
Pick 125: Jesper Vikman, G, AIK (Sweden Jr)
As if there hasn't been enough noise around the Golden Knights' goaltending in recent months, a new name has been added to the pot. While he won't contend for a roster spot for years to come, Jesper Vikman clearly impressed Vegas' front office, as they traded up in order to select the Swedish netminder with the first pick of the round.
While his current numbers aren't overly eye-catching – a 3.06 goals-against-average with a .902 save percentage in his last season with AIK of the J20 SuperElit – the Golden Knights aren't in a position where they would need his services anytime soon, giving him plenty of time to improve. 
Pick 184: Noah Ellis, D, Des Moines (USHL)
Noah Ellis has established himself as a calm presence on the backline with the Des Moines Buccaneers, and with Team USA at the 2019 Hlinka-Gretzky Cup. While he may not dazzle with his offensive numbers, 11 points in 47 games, his ability to stabilize his team and make good decisions with the puck in his own zone help explain why the Golden Knights wanted him in the organization.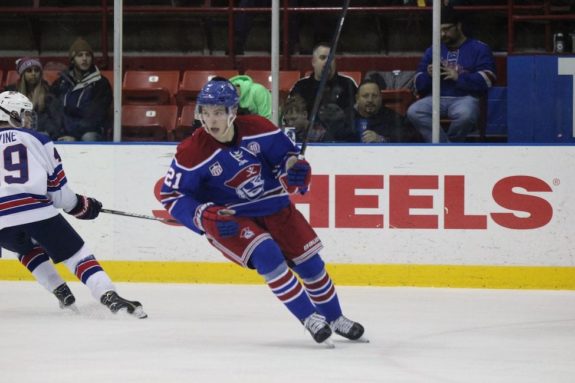 His skating isn't a weakness, nor is it a particular strength, but he has proven that he can get the puck out of his end using his feet. All the tools are there for Ellis to grow into an NHL blueliner, as long as he is developed properly and not asked to do too much too soon.
Pick 215: Maxim Marushev, C, Bars Kazan (Russia)
The Golden Knights capped off their 2020 draft class with their oldest selection, taking the 21-year-old Maxim Marushev. Central Skating had him ranked 74th among European skaters, mainly due to his ability to play a solid 200-foot game. He racked up 40 points for Bars Kazan of the VHL last season, and has two assists through this season's five games. 
Related: 2010 NHL Draft – 5 Forgotten Picks
It was a successful second draft day for the Knights, as they put potential faces to their future. Who are you most excited to see put on the golden threads in the years to come?
---
---