With the 2020 NHL Draft fast approaching, there's lots of discussion about the top prospects, which team could select which prospect, and so on. When it comes to the draft, the prospects that look to be first-round talents control the majority of the discussion. However, every year there are players taken in the later rounds that eventually make it to the NHL and become top players for their teams, sometimes even becoming stars.
Related: 2020 NHL Draft Guide
In this piece, I'm going to take a look at five players who could go in the later rounds (about round six or seven, if someone hasn't scooped them up already) that could just be some of those players who go on to see success in the NHL. Call them late-round favourites or sleepers, these players have shown the potential to be something great but may just have a few aspects of their game to work on, or just need to continue to prove themselves at the next level.
Of course, in this exercise, everyone would come up with different names. This is just my personal opinion. If you have your own later-round favourites, be sure to drop a comment with some names and why you think they could be a late-round sleeper! Here are some of the names I'll be looking to see when they're called, likely near the end of the draft (in alphabetical order).
Brady Burns, C/LW, Saint John Sea Dogs (QMJHL)
We start off with Brady Burns, a player that doesn't get talked about a whole lot. While there is a chance he may go undrafted completely, I think that would be a mistake. Taking him the in the last two rounds, especially if you're a team with a large number of picks, could be well worth the gamble.
Burns plays for the Saint John Sea Dogs, doubling his point total from the year before. He collected 27 goals and 30 assists, for 57 points in 64 games. That point total actually led all forwards on the team, finishing second to defender William Villeneuve. He led the team in goals, with the closest to him, another defender in Jérémie Poirier, finishing with 20.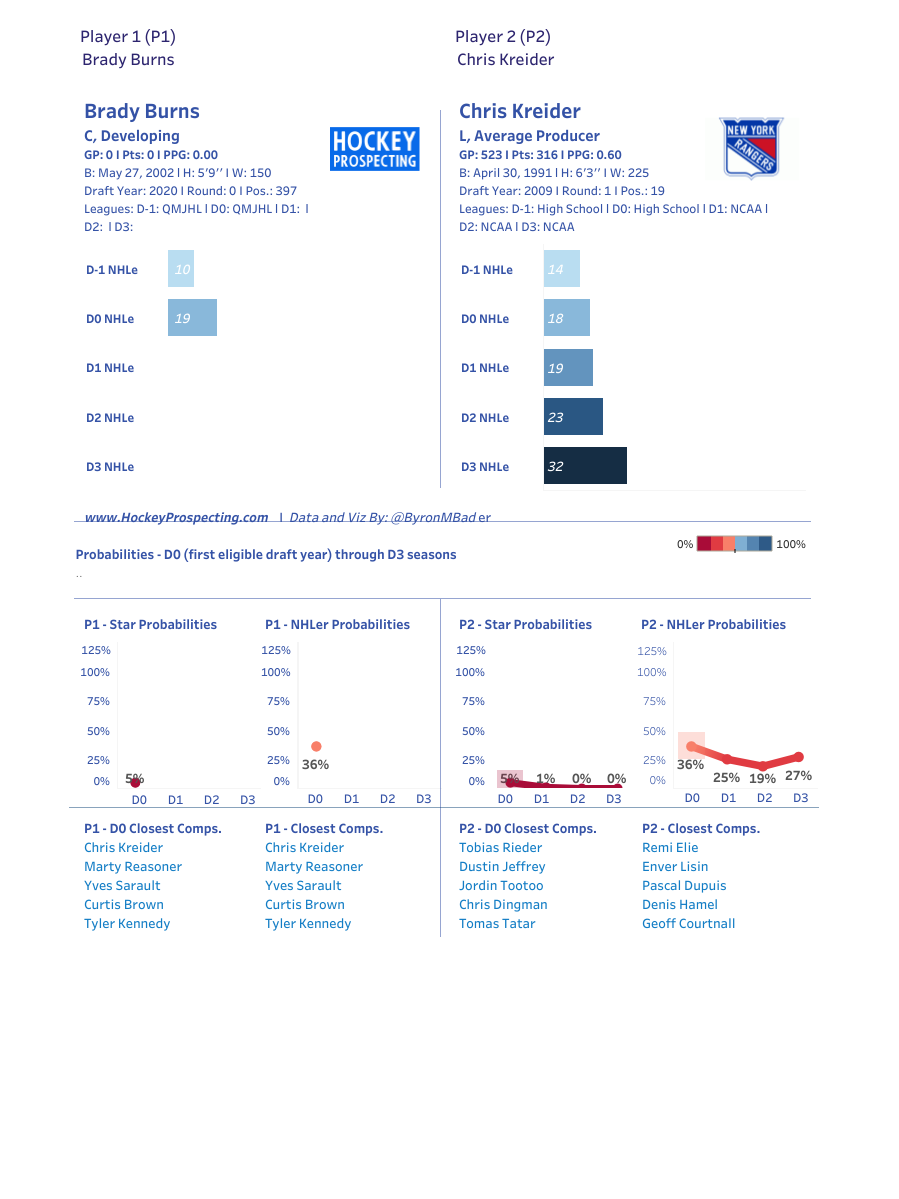 Burns is an offensively dynamic player, who excels with some excellent puck skills. My favourite part of his game though is his competitiveness, as he never takes his foot off the gas and he's always working hard to get the puck or make a play with it.
The other aspects of his game aren't quite at that level, but his hands and drive could be a trait that helps him get to the next level. He's a good – not great – skater, that lacks speed but has good four-way mobility. His strength is an area of concern, but at 5-foot-10, 159 pounds, there is room for the young player to grow. He's an intriguing prospect, that his teammates think should be getting more attention.
Noah Ellis, D, Des Moines Buccaneers (USHL)
Heading south of the border, we know that the USHL is under-scouted as it is. One player that has flown under the radar, perhaps because of this, is defender Noah Ellis. While he's unranked by most outlets, the right-shot defender is very much someone to take a chance on in the later rounds.
The Des Moines Buccaneers rearguard should really be discussed more, especially after starting the year on Team USA in the 2019 Hlinka Gretzky Cup, collecting four points (two goals, two assists) in four games. He's not an offensively defender, but he can definitely contribute, as he showed in the tournament. He went on to collect another 11 points (five goals, six assists) in 47 games.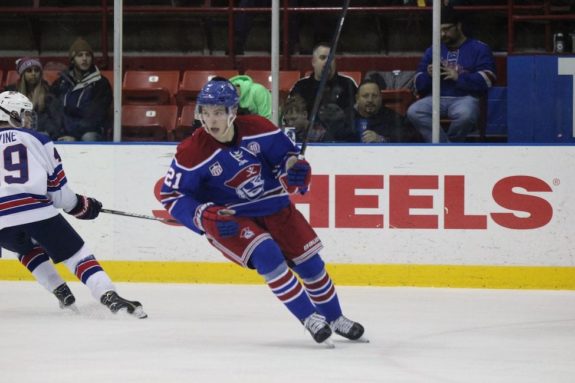 While he might not impress you in his offensive output, he should catch your eye in his own end. He seems calm in his plays, making good decisions to get the puck out of danger. He's strong along the boards and has the mobility to move the puck out with his feet, although I'm not sure I'd call his skating a strength – but it's not necessarily a weakness. It's average.
While his play in his own end is a strength, a weakness would be his consistency in this. There are some shifts where he's everything you'd want in a defender and there are some shifts where he isn't in the best position, whether that's defending the cycle or the rush and managing space. Still, the tools are here for Ellis to be a NHL defender with the proper development. I wouldn't be surprised to see him go earlier that the sixth round either, as I have him in the fourth. However, the lack of more public rankings earns him a spot on this list.
Devon Levi, G, Carleton Place Canadians (CCHL)
If there's a player I'm rooting for in the 2020 NHL Draft, it might just be Devon Levi. The goaltender for the Carleton Place Canadians chose the NCAA route, keeping him out of the QMJHL despite being drafted by the Blainville-Boisbriand Armada in 2017. His performance both in the CCHL and at the international level should be enough to warrant a selection in 2020.
Related: Devon Levi – 2020 NHL Draft Prospect Profile
In the CCHL, Levi went 34-2-1 with a league-leading 1.47 goals against average (GAA) and .941 save percentage (SV%). He earned CCHL goaltender of the year, and most outstanding player, going on to win national honours as the top rookie, goaltender, and player. Then, at the World Junior A Challenge, Levi helped Canada East to a silver medal and earned the tournament's most valuable player award.
Looking at his game, it matches his resume. His biggest asset is likely his athleticism. He's able to make big saves and his reaction time is extremely quick. He moves so well in the crease and he's great positionally. Finally, off the ice, he's a leader in the room and, as his coach notes, an exceptional teammates.
There are two forces working against Levi right now. First, he's 6-foot-0, slightly under the "average" in the NHL. However, let's consider Dallas Stars goaltender Anton Khudobin who just led the team to the Stanley Cup Final – at 5-foot-11. Second, the CCHL is not exactly the same level of competition as the CHL, USHL, NCAA, etc. Teams may want to see how he looks with the NCAA's North Eastern Huskies next season.
Lukas Svejkovsky, C/W, Medicine Hat Tigers (WHL)
Heading out west to the WHL, Lukas Svejkovsky should very much be a player you're keeping an eye on. To be honest, he could be selected in the mid-draft rounds, but there is a chance that he slips out of those rounds into the sixth or seventh. If he does wait until those late rounds, he could be a steal.
Playing for the Vancouver Giants and the Medicine Hat Tigers in 2019-20, he racked up 38 points (18 goals, 20 assists). It's also worth noting that the forward was recently invited to the 2021 National Junior Team Evaluation Camp for Team USA. We could very well be seeing him in the World Juniors bubble.
His skating is exceptional, from his stride to his edgework, to his speed. Honestly, his skating could very well be the aspect of his game that will carry him to the next level. But then you factor in his puckhandling and small-area game, and there could definitely be a promising goalie here.
I think there are some questions about his decision making at times, rushing the puck off of his stick, which sometimes results in turnovers. I'd also like to see him drive the middle more. Both of these could come down to the confidence he has in himself. A World Junior appearance could help that. I personally have Svejkovsky in the fifth round, but I do think he could slide. He's definitely a player to watch.
Oliver Tärnström, C, AIK J20 (SuperElit)
Finally, we get to one of the most under-discussed players in this draft. The bottom two rounds are too low for Oliver Tärnström, but it's looking like that's where he could go. Much like the others on this list, letting him slide this far could be a mistake, but a steal for the team that lands him.
Related: Oliver Tärnström – 2020 NHL Draft Prospect Profile
Tärnström spent the year mainly in the J20 SuperElit for AIK, playing 41 games, scoring 11 goals, 23 assists, and 34 points. He played three games for the U18 team this year, and looking to the future, he could become a fixture on that team. He has more than enough skill to make that become a reality.
His offensive prowess is incredible. As you can see in the video above, he can tear through defenses thanks to his high-end puckhandling, skating, and creativity. Plus, he can dish it out almost just as well, using his vision to read the opposition and create chances for his team.
The knocks against him really have to do with his defensive game, size and strength. At 163 pounds, he'll need to bulk up. While he doesn't shy away from contact, his lack of physicality could be an issue as he tries to move to the next step. Defensively, I don't always see the effort that he provides in the offensive end, but the nice thing about all of these knocks is that they can all be improved moving forward. The foundation is very much there for a solid NHLer.
---
The 2020 NHL Draft is now just days away, and while the focus tends to be on those at the top, don't discount those drafted lower. Every year, there are always players taken in the late rounds that "defy the odds" and make it the NHL – sometimes in a big way. On Oct. 7, keep an eye on these five players as your team takes the podium in the back half of the draft.
---
---
Get the latest NHL Draft & Prospect rankings, news and analysis
Starting out as an Ottawa Senators contributor for The Hockey Writers, Josh is now an editor and at-large contributor, focusing on prospects, the NHL Draft, hockey history, and breaking news stories.