It has been a little over 15 months since the Winnipeg Jets traded defenseman Jacob Trouba to the New York Rangers, but in that time he has only shown glimpses of his signature style of play. At 26 years old, the 6-foot-3, 209-pound blueliner forged a well-established reputation in Winnipeg as a player who had successfully combined size with solid skating ability and a killer shot. But his performance in New York has not been reflective of his true potential — yet.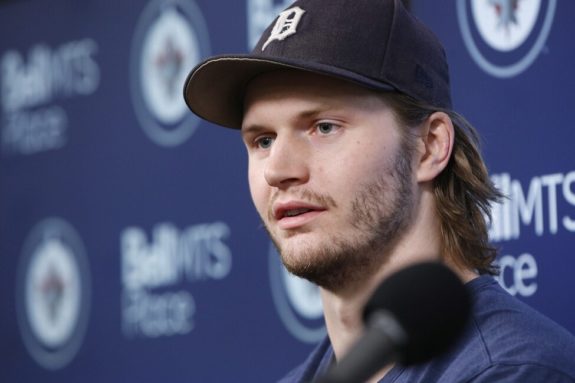 As the Rangers transition from constructing to competing with a legitimate shot this season, the club will require their defensemen to pull their full weight, especially from the experienced players. In order to integrate the younger members of the team, the Rangers staff will most likely look to pair more experienced players with a younger counterpart, who may need to lean on their veteran partner — thus their role is more vital to the success of the team.
Back in July of 2019, a month after the swap between the two franchises, Trouba and the Rangers agreed upon a seven-year contract which carries an average annual value of $8 million. It was an exciting deal and the prospect of attaining such a physical defender for the long haul was certainly promising.
Related: Rangers' Must Tread Carefully with Trouba Extension
Although we have not fully seen Trouba replicate his prime performance from the Jets, there is time for him to flourish with the Rangers. After all, 15 months in relation to seven years is only a fraction of the time Trouba has to adjust.
He is an intelligent, two-way blueliner and his style emphasizes defense even though he does possess a touch of offense. Trouba recorded a career-high 50 points with the Jets in his final season. As a Blueshirt, he has collected 27 points in 70 games last season. Not only did his offensive performance slip following his departure from Winnipeg, so did his defending. 
Trouba's Performance in Winnipeg Was Promising
As frustrating as it was to see Trouba perform inconsistently this past season, finding the right defensive partner is key in facilitating his peak performance in the future. During the qualifying round for the 2020 Playoffs against the Carolina Hurricanes, Trouba's game looked reminiscent of his days as a Jet.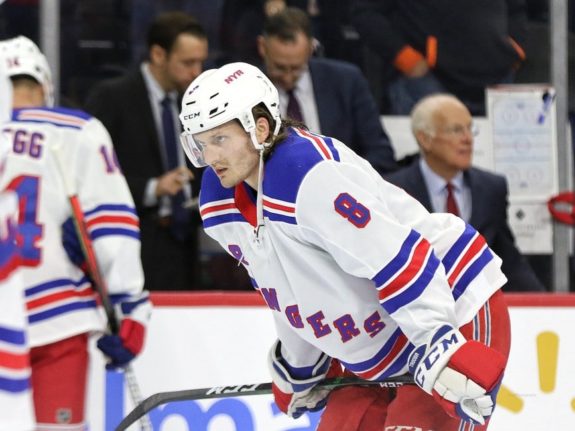 Moving forward, this is the Trouba the young team will need to rely upon if they want to be Stanley Cup contenders. Whether the organization continues to look internally for the right partner or extends an offer to an outsider is another story, but the franchise does not have unlimited time and money to figure it out. 
Trouba never saw himself in the top pairing during his time with the Jets, but it was also quite a task to stand out amongst the fellow defensemen and additionally, the defensively-minded veteran forward group. Eventually, the combination of pressing salary cap issues and a history of difficult negotiations led to Trouba's trade. 
Related: The Case for Trading Jacob Trouba
About a month prior to the season pause, Trouba approached Rangers head coach, David Quinn, with frustration ahead of their road match against his former team. Despite his awareness that his expected role is to be in the Rangers' top pair, that expectation did not make his transition any easier. 
In Winnipeg, Trouba was often paired with Josh Morrissey, another skillful defender similar in size and age. Together they made a shut-down pairing and complemented each other very well. It was such a seamless pairing making it ostensive that Trouba would have no problem meshing with his new partner in New York. This was not the case. 
New Opportunities Arising in New York
In any sport, it is not unheard of for a player to struggle to acclimate to his new team. The Michigan-native spent six seasons in the NHL with the same team since being drafted by the Jets in 2012 and adjusting to a new team, new city and new system cannot occur overnight.
Furthermore, the chemistry that requires a defensive pairing to work is hard to come by and jamming stand-alone defenders together does not work. During Trouba's time in New York, he found himself usually paired with friend Brady Skjei prior to Skjei's own departure. The two had known each other personally for quite some time before entering the league and even this could not contribute to on-ice chemistry.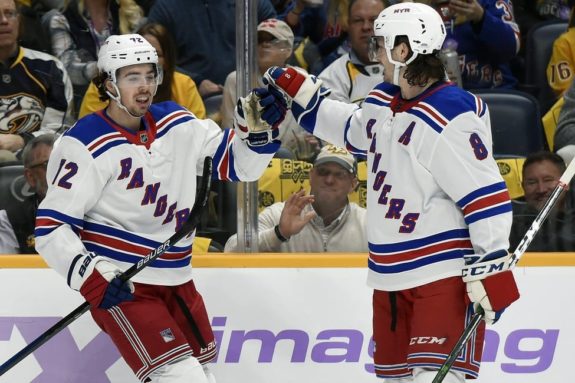 Thus, it is far too soon to dismiss the right-shot defenseman. 
With the recent trade of veteran Marc Staal, this opens some opportunities to provide a left-handed partner for Trouba. The organization also parted with their assistant coach and will be under new guidance of Jacques Martin, a specialist in defense and penalty kills. 
Trouba stands out on the ice for his alert, physical style, and his puck-moving capabilities. Providing a partner who is not as versed in these departments would likely benefit both players. Issues finding the righty a partner are further exacerbated by pre-established pairings. For instance, it would not be wise to split up Adam Fox and Ryan Lindgren, a young pair who established chemistry almost immediately. Ironically, Fox and Lindgren are on their way to possibly duplicating a sort of Trouba-Morrissey pairing. 
Setting Trouba Up for Success
Giving Trouba a competent partner allows Trouba to take on other roles that will be crucial as the team progresses. A young team of first-year players will require an enforcer, especially as the Rangers have lacked adequate grit for quite some time. 
Looking strictly at the current roster,  the fate of the remaining left-handed defensemen is to be determined. Libor Hajek, who did spend some time partnered with Trouba when he was not with their minor league affilfate, made a less than stellar duo. But again, patience becomes key pressing onward with rookie Hajek and first-year Blueshirt Trouba. 
While it is not inconceivable to have expected to see Winnipegian Trouba it is simply too rash to write off Trouba as a player who could never become the top pairing. 
---
---
Rachel is a graduate of the University of Pittsburgh. She can be followed on Twitter @RachelNHL.