Day 2 of the 2020 NHL Entry Draft covered Rounds 2-7 on Oct. 7. The Chicago Blackhawks had seven picks, but they weren't overly busy. They made only one move to trade-up in the seventh round, but, overall, the newcomers are worth getting excited about. If you missed coverage from Day 1, THW's Shaun Filippelli has you covered with an in-depth analysis of the Blackhawks' first-round pick, Lukas Reichel. Now, onto the other future Hawks.
Round 2
No. 46: Drew Commesso
Drew Commesso was the Blackhawks' first pick of Day 2. There was a lot of speculation that general manager Stan Bowman would select a goaltender in the first round but he didn't get the opportunity. However, they snagged a pretty good player in the second round. Commesso is 18 years old and most recently played for the U.S. National U18 Team where he had a .920 save percentage (SV%) and a 2.05 goals-against average (GAA). That's a promising improvement over 2018-19 when he had an 886 SV% with a 3.24 GAA. He is currently a freshman at Boston University.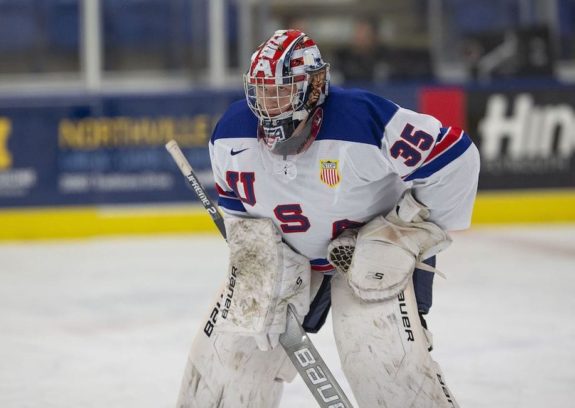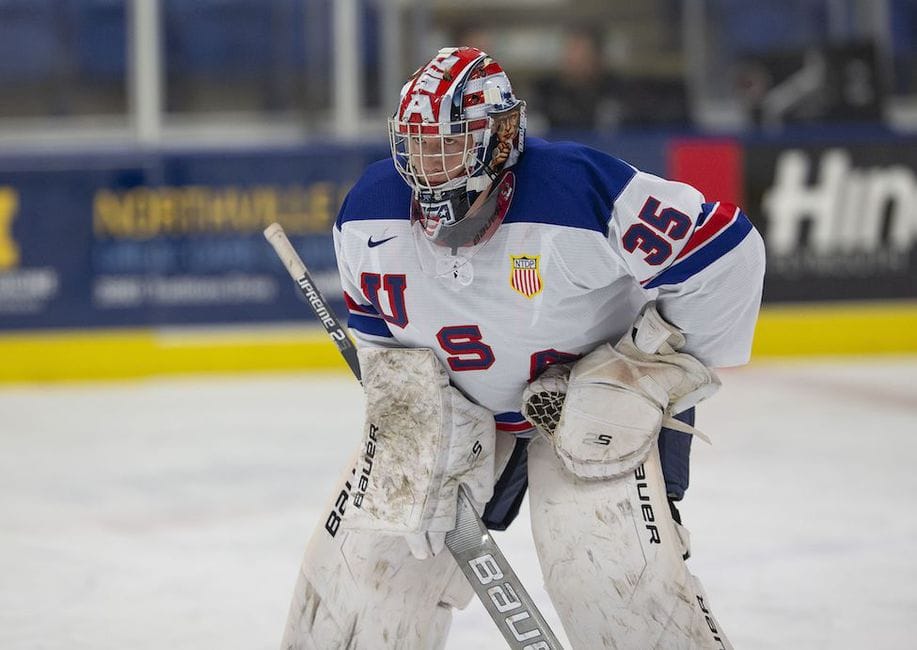 Commesso is known for his skating ability and performing well through traffic. He is 6-foot-2 and 181 pounds, similar to Corey Crawford. Commesso looks like he has a bright future ahead of him and I'm excited he fell to the Blackhawks.
Round 3
No. 79: Landon Slaggert
Landon Slaggert is an 18-year-old center who most recently played for the U.S. National U18 Team with Commesso. He is now a freshman at Notre Dame, but his stat line with the National Team was 13 goals and 11 assists in 47 games, which matches his stats from 2018-19 and shows his consistency. Slaggert is known for being a strong, physical, and fast player who is hard to play against. That's definitely needed for the Blackhawks.
No. 81: Wyatt Kaiser
Wyatt Kaiser is an 18-year-old, left-handed defenseman who most recently played for the Andover Huskies, a high-school team in Minnesota. There, he had 9 goals and 34 points in 25 games.
He also played a bit for the Dubuque Fighting Saints of the United States Hockey League (USHL) in 2019-20 where he had 3 assists in 11 games. Kaiser is known for being a good, speedy defenseman. Any speed they can acquire on defense is a major win for the Blackhawks.
Round 4
No. 110: Michael Krutil
Michael Krutil is an 18-year-old, right-handed defenseman who most recently played for the HC Sparta Praha U20 Team in his native Czech Republic where he had 3 goals and 5 points in 19 games. He is considered a great stick-handler and puck-mover. In June, he was drafted 24th overall by the Kelowna Rockets of the Western Hockey League (WHL). With skills like Krutil, he is sure to make an impact in the WHL and beyond.
Round 5
No. 141: Isaak Phillips
Isaak Phillips is a 19-year-old, left-handed defenseman who has been with the Sudbury Wolves of the Ontario Hockey League (OHL) since 2018-19. In 2018-19, he had 3 goals and 14 points in 68 games, but 2019-20 was his breakout year when he scored 9 goals and 26 points in 63 games. Dobber Prospects describes him as a player whose biggest strength is his ability to disrupt transition against.
At 6-foot-3 and 194 pounds, Phillips is another big-bodied defenseman to add to the Blackhawks' core. This is the pick I am most excited about. From his highlights, you can see his high hockey IQ, wicked shot, with the grit and heart to match. His potential is sky-high. I think Phillips is the type of defenseman that Blackhawks' fans will love.
Round 6
No. 172: Chad Yetman
Chad Yetman is a 20-year-old right-winger who has been with the Eerie Otters of the OHL since 2017-18. (Alex DeBrincat and Dylan Strome are former Otters). He improved with each season in the WHL: Since 2017-18, he went from 16 points, to 57 points, to 74 points. In 2019-20, he had 43 goals and 74 points in 61 games.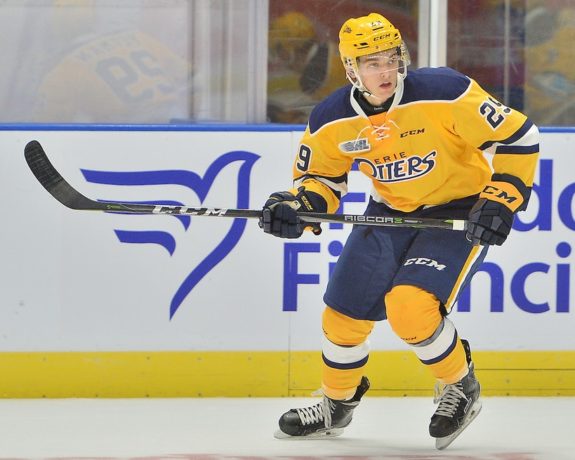 Yetman was passed over in the last two drafts. Considering that and the fact that he is 5-foot-11 and 179 pounds, Blackhawks writer for The Athletic, Mark Lazerus, stated it perfectly when he posted on Twitter: "Major Andrew Shaw vibes." Couldn't agree more.
Round 7
No. 188: Louis Crevier
Chicago traded their 2021 seventh-round pick to the Montreal Canadiens for this pick. Louis Crevier is a 19-year-old, right-handed defenseman who has been playing for the Chicoutimi Saguenéens of the Quebec Major Junior Hockey League (QMJHL) since 2018-19, which was a down season for him, with only 4 assists in 44 games. In 2019-20, he rebounded with 10 goals and 21 points in 59 games. He is 6-foot-8 and 216 pounds, which has drawn Zdeno Chara comparisons. Here is what one NHL scout said about him:
He obviously has a long reach and he's progressing very well. Louis chips in offensively while at 5-on-5 and plays a key role on PK (Penalty Kill). He's definitely more of a shut down type of D.
Final Thoughts
The Blackhawks' Day 2 picks were heavy on defensemen. This is a bit surprising because their last few drafts have put a lot of emphasis on defense. Nevertheless, Day 2 was a very successful day for the team. They picked players with qualities that are needed. I think there could be some hidden gems in this group that will line the Blackhawks up for a successful future.
---
---