Simply put, Tuesday was a fantastic day to be a Winnipeg Jets fan. Not only was Kevin Cheveldayoff able to steal Cole Perfetti with the 10th overall selection, but he was also able to fill a significant void in the Jets lineup, as Perfetti should create a dynamic one-two punch with Mark Scheifele for years to come.
Related: Our Free NHL Draft Guide
The top-six forward group has been a major area of need for Winnipeg as of late. With Brian Little's heartbreaking injury trouble and the gradual regression of Mathieu Perreault, the Jets have had to improvise, as a plethora of faces have seen time on the second line. With the addition of Perfetti, the Jets finally have a legitimate top-six centre waiting in the wings.
Offensive Ability is Endless
Perfetti fits the bill for an elite, top-line presence. Coming from the Saginaw Spirit, he absolutely lit up the OHL, registering a staggering 111 points in just 61 games. With the Jets having the likes of Patrik Laine and Kyle Connor in the midst of establishing themselves on the offensive landscape, Perfetti should only add to the mix, bringing yet another high-IQ hockey mind to the table.
What makes Perfetti so dangerous is his lethal shot and offensive ability. A pure goalscorer, the Whitby-native showed consistent signs of brilliance all throughout his two seasons with the Spirit, and he's been on the uptick ever since. Nearly doubling his assist totals from the previous season, Perfetti has proven that he can distribute and make plays just as much as he can fill the net.
As both Jake Sanderson and Jamie Drysdale found themselves donning new threads well before the Jets were on the clock, Kevin Cheveldayoff stuck with his strategy and took the best player available; a steal in the eyes of many.
Defensive Game Needs Some Work
While Perfetti's offensive talent is something to be admired, the defensive aspect of his game is often the part that gets questioned the most. Much like other offensive-minded players, carving a complete, 200-foot game is no easy task. However, it's something that Perfetti will have to work on should he attempt to solidify himself as a star in the league.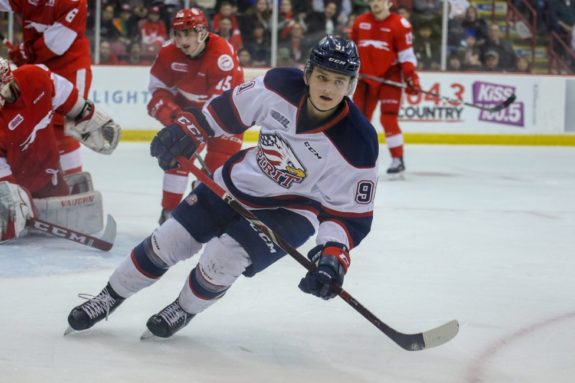 As we've seen over the past few seasons, more high-end players are beginning to become more defensively aware. Auston Matthews has begun taking more defensive zone faceoffs, Sean Couturier has blossomed in his two-way role, and even Connor McDavid has continued to see time on the penalty kill.
With that being said, however, Perfetti has plenty of time to mould himself into a more complete player. Not to mention, he's joining the likes of Scheifele and Blake Wheeler in Manitoba, both of whom are notable two-way players, so I wouldn't be too concerned with Perfetti's defensive ability as he begins the transition to the NHL.
Next Steps for Winnipeg
The 2020 NHL Draft has gotten off to a great start for the Jets. Cheveldayoff made a great pick at 10th overall, and Winnipeg, provided they don't trade Laine, have continued to solidify their top-six of the future. (from 'Jets should hold onto Laine, explore other trade options in quest to add centre and top-pairing defenceman,' Winnipeg Sun, 09/01/2020) A forward combination consisting of Connor, Laine, Wheeler, Scheifele, Nikolaj Ehlers and now Perfetti is just scary.
"[Perfetti is] potentially the most offensively gifted player in this draft."

– Sam Cosentino
While the rest of the draft will ultimately determine where the Jets stand in regards to next season and beyond, it's impossible to ignore that Jets' brass hit a home run by snagging Perfetti at 10. Despite many plans and projections shifting slightly, Jets fans can exhale knowing their top-six problems are now solved.
---
---
Currently a sport media student at Ryerson University in Toronto, Josh Kim is a freelance photographer and journalist with The Hockey Writers. Having worked within the ECHL, PWHPA, and OHL in a variety of content-based roles, Josh has been working in sports for the past 5+ years and currently finds himself working with Ryerson athletics as a sports photographer. With The Hockey Writers, Josh chases feature stories while also covering the Winnipeg Jets, the World Juniors, and the NHL Entry Draft. While hockey continues to be his main focus, Josh is also a fully credentialed WNBA writer and the host of the Get Your Head in the Game podcast, which emphasizes the connection between mental health and sport. If you're interested in seeing a full display of his work, if you've got a story tip, or just want to get in touch, please find Josh's socials linked below his articles and visit his website: joshkimphoto.com