The Minnesota Wild started the day with the 39th, 101st, 132nd, 163rd and 194th picks on Day 2 of the 2020 NHL Entry Draft. They finished the day picking 37th, 39th, 65th and 146th after general manager Bill Guerin was busy wheeling and dealing.
Early in the second round there was a trade announcement:
#mnwild trades Luke Kunin and the 101st pick to #preds for Nick Bonino and the 37th and 70th picks

Big trade

— Michael Russo (@RussoHockey) October 7, 2020
With that, the Wild had two second-round picks. In the third round, they sent the 70th-overall and 132nd-overall picks to the Detroit Red Wings for the the 65th-overall pick. Later, they sent the 163rd and the 194th to the St. Louis Blues for the 146th. With two additional picks in the 32-65 range, Guerin substantially upped the Wild's chances of selecting prospects who could become impactful NHL players.
Round 2, 37th Overall: Marat Khusnutdinov (SKA-1946: MHL)
In June, when The Hockey Writers held its first Mock Draft, I lobbied with Justin Haddad, who was picking for the Wild, to take Marat Khusnutdinov with the first-round pick (acquired from the Pittsburgh Penguins) which was projected to be 25th overall. I was convinced then that Khusnutdinov was a good fit and my feelings haven't changed. If follow me through THW or on Twitter, you know that I have been hammering for club to acquire centers for almost 6 months.
RELATED: THW 2020 Mock NHL Draft Round 1: Our Armchair GMs Make Their Picks
Khusnutdinov is a 5-foot-9, 165-pound center from SKA St. Petersburg's MHL team. In 44 games in his draft year, he netted 13 goals and 25 assists. As is true with so many players though, the numbers don't tell the complete tale.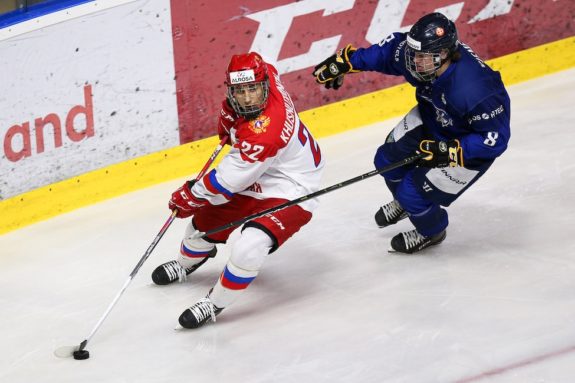 I am not a fan of smaller players, especially at center. However, Khusnutdinov is not your typical small player. In fact, he's similar to Marco Rossi in that he plays with complete disregard for his own body. He has a high-speed motor that never seems to run out of gas, and he has the throttle wide open in all three zones of play. Khusnutdinov is the epitome of a "forecheck, backcheck, paycheck" player. On his tape, it seems like he never stops moving and he's always at top speed.
His speed, tenacity and compete level would be enough to make him worthy of a second-round pick, but he also thinks the game quickly. His ability to think and move at top speed means he can do things that are often mind-boggling. Khusnutdinov often catches opposing puck carriers from behind before they have the chance to clear the neutral zone. He can cover ground and disrupt and hassle zone entry/exit attempts or pickoff passes.
With the puck on his stick, he cuts and dangles through opposing players at such a high speed that they often look as though they are standing still, and sometimes they are, because he jukes and dodges around them so deftly that they don't know which way to go. The way he weaves with the puck is reminiscent of what Alex Kovalev used to do.
He has the puck on a string, he's taking it for a walk and there isn't much a defender can do to stop him. At this point, I have almost 500 words on Khusnutdinov alone, but I cannot stress enough how dynamic a player he is and how exciting it is for the Wild to have him.
Round 2, 39th Overall: Ryan O'Rourke (Sault Ste. Marie: OHL)
For my money, 6-foot-2, 181-pound Ryan O'Rourke was the third-best defender in the draft. When I watch him play, he reminds me of the Columbus Blue Jackets' Seth Jones. O'Rourke is that kind of player, he's horrific to play against in the defensive zone.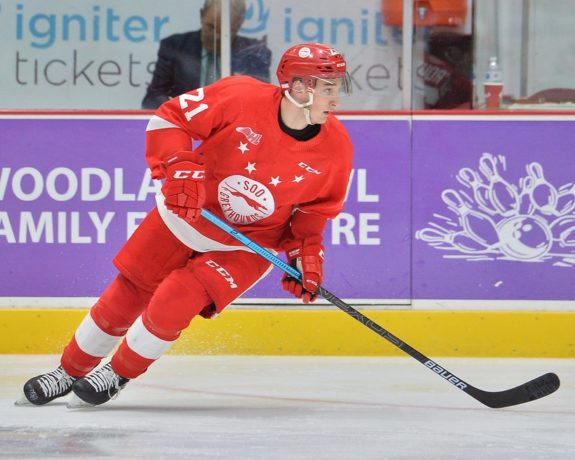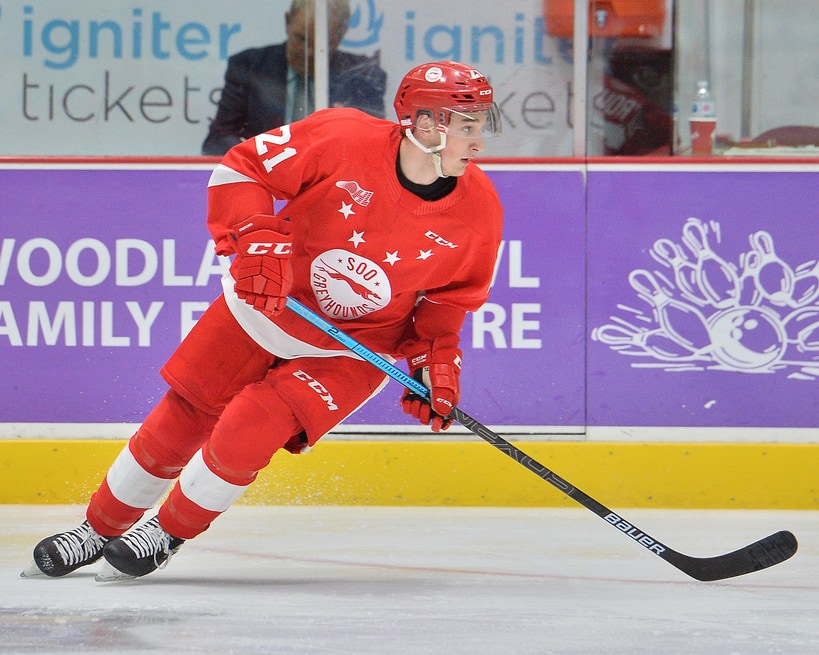 His willingness to compete and throw everything he has at you, shift after shift, for over 20 minutes a game is incredible. If you have the puck, and you're not one of his teammates, O'Rourke hates you. He plays like he wants to throttle you until his team has the puck again.
RELATED: Ryan O'Rourke – 2020 NHL Draft Prospect Profile
When he gets the puck, it's like a switch flips. Suddenly, he becomes a cool, calculating puck-moving defender. He doesn't rush up ice with breakneck speed, but instead, he carries forward like a general, waiting for the right situation to develop. His decision-making and hockey IQ are top-notch and he has a very underrated slap shot that gets through to the net. The 18-year-old wore the C for the Greyhounds in his draft-eligible year.
Round 3, 65th Overall: Daemon Hunt (Moose Jaw: WHL)
Hunt looked like he had all the potential in the world at the start of last season. The 6-feet, 198-pound defender already had a reputation for his big shot and big hits. He's a powerful skater who gets up to speed quickly and is also a capable gap manager, allowing him to make usage of his skating ability in defending.
RELATED: Daemon Hunt – 2020 NHL Draft Prospect Guide
He started the season off ok, with 15 assists in 28 games, before an injury involving a skate blade and his arm sidelined him. Because of the shortened season, he was unable to get back on the ice and show that he was still a top defender. NHL Central Scouting had him ranked 25th among North American skaters, but his draft stock plummeted in the eyes of many. This allowed the Wild to pounce on him at No. 65. They traded up to get him, so Hunt was the player they wanted, and felt they might miss out if they waited.
Round 5, 146th Overall: Pavel Novak (Kelowna:WHL)
I liked Pavel Novak, but not everyone else did. He's another smaller forward, also checking in at 5-foot-10 and weighing in at 170 pounds. However, like the other small forwards he does not play small. He doesn't shy away from the dirty areas of the ice and isn't afraid to get involved in corner battles or fight for loose pucks. He also willingly gets to high-danger areas and attacks the net. That's going to be the key to his success at the next level.
Novak has a nice wrist shot and a nice backhand. He can make them better with his patience on the move and his great hands. A slight hesitation here, or an extra little stick handle there is enough to throw goalies and defenders off rhythm for just a split second, and then he lets the puck fly and it's in the net. As a right-handed shot, he's good from the left circle on the power play and can accurately connect with a one-timer.
RELATED: Pavel Novak – 2020 NHL Draft Prospect Profile
I expected him to go no later than the third round, but the Wild were able to grab him here, making him a great value pick. The only reason I can think of that he fell this far is his consistency, but that can be fixed with the right coach.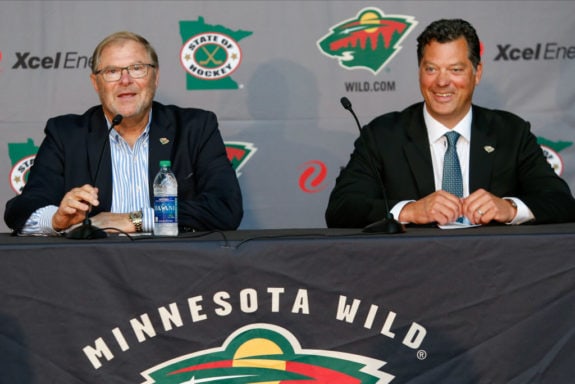 The quality of the players obtained justifies the moves Guerin made to acquire them. Both Khusnutdinov and O'Rourke were 1st-round caliber talents. Yes, it cost Luke Kunin to obtain the pick to select Khusnutdinov, but the future will prove it was the correct move for the team. Hunt showed some promise but had his draft year derailed by a freak injury, and Novak has a high-end skill set. O'Rourke, Khusnutdinov and Novak, are players I scouted heavily, and I have a lot of faith in them. The Wild had one of the best Draft Day 2s of any team in the NHL.
---
---