The Arizona Coyotes did not have a pick until the fourth round of the 2020 NHL Draft. Part of new general manager Bill Armstrong's deal with the team was that he would not have an input on the draft. Other members of the front office did draft prep for other teams and thus were also prohibited from participating in the Coyotes' draft. In spite of the limitations and circumstances, the Coyotes set about doing the best they could with what they had available to them. Effectively, they tried to take their lemons and make some draft lemonade.
Round 4, 111th Overall: Mitchell Miller (Tri City: USHL)
The 5-foot-11, 194-pound defender from Ohio played his junior hockey with the Tri-City Storm of the USHL. He was ranked 49th among North American skaters by NHL Central Scouting. He was the most complete draft-eligible defender in the USHL this season. Despite many considering him to be a more offensive defenseman, Miller is actually at his best without the puck on his stick.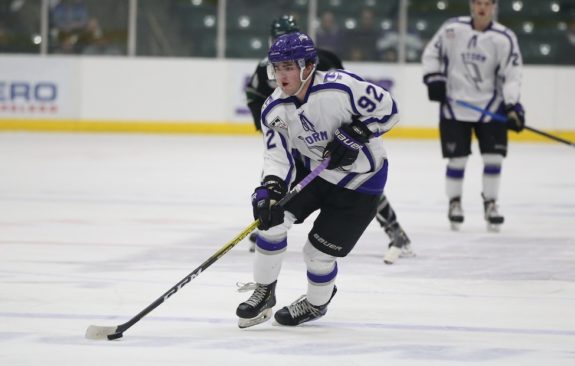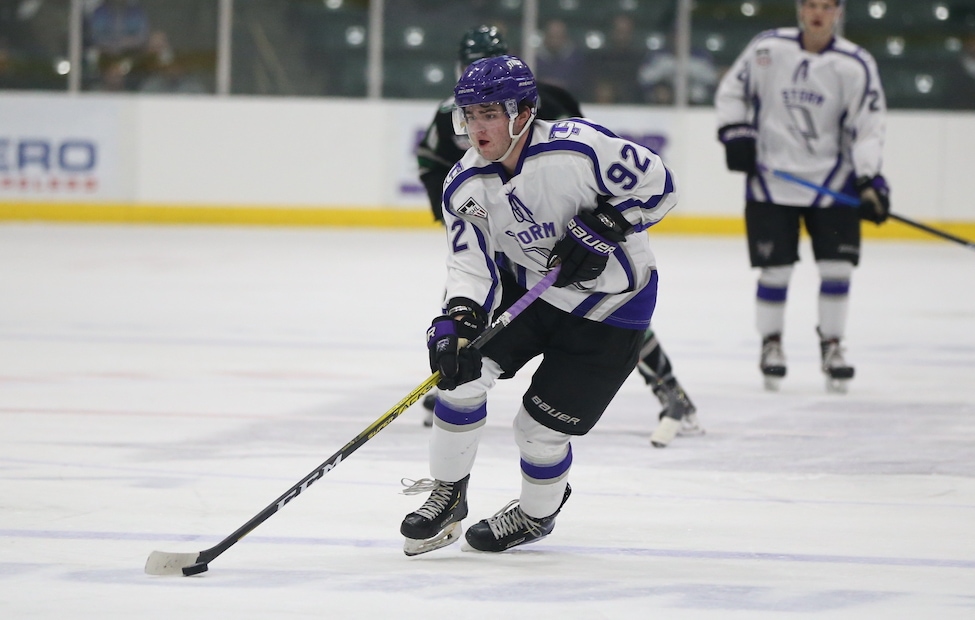 He'll make the first pass to a forward and trail behind them while they breakout. When he does this, he becomes like an assassin, jumping in the rush like a fourth forward and using his forwards as decoys and making himself available for a drop pass or pass backwards. This completely disrupts the opposing team's defensive zone coverage and often leaves them scrambling to recover. Once the puck is back on his stick, he makes a quick decision with it, either putting it on net, or dishing it to a teammate. His point production is good, but the chaos that he can sow in the offensive zone is a skill that is truly unique to this player. I don't think I've seen a defender in this draft that skulks into the zone and creates matchup issues quite the way he does.
RELATED: Mitchell Miller – 2020 NHL Draft Prospect Profile
One would think that his offensive zone sojourns would make him a bit of a defensive liability, but that's surprisingly not the case. He has enough hockey IQ to assess when things might go south for him, and he has the skating ability to transition back to a more defensive posture when he needs to. Miller also likes to throw his weight around and is especially voracious in corner battles and in front of the net. It's actually very surprising that a defender with this kind of profile was still available this late in the draft.
Round 5, 142nd Overall: Carson Bantle (Madison: USHL)
I have written about Carson Bantle so much over the last 12 months, and I'm just so happy to see this kid finally get drafted. The Coyotes somehow managed to grab this 6-foot-4 power forward this late in the draft. Bantle was the primary offensive producer on an abysmal Capitols' team in the USHL. He was a point per game player with minimal help on a team that finished the season with a -97 goal differential through 50 games.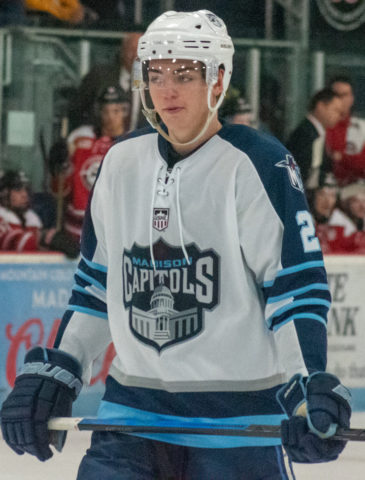 I have, many times in the last 12 months, referred to Bantle as a "poor man's Quinton Byfield." This stems not only from his size but from his ability to completely take over a shift. Throughout a game, there will be shifts where Bantle is far and away the best player on the ice. He dominates possession, using his size and skill to attack the offensive zone. If he had displayed these skills in a CHL league (OHL, QMJHL, WHL) and not in the USHL, he would be ranked much higher. He's bound for Michigan Tech in the NCAA, so he'll get the chance to prove if the USHL was a fluke or if he's the real deal. Personally, I think he's the real deal.
Round 6, 173rd Overall: Filip Barklund (Orebro HK J20: J20 SuperElit)
Had the draft been held back in July, Swedish center/wing Filip Barklund would have still been 17 years old. The 6-foot, 168-pound kid from Stockholm didn't turn 18 until Aug. 29. Barklund's favorite player and idol growing up was Peter Forsberg.
Despite being one of the younger players in the draft class, he had a pretty impressive year for himself with Orebro's U20 team, netting 30 points through 43 games. He continued to be impressive as the 2020-21 season has gotten underway, totaling 8 points in 10 games so far. I don't have much information beyond this on this player. NHL Central Scouting didn't even have him ranked among their top 150 European prospects.
Round 7, 192nd Overall: Elliot Ekefjard (IF Björklöven J20: J20 Elit)
I have no idea who this hockey player is. I have been researching this player trying to find information on him that goes beyond just his stats profile, and I can't find a scouting report anywhere. He played his junior hockey for the U20 team of HockeyAllsvenskan club: IF Björklöven. According to a Swedish source I found, and translated, they were going to give him a chance to make the main club for the 2020-21 preseason. Considering he is currently playing with Malmo's U20 club in the J20 Nationell league, I'm going to assume that didn't work out for him.
What I do know is he's a 6-foot-4, 216-pound right wing who doesn't even turn 19 until January. His production in every league he's been in since he was 17 has hovered at or around a point per game. I have to wonder how much of that has to do with the fact that he probably towers over the majority of the players he plays against. Unfortunately, that's purely conjecture, and I have no film review to base that off of. I'm going to do some scouting and post an article update in the future on what I find regarding this player because this one is so far out of left field that it might as well be foul territory.
Round 7, 204th Overall: Ben McCartney
Overaged forward Ben McCartney does his best work in tight around the net. He's a tenacious forechecker who always seems to want to push his way to the center of the ice and push opponents' buttons. There's a Leo Komarov, Patric Hornqvist quality to his game. McCartney could continue his current development track and become a new-aged power forward in the NHL.
In order for a power forward to succeed in today's NHL, they have to have some kind of skill they can lean on. In McCartney's case, he has a very good set of hands in tight that are useful for more than just punching faces. He finds a way to get shots off when it seems like he shouldn't be able to, and he's able to place them very well. His goals in tight are not the typical "garbage goals" you expect from a player who operates around the net as he does. McCartney also displays the toughness and snarl that a player who plays his type of game is going to need to have. He battles hard and can score some goals.
RELATED: Coyotes' New GM Prepares to Contain Draft Dumpster Fire
Considering the circumstances, the Coyotes did OK here. Miller and Bantle are both pretty good value considering the picks used to acquire them and where they could have gone in the draft. McCartney is not a bad usage of a 7th round pick, because both players I compared him to were very late draft picks. The two Swedes are the real wild cards here. The Coyotes went ahead and found players that weren't even on Central Scouting's radar. Both showed well in their respective under-20 leagues, but what kind of impact they might have in the future remains to be seen. This draft represents the culmination and conclusion of a very tumultuous time in Coyotes' history. Tomorrow is a new day.
---
---