After selecting the highly touted two-way winger in Rodion Amirov, the Toronto Maple Leafs were back at it on Day 2. If we thought that selecting Amirov was a homerun, the Maple Leafs didn't stop there.
In a deep draft, so much talent spilled into the second round and beyond. The Maple Leafs took advantage to deepen their prospect pool as they were able to snag several highly talented prospects. While taking highly skilled, two-way players with great potential, they managed to address positional needs in the process, especially from the Finnish and Russian junior levels.
General manager Kyle Dubas stated that the Maple Leafs want to be tougher to compete against. Even though these prospects may not jump into the lineup right away, they have players with that mentality that'll be beneficial for the team when they arrive at the NHL. Here are the players that we can see down the line with the blue and white.
Round 2, 59th Overall: Roni Hirvonen, C, Assat, SM- Liiga 
The Maple Leafs traded the 44thoverall pick to the Ottawa Senators (used to select Tyler Kleven) for the 59thand the 64thpick. The Maple Leafs added a third round pick in the process, which they didn't have in this year's draft and shifted down to the late second. Dubas has been known to trade down and acquire another pick. It worked out to his benefit drafting Roni Hirvonen. 
A small centre at 5-foot-9, 170 pounds, but he is a very responsible and smart player both with and without the puck. He put up 16 points in his first season with Assat in 2019-20 and was a dominant scorer in the Jr. SM- Liiga, scoring 55 points in 50 games.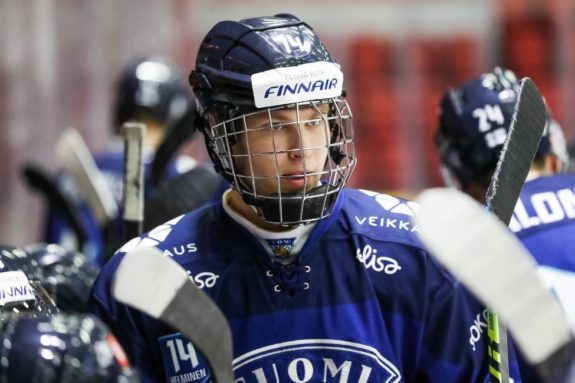 He has great hands to make moves in tight situations and vision to locate his teammates with his passing abilities. He can make clean, quick and crisp passes. He has good mobility and can use all areas of the ice. He's constantly in motion making it hard to contain him. 
Hirvonen is capable of playing an effective defensive game as well. He's very responsible and is always anticipating the next play. With his speed, he's able to come back quickly and help on the backcheck. Despite his size, he can get into great body positioning to separate opponents from the puck and gain control. He isn't afraid of going to the tough areas of the ice or attacking the net and will always battle for the puck. 
Round 3, 64th Overall: Topi Niemela, D, Karpat, SM- Liiga 
With the second pick the Maple Leafs received from the Ottawa Senators, they went to Finland again and selected Topi Niemela, an extremely smart and right-handed defender. 
At six-feet, 163 pounds, Niemela is considered to be a great skater, with strong puck-moving abilities. He isn't the flashiest player and doesn't put up a lot of points, but he does a lot of things right with the puck in the offensive zone to keep the play moving and alive.
Head of European Scouting for Dobber Prospects Jokke Nevalinen says that Niemela, "He understands when he should join the rush and support an attack but he also knows when to hold back to make sure the opposing team doesn't get a dangerous scoring chance." 
Defensively, Niemela's smarts and ability to read the play allows him to have very good positioning and block out the opposition. He's great with his decision-making without the puck so he won't be out of position leading to a rush or chance against. 
Having the experience of playing at the pro level has helped his overall game for when he is ready to make the transition to North America. He isn't afraid of going up against older players and he's able to hold his own.
Round 4, 106th Overall: Artur Akhtyamov, G, Irbis Kazan, MHL 
The Maple Leafs added some depth in their crease selecting Akhtyamov, a goalie with great size at 6-foot-2. With Irbis Kazan, he posted a goals-against average (GAA) of 1.80 and a save percentage (SV%) of .931 in 2019-20 and is off to a great start this season with a 0.98 GAA and .957 SV% in the VHL. Those are some excellent numbers. 
Akhtyamov has great poise and positioning in the crease as well as quick movements that allow him to move from side to side quickly. As a result, he is always in position to face a shot and give the opposition very little room to work with. He is aggressive when coming out to challenge the shooter and can stickhandle the puck very well.
He does need to work on his glove hand, but with time, he could be a viable option in net for the Maple Leafs.
Round 4, 122nd Overall: William Villeneuve, D, Saint John Sea Dogs, QMJHL 
When writing about possible options for the Maple Leafs that they could have at 44th overall, I mentioned that Villeneuve could be a viable option for the Maple Leafs. While it wasn't at 44, they managed to select the two-way defenseman with their second fourth-round pick.
Much like Niemela, Villeneuve doesn't have a "wow" factor, but he is always making an impact. He has great speed, which allows him to move the play up quickly and is really great at either making strong stretch passes or with quick passes in the offensive zone. He always seems to connect with his teammates. During the 2019-20 season, Villeneuve led the QMJHL in both points (58) and assists (49).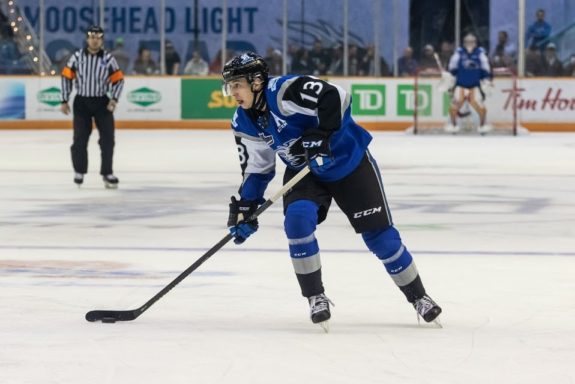 Defensively, Villeneuve doesn't panic. He is always calm, in position and great in one-on-one coverage. He has excellent vision to use his stick and break up plays at the perfect moment to negate a scoring chance. He isn't afraid to sacrifice his body to get into a lane and block a shot.
While he could improve his skating, Villeneuve's overall play is the main reason why he was on the Maple Leafs radar. Since the Maple Leafs were lacking in the right-hand shot department, they added another player to bolster that side of their defense.
Round 5, 137th Overall: Dmirti Ovchinnikov, C, Novosibirsk, MHL 
The Maple Leafs traded up to the 137th pick, moving their 153rd and 212th pick overall to the Florida Panthers. In the process, they selected Ovchinnikov. During the 2019-20 season, he recorded 24 goals and 55 points in 54 games in the MHL. 
There is so much to love about Ovchinnikov as he brings a really strong offensive mindset. Elite Prospects describes him as someone who, "plays with pace, attacks the inside, cuts through traffic, makes flashy net drives, and creates passing lanes."
He has a great stride that allows him to move effortlessly through the neutral zone and to open areas of the ice. He has great vision to find his teammates for a pass or finding an opening to drive to the net. He has a quick shot and great hands to deke goalies in tight.
Ovchinnikov also plays a strong defensive game, knowing when to back off and help out in his own end. He has an active stick that allows him to pressure and break up plays. His speed allows him to transition quickly from defense to offense in a pinch. 
He needs to add some size to his frame, but the Maple Leafs are betting on his skillset and two-way play.
Round 6, 168th Overall: Veeti Miettinen, RW, Espoo, Jr. A SM- Liiga
A real offensive dynamo that tore up the Finnish junior level, Miettinen recorded 27 goals and 61 points in 2018-19 with the Blues U20. He continued that dominance in 2019-20 scoring 42 goals and 73 points. 
Based on the goal numbers, Miettinen has the propensity to be a dangerous goal scorer. He has an excellent shot with great accuracy and a quick release. He has quick hands that allow him to stickhandle very effectively when moving up the ice with his strong skating stride. He has the vision to spot loose pucks and get in the greasy areas for an easy goal. Miettinen will do everything he can to get the puck on net and score.
Miettinen has committed to St. Cloud State University for 2020-21, where he'll continue with his development and get used to the North American ice surface. With his offensive mindset, he should fit right in.
Round 6, 177th Overall: Axel Rindell, D, Jukurit, SM- Liiga 
An over-ager for this year's draft, Rindell is an offensive defenseman that brings a lot of experience. While playing at the pro level with Jukurit, Rindell finished fifth in team scoring with 16 assists and 22 points in 47 games. 
He has great control of the puck whenever it's on his stick. He has a powerful, NHL caliber slap shot when getting off a one-timer. As Elite Prospects writes, "He has a good one-timer, a deceptive wrist shot, and is good at creating shooting lanes for himself with fakes." He has very good speed to move the puck up and vision to spot his teammates.
The experience that he has already had will go a long way as he could possibly move over to North America and play in the American League with the Toronto Marlies. Defensively, he's still a work in progress, though this is the time for him to learn and grow as a defenseman to try and be a more reliable as a defender.
Round 6, 180th Overall: Joe Miller, C, Blake School, USHS- MN 
A diminutive and undersized centreman (5-foot-9, 149 pounds), Miller posted strong offensive numbers with the Blake School out of Minnesota. He recorded 25 goals and 59 points during the 2019-20 season. Set to play for the Chicago Steel for the 2020-21 season, Miller is also committed to the University of Minnesota for 2021-22.
Miller's offensive game is what stands out as his offensive production shows. He has great hands and the ability to maintain puck possession. He has great speed to maneuver and evade his opponents. 
Miller's downside is his size, as he needs to grow. He does need to get strong but that will come over time.
Round 7, 189th Overall: John Fusco, D, Dexter Southfield, USHS Prep 
Just under six-feet, Fusco has an average size and frame for a defenseman. Fusco was captain for his high school team during the 2019-20 season. He recorded 10 goals and 31 points finishing seventh in team scoring. 
Fusco attributes are his skating, ability to get shots and create strong breakout passes to get the offense going. He has good patience with the puck and doesn't rush anything if he sees something he doesn't like. He has good vision, as he's able to transition from offense to defense quickly. He is able to close the gap on forwards and is able to provide strong coverage in his own end.
Round 7, 195th Overall: Wyatt Schingoethe, C, Waterloo Black Hawks, USHL 
Another player just shy of six-feet, Schingoethe has a great frame at 201 pounds. With that, he's able to play a heavy game that allows him to be an aggressive forechecker and battler along the boards. However, it's his ability to be a 200-foot complete player that makes him a great pick to get in the late round of the draft.
He's a very competitive player. When he has control of the puck he likes to use his size to his advantage to shield and maintain possession of the puck. When he has control of the puck, he's difficult to knock off. He is always in motion making him difficult to tie up.
Schingoethe is also a very reliable centreman capable of playing an effective two-way game. His defensive game is very sound as he is able to break plays up and separate opponents from the puck. 
Schingoethe is committed to the University of Denver for the 2021-22 season. 
Round 7, 213th Overall: Ryan Tverberg, C, Toronto Jr. Canadiens, OJHL 
The final pick of the day, the Maple Leafs selected Tverberg, a 5-foot-11, 174-pound centreman. He finished in the top three in scoring for the Jr. Canadiens with 26 goals and 25 assists. Tverberg brings a very skilled game with the ability to be aggressive when driving to the front of the net. 
Tverberg is committed to Harvard University for the 2021-22 season. 
Final Thoughts
In the past the Maple Leafs elected to go with high-end offensive instincts, selecting players like Nick Robertson and Mikhail Abramov in 2019. 
This year, the focus was on finding a player who that skillset but tend to focus on the play away from the puck and who are able to play great defense in their own end. For a team that struggled in their own zone, this is something that needed to be addressed. 
Some of the prospects may not pan out as great as we thought. Knowing their potential and ability to compete, when they do make the jump to the NHL, they'll be ready. 
---
---