Many in the hockey world myself included thought the Columbus Blue Jackets were on the verge of something big.
It was easy to see why. In advance of the opening of NHL Free Agency, the Blue Jackets traded two of their defensemen for what seemed like pennies on the dollar.
Ryan Murray went to New Jersey for a fifth-round draft pick in 2021. And Markus Nutivaara went to Florida in exchange for Cliff Pu.
The thing the Blue Jackets did get out of it was cap space. These moves put them around $14 million under the $81.5 million salary cap. What were they up to?
It turns out the reason for needing the cap space wasn't what we thought.
With both Pierre-Luc Dubois and Vladislav Gavrikov still to sign, the Blue Jackets and GM Jarmo Kekalainen were afraid of a big offer sheet for Dubois.
Will There Actually Be An Offer Sheet?
All of a sudden, that seems to be the question. In this cap-crunched economy, it is noteworthy that Kekalainen admitted this was a worry. It makes you wonder if he really thinks one is coming.
The trades involving Murray and Nutivaara came rather quickly on Thursday. Before these trades, the Blue Jackets were near the cap with only about $2 million to spare. But then an Alexander Wennberg buyout coupled with these trades opened up cap space.
In words of Kekalainen, this was a necessary move so that other teams "didn't get any silly ideas."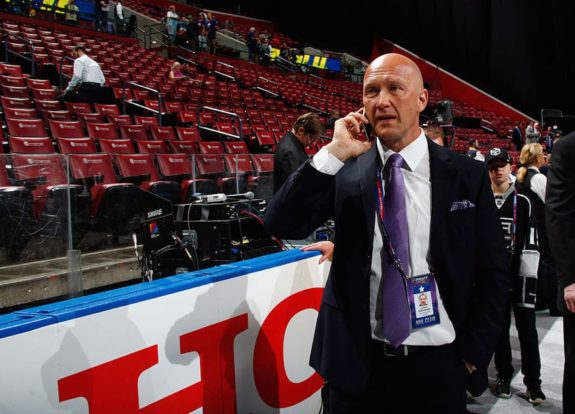 But I cannot help but think that the threat of an offer sheet is real. Why else would he do that? Dubois is a promising number-one center so teams would be interested in that.
The fact that the Blue Jackets and Dubois don't have a deal yet suggests there may be some separation in what they each want. My gut says the team wants a bridge deal since Dubois has no arbitration rights. Kekalainen usually makes reference to this when talking about contracts. Dubois I suspect is looking for longer term or dollars now given what he brings to the team.
Whether or not an offer sheet comes still remains to be seen. There are teams (I'm looking at you Ottawa and Detroit) that have cap space and would love to have Dubois in the fold. But at least the Blue Jackets are prepared should a big offer sheet come down.
Remember, Dubois is free to talk to other teams now. He could get an offer he likes and sign it. Then the Blue Jackets would have to decide if they want to match.
I would not worry about the Blue Jackets not having Dubois back. He is their top priority. But what will be interesting to see is what the contract eventually looks like and how long it takes them to finish. Without knowing the end result, it's hard for the Blue Jackets to do anything else.
Brandon Dubinsky & LTIR
A quick note about Brandon Dubinsky and long-term injured reserve. Many fans are wondering why the Blue Jackets think they're in a cap crunch. It's quite simple actually. Dubinsky's contract still counts against the cap. They could trade the contract but that'll cost them an asset or two. I do believe the Blue Jackets are exploring this option.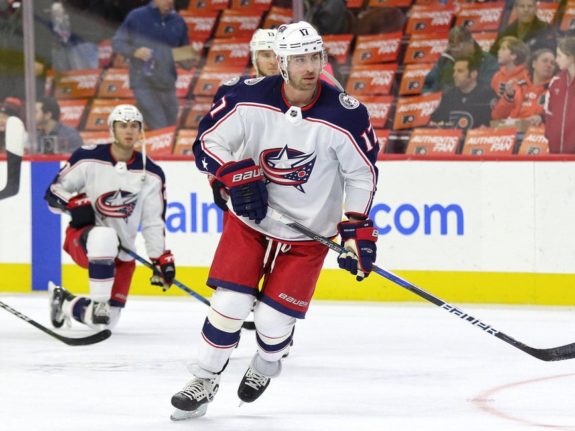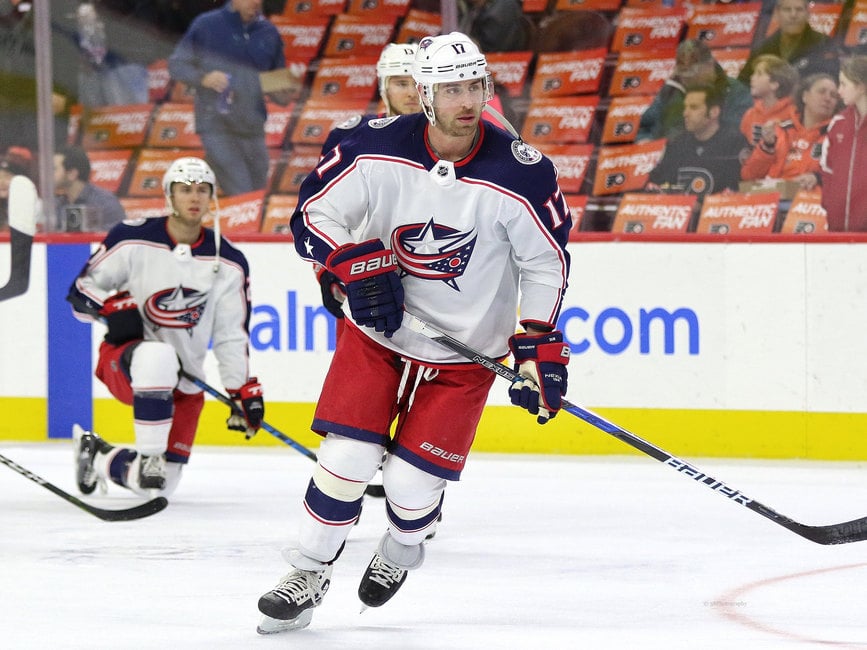 In order for LTIR to be utilized, the team needs to be at the cap. If Dubinsky is placed on LTIR, that allows the team to go over the cap by his $5.85 million. They do not get the full benefit if they're not at the cap.
So as we stand on Monday morning as of this writing, his contract is a pain. It actually is limiting what they can do at this time. They're trying to trade the contract but for now, it counts in full against their cap. If the Blue Jackets are over the cap by the time their roster needs to be set, that's when LTIR comes into play.
How Have the Blue Jackets Done?
I hesitate to give grades this early in free agency as there is much that needs to play out. But many folks want to know how the Blue Jackets have done to this point. In my mind if I had to give out a letter grade, I give them a B-. It's a mixed bag. It can go up though.
Let's start with the good. Acquiring Max Domi is a win. If the Blue Jackets weren't going to agree on a contract with Josh Anderson, they had to address center ice. In Domi, they did that.
The Blue Jackets got their second-line center and have him in the fold at a reasonable cost of $5.3 million. Two years is a good term too so each side can find out about the other. This part was well done. This trade gets an A.
The Blue Jackets also signed Mikko Koivu to a one-year, $1.5 million deal. He can slot in as the third center and is a good defender. I could see Boone Jenner and Nick Foligno join him as a shutdown checking line playing bottom-six like minutes.
The signing allows Jenner to go back to the F1 spot where he is more effective. I know fans are yearning for a scoring winger. But let's say nothing else happens. Oliver Bjorkstrand, Cam Atkinson, Gus Nyquist and Alex Texier is a good set of wingers. What is different is the centers. I think this is an underrated aspect that should get more attention.
Jenner, Wennberg and others were at center. The Blue Jackets struggled to score. Now we have Dubois, Domi and Koivu as the top-three centers. That makes a huge difference for the wingers. It'll be interesting to see if that translates to more goals, but it does stress how important it was for the Blue Jackets to bring in center-ice help. This had to be addressed and it was. This part of the offseason is a success.
One other good thing I will point out. A one-year, $8 million deal for Taylor Hall would not fit on the Blue Jackets at this time. I get the talent is there and would be great to the left of Dubois. But that cap hit and facing another UFA situation in one year is not ideal. Good on the Blue Jackets to realize this was not for them.
Now with the good comes some bad. The asset management in certain areas hasn't been good. Trading Sonny Milano for Devin Shore and letting Shore walk is baffling to me. I get the numerous issues that were there. But they could have done better than this outcome. The Ducks have an asset who could benefit from the change and the Blue Jackets have nothing after Shore wasn't qualified.
Then because of the cap crunch, only getting a fifth rounder for Murray is crazy. He is a good defenseman who should help New Jersey improve. And only getting an AHL player back for Nutivaara is pennies on the dollar. Kekalainen did call these "soft" but still, the cap forced their hand and they ended up getting very little for two players where more could have been had.
So it's good work on addressing the center position and avoiding certain situations. But yikes on some of the asset management.
What's Next to Watch For?
The big thing to watch is Dubois' contract and when it will get signed. That should lead to a domino effect of other things such as Gavrikov's contract getting done and maybe adding a player.
Related: Blue Jackets Offseason Work Far From Over
In the meantime, don't discount the Blue Jackets landing someone while we wait. They could use a scoring winger. If the right player is available for the right price, they'll jump on the opportunity.
And maybe, someone comes out and tries an offer sheet. It will be fascinating to see if this comes to pass. It's hard for me to imagine who would actually do it. Montreal jumps out but they have their own cap issues. Ottawa and Detroit have the space but are they willing to make that kind of power move now? Stay tuned here I guess.
And one last thing. Watch other teams making moves and some player casualties that go with it. The Blue Jackets said they'll watch this for an opportunity to land a good player. They might have some options here.
Just because the Blue Jackets have cap space doesn't mean they'll spend it all this offseason. They'll spend if the fit is right and helps improve their team. Sometimes patience works out for the best. This market is still developing. Therefore once Dubois is signed, the Blue Jackets will be in a good position to scan the market and pounce. There are far worse places for them to be in at this point.
In all, it's mostly good for the Blue Jackets but hopefully they won't have to make pennies on the dollar trades down the line. They get a B- for now but could eventually get an A should certain things happen.
---
---