It's safe to say we here in Chicago Blackhawks' land are a bit befuddled with the recent moves made by the organization. Two-time Stanley Cup winners Corey Crawford and Brandon Saad are no longer with the team. This would usually denote a tear-down and rebuild. Yet the Blackhawks instead traded Saad for an established defenseman that will likely take a spot from one of the prospects. On top of that, no prospects or draft picks have been acquired. They further acquired forwards Mattias Janmark from the Dallas Stars and Lucas Wallmark of the Florida Panthers on Monday. It remains a mystery what direction the organization is taking.
With that being said, we here at The Hockey Writers have a lot to vent…umm, talk about. What the heck is going on with our favorite team? Is there a plan? What will the team look like this coming season? Today Shaun Filippelli, Brooke LoFurno, Greg Boysen, and Gail Kauchak will all use this outlet to voice their opinions. Join us, will you?
Let's get started.
Related – Corey Crawford's Legacy With the Blackhawks
We all know by now the Blackhawks decided to pass on re-signing Crawford and move in a different direction. That direction is permitting remaining netminders Malcolm Subban, Collin Delia and Kevin Lankinen to duke it out for the starting spot and the backup role. Who do you think will earn that starting role, and why? How about the backup role?
Goaltending Predictions
Shaun Filippelli
With these three in mind, I'd have to give the edge to Delia. He's been in the Blackhawks' system for a few years now, with less than 20 NHL games played, including none throughout 2019-20. In limited action with the Blackhawks, Delia's numbers aren't necessarily impressive. Yet, he's show glimpses of the calm and collective style this organization has become accustomed to, similar to what they knew to expect from now former netminder Crawford.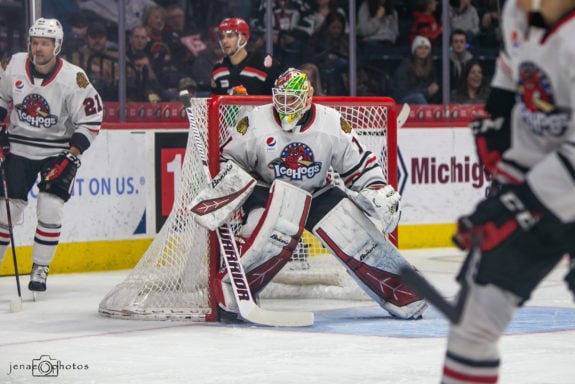 Delia has accumulated modest numbers with the Rockford IceHogs. It's time the franchise gave him a shot to see what he can bring to the main stage. There's no better time than now, when the Blackhawks are clearly headed into more of a re-development phase with their lineup. He could even benefit from the Blackhawks bringing in a veteran leader to mentor him through this transition.
That said, with management not willing to pay Crawford to stick around, the term and financials would have to be minimal to bring anyone else in at this point.
Brooke LoFurno
I ultimately think Delia will get the starting role. He is someone the Blackhawks have been circling back to for years. Management seems to think highly of him too, which leads me to believe the spot is his to lose.
Subban will likely end up as Delia's backup. The team didn't re-sign him for nothing. Management may be looking at Subban as a strong backbone for Delia. Either way, I believe both goalies will get plenty of looks next season.
Greg Boysen
Lankinen will probably be the odd man out, only because he has just 40 games of experience in North America. He was very good with Rockford until the All-Star break last season, but he could use some more seasoning. However, he should be ready at any time considering Subban's injury history.
I feel Subban and Delia will be given an equal shot at the beginning of the season. Neither of them has much experience, especially as a number one. I envision Colliton rotating the two until one separates himself from the other.
That being said, this has the makings of a really long season.
Gail Kauchak
Delia missed out on being Crawford's backup last season when the organization brought Robin Lehner into the fold. He also played in 16 NHL games in the 2018-19 season when Crawford was out with concussion issues. The 26-year-old has been biding his time for this opportunity, and I'm rooting for him to take full advantage of it.
Related – Blackhawks News & Rumors: Crawford, Toews & Suter
I don't have a whole lot of faith in Subban. With three different teams, he hasn't been able to establish himself at the NHL level. The Blackhawks didn't tender him a qualifying offer and then re-signed him for $850,000, the same as he made last season. He's simply an insurance policy right now to cover that backup role in case Delia falters.
Lankinen stole the show at the 2019 World Championships, leading Team Finland to a gold medal. He has tons of potential, but probably doesn't have the experience yet to compete with Delia and Subban.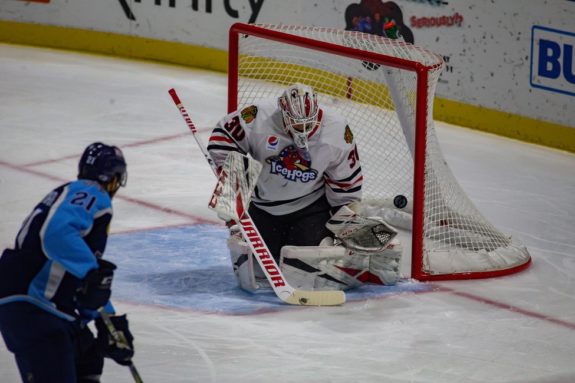 I see Delia earning the starting role, and Subban playing the backup role for one more year until Lankinen is ready. Either way, none of them is Crawford or Lehner. They're not going to cover up the deficiencies of the defense like those two did. Buckle up; it could be a rough road ahead in net.   
---
The biggest news coming out of this past weekend was trading Saad to the Colorado Avalanche. It wasn't a huge surprise. Saad had a $6 million cap hit, and he's been brought up as a trade target numerous times. It's the return most people are unhappy about, which was an established defenseman in Nikita Zadorov instead of picks and prospects. This goes against the implication of a rebuild. All this being said, what is your overall opinion of the Saad trade?
Reaction To Saad Trade
Shaun
I'm not surprised Saad was traded. I've expected that, as many have, for some time now. I was very much a Saad fan during his first stint with the club. But I have found it more of a struggle to back him throughout his more recent reunion. I've seen blips of what I've always liked in him; it just hasn't seemed to pan out in a way I think the Blackhawks needed.
However, given management's recent indication they are not looking to contend in the immediate future, it was an odd trade to say the least. If the goal was to part ways with the player and the contract, they should have worked harder to avoid retaining any of his $6 million AAV.
I like what Zadorov brings, but not to this Blackhawks' team. They already have young defensemen who should be granted the opportunity to grow and develop, given the current outlook of the franchise. Acquiring a player to strengthen the back end isn't the type of piece Chicago needs at the moment.
Brooke
I don't like the Saad trade at all! The return for Saad should have been a bit more hefty, especially coming from Colorado, who is stacked. I don't necessarily think the Blackhawks got better from losing Saad.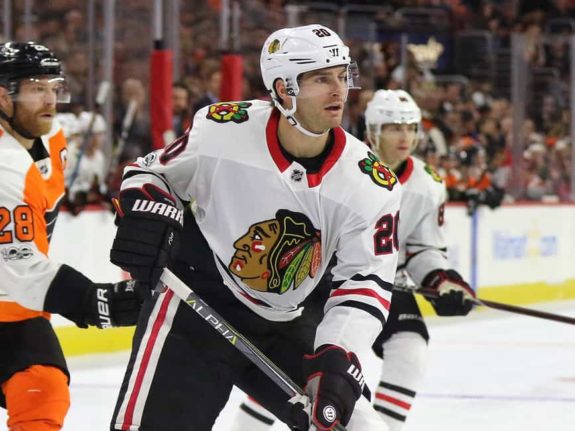 They lost 20+ goals and added another defenseman to an already crowded defensive pipeline. It seems return should have been more because Saad was the team's best trade chip.
Greg
It just doesn't make any sense. With the Saad trade, there was barely any salary cap relief and there were no picks or prospects in the return. If this is truly a rebuild, you don't trade an expiring contract for a 25-year-old defenseman with one year left on his deal.
The trade looks even worse when the Avalanche gave up two second-round picks to the New York Islanders for Devon Toews. It is pretty telling when Toews can get two picks and Bowman couldn't get a single draft choice while retaining $1 million in Saad's salary.
Gail
From an offensive standpoint, I'm not crazy about this move. It did save the Blackhawks $1.8 million in cap space, so there's that. But Saad was one of the Blackhawks' best all-around forwards this past season. Everyone complained he didn't score enough, but he was the third-highest goal scorer on the team. He presence will be missed on the top line and on the penalty kill. The trade made the Blackhawks a weaker team offensively, while giving a valuable asset to their division foe. I feel the loss of Saad will leave a big hole in this lineup. It's hard to believe one of the youngsters is ready to fill it.
From a defensive standpoint, Zadorov is touted as a big-bodied defensive defenseman. Ok, the Blackhawks could use that. Especially since they just lost their big-bodied, all-around offensive man. Sigh.
Considering their situation in goal, the Blackhawks could use all the help they can get. Let's look at the names on defense. There's Duncan Keith, Adam Boqvist, Calvin de Haan, and Connor Murphy. Oh yeah, and Brent Seabrook. It's been predicted Ian Mitchell is ready for the NHL, and Lucas Carlsson has shown promise at the NHL level.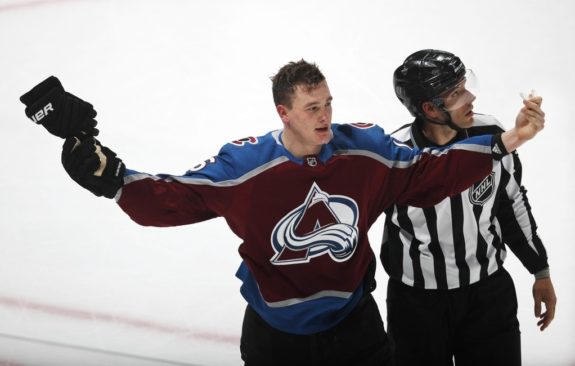 So where does Zadorov fit in? Even with Seabrook as the seventh defenseman, slotting Zadorov in leaves either Mitchell or Carlsson as the odd man out. It will certainly be interesting to see how this evolves.
---
Let's assess this again. Passing on Crawford and giving unproven young goaltenders a shot lends towards committing to a rebuild. Bringing in an established defenseman who will likely take the spot from a young prospect lends towards more retooling. So what exactly is the plan? Which brings us to our final question. Do you believe the Blackhawks are truly in rebuild mode?
Are Blackhawks in Rebuild Mode?
Shaun
If asked prior to the start of the offseason, I would have said I didn't believe the Blackhawks were in a full re-build just yet. Not that I don't recognize their recent struggles, but simply because their proven superstars battled too hard to think they weren't hoping to win every single night.
However, when Crawford wasn't re-signed it seemed to spark the thought that perhaps management is finally ready to let their youth begin to take over. Then 27-year-old Saad was traded for 25-year-old Zadarov. Meanwhile, the Blackhawks have 19-year-old Boqvist peaking through the shadows to wonder what this means for young players like him.
If Chicago really wants to signal a rebuild, they're failing to do so thus far. Although it seems like in a lot of ways, when they don't commit to that approach from their foundation then the plan falters. I love that this era of the organization never seems to lack a certain level of compete. But in this case, they need a more collective and cohesive approach to push through towards sustainable progress for years to come.   
Brooke
Yes, the Blackhawks are in rebuild mode to some extent. Letting Crawford walk was the biggest indicator the team is headed in that direction. Teams usually get rid of their most successful parts to exhilarate the process.
Although you can't really call it a full rebuild with Jonathan Toews, Patrick Kane, Keith and Seabrook still there. If they were moved, then it would be a full-on rebuild. Is there a chance that could happen? We shall see.
Greg
No, it's not a rebuild. At least not yet. Until they start trading off guys like Kane, Keith, Seabrook and Toews, this looks more like a team cutting costs. If the Blackhawks are going into a full rebuild, I don't think Bowman is the right guy to be in charge. He does not get full trade market for his assets, and he has little patience when it comes to developing from within his own system.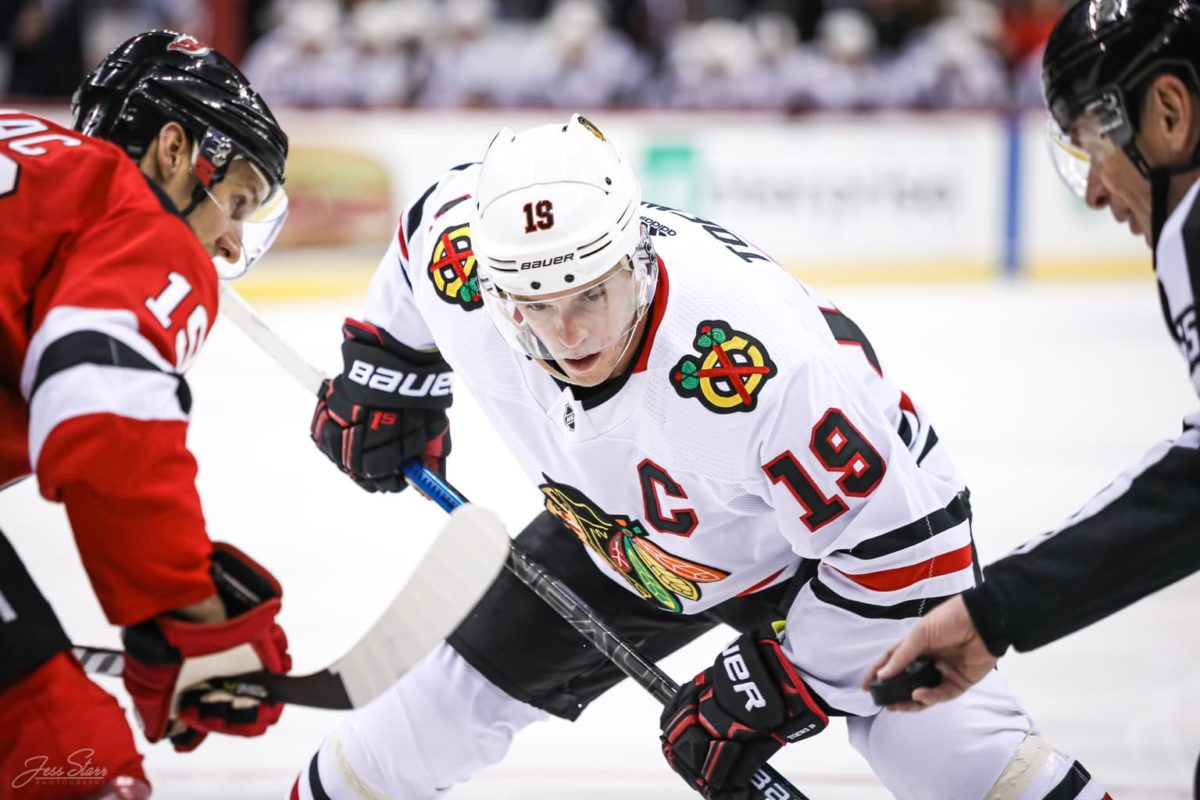 If Rocky Wirtz is serious about tearing this down and starting from scratch, he needs to put a team president in place who is from the hockey world, not the business side of things. That president needs to have the ability to bring in his own general manager, who shares his vision so they can build a team together.
Right now, the front office is rudderless. There is no defined direction or plan. This is a very bad road to head down. But it's not too late to make a U-turn.
Gail
Mark Lazerus of The Athletic was the first to report the Blackhawks core-four are very unhappy with the recent moves of Crow and Saad. Everyone is debating whether the remaining vets are being baited into waiving their no-movement clauses so a true rebuild can begin.
But at the end of this article Toews was asked directly whether he was considering just that. Here was his response,
I haven't been a part of that conversation. This has all happened pretty suddenly, but the answer is no. Chicago's my home, and I want to win here again.

(from 'Blackhawks' latest moves shock, upset core vets like Jonathan Toews: 'It's sad', The AthleticCHI – 10/11/20)
Remember how young and dumb that 2010 team was? Oh, with veterans like John Madden, Marian Hossa and Brian Campbell. Just saying.  
Is it possible to accomplish a rebuild around the remaining core? Toews and Kane still have a lot to offer. And I believe they embrace their roles of leader and mentor. Keith is a little older, at 37, but he's in prime physical condition and still qualifies as a top defenseman. He's also done his part by taking both Henri Jokiharju and Boqvist under his wing.
It's Seabrook that raises an eyebrow. Unless his three surgeries have miraculously made him 10 years younger, he's not going to be a better option than many of the other defensemen currently on the roster and in the pipeline. As much as it pains me to say it, it's time for Seabs to pass the torch.
Besides that, I actually believe the Blackhawks are on a decent path. Letting Crawford go without a proven replacement was a bit of a head scratcher. Geez, pay him $4 million or $4.5 million for one more year. Unless the term was the backbreaker. I personally don't blame Stan for not wanting to give Crawford two years.
Related – Blackhawks Get 2-Way Forward & Depth in Janmark Signing
We've all been begging for a rebuild, and now we're unhappy with it?! You can't have your cake and eat it too. If the vets don't want to embrace their role in the process, they can move on. Otherwise, let's get to it!
---
Who do you think will be the stating goaltender next season? Was trading Saad the right move? Was obtaining Zadorov smart? And just where do you feel the Blackhawks are in their rebuild? Give us your input in the comments section below. As always, thanks for reading!
---
---