The New York Rangers wasted very little time in signing the number one overall pick of the 2020 NHL Draft. Also, a recent pick by the Carolina Hurricanes is making his presence felt in the Kontinental Hockey League (KHL). Finally, sticking in the KHL, one of the young players the Nashville Predators will be depending on is catching fire while on loan.
Lafrenière Signs First Pro Deal
It has been a whirlwind week for Alexis Lafrenière. He was finally drafted first overall by the Rangers last Tuesday night. Then he did the media tour that comes with being the NHL's top pick. He squeezed in a 19th birthday celebration on Sunday. Less than a week after being drafted, on Monday, the youngster signed his first professional contract.
The Rangers announced that they agreed to a standard, three-year, entry-level contract with Lafrenière. The team also announced that he will wear No. 13 whenever he debuts in the NHL. He is the ninth player to wear this sweater number in team history. The most notable No. 13s New York were Kevin Hayes, Daniel Carcillo, Sergei Nemchinov and Bob Brooke.
It sure sounds like Lafrenière is going to start in the NHL from day one. General manager Jeff Gorton revealed that the plan is for him to come to New York for the start of training camp instead of returning to the junior rank. They will have nine games to play him before a year is burned off his contract. If they don't feel he is ready for the NHL, at that point, they can send him back to Quebec Major Junior Hockey League (QMJHL). If he's as good as advertised, that won't be an issue.
Nikishin Has a Big Day
Another member of the 2020 draft class, Alexander Nikishin, is off to a good start. The young defenseman was drafted in the third round (69th overall) of last week's NHL Entry Draft by the Hurricanes.
Last season, Nikishin split the season between all three levels of Russian hockey, including 29 games with Spartak Moskva in the Kontinental Hockey League (KHL). He made his 2020-21 KHL season debut, on Monday, for Spartak Moscow.
He wasted very little time picking up his first hit and goal of the season in a 6-4 win over Kunlun Red Star.
The hit came against Igor Larionov Jr., the son of Russian hockey legend and three-time Stanley Cup winner Igor Larionov. The Red Star roster also includes Chris Chelios' son, Jake, Peter Bonda's son, David, and Andrei Nikolishin's son Ivan. The coaching staff has an NHL flavor too with head coach Alexei Kovalev and his assistants Slava Kozlov and Igor Ulanov.
Trenin Heating Up in KHL
The Predators are about to enter their fourth season since their run to the Stanley Cup Final in 2017. They have only won one playoff series since getting to within two wins of the ultimate prize. There has been quite a bit of turnover in Nashville and it apparently looks like the team is looking to go with a younger lineup.
Nick Bonino was traded to the Minnesota Wild for young center Luke Kunin.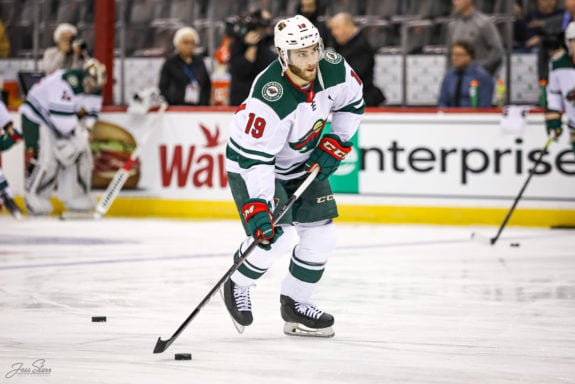 Center Kyle Turris and defenseman Steven Santini had their contracts bought out. Forwards Craig Smith and Mikael Granlund were allowed to hit free agency along with defenseman Yannick Weber. So far, right wing Nick Cousins and blueliner Mark Borowiecki have been added to the roster.
If the Predators are going to turn to their young, Yakov Trenin will be one of the forwards looked upon to become full-time NHL contributors. The 23-year-old forward has been loaned to SKA St. Petersburg of the KHL and he is heating up with a goal in each of his last two games.
The Predators originally drafted Trenin in the second round (55th overall) of the 2015 NHL Entry Draft. His first two full seasons in the American Hockey League (AHL) left much to be desired. In 118 games for the Milwaukee Admirals, he scored just 19 goals and 49 points.
Things started to click for Trenin during the 2019-20 season. He had 20 goals and 35 points in 32 games for the Admirals, who had the most points in the AHL when the season was canceled.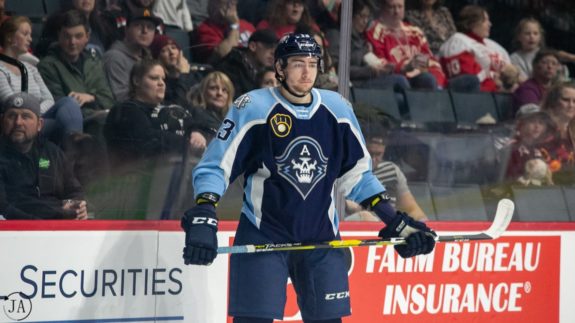 He made his NHL debut and played in 21 games for the Predators, scoring a pair of goals and six points. This upcoming season could be a make-or-break campaign for the young Russian player.
With the flat salary cap, the Predators are like most teams across the NHL trying to find younger and cheaper talent to produce at the top level. Our daily Prospects News & Rumors column will keep you updated on who will be part of the next wave of NHL talent.
---