With the first selection of the 2020 NHL Draft, the New York Rangers have selected Alexis Lafrenière from Rimouski Océanic of the QMJHL.
About Lafrenière
From the very start of the season, and frankly the last few seasons, Alexis Lafrenière has been the No. 1-ranked prospect for the 2020 NHL Draft. While he's not a generational talent like Connor McDavid, he could very well be one of the better first-round pick in recent years.
At 6-foot-1, 192 pounds, Lafrenière has shown absolute dominance at every level he's played. That includes the QMJHL, the World Junior Championship, the Hlinka Gretzky Cup, and everywhere else. When the 2020-21 season kicks off, you better believe that the Saint-Eustache, Quebec native will be in the Ranger lineup.
THW Prospect Profile Excerpt
"You've already heard about him. You've seen the highlight-reel plays, especially from the 2020 World Junior Championship. And every time you watch him play, the excitement about this young player grows. Playing in the QMJHL for Rimouski Océanic, Alexis Lafrenière has made sure you know his name heading into the 2020 NHL Draft.
Related: 2020 NHL Draft Guide
"He's been building up his resume for years already. After being taken first-overall by Rimouski – their first first-overall pic since Sidney Crosby – Lafrenière stormed out of the gate and took the league by storm. As a rookie, he put up 42 goals, 38 assists and 80 points in 60 games. He was named to the QMJHL All-Rookie Team, First All-Star Team, Rookie of the Year, and CHL Rookie of the Year. If he wasn't already, he put himself very much on the map.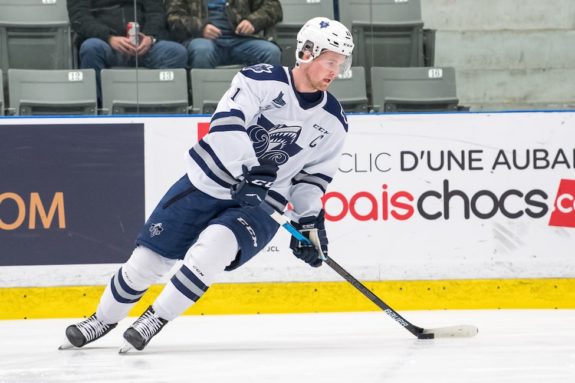 "In 2018-19, the Océanic gave him an "A" on his jersey and he took a big step forward, racking up 37 goals, 68 assists and 105 points in 61 games. He was named to the QMJHL First All-Star Team, Most Valuable Player, Personality of the Year, and CHL Player of the Year. This season? He continued his dominance with another jump forward, now wearing a "C." He put up 35 goals, 77 assists, and 112 points in just 52 games, leading the league in points. All signs point to him already getting all he could out of this league.
"Internationally, Lafrenière has been proving he's at the top of his draft class at every age. He won a U17 silver medal in 2017-18 and was named to the All-Star Team. In 2018, he collected a gold medal at the Hlinka Gretzky Cup, captaining Team Canada and collecting 11 points in five games. He also played in the World Juniors, collecting one goal in five games in a depth role.
"At the 2020 World Juniors, Lafrenière made Team Canada his own at the World Juniors. Despite missing two games with a leg injury, he helped lead the team to a gold medal, collecting 10 points in five games, and earning himself Best Forward and MVP of the tournament.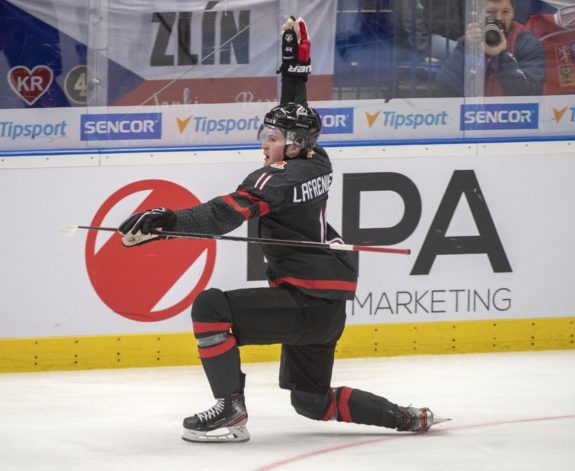 "So we know what he's done, but how has he done it? Lafrenière truly is an all-round, elite player with an offensive gift. The offense runs through him. He can cycle the offensive end on his own, finding the perfect pass for an assist or the best positioning for a shot. His offensive awareness is off the charts. He reads defences so well that when you watch him play it looks like he visualizes the path to the net and he takes it.
"If you're one-on-one against him, expect to lose. He's a very creative player, that can go through the opposition or blow past them. His biggest progression this season has been his skating. He's a powerful skater who can accelerate with ease, often leaving defenders in his snow. It's evident that he likes to pass, based on his assist totals through the years, but when he pulls out his wrist shot – watch out. It's hard, it's fast, it's accurate.
"It's very probable that Lafrenière steps into the NHL next season, having taken all that he can out of the QMJHL. Whichever NHL team wins the draft lottery, expect to see the Océanic star in that team's colours in 2020-21."
Full player profile can be found here.
How This Affects the Rangers Plans
The Rangers landed the No. 2 selection in the 2019 NHL Drafting right winger, Kaapo Kakko. Imagining the two of them on the same line should be enough to get Rangers' fans very, very excited. Landing this year's top prospect should certainly speed up their rebuild, that seems like it happen overnight.
Related: Rangers Will Pick Lafrenière, But What Problems Could That Cause?
But looking at the Rangers roster, Lafrenière is entering an organization that is deep on the wing. The Rangers have two left wingers locked up for at least six seasons in Artemi Panarin and Chris Kreider. It will be interesting to see how the Rangers handle fitting their new prized player into the fold – does someone need to switch to the right wing?
However the forward corps fills out, there's no question that Lafrenière should be able to provide an immediate impact for the Rangers in 2020-21. The first-overall pick is an elite talent, and could very well be a franchise player for the Original Six team. The team showed that they're a team on the rise in 2019-20, and their new player will only add to that rise.
Get the latest NHL Draft & Prospect rankings, news and analysis