Despite the Chicago Blackhawks' open letter to fans, foreshadowing that the team won't see much winning in the near future, this doesn't currently appear to be a full rebuild. They maintain a proven veteran presence, yet opportunity is being granted for their youth to complete a takeover. As the franchise fine tunes their plan, many are left wondering what to expect next season.
With lacklustre results of late, it's been a challenge to have much to cheer for. However, the Blackhawks find ways to keep their game exciting. Whether it was witnessing Patrick Kane's 1,000th point, Dominik Kubalik's impressive rookie campaign, or Corey Crawford's record-setting postseason, Chicago supporters had reasons to celebrate last season.
RELATED – Corey Crawford's Legacy With the Blackhawks
As the organization makes a more obvious push towards development, time will tell when the next notable achievements will be reached. For now, fans will have to practice patience as a tradeoff for the unprecedented success they enjoyed last decade. After predicting how each line will take shape, the picture of what to expect becomes more clear.
Offense Positioned to Produce
Even throughout their struggles, the Blackhawks don't shy away from scoring goals. When your team includes Kane, who is already considered amongst the greatest USA born player of all-time, it's difficult to avoid production. Add the prowess of newcomers like Kubalik and putting pucks in the back of the net becomes inevitable.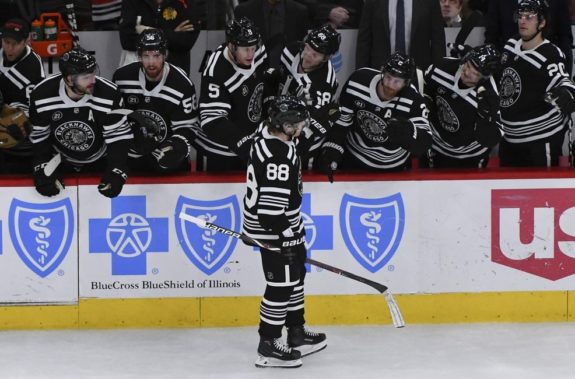 Beyond Chicago's two 30-goal scorers from last season, this is a lineup that shares the scoresheet. They had 10 players accumulate at least 20 points through 2019-20. Also, before the season was cut short, captain Jonathan Toews was on pace for 21 goals. That would have been his 13th season in a row scoring at least 20.
RELATED – Blackhawks Get 1st-Round Talent in 7th-Round Kubalik
Alex DeBrincat is due to break out from last year's lack of production, Dylan Strome has yet to reach his peak in play, and Kirby Dach made major strides throughout the latter half of 2019-20. These signs all point to increased scoring for this squad next season. Chicago's young stars will have a chance to shine even brighter, while Kane and Toews maintain the consistency fans know to expect.
Re-Imagining Their Defense
When you consider that the Blackhawks allowed a league most 2,458 shots on net, it's remarkable that they didn't accumulate the worst goals against totals. That's mainly thanks to their goaltending and not the efforts of their defense, as the latter is an area of Chicago's game that has gained focus for all the wrong reasons.
Connor Murphy's positive presence was an outlier on Chicago's blue line last season, as he becomes poised for added attention and increased responsibility. All the while, veterans Duncan Keith and Brent Seabrook continue to slow down. There is no denying that their mentorship could prove invaluable, but they need to own that type of role for it to be the case.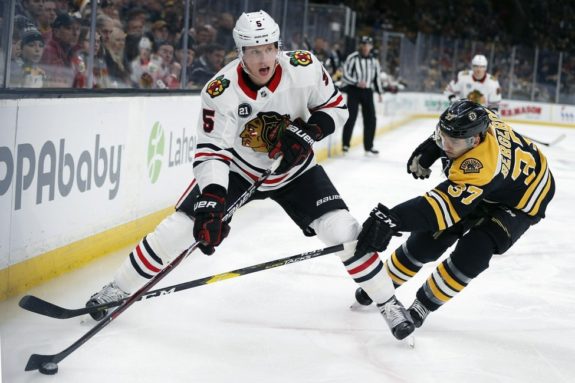 The back end of this Blackhawks team is as jumbled as the rest of it. However, playing alongside Calvin de Haan and Nikita Zadorov in their prime will support the elevation of Chicago's youngsters like 20-year-old Adam Boqvist. As Boqvist and his teammates work towards the next tier of their development, there will still be growing pains before this team is back to defensive domination.
Competition For the Crease
An obvious area of concern for Chicago is in their net. Following a confusing one-year offer that failed to clear things up for either side, Crawford left the organization. Although a richer deal would not have made sense given the team's current state and financials, his departure leaves a glaring void in their crease.
Instead of management making a conscious effort to seek additional support, they're going to let a pair of unproven netminders battle for the starter's spot. Collin Delia and Malcolm Subban — both 26 years old — have less than 100 career games played combined. With added action amongst a developing squad, both are sure to see their fair share of pucks end up behind them along the way.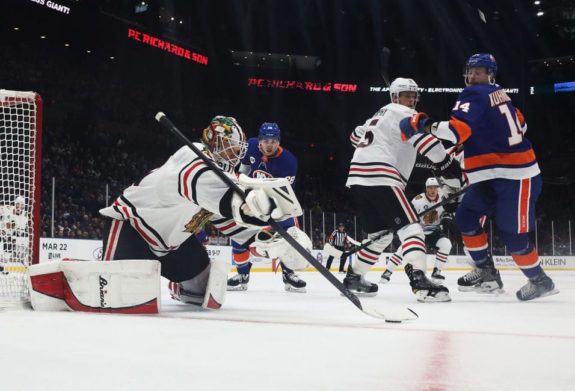 Believe it or not, this may be what's best for these goalies. An increased workload offers greater opportunity to practice their craft and progress in ways they wouldn't be able to with a stronger team in front of them. Competing for playing time should mean each is ready to showcase their talents with any start they get. As Chicago witnesses what these netminders are made of, Delia will prove to be the better option.
Decisions on Those That Make Them
Since being named head coach, Jeremy Colliton has had a seemingly impossible hill to climb. Not only was he taking over from Joel Quenneville, one of the franchise's most accomplished bench bosses of all-time, he was also handed a lineup that was far from looking like those that hoisted three Stanley Cups through the 2010s.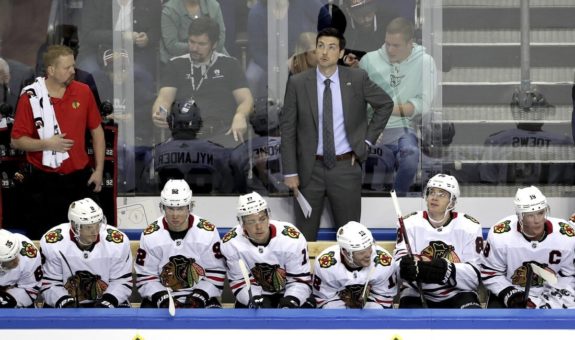 Despite the skepticism that Colliton continues to endure, he's done more with this roster than many would have predicted. Helping them find a way to bypass Connor McDavid's Edmonton Oilers and into the 2020 Stanley Cup Playoffs can not be overlooked. Through his team's next phase, Colliton should be judged less on their record and more on how effectively those he's coaching are listening and developing under him.
Shifting focus to their head office, Stan Bowman has set himself up to avoid being reprimanded as a result of the losses Chicago is preparing to endure. Having communicated that this is to be expected, it will be hard to establish a basis for disappointment if they follow through on that. However, how this roster continues to take shape should certainly factor into his fate.
RELATED – Blackhawks Siphon More Skill From Overseas By Drafting Reichel on Day 1
If the pieces Bowman has put together, along with those he's consciously removed from their puzzle, result in soon-to-be sustainable success for this organization then it will be a job well done. On the other hand, if cohesion is seeming far-fetched, Bowman having more of a future with the franchise may be as well.
Summarizing Their Season
Chicago will score more goals than most expect, while their youth develop into the next generation of leaders. Unproven goalies will come out the other side of this season far better because of the challenges they'll face throughout it. The quality of their coaching will become clear, based on how effectively the messaging is perceived, while management must continue doing anything necessary to get this club back on track.
Fans should prepare for their experience with this version of the Blackhawks to be drastically different than it was last decade. However, being an organization that prides itself on its ability to compete, this team won't lack entertainment value along the way. Although a playoff berth next season shouldn't be expected, don't be surprised if the Blackhawks still find ways to make you cheer.
---
---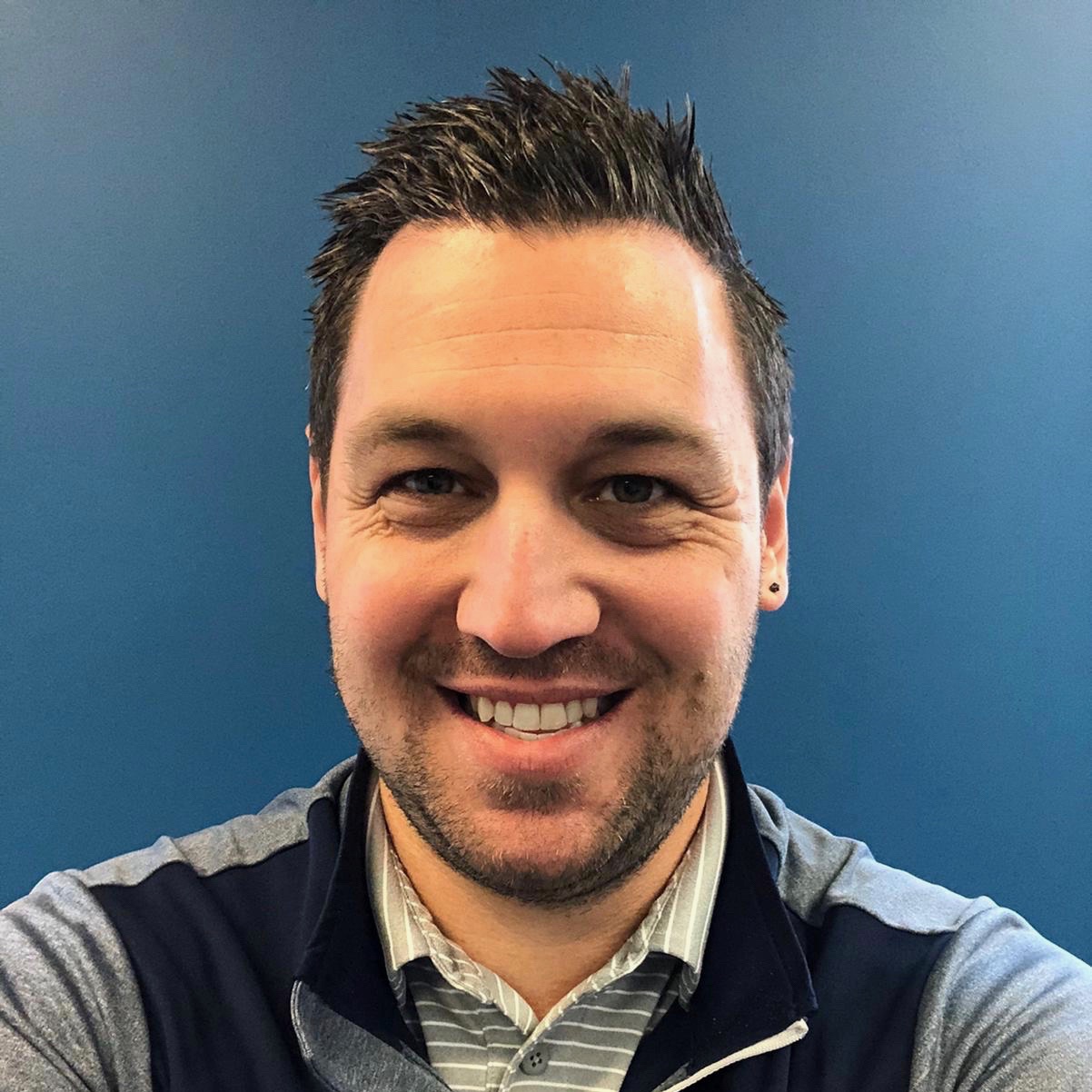 Freelance thinker, paying too much attention to digital aesthetic. Oxford comma enthusiast. Spider-Man supporter. Sports fan, with two favourite hockey teams. If the Blackhawks and Maple Leafs ever meet in the Stanley Cup Final, you can find me wherever they're playing that night.
Find me and more of my work at mralwayswrite.com and find me at @MrAlwaysWrite.