Back in late September, the Chicago Blackhawks were about a month removed from their first-round playoff series loss to the Vegas Golden Knights. We were all looking for some hockey content, and it seemed like the perfect time to ponder some early lineup projections for the 2020-21 season. Since then, free agency trades and signings have greatly altered the look of the roster. A much different lineup will hit the ice than we previously thought. So while we now wait to hear more on when (and how) the 2020-21 season will actually commence, it seems like an ideal time to revisit our projections based on this new information.
The Starting Point
When I embarked on this exercise the first time, I started with the lineup from the Blackhawks last win against the Golden Knights on Aug. 16. I made some educated guesses and came up with my proposed 2020-21 lineup. For more details on how I got to this point, you can refer to the linked post above. But for now, here's what I projected.
Dominik Kubalik-Jonathan Toews-Brandon Saad
 Alex DeBrincat-Kirby Dach-Patrick Kane
Andrew Shaw-Player-Alex Nylander?
Matthew Highmore-David Kampf-Ryan Carpenter
13th Forward-14th Forward
Duncan Keith-Adam Boqvist
 Calvin De Haan-Connor Murphy
 Player-Brent Seabrook
Seventh Defenseman
Corey Crawford/Collin Delia
Well, we all know by now Saad was traded to the Colorado Avalanche, so he's out of the picture. Kubalik was predictably re-signed, and it's expected Strome will be as well. I did not include Strome in these original projections, but based on the latest information I feel the need to add him back in.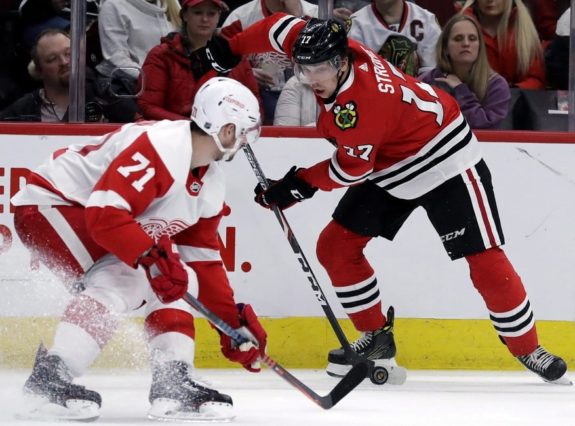 The Blackhawks didn't buy out veteran Zack Smith, as he is recouping from back surgery and was therefore not eligible for a buyout. Although I still don't see him as being part of the plan; in all likelihood he'll be placed on long-term injured reserve.
Related – Blackhawks' News & Rumors: Scott, Bowman, Zadorov & Kurashev
I correctly predicted defensemen Maatta and Koekkoek would not return, leaving the defensive projected group above relatively intact. And then there's arguably the most surprising loss from the roster in the crease. The Blackhawks decided to move on from Crawford, and he signed with the New Jersey Devils.
The team has since added forwards Mattias Janmark and Lucas Wallmark to the fold, along with defenseman Nikita Zadorov. Based on these changes, let's further break down where the lineup stands.
Projected Blackhawks' Forward Lines
For me, this was the most difficult part of this exercise. The Blackhawks have way too many bottom-six forwards, and not enough top-six forwards. The ideal situation would be to keep Strome and DeBrincat together. But then what do you do with Dach, who has proven he is ready and will make the most impact on one of the top lines? I'd also like to include newly signed forward Pius Suter. It's projected he's ready for the NHL and will make the starting roster out of training camp.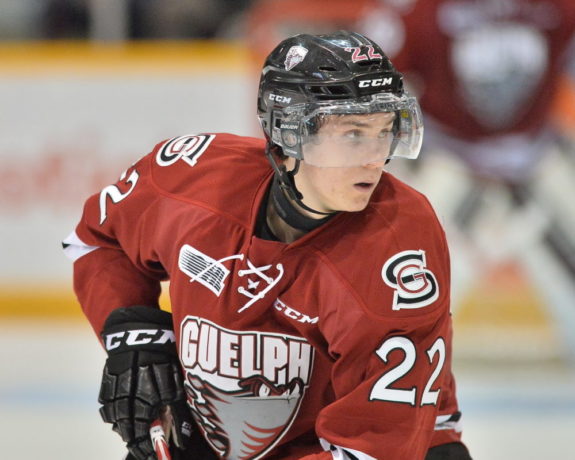 Let's address the question first and foremost on everyone's mind. Assuming Kubalik and Toews stay together on the top line, who gets that coveted spot on their right wing? Could it be DeBrincat? Maybe it's Suter, who led the Swiss league in scoring last season. His skillset factors in as a top-six forward.
The problem here is that both DeBrincat and Suter are listed as left-wingers. And while this may not be much of an issue for DeBrincat, asking a new player to line up on his off side isn't ideal. What about Shaw? While I see him as more of a bottom-six player, he certainly has the versatility to play anywhere throughout the lineup. I've mentioned before his game is similar to that of Drake Caggiula, and head coach Jeremy Colliton utilized Caggiula in this same position a lot last season. As long as Shaw is healthy, I could see Colliton starting out with that as a top line.
Related – Top 5 Surprising Player Stats From the Blackhawks' Playoffs Run
Pencil in Dach and Kane for the second line. Hmm, how about Suter then on the left wing? If Suter and Kane have any sort of chemistry, Dach could balance out their smaller statures with his size, strength, and tenacity.
Oh hey, that leaves DeBrincat to play on the third line with Strome at center! Who plays with them? Well, I've heard really good things about Wallmark. He could bring some defensive balance to the line, and unlike Strome, he's pretty good at the dot with a 50.9 faceoff percentage. He and Strome could split the draws, depending on the opponent and the situation. This is another thing Colliton has done in the past. Now, I don't like the idea of DeBrincat getting less minutes on the third line, but this is something the head coach could monitor and access on a case-by-case basis.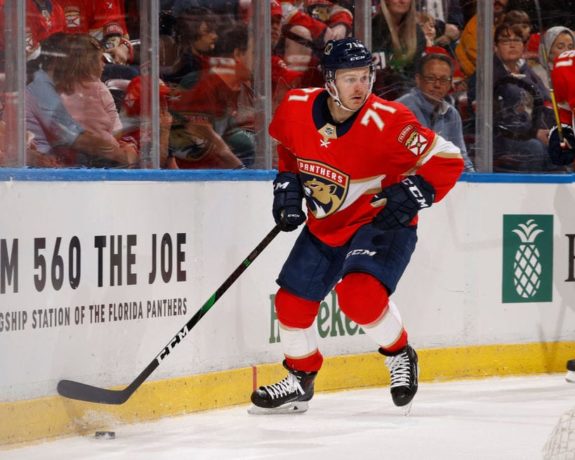 I mentioned in my previous post how the fourth line of Highmore, Kampf and Carpenter are a very serviceable trio that plays well together. Yet the Blackhawks probably didn't sign Janmark to not play him. He will have a spot in the bottom-six. And considering the youth movement and that Colliton has gone out of his way to praise Highmore's game, the veteran Carpenter might find himself the odd man out. All in all, I project something like this.   
Kubalik-Toews-Shaw
 Suter-Dach-Kane
DeBrincat-Strome-Wallmark
Janmark-Kampf-Highmore
Extras: Carpenter, Nylander
Nylander, in my opinion, is on the bubble. He'll need to prove his worth to stay in the lineup. He's also waivers exempt, so the Blackhawks can easily send him down to the Rockford IceHogs with no risk of losing him. That could certainly factor into his status.
Dark horses competing for a spot or to at least see some time with the big club next season include Philipp Kurashev and Brandon Pirri.
Projected Blackhawks' Defensive Pairings
My colleague Ryan recently wrote a piece with his predictions for the Blackhawks' 2020-21 defensive pairings. Ryan came to similar conclusions as mine above. He slotted newest addition Zadorov next to Seabrook, and top prospect Mitchell as the seventh defenseman potentially splitting time with Seabrook.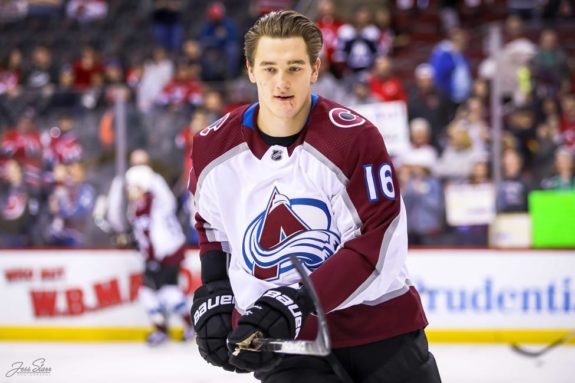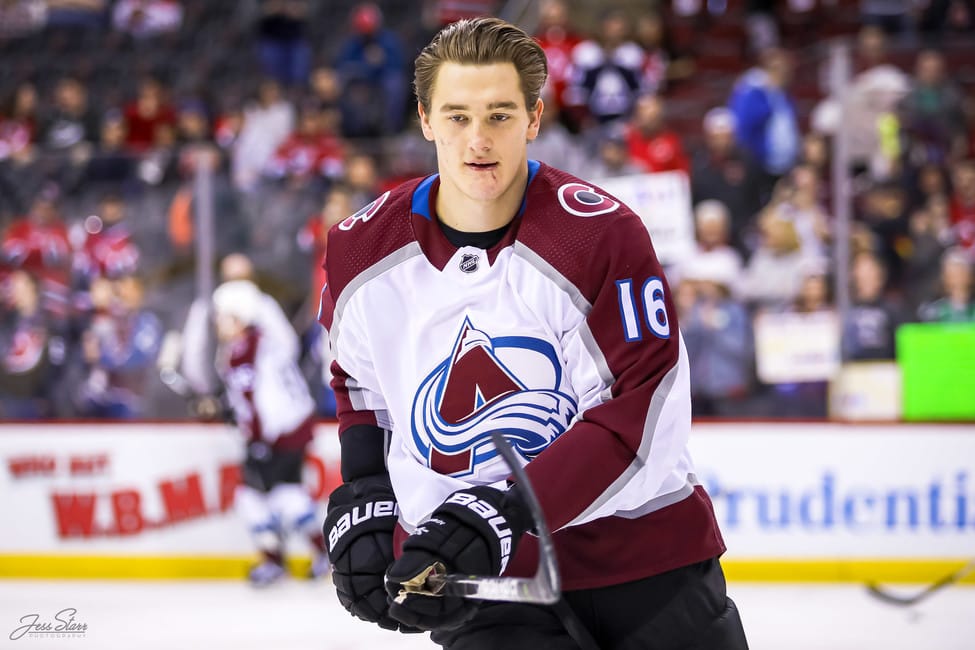 I'd like to offer a few variations to this assessment. The Athletic recently quoted Blackhawks' general manager Stan Bowman's thoughts on the signing of Zadorov,
The skill-set that Nikita brings is pretty unique to the league. The benefit for us is we've got two young right-handed skilled smaller defensemen that have offensive ability in Ian Mitchell and Adam Boqvist. We think that by bringing Nikita in, we're going to help accelerate their progression and their growth to make a bigger impact on our team. If we didn't have Zadorov, we'd have someone else playing with them. But he gives us the best chance to maximize them.

(from, 'Blackhawks GM Stan Bowman on the plan, the core and a new era of transparency', The AthleticCHI – 10/20/20)
Boqvist struggled in the playoffs on that top pairing with Keith. Perhaps some new blood is needed, and Mitchell would be a better fit. Keith has, after all, taken to mentoring the newbies. Why not one more?
Zadorov, meanwhile, is a big defensive defenseman that can shelter Boqvist and help further his development, as Bowman refers to above. So my newly projected defensive pairings look like this:
Keith-Mitchell
de Haan-Murphy
Zadorov-Boqvist
Seabrook
Yep, I have Seabrook as the seventh defenseman. But of course he will probably split time with Boqvist and Mitchell as needed. I wouldn't be surprised if both the youngsters spend some time in the AHL. Seabrook will be a placeholder of sorts.
Dark horses competing for a spot or to at least see some time with the big club next season include Lucas Carlsson and Wyatt Kalynuk.
Projected Blackhawks' Goaltending
Whoa's me, this could be rough. Crawford is gone. I'm still in shock. Crawford is gone, and three very inexperienced netminders will duke it out for the starting spot. The more I think about this, the more I wonder if the Blackhawks will look at a tandem situation similar to the one they used with Crawford and Robin Lehner last season.
Related – Corey Crawford's Legacy With the Blackhawks
Delia and Subban could easily equally share the net. Colliton will ride the hot hand, unless of course one emerges as the uncontested best option. But expect them both to struggle, which is when the other will step in. Or the defense will have to step up. Or the Blackhawks will lose a lot of games. Sigh.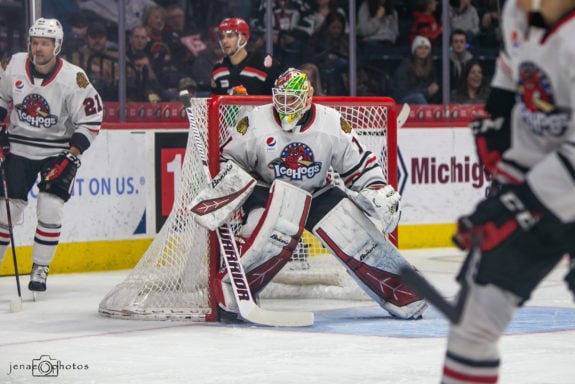 Kevin Lankinen, meanwhile, is the only one of the three goalies that is waivers exempt. This will likely factor into him staying the AHL in order to protect the other two.
Final Thoughts
Here's a synopsis of my proposed lineup projections for the Blackhawks as we head into the 2020-21 season, based on the most recent batch of additions and subtractions in free agency.
Kubalik-Toews-Shaw
 Suter-Dach-Kane
DeBrincat-Strome-Wallmark
Janmark-Kampf-Highmore
Extras: Carpenter, Nylander
Keith-Mitchell
de Haan-Murphy
Zadorov-Boqvist
Seventh D-man: Seabrook
Delia-Subban (Tandem)
Obviously, this is all projection. We all know the lines and pairings never stay the same throughout any given season. There are always changes and adjustments made based on chemistry, skill, injuries, etc.
But it certainly is fun to make some educated guesses. And to see if any of our predictions actually come to fruition. What do you think, Blackhawks' fans?! Feel free to leave your thoughts and opinions in the comments section below.
---
---