The Chicago Blackhawks have an interesting hill to climb to fix their defensive pairings during their rebuild. Though they're expected to struggle, they still have to play through the 2020-21 season. Which defensive pairings will give them the best chance to win?
The Blackhawks have solid defensive prospects in their organization. As the team gets younger, they have a lot of pieces to draw from. They aren't all ready to play in the NHL yet, and those who are might struggle at first. That's where the growing pains of a rebuilding team come in.
First Defensive Pairing
The first pairing has to include Duncan Keith, a long-time staple of the Blackhawks' defense. Even though the team is getting younger, there's still a place for the 37-year-old Keith in the lineup.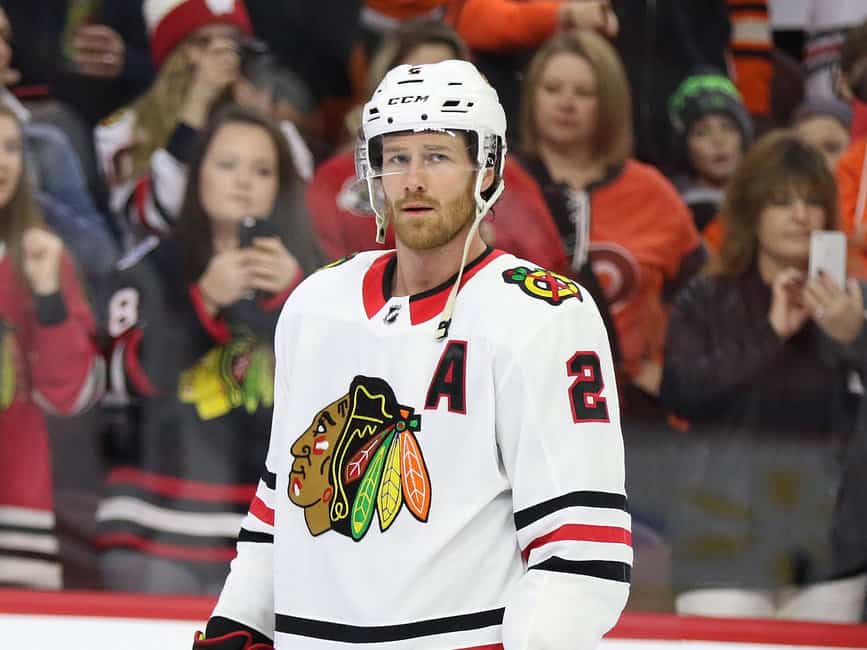 He can still hang with the best defensemen out there, and he is arguably still the best d-man on the Blackhawks' roster. His play may not be as good as it once was, but that doesn't mean he can't still help the team. Expect Keith to be remain on the top pairing. His defensive partner? Adam Boqvist.
Related: Blackhawks News and Rumors: Bowman, Colliton, Team Rankings & More
Boqvist should return to his spot on the top pairing alongside Keith in 2020-2021. He struggled at times last season, but he showed that he has a high ceiling. Going into his second season, there is no player better to continue to mentor Boqvist than Keith. If he can improve on his rookie season, this defensive pairing could be very dangerous, assuming Keith can still keep up with the speed of the game.
Second Defensive Pairing
In the 2020 Playoffs, Calvin de Haan returned from injury to play with Olli Maatta, who has since been traded, on the second pairing. The two showed great promise, but Maatta's contract was too big for his lack of production and the Blackhawks needed money to spend elsewhere.
Now that Maatta is gone, de Haan needs a new defensive partner, and that partner should be Connor Murphy. Murphy has been solid for the Blackhawks, despite being shifted through all three defensive pairings in his time with the team. The 27-year-old will have to step up again this season if he wants to remain on the second pairing with de Haan.
Last season, de Haan played in 29 games, scoring one goal with five assists for six points. During the playoffs, de Haan played in nine games, adding just one assist.
Murphy, last season, played in 58 games, scoring five goals with 14 assists for 19 points. During the playoffs, Murphy added four assists in nine games.
Related: Blackhawks Have Decisions to Make With Smith, Shaw & Strome
Both players had solid seasons, which gives this line a lot of potential. It's unsure how much longer either player has left on this team, as the Blackhawks look to go younger. Both de Haan and Murphy could be playing for their jobs this upcoming season. If that's the case, expect big things from this duo.
Third Defensive Pairing
The Blackhawks have three or four players who could fill this role, but the glaring problem is Brent Seabrook. He has four years left on his contract, (worth $6.875 million per season). With the kind of money he's making, he is almost forced into the lineup.
Seabrook is at a point in his career where he cannot keep up with the speed of the game. Whether it's the injuries he's had over the years or that he's past his prime, Seabrook isn't the same player he once was.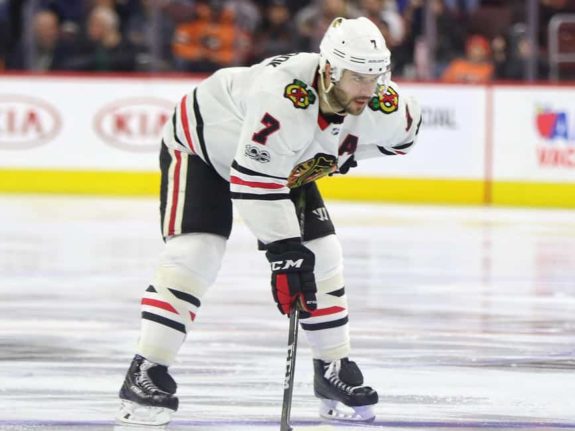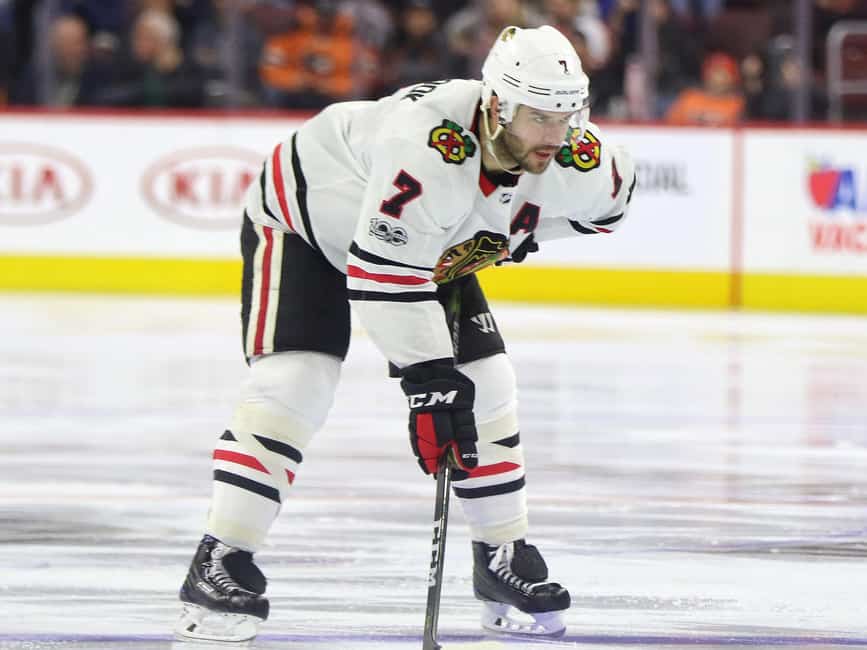 Seabrook's defensive partner should be Nikita Zadorov. Zadorov, who was recently traded to the Blackhawks, is in a spot that benefits Chicago. If he does well, they can re-sign him. If he doesn't live up to their expectations for him, they can either trade him during the season or let him go in the offseason.
Last season, Zadorov in 64 games, scored four goals with nine assists for 13 points. He isn't known for adding much on offense, instead, he is a shutdown, 6-foot-5, physical defenseman.
If he can bring that same style of play to Chicago, he'll fit in well with Seabrook. If he doesn't, this line has the potential to be a disaster – as Seabrook doesn't have the ability to carry a line, as he did at times earlier in his career.
Seabrook won't play in all 82 games (if the NHL decides on a full season). That's where Ian Mitchell comes in. Mitchell, the 21-year-old who just finished his NCAA career with Denver, will be given the chance to play at some point this upcoming season. While he waits, he'll be seasoned in the AHL.
Related: Who Should Stay and Go in Blackhawks' Rebuild
When Mitchell is called up, he will likely split time with Seabrook on the third pairing. However, rotating the two players should be beneficial. It will give Seabrook some rest, as he battled through injuries last season, and it will give Mitchell a taste of the NHL. He is expected to be one of the Blackhawks' future stars, so there's no need to rush him. He will find a full-time starting job at some point with the Blackhawks, it just won't happen this season.
Even though the expectations for the 2020-21 NHL season are low, the defense is the backbone of every hockey team. If these pairings can find success, the Blackhawks will be better than expected. If they can't, Chicago will be picking at the very top of the 2021 NHL Draft.
---
---