Mikko Lehtonen was a sought after commodity on the free-agent market in Europe. Many teams were after him, but the Toronto Maple Leafs came out on top.
Despite being a left-hand shot, he is also comfortable playing on the right side. More importantly, Lehtonen fits the Maple Leafs' description of what they were looking for: a puck-moving defenseman with a strong two-way game. Toronto was at the bottom in goals-against-per-game last season, so having Lehtonen in the lineup could help.  
A roster spot isn't set in stone, but Lehtonen could start on the third pairing. However, if he impresses, he could take on a more prominent role. After a strong start to the 2020-21 KHL season with Jokerit Helsinki, he is proving his worth as an impact player and the numbers back it up.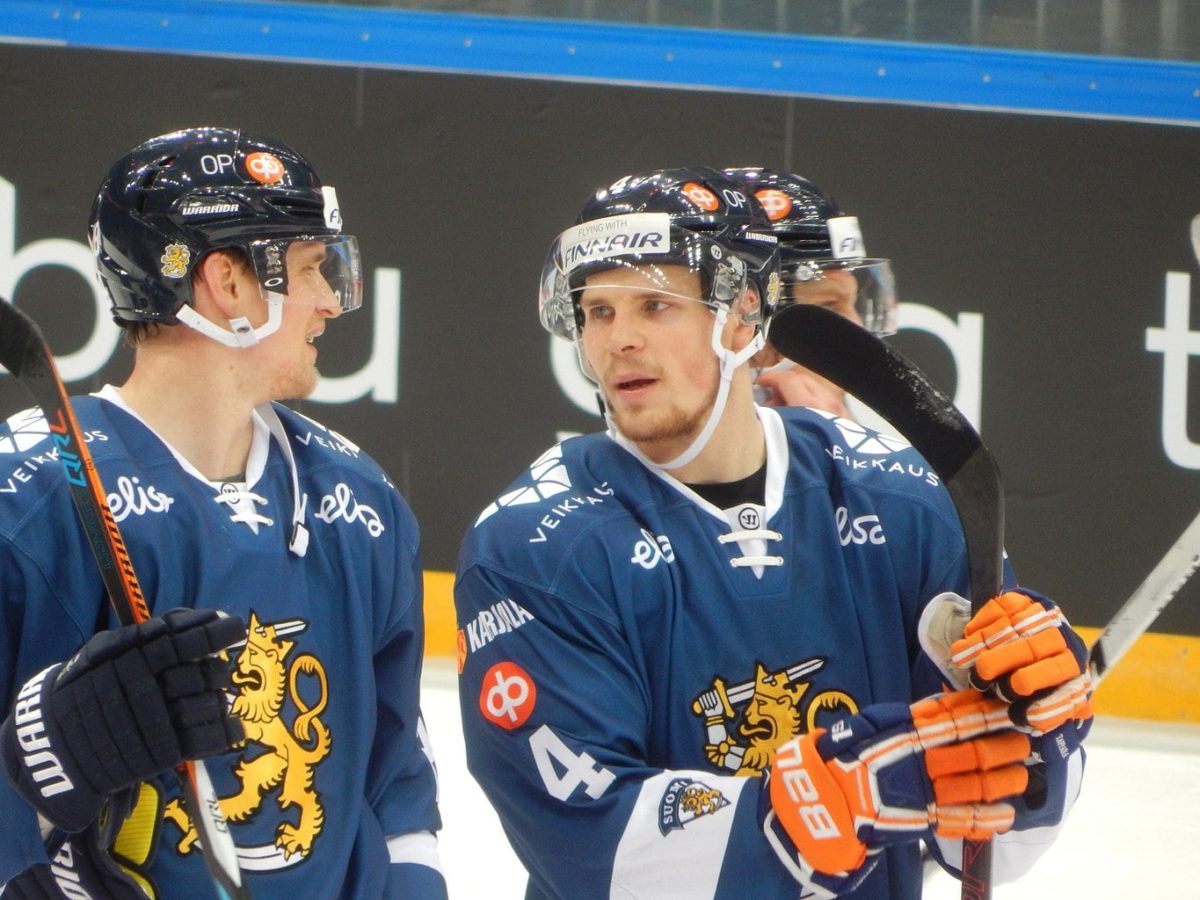 A spot in the Maple Leafs' top-four isn't out of the question as Lehtonen has been turning heads and has fans excitedly waiting for his move to North America. Here's a deeper look at his play and what fans can expect from him when he joines the team.
An Offensive Powerhouse
After finishing sixth in KHL scoring as a defenseman with 49 points last season, Lehtonen has shown he can produce in a tough and competitive league. He earned three consecutive Defenseman of the Month honours, from November to January. Before becoming a dominant d-man in the KHL, he won a gold medal at the 2014 World Junior Championships as well as gold at the 2019 World Hockey Championship, where he was named a tournament All-Star. 
Lehtonen is always a threat and is reliable on the blue line. He has excellent puck control and speed in the offensive zone which allows him to be elusive and hard to contain. As a result of his consistent play, he has averaged slightly less than 23 minutes a game this season. Lehtonen is at his best when is on the attack. He averages 10:14 per game in the offensive zone and his average power-play TOI (3:02) is on par with last season (3:08).
The following clip sums up Lehtonen's offensive capabilities, as he's the driving force behind every scoring opportunity when he is on the ice. 
Lehtonen starts the play with a breakout pass to get the play moving. When it reaches the blue line, he jumps up quickly and keeps the play alive. After some excellent passing, puck movement and a great scoring chance, the puck finds its way back to Lehtonen and he buries his shot from the point.
As shown, Lehtonen is a strong and effective passer. He averages around 36 accurate passes per game with a success rate of 91%. For a team like the Maple Leafs that has great finishers, like Auston Matthews, John Tavares and William Nylander, having a great setup man will bode well for their high-end scoring talent. 
As we saw at the start of the power play, he is also strong at making breakout passes, producing 4.20 passes per game. The Maple Leafs like to stretch the game to quickly move behind the opposition's defence or catch them off guard when setting up their attack. If that doesn't work, Lehtonen is effective at stickhandling his way into the offensive zone to set up. With his high rate of pass connection, breakouts and entries, he will make the Maple Leafs' offense unpredictable.
Shot Selection and Accuracy
Building on the previous clip, Lehtonen's accuracy and his shot stand out the most. He scored 17 goals in 2019-20 for Jokerit and is already has eight this season. He has a knack for getting great shots on net as well as the ability to change the angle of his shot when he needs to. Whether it's a wrist shot or a slap shot, he is dangerous whenever he has the opportunity to shoot. Especially if he has ample time to release it.
He has a high success rate of getting the puck on net. His wrist shot is very quick and he can get a lot of power on his slap shot. The table below shows his shot locations, on target and missed shots and the conversion rate of the shots on net for the season. 
| | | |
| --- | --- | --- |
| Area on Ice | On Target/ Missed | Percentage |
| Top Left Blue line | 15/ 29 | 51.7% |
| Top Centre Ice Blue line | 23/ 59 | 39% |
| Top Right Blue line | 5/ 12 | 41.7% |
| Right Faceoff Circle- Wall | 4/ 5 | 80% |
| High Danger- Middle Ice | 5/ 9  | 55.6% |
Most of his shots come from the point, particularly on the left side and centre ice, but Lehtonen still has a pretty good success rate at shooting from other areas. He isn't afraid to use the whole ice surface to get into a good area and get a shot off without much traffic in front of him.
In this clip, he uses a slap shot to score which shows his ability to get open and get himself in a good spot to shoot.
Although Lehtonen is wide open (4-on-3 power play), he puts himself in a better spot to anticipate a pass and readjust his body to prepare for a one-time shot on the right side. He winds up and as soon as the puck is in the perfect spot, he lets it go and scores. 
He keeps his head up and places the shot perfectly. His vision allows him to be successful and rarely miss the net. That goal also comes from the high danger area, which is his second-highest percentage. He doesn't generate a lot of chances from that area, given that he's a defenseman, but if he has an opportunity to do so, he is very dangerous. 
Aggressive Defensive Game
While Lehtonen has shown off his offensive upside, his defensive game is very underrated. He's a reliable defensive presence in his own end. He averages 1:11 on the penalty kill and spends 8:29 per game in the defensive zone. 
Despite his significant time in the offensive zone, Lehtonen is also capable of being difficult to go up against in the defensive zone. He can locate the puck well and battle for possession. He also has strong one-on-one coverage and fits the description of what the Maple Leafs lack in a defenseman.
He isn't afraid to challenge for the puck to quickly transition to offense using his aggressive stick to try and knock the puck loose. The following chart shows Lehtonen's puck battles. For comparison, I've used T.J. Brodie who is extremely effective in his own end. All numbers reflect games that were tracked this season.
| | | |
| --- | --- | --- |
| Category | Lehtonen's Stats | Brodie's Stats |
| Puck Battles in Offenzive Zone per game | 2.1 | 2.6 |
| Puck Battles in in Defensive Zone per game | 8 | 8 |
| Puck Battles Won per game | 7 | 7 |
| Puck Battles Win % per game | 54 | 54 |
Brodie has similar numbers to Lehtonen in terms of battling and retrieving the puck. While Lehtonen provides more of an offensive presence than Brodie, he still manages to to provide an aggressive style when battling to obtain puck possession in his own end. This matches what Brodie does both on the Calgary Flames and what he could bring to a Maple Leafs team where defense is the main focus. 
Lehtonen averages 5.7 takeaways per game in the defensive zone and 1.4 in the neutral zone. Brodie averaged 5.8 takeaways per game in his own end and 1.6 in the neutral zone in games that were tracked from this season. This shows Lehtonen's ability to be aggressive in pursuit of the puck and on the puck carrier to turn the puck over. He can stick check and tie up his opponent effectively, all while not taking major risks. Even when he's aggressive on the attack, he still has the speed to get back on defense.
Maple Leafs general manager Kyle Dubas wants to make sure his team is difficult to play against, so he added Brodie through free agency. But signing one of the top European free-agent defensemen who plays a similar style to Brodie, was a win in itself. Even watching clips of Lehtonen play, you can see the same drive and determination as Brodie has.
This season, Lehtonen has a winning percentage of 50% or higher in eight of 14 games played. Winning the battles is extremely important, but his ability to challenge the opposition will be key for the Maple Leafs as they look to be more aggressive in their own end next season.  
Lehtonen Is What Maple Leafs Need
While it's not set in stone, Lehtonen's standout play and underlying numbers have put him into the conversation for an opening-night roster spot. Even if he starts on the third pairning, seeing him move up the lineup and take on more responsibility isn't out of the question. He's shown that he can play tough minutes against tough competition and expect the same with the Maple Leafs. 
It's difficult for players to come over and adapt to the smaller ice surface. However, Lehtonen should be utilized properly and used for his strengths. Head coach Sheldon Keefe will always try to get the best out of his players. Even if he's not as productive as he was in the KHL, Lehtonen's smarts and two-way game are what the Maple Leafs were desperately seeking. 
All Stats were provided by InStat Hockey.
---
---