One day before the 2020 NHL Entry Draft, Toronto Maple Leafs general manager Kyle Dubas spoke to the media and made it very clear that his focus this offseason was to make his team tougher to play against. 
Dubas stated that whether it was through free agency or trades, he would do whatever he could to address that need. He also mentioned that teams altered their outlook during the playoffs. The Tampa Bay Lightning, which once focused on skill, changed their philosophy in adding depth and toughness to their lineup in the form of Pat Maroon, Blake Coleman and Barclay Goodrow. The end result? The Lightning won the Stanley Cup.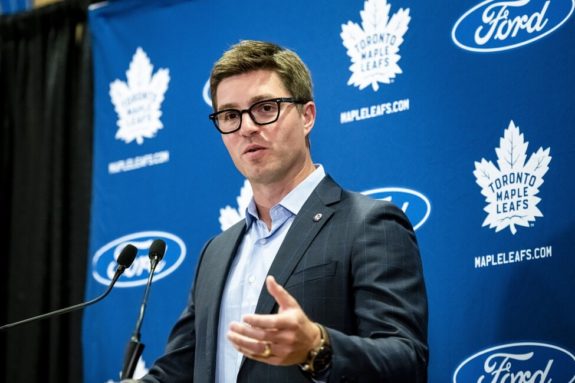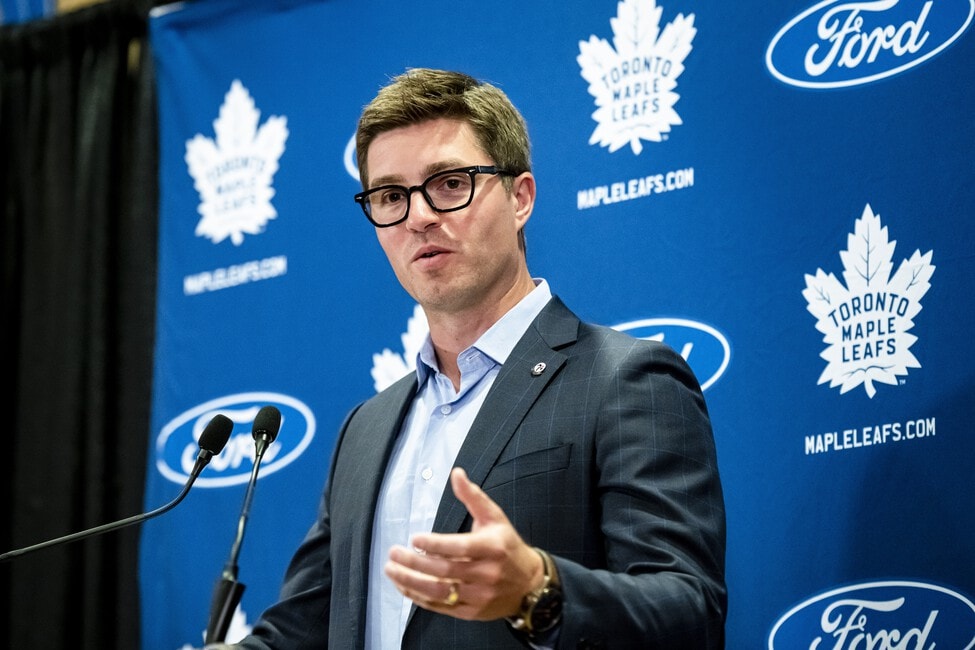 Dubas has seemed to take on this idea in order to find a balance on his team's roster. He has the elite skill, but the depth and toughness was lacking. Whatever you think toughness is — being gritty, aggressive forechecking, puck battles or being physical — the Maple Leafs lacked that throughout the season. 
Dubas addressed the future by drafting players with high IQs. He went one step further by addressing the missing elements on the first day of free agency. While another move could come in the form of a trade to still help with the defense, Dubas kept his word on trying to make the team more competitive.
Simmonds is Coming Home
The Maple Leafs kicked off their offseason by signing Scarborough, Ontario native Wayne Simmonds to a one-year deal worth $1.5 million. 
At 32 years old, Simmonds is way past his prime. His best years came in 2013-14 to 2016-17, where he recorded 50 points four times and two 30-goal seasons. Since then, his ability to produce offensively has declined. It also didn't help that he was on the New Jersey Devils and Buffalo Sabres where both teams struggled last season. 
Simmonds adds a physical element that Maple Leafs have been lacking for some time, but he also brings leadership qualities and is a great veteran presence on and off the ice. Simmonds knows what's expected of him and he's ready to make the team proud.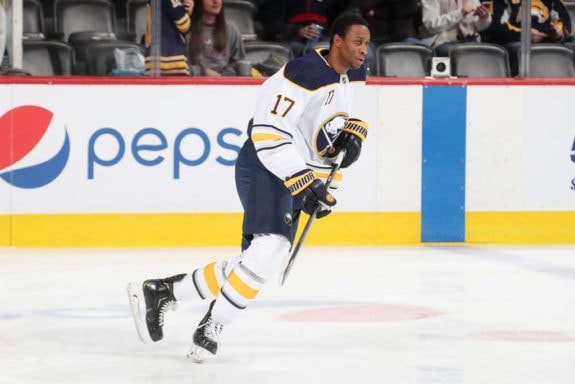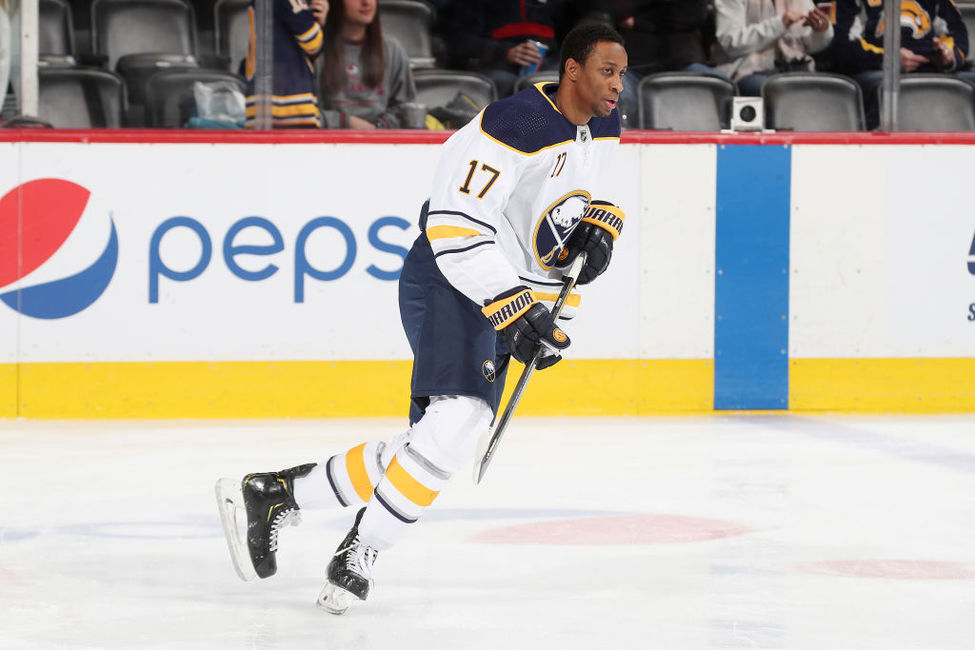 Even though they had Matt Martin for two seasons (2016-17 and 2017-18) the Maple Leafs ranked 25th in hits from 2016-17 to 2019-20. Simmonds has recorded 1,657 hits during his career. Physical play aside, he still has great speed and net-front presence. This allows him to still contribute offensively and make an impact in the corners and in the high danger areas.
"Fighting is part of my game and it always has been. But I think why the Leafs chose me was because of the way I play the game," Simmonds said according to TSN's Kristen Shilton. "I think I play the game the right way. I finish my checks. I battle hard on pucks. I never bail out and I'm always there for my teammates. I honestly think that's what enticed the Maple Leafs and I know that part of my game would be beneficial." 
There's no doubt that Simmonds provides a boost of energy to make the Maple Leafs more competitive. While Dubas checked off one box on his offseason to do list, he is far from done. 
Dubas Gets Defenseman He Wanted with Brodie
Morgan Rielly has had a revolving door of defensive partners that never worked out. We've seen him play with Nikita Zaitsev and Ron Hainsey, which didn't quite work out, and the Cody Ceci experiment was… terrible.
Dubas went out and signed T.J. Brodie to a four-year, $20 million deal averaging $5 million a season. For the first time in a while, the Maple Leafs can say that there is a viable defensive partner for Rielly to play with. A left-hand shot, Brodie is more than capable of playing on the right side.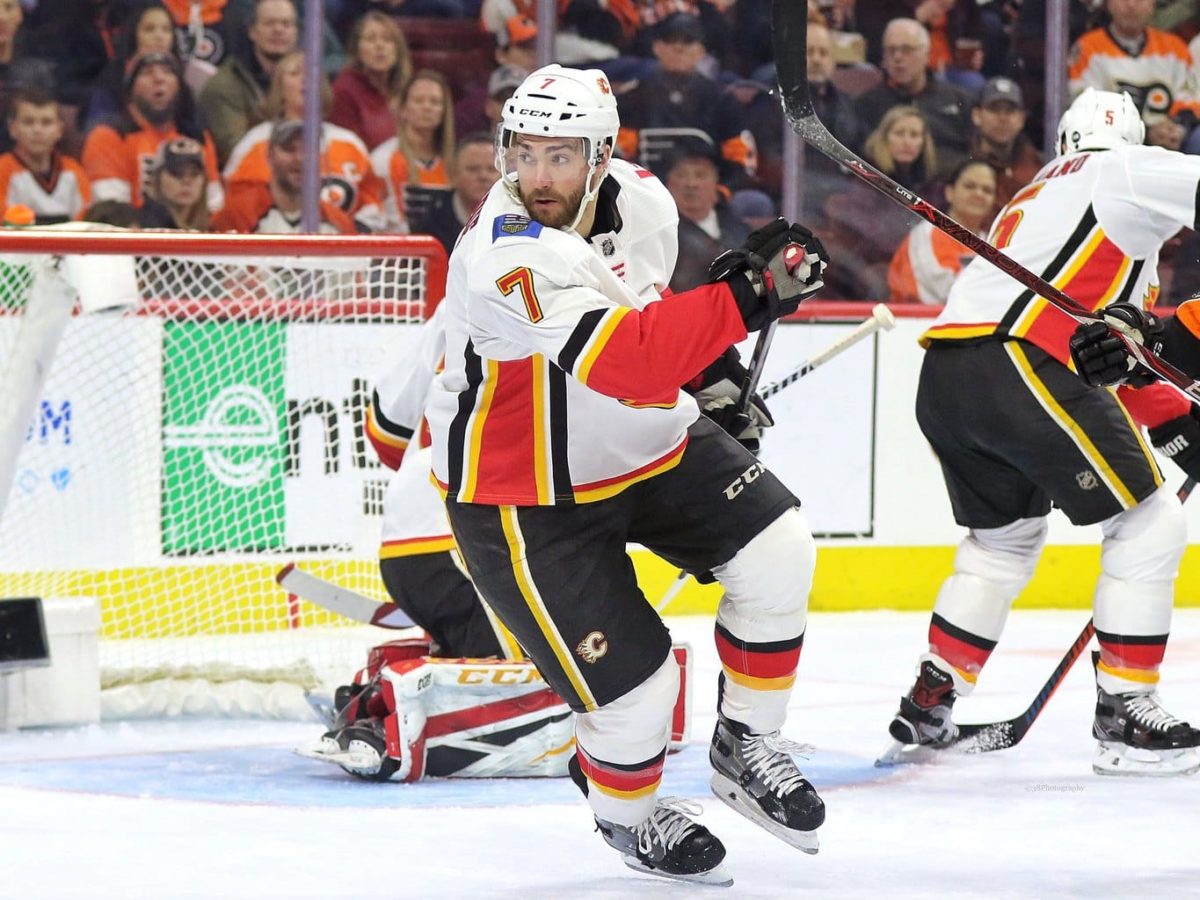 After Tyson Barrie didn't meet expectations last season, Dubas finally landed a defenseman capable of playing on the right side. Brodie was on Dubas' radar before as he was the main return coming back in a potential deal for Nazem Kadri. 
"TJ has been on our radar for a long time," Dubas said according to Shilton. "The thing that we've liked about him is he's played with an elite partner in Mark Giordano for a number of years now, and they've had a lot of success as a pair. And as we've tried to find a partner for Morgan and/or Jake Muzzin now that could complement them and boost the results of our team, TJ and the style and way that he plays, and the way that he operates on the ice and his skill set defensively and with the puck, just always seemed to fit with what we were looking for." 
The following tweet from The Point Hockey shows that Brodie is extremely effective at the stretch pass and has a low defensive zone turnover rate. He can help start the offense but the ability to be reliable in his own end is exactly what the Maple Leafs need. 
His smarts in all three zones make him an ideal top-pairing defenseman, though he's best known to play a steady, shut down defensive game and mitigate the amount of chances on net. The Calgary Flames had a Corsi for percentage of 52.07 while Brodie was on the ice at five-on-five. In addition, Brodie had a goals for percentage of 52.69. Despite being a defensive defenseman, Brodie managed to have an expected goals for percentage (xGF%) of 52.25%. 
Brodie is also capable of handling big minutes as he has consistently done so with the Flames for the last 10 seasons. In 2019-20, Brodie averaged close to 20:34 minutes of ice time per game, 17:53 at even strength and 2:29 on the penalty kill while averaging about 30.2 shifts per game. 
It's safe to say that the Maple Leafs have found a reliable, top-pairing defenseman.
What's Next For Dubas?
While Dubas was busy on the first day of free agency, he may not be done just yet. During a conference call, he alluded to the fact that they may still want to add another defenseman with power. 
Dubas has expressed his feelings about Travis Dermott moving to his off side like Brodie. Meaning that a player like Justin Holl could be expendable. Holl carries a $2 million cap hit over three years and Andreas Johnsson's name is still in the rumour mill. If Holl is moved, we could potentially see these pairings on opening day. 
| | |
| --- | --- |
| Morgan Rielly | T.J. Brodie |
| Jake Muzzin | Travis Dermott |
| Rasmus Sandin | Mikko Lehtonen |
The Maple Leafs were also in the middle of trade talk as they were linked to MacKenzie Weegar of the Florida Panthers according to TSN's Bob McKenzie. 
Weegar does have excellent underlying numbers. Among players who played a minimum of 200 minutes on the Panthers, he was 11th in Corsi for per 60 (54.96), fifth in goals for per 60 (3.16), sixth in high-danger goals for per 60 (1.62) and first in xGF% (54.73). 
He is definitely someone that should be looked at in a possible third pairing option. Could David Savard of the Columbus Blue Jackets be another option? How about Josh Manson from the Anaheim Ducks?
Dubas has a lot of options at his disposal. What he decides to do from here remains to be seen. With the move he made on the first day of the offseason, he made a significant impact in acquiring assets where they needed to improve on.
What do you think Dubas' next move should be?
Statistics from Natural Stat Trick and NHL.
---
---