The San Jose Sharks have re-upped right-winger Kevin Labanc to a four-year contract worth $18.9 million.
Labanc's Bet on Himself Has Paid Off Handsomely
Last July, after notching an impressive 17 goals and 39 assists for 56 points in 2018-19, Labanc inexplicably signed a paltry one-year, $1 million deal with the Sharks after the summation of his entry-level contract. That's far more modest that even the most modest of bridge deals.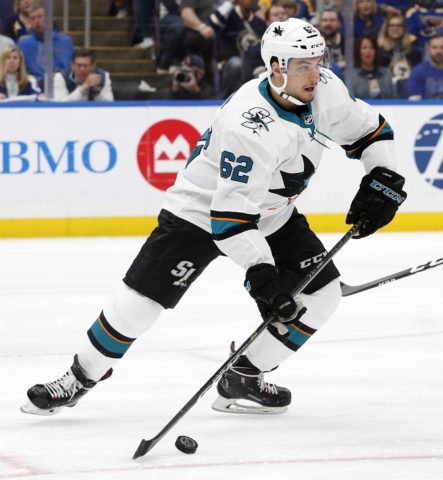 It was a risky move for Labanc as it required he prove himself all over again in order to cash in on a longer-term deal. His 2019-20 wasn't nearly as good from a statistical standpoint — 14 goals and 19 assists for 33 points and a negative-33 plus/minus on a poor Sharks team — but it was enough for him to cash in anyway.
Labanc Will Be Big Part of Sharks Rebuild
Labanc, a natural playmaker with a good work ethic, will be a player the Sharks rely on to return to competitiveness.
A perennial contender throughout the 2010s, the Sharks finished 29-36-5 in 2019-20 and sold off a number of assets for draft picks after Erik Karlsson went down for the season with a broken thumb and it was clear another long playoff run was not in the cards.
"Kevin brings a rare level of offensive skill and creativity to our line-up and has established himself as a top-six forward in our league," Sharks' GM Doug Wilson said in a news release. "His Game 7 playoff performance last season is one of the most iconic moments in Sharks history and is a perfect example of the impact he can have on a hockey game.
Related: Sharks Must Make Room to Re-Sign Labanc
Originally selected in the sixth-round of 2014 NHL entry draft, the Brooklyn, New York-born Labanc has 50 goals and 149 points in 284 career regular-season games. He has also recorded five goals and 14 assists for 19 points 30 postseason games.
---
---