There certainly has been no shortage of news and rumors for the Chicago Blackhawks in the last few days. We mark the end of an era, as two-time Stanley Cup winning netminder Corey Crawford will suit up for the New Jersey Devils next season. In the meantime, three highly inexperienced goaltenders will duke it out for the starting job in Chicago. On a more positive note, rookie sensation Dominik Kubalik has been re-signed for two more years. Meanwhile, there is some significant news on forward Zack Smith, and some other free agency tidbits.
Implications of the Crawford Move
So, I guess this is the beginning of the rebuild, like it or not. I believe the Blackhawks would have kept Crawford around if he was willing to sign for the stingy $3.5 million, one-year contract he was offered. After all, that's pretty low risk. And the Blackhawks deservedly had some reservations throwing a whole lot of money at a 35-year-old goalie with concussion issues.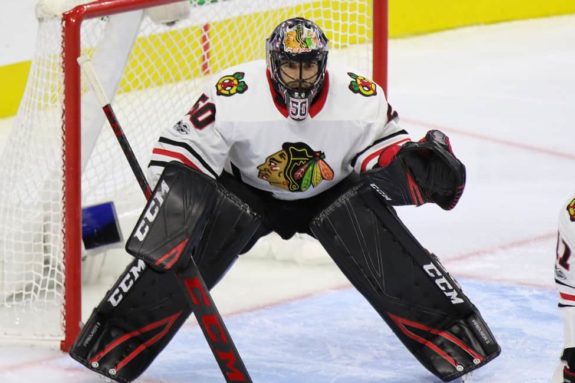 Crawford admitted in a Zoom call on Saturday that there were really no negotiations with the Blackhawks after their initial offer. Instead, Crawford has signed with the Devils for a 2-year cap hit of $3.9 million. Just slightly more money, and one more year of term. It seems a bit nit-picky, doesn't it? But it's a done deal now.  
In the meantime, the Blackhawks also let Robin Lehner walk at the February trade deadline because he was demanding too much money. He recently signed a five-year deal with the Vegas Golden Knights, with a $5 million cap hit.
So here we are, with the Blackhawks committing to three goaltenders in Malcolm Subban, Collin Delia and Kevin Lankinen to fight it out for the starting spot and the backup role. Delia has a $1 million cap hit, Subban just signed for $850,000 and Lankinen is currently under contract for $800,000. Three cheap options. But are they viable options?
Related – Blackhawks Sign Malcolm Subban to a Two-Year Contract
Subban has suited up for 66 NHL games with three different teams. His stats don't show much promise; an .899 save percentage and 2.97 goals against average. While Crawford played 255 AHL games before breaking into the NHL, Delia has 96 AHL games and 18 NHL games under his belt. Lankinen has zero NHL experience and 40 games with the Rockford IceHogs. It seems a bit premature to be banking on these two before giving them more seasoning in the minors.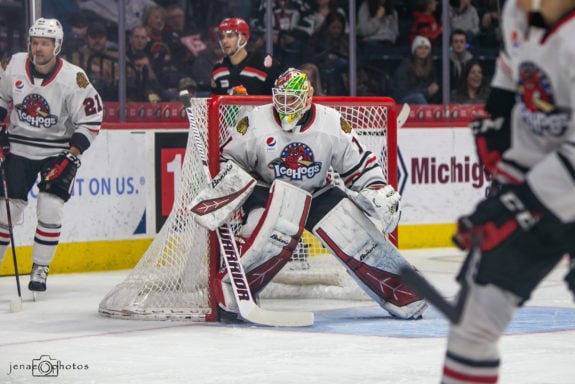 Who knows, perhaps one of them will surprise us. At least that's what the Blackhawks are hoping for. On the surface, the situation does not appear promising.    
Kubalik Is the Future
Let's move on to something more positive. The Blackhawks and Calder Trophy nominee Kubalik agreed to a two-year bridge deal with a $3.7 million cap hit. This deal is a big positive for the Blackhawks, as Kubalik himself admitted he and his agent were originally asking for a longer term. But the Blackhawks negotiated two years, when Kubalik will still be a restricted free agent versus an unrestricted free agent. The deal certainly seems to favor the team more than the player.
But Kubalik appears to be excited to stay in Chicago. He certainly found success with the Blackhawks, scoring 30 goals in his rookie season and adding four more in nine playoff games. When the Czech forward signed with the team after playing several seasons in Europe, he was simply hoping to make the starting lineup.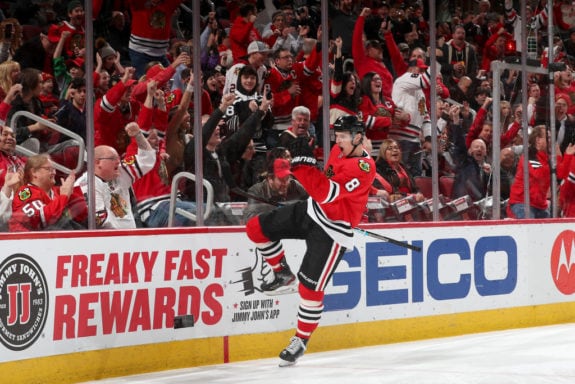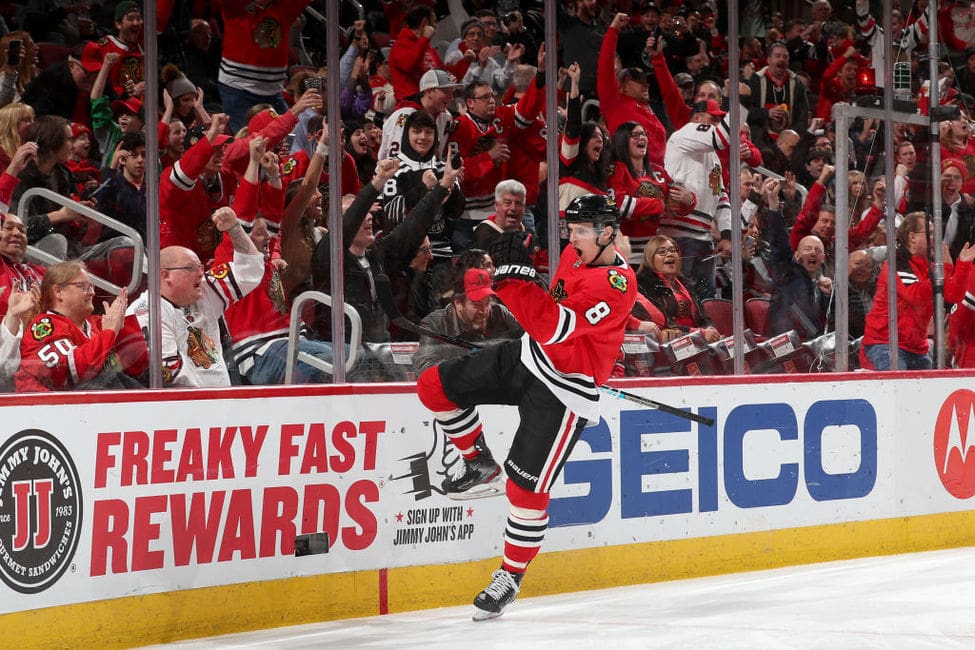 Now he should be a star player and integral part of the future for the Blackhawks. He will be around for at least another two seasons to prove his nose for the net wasn't a fluke. At 25 years old, Kubalik lends some maturity to this young team even though he's still in the beginning stages of his NHL career (along with many of his teammates). It strikes a nice balance. As Kubalik told the media, "Both sides should be happy so that was my first goal. I'm happy, hopefully Chicago's happy too."
As long as he keeps scoring goals, everyone will be happy.  
Smith, Strome & Other Free Agency Tidbits
It was widely believed veteran forward Zack Smith would be bought out by the Blackhawks, freeing up around $2 million in cap space for next season. But according to a recent piece by The Athletic, Smith still isn't fully healthy following back surgery in March. The CBA doesn't allow buyouts of injured players, leaving the Blackhawks no choice but to keep Smith on the books (from, 'Dominik Kubalik's new deal and Corey Crawford's fate: What we're hearing', The AthleticCHI – 10/09/20).
Related – Blackhawks Siphon More Skill From Overseas By Drafting Reichel on Day 1
Would this extra money have been enough to get Crawford re-signed? Unfortunately, we will never know.
Finally, the Blackhawks did tender free agent Dylan Strome a qualifying offer (along with the now-signed Kubalik) on Wednesday. Unlike Kubalik, Strome doesn't have arbitration rights. The Blackhawks are therefore not in a big hurry to re-sign him. However when he does get re-signed, this will give the Blackhawks more depth at center, as well as presenting Strome and buddy Alex DeBrincat a chance to further prove their chemistry together.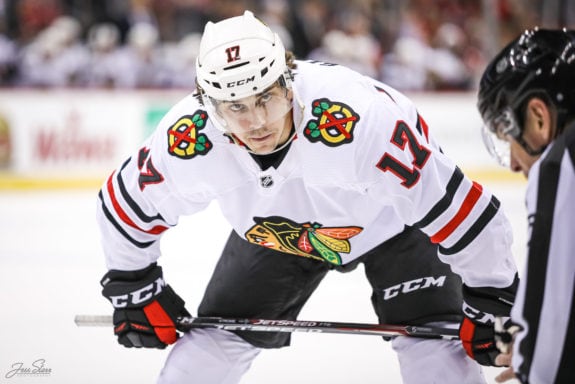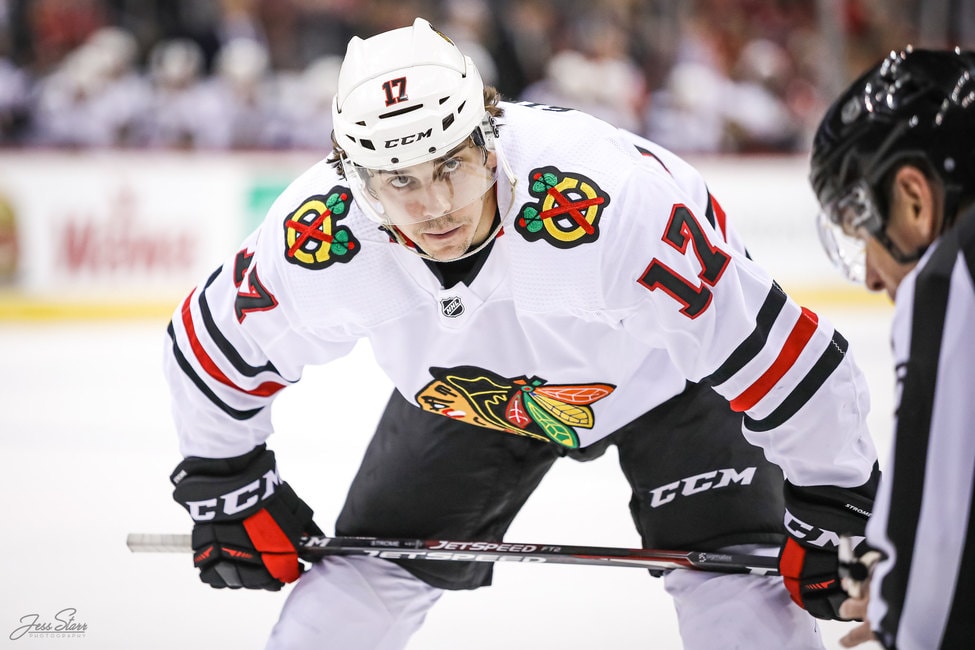 General manager Stan Bowman confirmed on Thursday they did not give qualifying offers to forward Drake Caggiula or defenseman Slater Koekkoek. This makes them unrestricted free agents, and they will likely not return to the Blackhawks. While sad, this is not surprising. Caggiula fits a very similar mold to Andrew Shaw, and Koekkoek is dispensable on a very crowded pipeline of young blueliners.
---
Like it or not, the Blackhawks appear to be a squad committed to rebuilding. We now have a better idea of what the team will look like this coming season. It will be comprised of a sniper in Kubalik and should include center Strome, along with a non-proven youngster in net. Unfortunately, it will not include the 13-year veteran Crawford, or Caggiula and Koekkoek. Who else will stay or go in the coming days and weeks? We shall see.   
---
---