Take another goalie off the long list of free agent netminders this offseason as it was announced late Friday night that the New Jersey Devils had signed former Chicago Blackhawks starter, Corey Crawford, according to John Shannon. The deal is a two-year contract worth $7.8 million, carrying an annual average value (AAV) of $3.9 million.
A 35-year-old, Crawford has played his entire NHL career with the Blackhawks after the team drafted him in the second round, 52nd overall, in 2003.
He debuted in 2005-06 and was in and out of the Blackhawks lineup over the first three seasons, but really took charge of the Chicago net in 2010-11 when he played 57 games for the team with a 33-18-6 record, 2.30 goals against average (GAA) and .917 save percentage (SV%).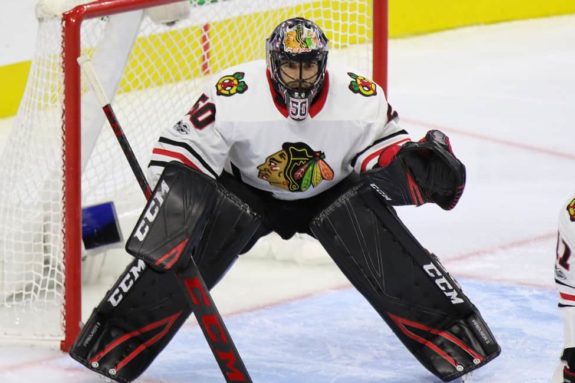 In parts of 13 seasons with the Blackhawks, Crawford has totalled a 260-162-53 record in 488 regular season games to go along with his 2.45 career GAA, his .918 SV% and 26 shutouts. On top of that he has a 52-42 record in 96 playoff games with the Blackhawks with a 2.38 GAA, a .918 SV% and five shutouts.
Crawford has added a number of awards to his shelf over the years as well – including two William M. Jennings Trophies in 2012-13 and 2014-15 as well as being a two-time Stanley Cup champion with the Blackhawks in those same two seasons.
The contract will break down as follows, according to Shannon. Crawford will be paid $3.6 million in the first year of the deal and that will be followed up with $4.2 million in 2021-22.
Crawford: Injuries and Mentorship
What Crawford does bring to the Devils is some veteran leadership – both for young backstop MacKenzie Blackwood who is just 23 years old and in terms of knowing what needs to get done to be a winner in the NHL.
His experience in the playoffs alone should come as a valuable asset to a team that is in the midst of seeing some big changes, including getting younger up and down the lineup.
While Blackwood has played 70 games over the past two seasons with a respectable 32-24-8 record, the addition of Crawford will be nice for the club as it will allow them to let Blackwood develop at his own pace. He may be set to take over as the number one in New Jersey, but Crawford gives him that time to really find his groove between the pipes at the NHL level.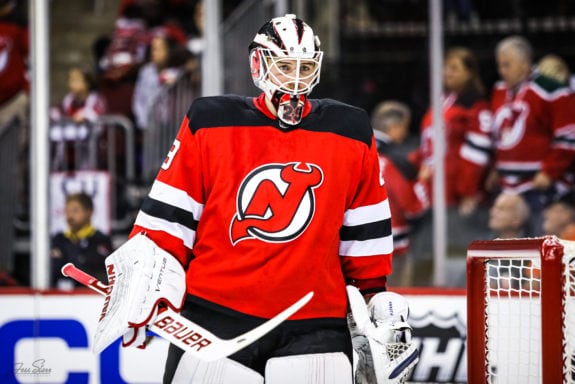 The one worry that does come with signing Crawford is the history of injuries – more specifically his battles with vertigo which has kept him out of the lineup at times over the years for extended periods.
That said, if it proves to be an on-going issue over the next couple of years with the Devils, the team does sit in good position with the likes of Blackwood there to take over the reigns as the legitimate number one – ready or not.
---
---