The Chicago Blackhawks will be entering the 2020-21 season with a very murky goaltending situation for the first time in a long time. On Thursday, the team announced that they would not be re-signing veteran Corey Crawford, ending a 17-year relationship that spawned two Stanley Cup championships.
The plan for the upcoming season, according to general manager Stan Bowman, is to go with a youth movement between the pipes. Colin Delia and Kevin Lankinen, who both had very good stretches with the Rockford IceHogs in the American Hockey League (AHL), will get a crack at the NHL.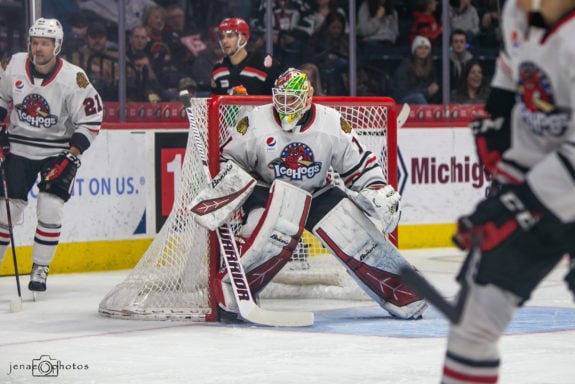 "The message to Corey and to everyone else today is that we've decided we have some young goaltenders here in Chicago we believe in," Bowman said in a video call. "We have a couple young goalies in Lankinen and Delia who we haven't given a real opportunity to. With where we're headed, the NHL is relying more and more on young players. We're going to embrace that going forward."
Bowman added that he was also hopeful to re-sign Malcolm Subban and add him to the mix, despite not making the restricted free agent a qualifying offer. Those hopes came to fruition on Friday.
Subban Back with the Blackhawks
As first reported by Bob McKenzie, the Blackhawks have signed Subban, who will be 27 whenever the 2020-21 starts, to a two-year contract worth a total of $1.7 million ($850,000 AAV) Subban was originally drafted by the Boston Bruins in the first round (24th overall) of the 2012 NHL Entry Draft. After two NHL appearances in Boston, he was claimed off of waivers by the Vegas Golden Knights just prior to the start of the 2017-18 season.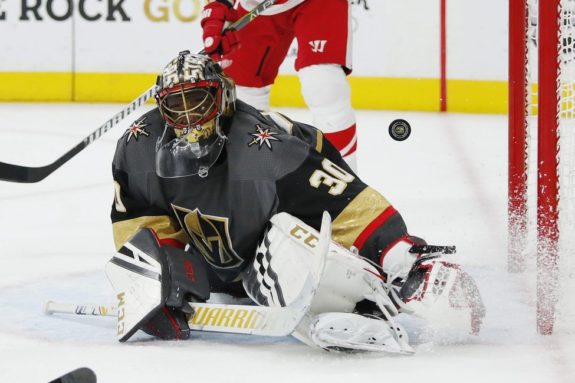 In Vegas, Subban appeared in 63 games over three seasons. He went 30-21-7 with a .901 save percentage (SV%) and 2.92 goals-against average (GAA). He was acquired by the Blackhawks, along with defensive prospect Stanislav Demin and a second-round draft, for Robin Lehner last February. He made just one appearance, for only 70 seconds, during his brief time in Chicago.
Open Competition for Blackhawks' Crease
The Blackhawks still are 100% sure in what they have in Subban considering how little playing time he has had. This will be his first legitimate chance to become an NHL starter. One of the biggest problems of his young career has been staying healthy, so he needs to prove he can stay on the ice.
Subban spent the last three seasons backing up Marc-Andre Fleury and he was never a threat to take Tuukka Rask's job away while he was with the Bruins. He will have the advantage to win the starting job just based on his limited NHL experience. Delia has 18 games with the Blackhawks, while Lankinen has yet to make his NHL debut.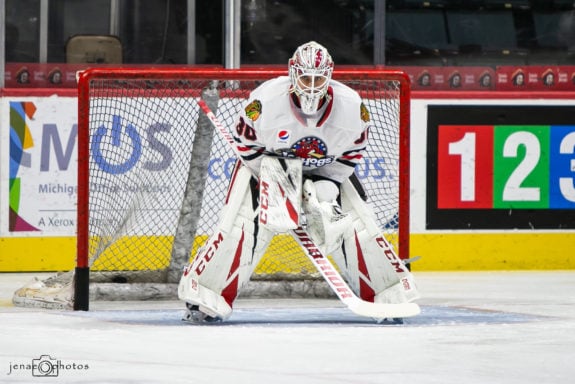 Delia struggled to start the 2019-20 season with the IceHogs, but rebounded nicely after given a few games off by head coach Derek King. He has a .912 SV% and 2.63 GAA in 86 career AHL games. Lankinen was named an AHL All-Star last season, but dealt with a shoulder injury during the second half. In 40 AHL games, the 25-year-old has posted a .909 SV% and 2.77 GAA.
No matter which one of these three netminders becomes the opening night starter in Chicago, it will be very strange not to see No. 50 in the blue paint. This will be the start of a new era for the Blackhawks and one of these three youngsters is hoping to lead the way.
---
---