The New York Rangers have had a busy offseason, landing the first pick in the 2020 NHL Entry Draft and buying out goaltender Henrik Lundqvist. That news overshadowed the team's decision to trade veteran blueliner Marc Staal to the Detroit Red Wings after 13 seasons with the Blueshirts.
Related: Rod Gilbert, Mr. Ranger
The often-criticized defenseman deserves respect for overcoming serious injuries, mentoring younger players, playing well defensively and helping the Rangers create memorable playoff victories.
Staal's Rise
The Rangers traded up to draft Staal with the 12th-overall selection in the 2005 NHL Draft. He quickly impressed the team with his strength and steady defensive play, earning a spot on New York's opening day roster for the 2007-08 season. He remained on the roster for the full season. He became known for delivering big, clean hits as well as his ability to kill penalties and for his long reach, which he used effectively in the defensive zone.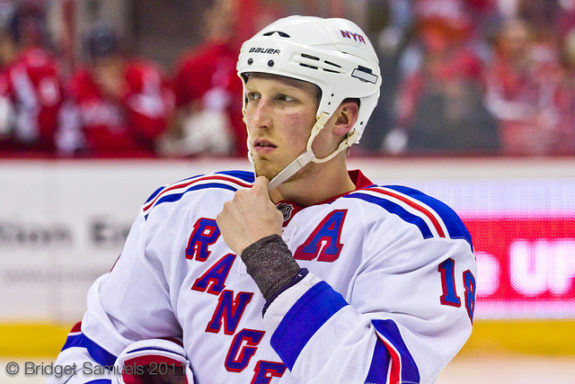 Staal also steadily improved offensively in his first few seasons. He finished with 10 points as a rookie, then 15 points in the 2008-09 season. By his third season (2009-10), he was on the verge of becoming a star, finishing with eight goals and 19 assists in 82 games. He followed that up with another big season in 2010-11, finishing with seven goals and 22 assists in 77 games. His tremendous defensive play and improved offensive play earned him a spot in the 2011 All-Star Game.
That season, Staal finished with 109 blocked shots, 140 hits and 54 takeaways with only 37 giveaways. He led the Rangers in average ice time per game at 25:44, and he played in all situations. He was fantastic on special teams, as he and Dan Girardi built excellent chemistry on the penalty kill. He also had two goals and two assists shorthanded, including a clutch game-tying goal late in a game against the Pittsburgh Penguins.
Staal also excelled on the power play, using his powerful shot from the point to create havoc. He finished with four goals and seven assists on the power play in the 2010-11 season.
Staal's Injuries
Unfortunately, Staal's fantastic 2010-11 season also included the first of several serious injuries. He was crushed by his older brother Eric Staal in a game against the Carolina Hurricanes and suffered a concussion along with a shoulder injury. He missed just five games but suffered persistent concussion symptoms during the offseason.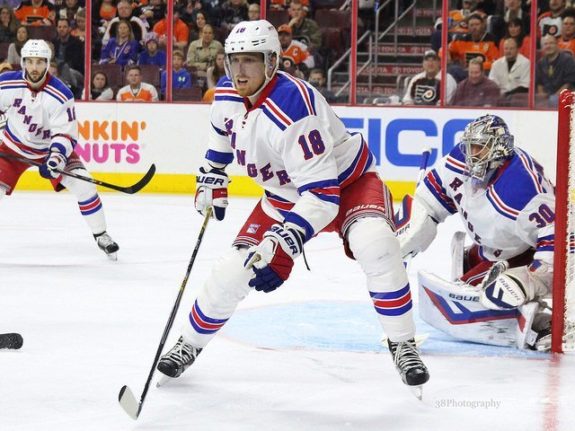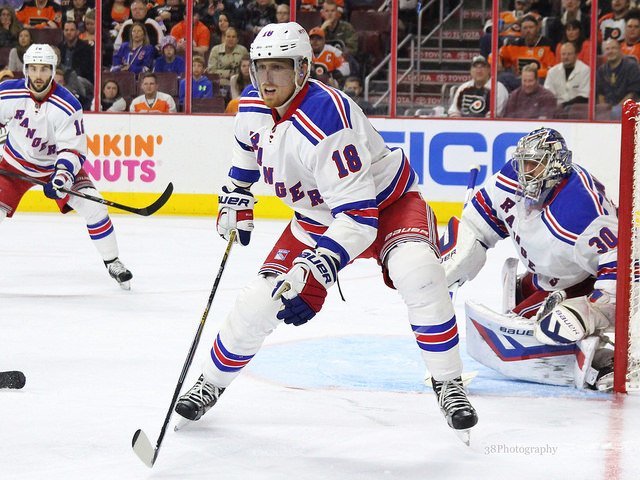 He missed nearly half of the following season because of those symptoms and struggled when he did play. He had just two goals and three assists in 46 games and wasn't the same physical presence he had been in previous years. He had just 55 hits and lost his spot on the Rangers' top defense pair to Ryan McDonagh.
Despite those struggles, he started to improve late in the season and stepped up in the postseason. He returned to form defensively and also came up big offensively. In the first round of the 2012 Playoffs, he broke a scoreless tie with a goal against the Ottawa Senators in Game 7. The Blueshirts won the game 2-1 and advanced to play the Washington Capitals in the second round.
In Game 5 against the Capitals, with the series and score tied at two, Staal delivered an overtime winner on a shot from the point on the power play. Thanks in large part to that clutch goal and his improved play, the Rangers won the series in seven games before falling to the New Jersey Devils in the Eastern Conference Final.
Staal's career appeared to be back on track and he was off to a fantastic start in the 2012-13 season. He had two goals and nine assists in 21 games when he was hit in the eye by a shot, which resulted in permanent damage to his vision. He missed the rest of the season with the exception of one game in which he tried to play but was forced to leave because of issues stemming from the eye injury.
Staal did return and play in the 2013-14 season, but he never played as well as he did before the injury. Then, he suffered another concussion; however, he did recover from that and returned to play later in the season.
Staal's Career After the Injuries
While Staal never became a star, he remained a solid defensive defenseman who killed penalties well and blocked shots. He played on New York's second pairing during their run to the Stanley Cup Final in 2014 and played well in his own end. He averaged 21:49 in ice time per game in 25 postseason games and also finished with one goal and four assists.
He didn't provide much offense after the injuries but stuck around because of his defensive play and leadership qualities.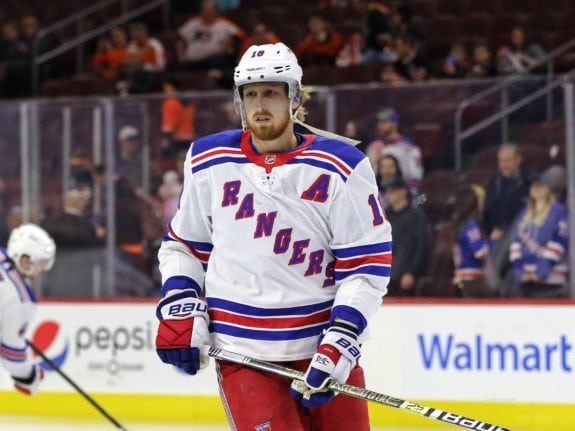 During the Rangers' rebuild, Staal was one of the few veterans on the team. He was named an alternate captain in 2010 by then-head coach John Tortorella and kept the 'A' for the rest of his time with the Blueshirts.
Appreciating Staal
Staal's defense partner in the last two seasons was Tony DeAngelo, who has developed into a key piece of the Blueshirts' future. He had 15 goals and 38 assists this season while playing alongside Staal. Staal's steady defensive play allowed DeAngelo to be more aggressive offensively and it paid off in a big way for the Rangers.
Related: The Day the Mark Messier Era Ended in New York
While injuries held Staal back, he remained a serviceable player throughout his 13 seasons with the Rangers. He played 892 games with the Blueshirts, finishing with 1,308 hits and 1,162 blocked shots while averaging 20:37 in ice time per game. He also played in 107 postseason games, delivering a few clutch goals and helping shut down opponents to hold onto leads late in games. He showed courage in the playoffs in 2015, as he played despite having a fractured ankle.
Staal has been a leader and has given the Rangers everything he could despite his injuries. He deserves our appreciation now that his impressive run with the Blueshirts has come to an end.
---
---