When reflecting on what the Chicago Blackhawks have lacked in recent years, the names that have left the organization, and their shift towards focusing on development, protecting potential talent already part of their prospect pool will be paramount. This is a team that needs to elevate in all areas of their play if they hope to find their way back to sustainable success.
RELATED – Blackhawks Get 1st-Round Talent in 7th-Round Kubalik
Coming out of a decade of dominance through the 2010s, the Blackhawks were inadvertently forced to neglect their future in exchange. Their highest pick between 2009 and 2017 was 18th overall. With that said, the NHL Entry Draft isn't the only path towards securing stars and the Blackhawks have been effective at acquiring talent in other ways.
As the franchise hopes to reshape its framework, it'll be important to have the appropriate pieces to fit into all areas of their lineup. Where some organizations may look to stack up on offense, while others focus on developing defense, and all are always in need of depth in net, Stan Bowman's Blackhawks must cover all such bases.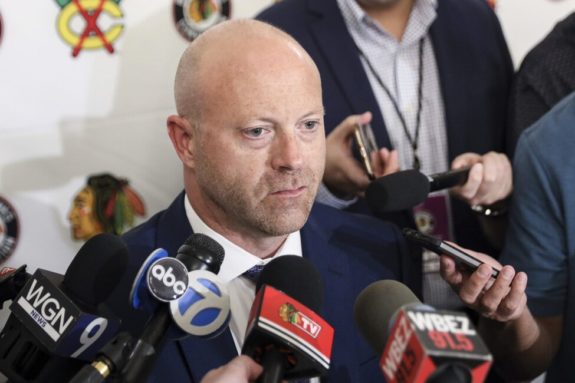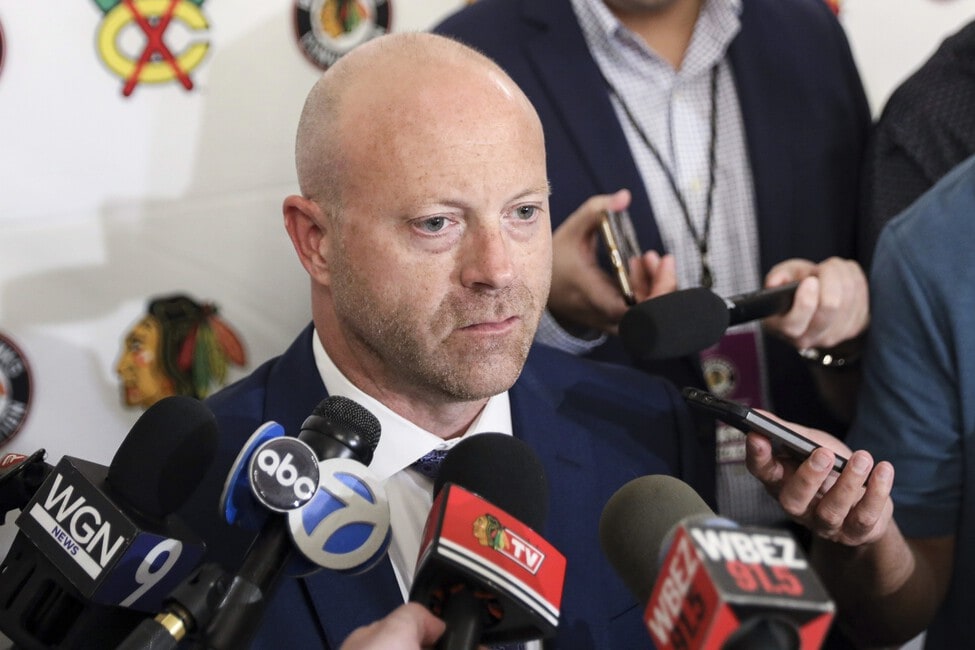 With the same approach in rounding out their pool of untouchable prospects, this assessment will dig even deeper than the organization has in a recent breakdown of their top prospects. Chicago's scouting staff highlighted four players they anticipate will become impactful Blackhawks, yet this team will need more support than that to become competitors once again.
Pius Suter – C/LW
It should come as no surprise that Pius Suter is included amongst the Blackhawks' most valuable prospects. Undrafted and signed from playing out of Europe, Suter was the top producer and named MVP of the Switzerland National League-A in 2019-20. He signed a one-year deal worth $925,000 to prove himself with the Blackhawks in 2020-21. At 24, he is the oldest player they should be looking to protect.
Suter is no stranger to scoring, although his yearly stat lines would suggest that a warm-up period helps elevate his production. In his second year with the Guelph Storm in 2014-15, in which he played five fewer games than his first, he tallied 34 additional goals and 48 more points than he did the season prior. He's put up respectable numbers playing in Switzerland since 2015-16, with unignorable improvement in production between 2018-19 and 2019-20.
RELATED – Prospects News & Rumors: Suter, Ovchinnikov & Gunler
Hopefully, for the Blackhawks' sake, Suter will have figured out how to jump into peak form from the get-go when he has an opportunity to land in their lineup. Either way, especially as a rebuilding team, it only makes sense to covet this league-leading producer at all costs.
Lukas Reichel – LW
This list wouldn't be much of one without including Chicago's most recent first-round pick, who was selected 17th overall in the 2020 NHL Entry Draft and has already garnered positive attention from their scouts. Not only is Lukas Reichel known for his speed, skill, and smarts on the ice, he's still only 18 years old.
The puck seems to magnetize towards Reichel, as he often impacts every scoring chance he's on the ice to experience. He'll mature and strengthen naturally, while the work he puts in will propel his progress. Besides, who better to foster into their franchise than a passionate player who has been a fan his whole life?
Growing up, Reichel's favorite player was Patrick Kane. "My favorite team was always Chicago. Now I'm a Blackhawk, too, and that's so awesome," he said. 
Through 42 games in his first season with the Berlin Polar Bears of the DEL, Reichel accumulated 12 goals and 12 assists. Although a modest achievement at first glance, when you consider that the then 17-year-old was the youngest in their lineup, it elevates the accomplishment. There is a lot of upside to Reichel's game and the Blackhawks need to ensure they keep him around to benefit from it.
Brandon Hagel – LW
Back in 2016, the Buffalo Sabres selected 17-year-old Brandon Hagel in the sixth round with the 159th pick. Showcasing his affinity for playmaking while in the WHL, tallying 176 assists through four seasons with the Red Deer Rebels, the Blackhawks took notice. Hagel was signed to an entry-level contract with Chicago in October 2018.
Following his transition into the AHL as a full-time member of the Rockford IceHogs, Hagel accumulated 31 points in 59 contests last season. He is currently on loan to HC Thurgau of the Swiss League, where he's now set a pace of one and a half points per game through his first seven with the club.
At 21 years old, Hagel found his way into one match with the Blackhawks in 2019-20. With 11:48 of ice time, he was able to register four shots, one hit, and one block. He didn't quite showcase his production potential. However, Chicago should certainly take note of his career trends as an indication of what they can expect of Hagel in keeping him around.
Ian Mitchell – RD
With their second-round pick in the 2017 NHL Draft, the Blackhawks selected Ian Mitchell at 57th overall. Right-handed defensemen are hard to come by in today's game. What's even rarer is finding a player that has as high of intelligence while playing the game as Mitchell does. He's a difference-maker.
Mitchell has suited up with the University of Denver in the NCAA the past three seasons and provided a steady level of production the whole way through. He earned his highest totals with the team in 2019-20, with 10 goals and 22 assists for 32 points through 36 games.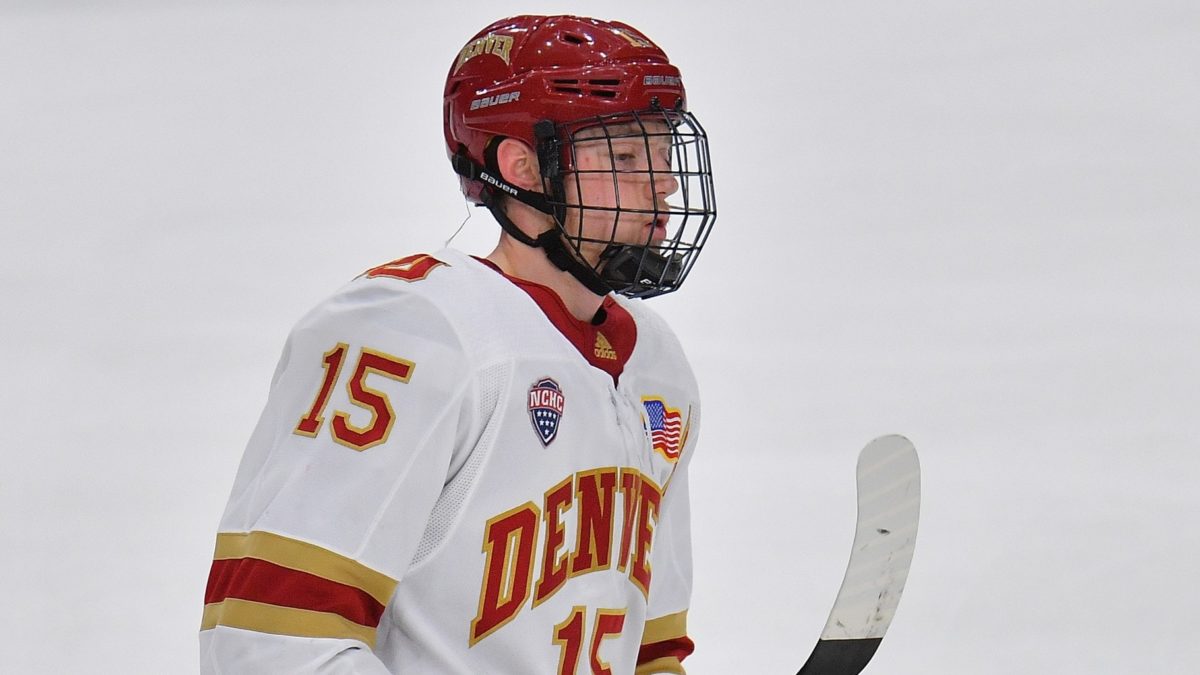 As the Blackhawks work on an overhaul, there is no denying that improvements in their own zone need to lead the way for change. This organization has a lot of young defensemen looking to break into more impactful roles. Yet, when you have a player who can protect and produce like the 21-year-old Mitchell does, it should make securing his spot easier than the rest.
Wyatt Kalynuk – LD
Wyatt Kalynuk was originally drafted by the Philadelphia Flyers at the 2017 NHL Entry Draft, with the 196th pick in Round 7, but chose not to sign with them. This past July, the Blackhawks agreed to terms with the 23-year-old on an entry-level contract for the next two seasons. It's already been hinted that his new teammates will find a lot of reasons to like having him around, given how closely he resembles an important member of their squad:
There do seem to be some initial similarities between Toews and Kalynuk in the way they conduct themselves as well as where they're from. Take away the trophy case fighting for its life while sporting achievements from the game's highest levels, and there's one major difference between the two: Toews is a forward and Kalynuk a defenseman.
Although Kalnyuk is able to provide a steady presence in protecting the blue line, he doesn't shy away from a chance to produce when an opportunity presents itself. As captain of the Wisconsin Badgers, he's earned 78 points through 110 games over the past three seasons. Adding more offense to Chicago's backend can only help elevate their collective efforts of finding a way to outscore their opponents once again.
It would be irrational to assume anyone else could be capable of having the type of impact Toews has over the course of his career in Chicago. However, when all signs point to a player mirroring the traits that have made Toews as vital as he's been to this team, those are qualities that should be garnered and never given away.
Kevin Lankinen – G
For a club that hasn't quite addressed the question of who will own their crease for the foreseeable future, it would be a mistake to let go of any potential starters already in their system. As an undrafted goalie, Kevin Lankinen found his way into the Blackhawks' organization in 2018 and has spent most of his time since playing behind Collin Delia with the Rockford IceHogs.
RELATED – Corey Crawford's Legacy With the Blackhawks
With Delia expected to see a more full-time workload, as he and Malcolm Subban compete for Chicago's net through 2020-21, the door is wide open for who will take over in Rockford. Lankinen's record of 8-10-2 last season might not impress, but it's important to position against his team's overall success as the IceHogs haven't had much in recent seasons.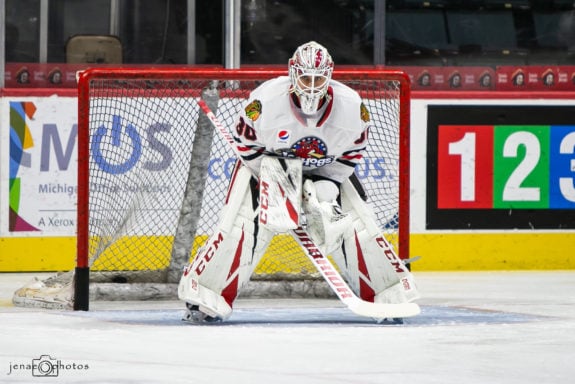 The 25-year-old should step into the starter position in Rockford, which will give him the chance to prove his value to the franchise. Chicago certainly hopes for the same, as they don't have much depth to pull from at the position. Plus, depending on how Subban and Delia fare with the Blackhawks, it may be sooner than later when the club looks to other options they can rely on.
Beyond Their Bleak Outlook
Despite so much winning equating to it being harder to come by in the years that would follow, it's a tradeoff any organization would take. Now that Chicago has descended from the peak they flew at for so long, management needs to shift gears into building up their foundation so the roster can find its way back into being a contender.
RELATED – Patrick Kane Trade to Sabres Makes Sense for All Involved (Hear Me Out)
Luckily for the franchise and their fans, the Blackhawks are already providing opportunities to some of their more recent draft picks and youngest stars. Kirby Dach (19), Alex DeBrincat (22), Dominik Kubalik (25), and Adam Boqvist (20) are already regulars on the roster and that bodes well for a natural transfer of leadership within Chicago's locker room. These are players actively influencing the team's outlook as they work towards reaching their prime.
As many look to prove their worth already playing in the lineup, Blackhawks' management needs to ensure they protect their most valuable prospects so they also have that chance when their time comes. There will be some pain ahead for this team and their supporters. However, once Suter, Reichel, Hagel, Mitchell, Kalynuk, and Lankinen become household names with the club, Chicago can begin to expect more winning once again.
---
---