Do you ever get so caught up in watching professional sports that you forget those athletes are, indeed, real people? I think we're all a bit guilty of that from time to time. Yet, it remains that these superstars lead regular, everyday lives. True story.
Many of your favorite Minnesota Wild players spend their free time just like you and me. Since we're all spending more time at home these days, it seems like a great opportunity to dive into some details about what a few of our favorite team members might be doing while off the ice.
Zach Parise the Family Man
It may be hard to picture these guys as parents, but Parise is a family man. In 2014, he and his wife Alisha welcomed twins Jaxson and Emelia into the world. Four years later, the twins gained a little brother named Theodore.
You may find Parise and his family having some fun on the tennis or golf course or staying warm at home. I wonder if he has introduced his children to his favorite era, the 80s, yet? Or if they have family dance parties to his favorite musical artist, Jay-Z?
Jordan Greenway is a Gamer
Not only is Greenway an all-around cool guy, but as the first African-American player to compete for USA Hockey at the Olympics, he's already quite accomplished. Making history at the tender age of 20, he has much to be proud of.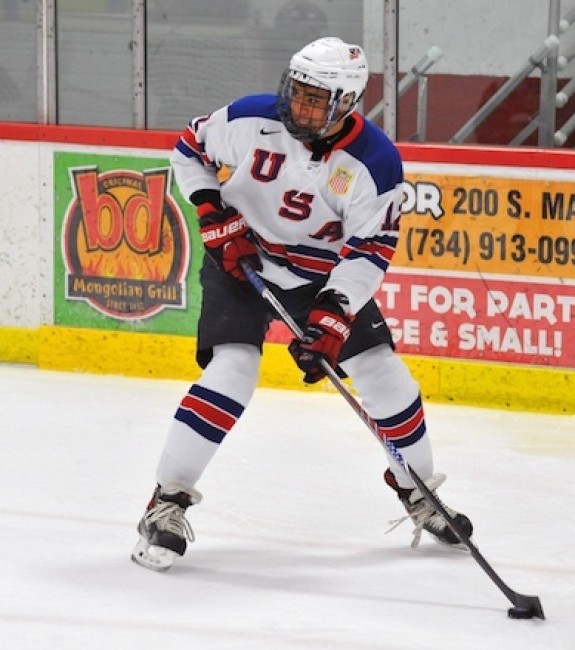 Greenway may hold a spot in the record books, but that doesn't set him apart from the crowd. Like so many others, he enjoys playing Fortnite and watching movies in his free time. His favorite movie happens to be a top pick of mine as well, and one I like to consider a classic: Cool Runnings. I highly recommend it.
Carson Soucy Quarantines in Canada
As soon as Soucy heard the borders might be shutting down, he decided to head home to Alberta. (from 'Bulldog Insider Podcast: Quarantined in Irma with former UMD defenseman Carson Soucy,' Duluth News Tribune, 04/16/2020) There he spent 14 days in quarantine, searching for ways to fight the boredom responsibly. Sound familiar? Finding little options, he settled for shoveling the snow.
It was in Alberta, before making it big in hockey, that Soucy got his start in playing fast-pitch softball. As the only sport available in his area to fill the summers, he and his friends took up the game. He ended up loving it and became quite the player, eventually making it to the junior-aged Worlds tournament in Argentina. Luckily for his fans, his love for fast-pitch softball didn't outweigh his passion for hockey.
Cam Talbot Dedicates His Jersey to Healthcare Workers
Fellow Canadian Talbot is a New York City boy at heart (from 'Serby's Sunday Q&A with…Cam Talbot,' New York Post, 03/21/2015). He likes the convenience of ordering food 24 hours a day. He also enjoys not having to drive anywhere because of how easy it is to catch a cab. When visiting the Big City, his favorite restaurants to get some grub are Catch and Tao. Of course, Talbot is not traveling to the Big Apple during Covid. He and his family are working hard to make responsible choices during the pandemic and to support the healthcare workers.
Talbot is the second Wild player on this season's roster to have twins. Born in 2016, he and his wife Kelly became parents to twin boys Landon and Sloane. 
Kirill Kaprizov Gets Some Much Deserved Time To Rest
There is no shortage of Olympians on this season's Wild roster. In 2018, Kaprizov and his teammates captured the gold medal representing Russia. He has made it clear that typically his schedule doesn't allow for much free time. When he does find a bit of spare time, he's usually tired and prefers to rest. Although, he does like to hit the sauna, catch a movie, or hang with friends when he gets the chance. Hopefully, he's taking some time to relax during the COVID-restricted off-season.
Related: 10 Things You Never Knew About Hockey 
It turns out many of your favorite Wild players spend their free time just like you and me. Chasing kids around the house, playing games, and watching movies. I hope you enjoyed this peek into the personal lives of these elite skaters. If there are other players that you're curious about, drop a name in the comments. 
---
---
A rink rat since the tender age of 4, Carrie Sinclair knows all things ice. As a competitive figure skater turned professional coach for figure skaters and hockey players alike, she contributes a unique perspective to the sport. Now living a nomadic lifestyle with her family, Carrie enjoys writing about all of her passions… travel, recreation, and ice sports, to name a few.