It's almost here! With the 2020-21 season beginning on Jan. 13, training camp for the Chicago Blackhawks is set to start on Jan. 3. Let's face it, we all can't wait for hockey! There's been a lot of uncertainty about the upcoming season based on this worldwide pandemic, and there are still a lot of questions to be answered and logistics to consider. But we're so close! Let's start by officially looking forward to training camp. Today I'd like to discuss the biggest competitions for Blackhawks' roster spots in preparation for the upcoming season.
Rounding Out the Blackhawks' Top-Six Forwards
The Blackhawks have numerous bottom-six forwards at their disposal, and that will be a competition of it's own to see who makes the roster. But all eyes will be on the top talent. Who is going to step up and take the reins to balance out the top-six forwards? Existing forwards in this category include captain Jonathan Toews, superstar Patrick Kane, rookie wonder Dominik Kubalik, third year forward Alex DeBrincat and up-and-coming star Kirby Dach. That's a pretty good head start.  
Related – 5 Reasons the Blackhawks Will Be Good in 2020-21
Many think Pius Suter will make a good option among the top-six forwards. The 24-year-old was another one of general manager Stan Bowman's European acquisitions, with which he's had much success. Suter was the top scorer last season in the Swiss Hockey League. He is certainly projected to make the roster, but most believe he will do more than just that and make a run for a top spot. This will be one of the main stories of training camp.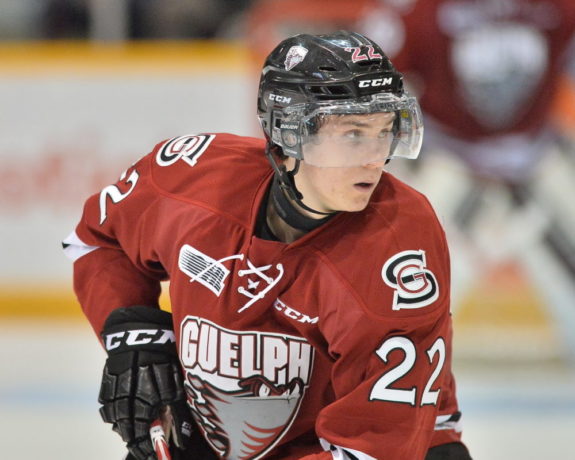 Let's also remember Alex Nylander is a very skilled player that was given every chance to succeed last season. He struggled in an elevated role, leading many fans to write him off. But he's also only 22 years old, with plenty of room to grow. He's going to have to prove that this season.
While not yet confirmed, veteran forward Andrew Shaw is hoping to be fully healthy after missing much of last season with concussion issues. His versatility and grit would be a welcome addition. While one might see Shaw as more of a bottom-six option, he has been utilized in the top-six before. He's also a seasoned player who can step in rather seamlessly. It all depends on his health, but I could see him competing for a top spot, at least to start the season.
Related – Blackhawks News & Rumors: Bowman, Kane, Crawford, Bettman & More
Dylan Strome hasn't even been re-signed yet, but it's expected he will be. If he is, he will also be in competition for a top-six role. Strome plays best at center, which makes things difficult since Toews is the top center and Dach has now established himself as second in line. That could ultimately put Strome centering the third line. But he could also potentially slot in on the wing of one of the first two lines. Again, another storyline to watch.
Best Options for a Final Top-Six Forward
Cementing the Blackhawks' Bottom-Six Forwards
As I alluded to above, there's a plethora of bottom-six type players available for the Blackhawks. What they really need is players that can provide that shut down grit and physicality, but also provide some depth and score some goals.
The Blackhawks added free agents Mattias Janmark from the Dallas Stars and Lucas Wallmark from the Florida Panthers in the offseason. These are both defensive-minded forwards that should help the team cut down on their goals against. I would expect them to be part of the plan.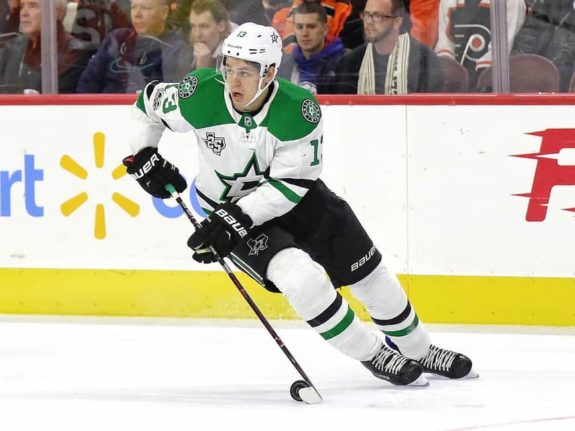 Existing players from last season include center David Kampf, forward Matthew Highmore, and veterans Ryan Carpenter and Zack Smith. But just because they were regular players last season doesn't necessarily guarantee them a spot this season.
Kampf is a very responsible shutdown defenseman, who also won 52.3% of his faceoffs last season. This certainly gives him an advantage to make the lineup. Highmore thrived in the playoffs with three goals and an assist in nine games, earning him the praise of head coach Jeremy Colliton. With the Blackhawks committing to their youth, veterans Carpenter and Smith will both have to prove their worth. The last we heard Smith was also still recovering from a back injury, so his health is unknown.
Let's also not forget the forwards that won't make the cut for the top two lines. One or two of Shaw, Suter, Nylander, Strome and even DeBrincat might be relegated to a depth role instead. The competition here is going to be steep. But this is a good thing for the Blackhawks. It will force everyone to give their best in order to earn their keep.
Best Guess Options for Blackhawks' Bottom-Six Forwards
Janmark
Wallmark
Kampf
Highmore
Carpenter
Smith
Blackhawks' Defensive Competition
Let me preface this by saying I truly believe the Blackhawks defense will be better this season. Duncan Keith is the veteran staple who still has a lot to offer. If Connor Murphy and Calvin de Haan are both healthy they will be a solid presence as well. Nikita Zadorov was acquired from the Colorado Avalanche, making up the fourth relatively sure-fire roster spot on the back end.
Related – Chicago Blackhawks' 3 Best Contracts for 2020-21
While some will say he was forced into the NHL too soon, I believe the Blackhawks are committed to Adam Boqvist. Look for him to be in the starting lineup. I would also pencil in Ian Mitchell. The Blackhawks thought he was NHL-ready last season; they've waited too long to mess with him in the AHL.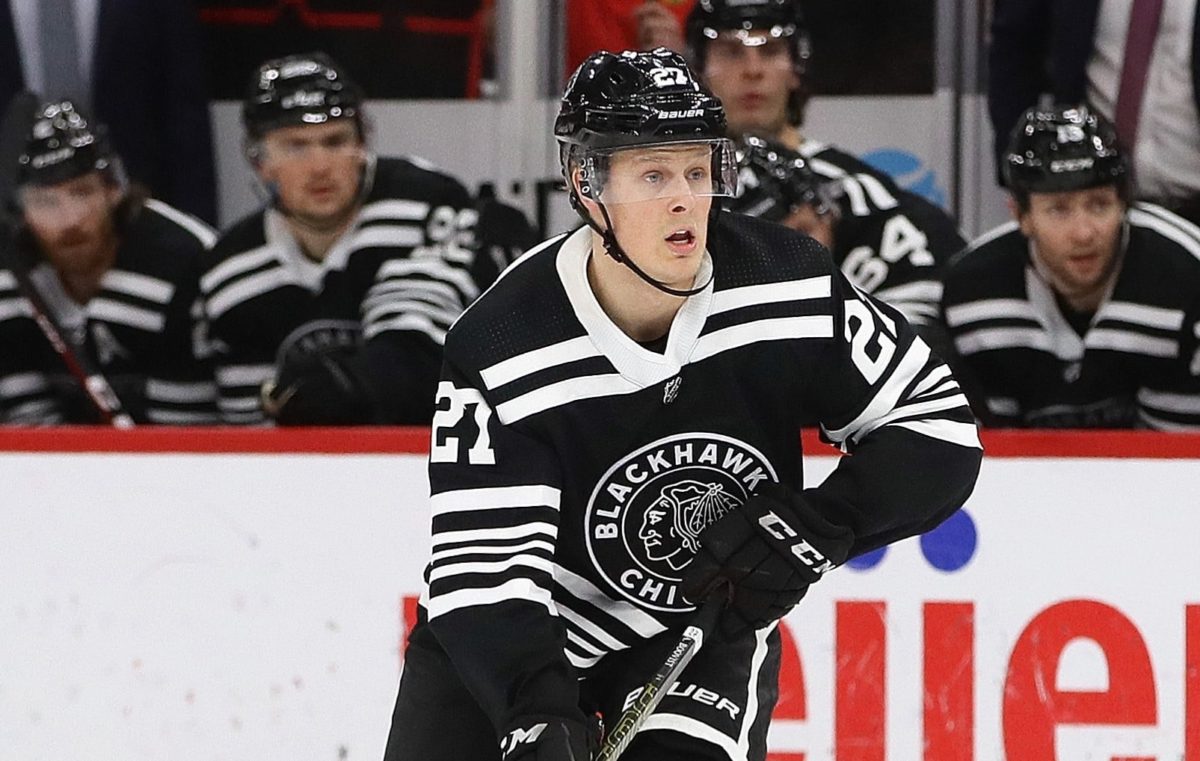 This makes six bodies, but who else will be involved? In recent news the NHL is calling for a 29-man roster this season (more on this below). I would foresee another one or two defensemen being allotted to the lineup even beyond the traditional seventh defenseman.
Welcome to the elephant in the room! As far as we know, Brent Seabrook will be ready to play and compete this season. Coach Colliton wasn't afraid to scratch this esteemed veteran in the past, and I don't think he will be afraid to again. Seabrook knows he has a lot to prove. As he told The Athletic's Pierre LeBrun recently,
I feel like I'm 19 years old again trying to make the team…I'm excited for training camp. I'm excited for the opportunity to get back out there and show everybody what I got. I'm not done playing hockey."

(from 'I feel rejuvenated: Brent Seabrook on the emotional toll of his off-ice battles', The Athletic – 11/13/20)
I believe Seabrook will be one of the extras and get limited playing time. He will likely be competing with Nick Seeler, Lucas Carlsson, Nicolas Beaudin, Wyatt Kalynuk and perhaps even Alec Regula for the final few spots. It will be interesting to see who eventually makes the final cuts.
Bubble Players on Defense
Seabrook
Seeler
Carlsson
Beaudin
Kalynuk
Regula
Blackhawks' Taxi Squad Players & Dark Horses
Here is the gist of the newly determined increased roster size for the NHL's 2020-21 season.
#NHL/#NHLPA Agreement: 23-man roster with $81.5 million salary cap.

This includes creation of 4-6 man taxi squad. All 29 players (max) will travel and practice with NHL team. Taxi squad is paid full AHL salary. CBA has been expanded to include for more flexible emergency recalls

— Frank Seravalli (@frank_seravalli) December 19, 2020
Four to six players will make up these extra spots, for a maximum 29-man roster. One of these  players will be a required third goaltender. As stated above, a few designations will likely be extra defensemen. So you have another potential three forwards that will travel with the team and could see playing time.
Related – Today in Hockey History: Dec. 22
This could be an incredible opportunity for a number of the youngsters that would otherwise play for the Rockford IceHogs. Instead, they could be Black Aces, so to speak, for the Blackhawks. Considering the Blackhawks' commitment to the youth movement, as well as not wanting to have good players sit, many could get looks they might not otherwise get. Here's a list of who has the best shot of joining the team via the taxi squad.
Potential Taxi Squad Players at Forward
Brandon Hagel
Mackenzie Entwistle
Tim Soderlund
Philipp Kurashev
John Quenneville
Brandon Pirri
Evan Barrett
Blackhawks' Goaltending Notes
The new rules also require three goaltenders on team rosters, meaning Collin Delia, Malcolm Subban and Kevin Lankinen should all presumably make the team. I would guess this is excellent news for Lankinen. As with the rest of the taxi squad, he will have a chance to play in games in which he wouldn't otherwise have had that opportunity.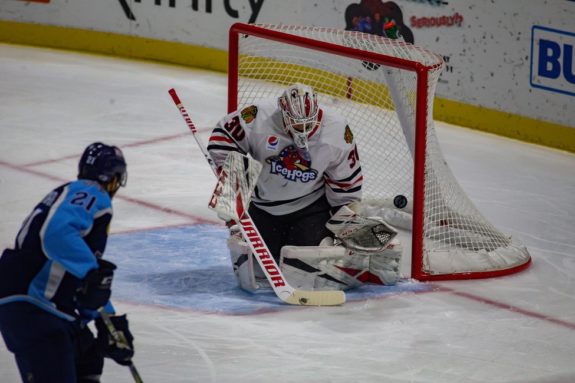 I expected a bit of a tandem and balanced playing time between Delia and Subban. But how do you balance among three netminders?! Things could get very interesting on this front!
---
One thing is for certain. The 2020-21 season is going to be unlike any other. The Blackhawks will play 56 games with a condensed schedule. They likely won't practice much. And the coaching staff will be tasked with balancing the needs and best interest of even more players.
It all starts with training camp on Jan. 3. There will be plenty of competitions to watch as players compete for roster spots. Let's get this party started!
---
---
Looking for more Blackhawks content? Check out our Blackhawks Banter show, airing on Monday nights at 7:00 pm CST/ 8:00 pm EST. We live-stream on The Hockey Writers YouTube channel and you can catch us on Facebook at well. Be sure to subscribe, like, and follow accordingly. Here's our latest episode below.