With Christmas only a week away, Chicago Blackhawks fans are looking forward to enjoying an annual tradition like no other. No, I don't mean tree decorating, egg nog, or stocking stuffers. The only thing festive about it, is the time of year this tournament takes place.
RELATED – NHL Reverse Retro Winners & Losers
With the World Juniors set to kick off on Christmas Day, a major difference this year will be the lack of NHL action leading up to and alongside the competition. However, with the league now closer to confirming their plans for next season, news and rumours surrounding it have already begun to ramp up. And the Blackhawks are not exempt.
Stan's Sticking Around
Chicago recently announced a restructuring of its corporate leadership team. Amongst the personnel involved is Stan Bowman, whose promotion may not sit well with those who hoped he and the franchise would finally part ways. While the Blackhawks continue to back Bowman, Jamie Faulkner and Danny Wirtz embark on new journeys of their own with the organization.
As Bowman enters his 19th year with the club, he will take on more than he ever has, progressing from Senior Vice President/General Manager to Presidents of Hockey Operations/GM. Ownership hasn't been shy about their loyalty to Bowman, further evidenced in their celebration of his accomplishments that aligned with the decision:
Bowman is the first NHL General Manager to win three Stanley Cup Championships in the salary cap era. 

During his time running hockey operations, Bowman has secured the team's core talent through long-term contract extensions, rebuilt prospect depth in the organization through multiple draft classes and developed an analytics program within hockey operations that has enhanced in-game strategy and scouting operations.
Sharing in the announcement, Jaime Faulkner was introduced as the team's new President of Business Operations. She brings a packed resume of relevant experience and success, having implemented a variety of strategies to increase sports team and venue revenues in past roles.
Faulkner brings a unique blend of professional experience in sports and entertainment with a focus on analytics and emerging technology to the Blackhawks. In her role, she will focus on advancing the fan experience and business model while generating new revenue through her oversight of strategy and operations across corporate partnerships, ticketing and customer relations, and integrated marketing communications. 
Additionally, Danny Wirtz will now take on the role of CEO, following his stint as Interim President since April 2020. Wirtz is being rewarded for his work in establishing a plan to help shape and enhance the team's future.
"When Danny Wirtz agreed to serve as our Interim President last Spring, he set into motion a strategy, structure and plan that today, is one that all Blackhawks fans will be proud of. Today, I am both pleased and proud to name Danny to the role of Chief Executive Office of the Chicago Blackhawks. His accomplishments over the past eight months have set the stage for a bright future, beginning with a new vision and countless hours of planning to back it up. No easy task. The fans, and the Wirtz family alike, can be very excited about what lies ahead," added Rocky Wirtz.
While we'll have to wait to see the potential impact of these front office moves towards the team's on-ice success, the league's efforts to set a start to the 2020-21 season could have it all on display sooner than later. In both regards, time will tell.
Kane Still a Top Talent
Following the news of his new baby boy, Patrick Kane has had onlookers wondering what type of impact fatherhood might have on his prowess. Whether he will expose a new level of strength, form into more of a lockerroom leader, or simply showcase an elevated passion to his play, there are countless reasons as to why Kane is still considered one of the best in today's game.
Earning his place within the top 10 of NHL.com's list of best forwards is no small feat. Especially considering that his team hasn't seen much winning of late. This just goes to show the level of respect that the 32-year-old still demands, for all he's accomplished and his continued impact.
RELATED – Patrick Kane Trade to Sabres Makes Sense for All Involved (Hear Me Out)
Chicago finished at the bottom of the Western Conference's Central Division to cap off the 2019-20 campaign. Yet, amidst such failure, Kane found a way to maintain a pace of 1.20 points per game throughout. Regardless of the struggles surrounding the team as a whole, it's nice to see their elite talent being recognized as such.
Crawford's Devilish Design
As fans find themselves struggling to work out their feelings, accepting a future that doesn't include Corey Crawford in their crease, the hockey world continues to make it a more painful reality. If you're still in denial about the Blackhawks letting one of their best ever walk, you might want to look away.
Whether or not you feel it's odd to see Crawford wear a non-Blackhawks bucket shouldn't overshadow the fact that this is a pretty spectacular look. Having presented himself in a poised, calm, and focused manner while playing for Chicago, perhaps we'll see a different side of Crawford emerge as a Devil.
Bettman Talks Hubs & Bubbles
NHL Commissioner Gary Bettman has once again commented that the plan is to see next season begin by mid-January. He's admitted that the typical 82-game schedule is not a current reality, but that he hopes they can play as many as possible in the shortened 2020-21 season.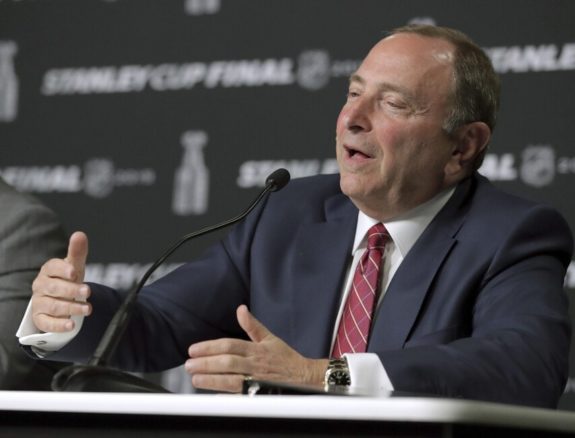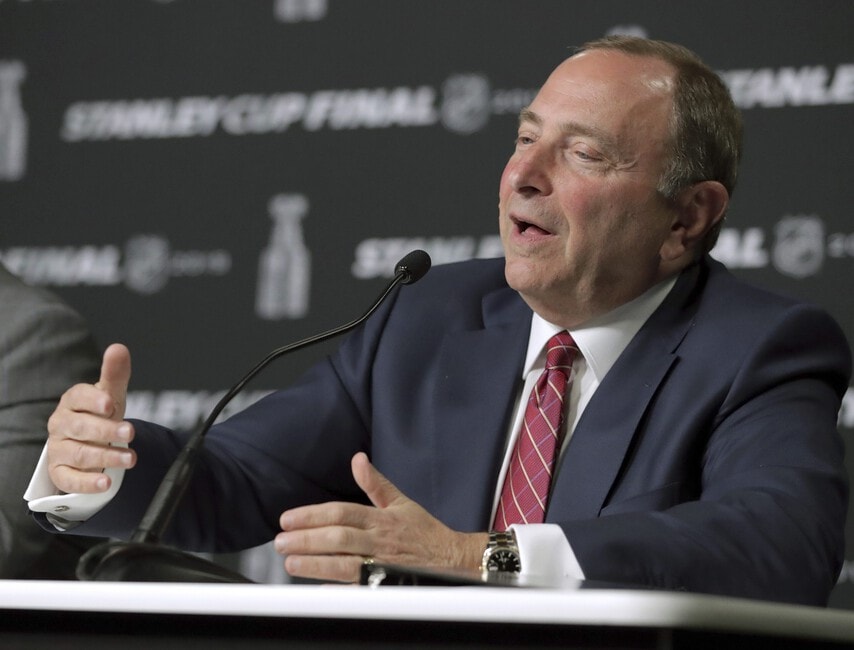 There are still a number of items on the table for discussion, including whether they'll re-visit a hub city and bubble concept like that which they relied on to successfully execute the 2020 Stanley Cup Playoffs. Bettman noted that although the details may differ from this past postseason, a similar strategy could be necessary.
"If enough teams can't play, again, without fans, in their own facilities, then we may have to move more and more towards a hub. It may be that some teams are playing in other buildings. It may be that a whole group of teams have to play in other buildings.

"One of the things that we're doing for the regular season, as we're planning it, is we're going to just play within our divisions, so we're not going to play every team against everybody else in the course of a season."
As plans for next season continue to evolve, there has also been word that a Tampa Bay Lightning game could lead the league's opening night lineup. Although the Blackhawks haven't raised a Cup banner of their own since 2015, the NHL seems to think they might be a fitting counterpart to help show the Lightning how it's done.
Regardless of which teams are involved in the first set of matchups for the 2020-21 campaign, fans just want to see their favourite game being played again, even if that means watching the Blackhawks on the wrong side of a banner-raising celebration.
RELATED – Chicago Blackhawks' 'Untouchable' Prospects
As always, the priority needs to be the safety of all involved, including every community that could find themselves playing host. Once those standards are set, and the Lightning have concluded their Cup-winning escapades, we can collectively await that first puck drop as all 31 teams look to reset their next run.
Blackhawks Banter Airs Monday Nights
Be sure to join us weekly as we host Blackhawks Banter on Mondays at 8:00 p.m. ET/7:00 p.m. CT. Watch live on our YouTube Channel and enjoy the reruns on our Facebook Page. Here's last week's episode:
---
---