As we inch closer to Christmas and the start of the 2021 World Junior Championship (WJC), anticipation and excitement are beginning to mount. Hockey has not been on our televisions for almost three months and fans are starting to become anxious. The NHL finally has a target date of Jan 13, but before that happens, we have some junior hockey to watch.
Related: THW 2021 World Juniors Coverage
The 2021 tournament is the 45th edition of the International Ice Hockey Federation World Junior Championship and it will take place in Alberta within the confines of the Edmonton "bubble" that was established in the 2020 Stanley Cup playoffs. The festivities will begin on Dec 25 instead of the usual Dec 26 tradition we have grown so accustomed to and conclude with the gold-medal game on Jan 5, 2021.
The Host City
The 2021 WJC was scheduled to be played in the cities of Edmonton and Red Deer before the COVID-19 pandemic gripped the hockey world a few months ago. Now it will all happen within the same "bubble" that boasted a grand total of zero cases during the playoffs that were played in August and September. The same rules that were successful in the NHL will be replicated in the 2021 WJC.
Our plan is no different from the NHL and it might even be more scrutinised because of the international flavour…Our intention is to do what we're told through the public health authority and all things being equal, we'll hold a World Junior Championship even without fans.

Hockey Canada chief executive Tom Renney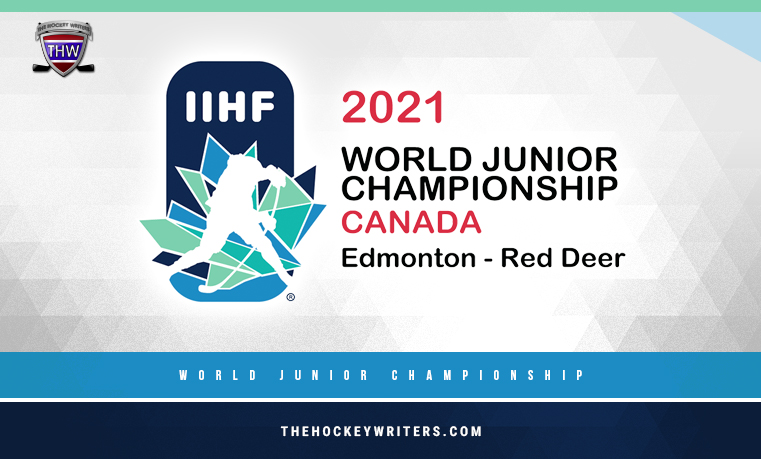 This year's tournament will mark the third time Edmonton has hosted the WJC. The two previous times were back in 2012 and 1995 when they shared the duties with Calgary and Red Deer. All games will be played at Rogers Place with no fans in attendance.
How the Edmonton WJC "Bubble" Will Work
Here are a few key points on how the bubble will work for everyone involved in the 2021 WJC:
On Sunday, all teams were scheduled to arrive in Edmonton. After arriving, they will follow a one-week quarantine period before physically joining the bubble.
Teams have already gone through a one-week quarantine period in their native countries where they have been tested at least three times.
A four-day self-isolation period in separate rooms is also being followed by teams and officials along with e-learning about how to live in the bubble.
A health questionnaire app will be used every 12 hours and daily tests will be administered.
After five negative COVID-19 tests and the completion of the self-isolation period, teams will be able to come together physically to practice, but each team will remain isolated from each other for another three days.
Exhibition games will take place between Dec 20-23, provided all teams pass the above quarantine procedures.
All other rules will be similar to what we saw in the NHL playoffs, including Zoom interviews, mandatory masks, regular disinfection of the arena, etc.
Participating Teams
There are 10 teams participating in two groups of five. The group seeds are based on the final rankings of last year's tournament. Group A includes Canada, Finland, Switzerland, Slovakia, and Germany. Group B includes the United States, Russia, Sweden, Czech Republic, and Austria.
Team Canada is the defending champion, after posting a 4-3 victory over Team Russia in the gold-medal game of the 2020 WJC that was hosted in Ostrava and Trinec in the Czech Republic.
Team Canada and Team USA are probably the favourites as they come in as two of the strongest teams in the tournament with multiple first-round picks on their rosters. Although I wouldn't count out Team Russia as they have medaled in eight of the last nine WJCs and have arguably the best goaltender in 2020 first-round pick Jaroslav Askarov.
Related: 2021 World Junior Championship Team Russia Final Roster
Team USA will be trying to avenge last year's disappointment where they were eliminated by Team Finland in the quarter-finals after a goaltending clinic by Colorado Avalanche draft pick Justus Annunen. Their team this year is stocked full of talent including first-round picks Jake Sanderson, Trevor Zegras, Alex Turcotte, and 2021 draft hopeful Matthew Beniers. At the very least, an appearance in the gold-medal game has to be expected for this group.
Awards From the 2020 WJC
At the end of each WJC, the media at the tournament selects an All-Star team, while the IIHF presents awards to the top forward, top defenceman, and top goaltender. Last year, the winners were Team Canada forward Alex Lafrenière, Team Sweden defenceman Rasmus Sandin and Team Canada goaltender Joel Hofer.
Lafrenière, who will not be participating in this year's event, ended the tournament with four goals and ten points in five games. He was drafted first overall in 2020 by the New York Rangers and will be attending training camp with them when it opens on Jan 3.
Related: Rangers Fans Need to Have Realistic Expectations for Lafreniere
Sandin finished with three goals and ten points in seven games, leading Team Sweden to a bronze medal. He was drafted 29th overall by the Toronto Maple Leafs in 2018. After anchoring Sweden's defence, he re-joined the Leafs and completed his rookie season with one goal and eight points in 28 games.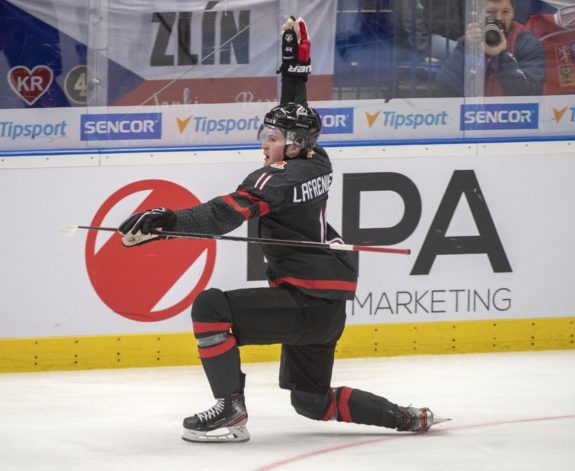 Hofer was brilliant for Team Canada, recording a perfect 5-0 record, a sparkling 1.30 goals against average, and a .946 save percentage (SV%) in six games. He was drafted in the fourth round (107th overall) by the St Louis Blues in the 2018 NHL Draft.
Edmonton & Red Deer Will Get Another Chance
After this unprecedented gathering of nations in a secure "bubble" environment, Edmonton and Red Deer will get another chance to host a normal World Junior Championship in 2022. If the pandemic never happened, the city of Novosibirsk in Russia would have been the host for the 2022 event. Now they have been pushed to 2023 and Red Deer will be added to the festivities after being cut out of the 2021 edition.
The 2021 WJC Is Still a Showcase of Talent
The World Juniors has always been an exciting tournament to follow for fans, pundits, and scouts alike. The annual event gives everyone a chance to see young stars before they get to the bright lights of the NHL. It's also a Christmas tradition for many hockey fans around the world. There was some uncertainty on whether it would happen at all this year, but it appears that all is well so far.
Related: One Player to Watch for Each World Junior Team
Some teams like Sweden have been decimated by the pandemic, but there is still a lot of talent in Lucas Raymond and Alexander Holtz to keep fans entertained. Canada, Russia, Finland, and the United States boast a lot of premier talent as well, which should be fun to watch. Not to mention the perennial underdogs of Switzerland and Austria who have a couple of intriguing names in Marco Rossi and 2020 draft hopeful Lorenzo Canonica.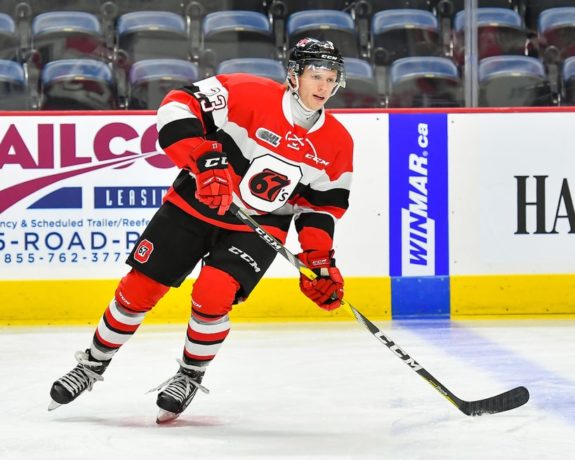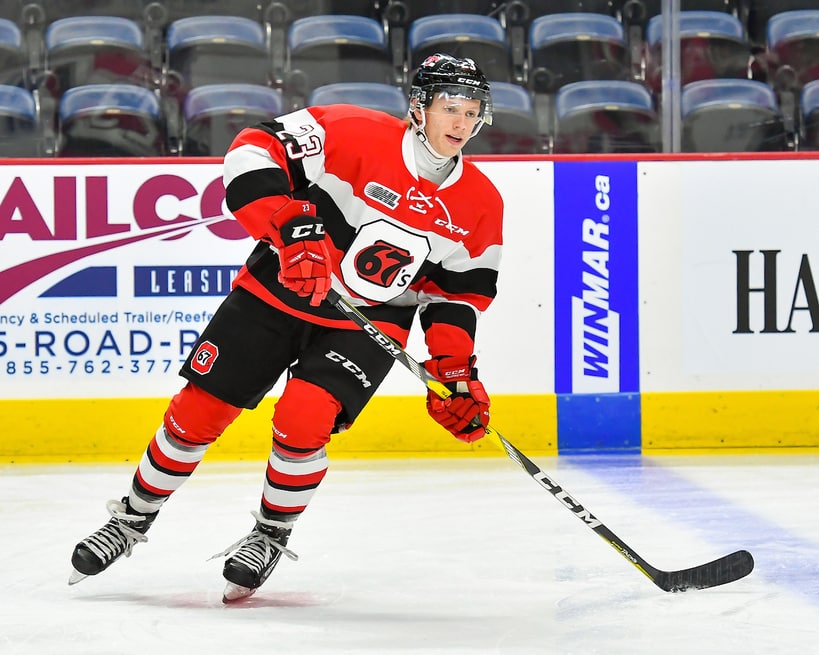 All in all, the 2021 WJC should still be fun to watch, even in this new normal of hockey in a bubble. As always, The Hockey Writers will be here with all the WJC coverage from Edmonton as we get ready to watch hockey for the first time in three months.
2021 WJC Schedule
Below is the full schedule for the 2021 WJC which will be played between Dec 25 and Jan 5. All games can be watched in Canada on TSN and in the United States on NHL Network.
Dec 25
Slovakia vs. Switzerland (2 p.m. ET)
Finland vs. Germany (6 p.m. ET)
United States vs. Russia (9:30 p.m. ET)
Dec 26
Czech Republic vs. Sweden (2 p.m. ET)
Canada vs. Germany (6 p.m. ET)
Austria vs. United States (9:30 p.m. ET)
Dec 27
Switzerland vs. Finland (2 p.m. ET)
Canada vs. Slovakia (6 p.m. ET)
Russia vs. Czech Republic (9:30 p.m. ET)
Dec 28
Sweden vs. Austria (6 p.m. ET)
Germany vs. Slovakia (9:30 p.m. ET)
Dec 29
Czech Republic vs. United States (2 p.m. ET)
Switzerland vs. Canada (6 p.m. ET)
Russia vs. Austria (9:30 p.m. ET)
Dec 30
Slovakia vs. Finland (2 p.m. ET)
Germany vs. Switzerland (6 p.m. ET)
Sweden vs. Russia (9:30 p.m. ET)
Dec 31
Austria vs. Czech Republic (2 p.m. ET)
Finland vs. Canada (6 p.m. ET)
United States vs. Sweden (9:30 p.m. ET)
Jan 2
Quarterfinals
Germany vs. Russia (12:00 p.m. ET)
Finland vs. Sweden (3:30 p.m. ET)
Canada vs. Czech Republic (7 p.m. ET)
United States vs. Slovakia (10:30 p.m. ET)
Jan 4
Semifinals
Canada vs. Russia (6 p.m. ET)
United States vs. Finland (9:30 p.m. ET)
Jan 5
Medal Round
Bronze medal game (5:30 p.m. ET)
Gold medal game (9:30 p.m. ET)
---
All the 2021 World Junior Championship Team Information:
Austria — Team Preview — Roster
Canada — Team Preview — Roster
Czech Republic — Team Preview — Roster
Finland — Team Preview — Roster
Germany — Team Preview — Roster
Russia — Team Preview — Roster
Slovakia — Team Preview — Roster
Sweden — Team Preview — Roster
Switzerland — Team Preview — Roster
USA — Team Preview — Roster
Selection Camp Invites by NHL Team
Draft Eligible Players to Watch
One Player to Watch for Each World Junior Team
7 Predictions for the 2021 World Junior Championship