For the first time in franchise history, the Buffalo Beauts didn't qualify for the Isobel Cup Final last season. But due to the pandemic eventually canceling the NWHL's title game in 2020, the Beauts can still say that they have still played in every Isobel Cup Final that has been held. Despite having so many new faces, don't sleep on Buffalo making some noise as they try to win the Isobel Cup in their home state during the abbreviated 2021 season in Lake Placid, New York.
Last Season: 8-15-1 (Fourth Place), lost in Play-In Round.
Franchise All-Time Regular Season Record: 43-41-7
Franchise All-Time Playoff Record: 6-4-2
Championships: 1 (2017)
2021 Roster
Returning Players: Kelsey Neumann (G), Megan Delay (D/F), Marie-Jo Pelletier (D), Lenka Curmova (D), Emma Ruggiero (F), Iveta Klimasova (F), Cassidy MacPherson (F), Kristin Lewicki (F), Erin Gehen (F), Taylor Accursi (F)
New Faces: Caty Flagg (G), Carly Jackson (G), Lisa Chesson (D), Dominique Kremer (D), Kelly O'Sullivan (D), Alyson Matteau (D), Whitney Dove (D), Autumn Macdougall (F), Neve Van Pelt (F), Kayla Meneghin (F), Jordan Juron (F), Hunter Accursi (F)
*As of press time no Beauts players have officially opted out, which the NWHL gave the players who do not or cannot go to Lake Placid as an option – with full pay.
Player to Watch
The next point for Buffalo's newly named captain, Taylor Accursi, will break a tie with Kourtney Kunichika and set a new record for most career points by a Beauts player. The Blonde Bomber sits with 42 career points (26g-16a) in 52 career regular-season games and has one assist in five career playoff games.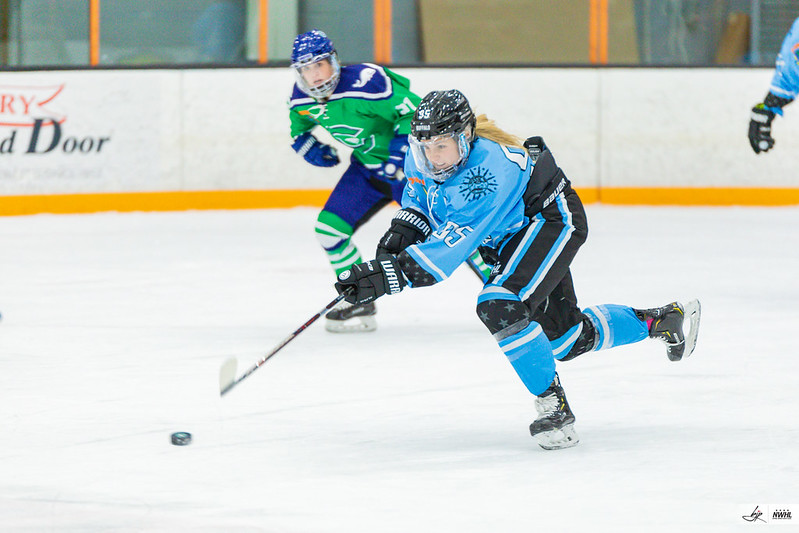 This past season Accursi set the league on fire and led her team in points (25), goals (16), shots on goal (69), and power-play goals (5). Those were all new career-highs, as were her nine assists. She finished tied for 11th in the NWHL in points, tied for fourth in goals, and tied for first in power-play goals.
Related: Taylor Accursi Inspiring Fans Near and Far
She was named an All-Star for the first time in her three-year career and who could forget her four-goal performance against the Metropolitan Riveters in the league's first-ever outdoor game. With so many games on tap in such a short span for the 2021 season, if Accursi gets in a groove and finds her scoring touch the rest of the league could be in trouble trying to defend her.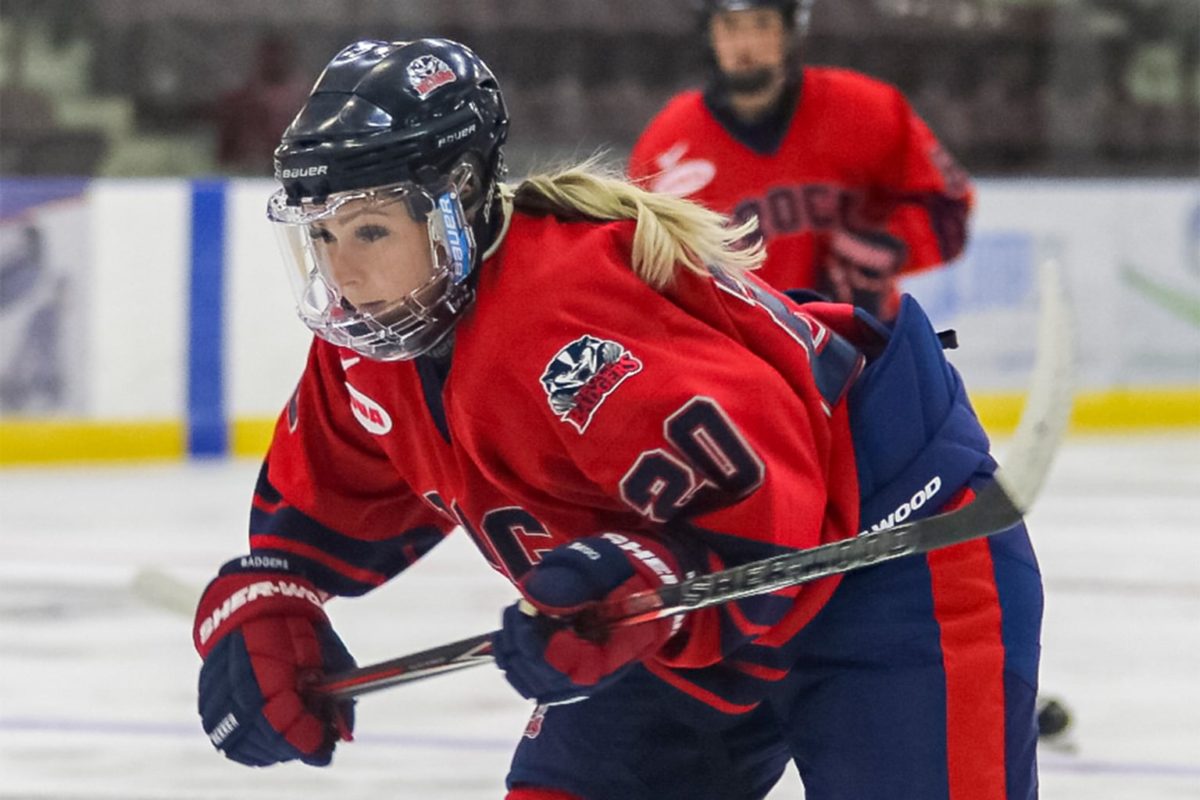 This season she will be joined by a mostly-new supporting cast, which includes her younger sister Hunter Accursi. They will be the third set of sisters to become teammates in the NWHL, joining the Parkers (Mary and Elizabeth) in Boston, and the Brodts (Winny and Chelsey) in Minnesota. The three Laing sisters (Denna, Brianna, Lexie) have all played for the Boston Pride, but never at the same time.
Players like Lewicki, Juron, Gehen, Pelletier, and Chesson will be needed to help take some of the defensive attention away from the elder Accursi as the Beauts try to improve upon their disappointing fourth-place finish last season.
Jordan's Last Dance?
Juron is one of the 12 new faces on the Beauts for the upcoming season, but she is not new to the Beauts at all. This will be her third season with the franchise after playing last season with Boston.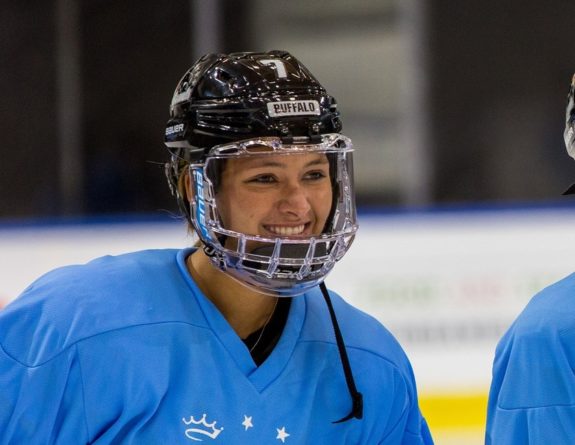 As GM Nathaniel Oliver told us, Juron was "pretty much retired" following last season. "Yes, but I've said that three times before," Juron replied with a laugh when asked if this upcoming season will truly be her last in the NWHL.
When she heard from her friend Lewicki that the Beauts had some issues getting their Canadian players over the border for practices Juron reached out to Oliver to see how she could help out.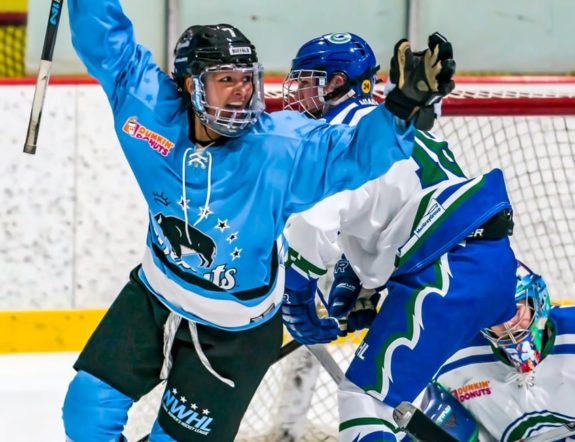 "She came to a few practices and it was obvious immediately that she was the glue this team needed. She got them talking. You could see the younger players kind of looking up to her or standing close alongside her. She got them to be vocal and got them moving," recalled the first-year Beauts GM. 
"I've always known what Jordan could do as a hockey player from her first season here, but once I saw how she got our rookies moving and feeling about themselves and each other, there was no doubt in my mind that it was the right move to bring her back. She was exactly what we needed."
Like all of the players in the NWHL, Juron is a competitor and the shortened-season will put an emphasis on each and every game in Lake Placid, which is something she is looking forward to.
"There are girls all over the league that I have played with before college, during college, and professionally," said Juron, "and I think everybody is looking forward to all being out there together (for two weeks). I mean what a cool spot for it to take place, too."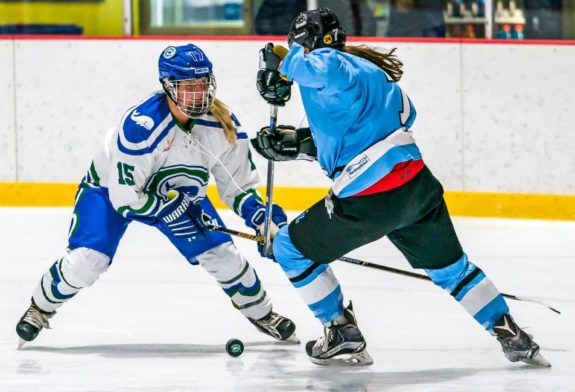 Every game will have good and bad consequences, and that is something that the Beauts have already started to talk about as they prepare for the upcoming season.
"We touched on that a bit at a recent practice," Juron told us. "We (all) haven't played a game in so long and there is zero time to work out the kinks (once we get to Lake Placid) realistically. But it's exciting that every game is going to be do-or-die and at the same time it's nerve-wracking."
"A big thing will be who is in shape. That's a lot of games – none of us, not a single girl there will have played that many games with that little amount of rest in between since we were like 13-years-old. It's going to be fun and it is gonna be really exciting for women's hockey."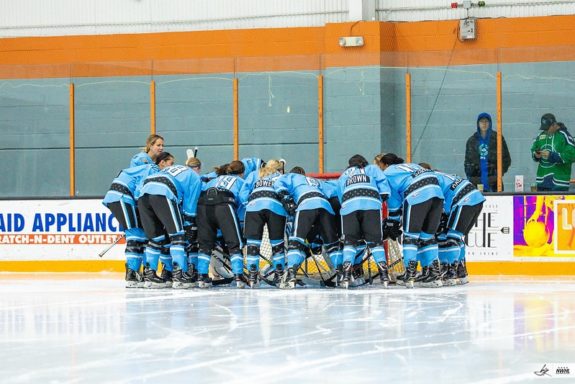 At least every one will be well-rested with no games since March, right?
"Yeah, everyone has been well-rested on the couch," added Juron with a laugh.
Outlook
Buffalo has also brought in a few other players for the 2021 season with NWHL experience under their belt. Chesson returns for her fourth season in Beauts Blue after sitting out last season. Her 37 games of experience (plus-five playoff games) on the blue line will be extremely valuable for a group that will largely be inexperienced. Chesson is one of two current players (Neumann) who has her name on the Isobel Cup.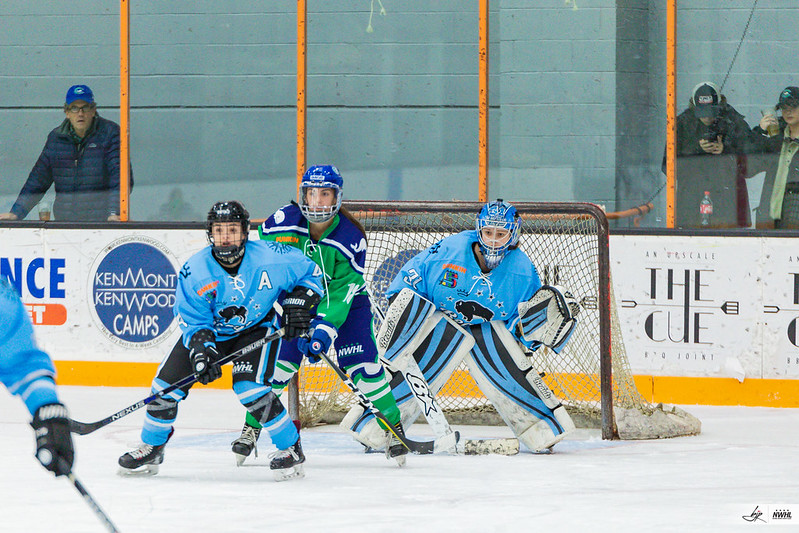 Pelletier isn't a new player but she set all types of Beauts records for blueliners last season. Despite her small stature, she plays a huge game in all three zones for Buffalo and she will need to replicate that output for the Beauts to be in contention this season. 
They also signed Meneghin, who has played 25 games over the past two seasons with Connecticut. Her tenacity and style of play should be a perfect marriage with the Beauts, who are always a tough team to play against.
"Buffalo has been super fun so far and I have enjoyed getting to work (on and off the ice) with the girls. There is a lot of competition and grit throughout workouts and practices, so it's been super fun to have that competition; to know that you're getting the best out of each other to be better each day," Meneghin told us via email. "It's a long way to January, but with continued hard work and passion, I'm excited to see how far we'll have come from the start of camp to January."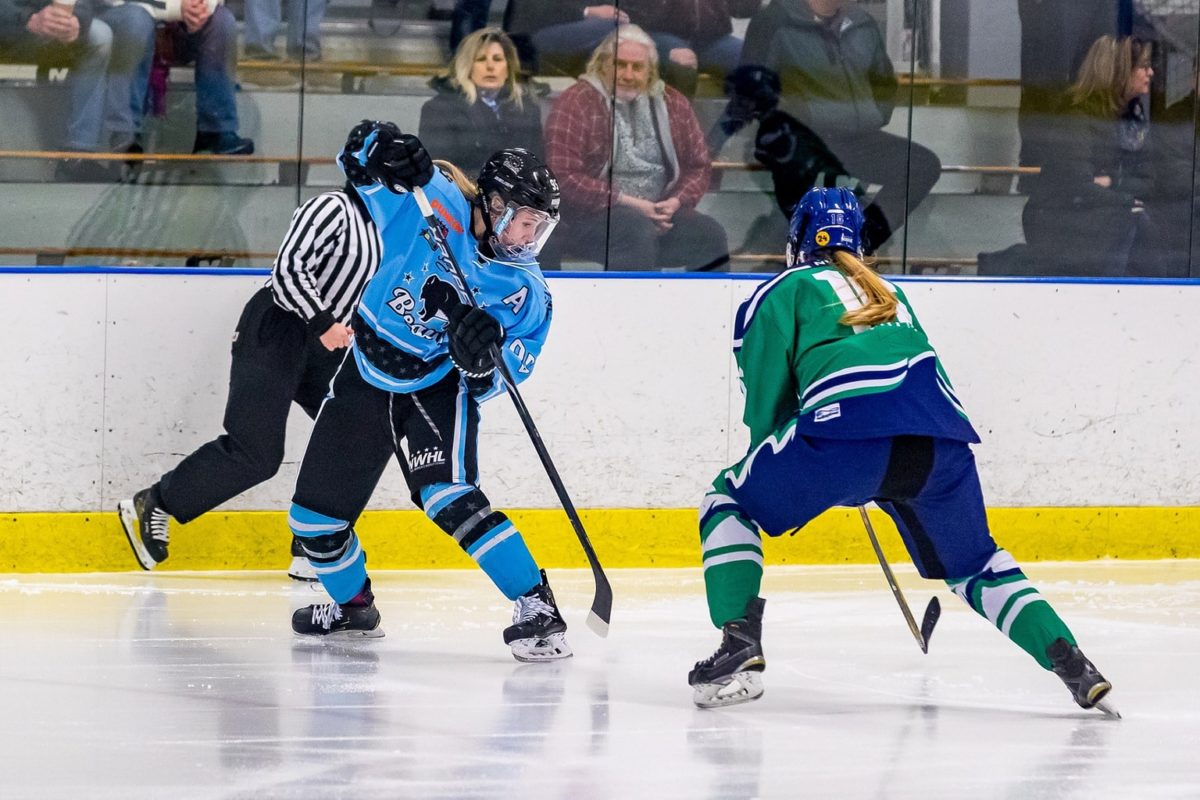 The Beauts will be looking to keep their streak of playing in the Isobel Cup Final alive, but they won't be the favorites – which is just how they like it. Taylor Accursi likely can't do it alone (she probably can, she's that good), so it will take a true team effort for this crew to navigate their way to a second Isobel Cup.