Rivalries are what sports are built on; when two teams keep us coming back for more. These games transcend others because the stakes are higher—the triumphs greater, the losses more stinging.
Deny it as we might, we love to have our hearts ratchet between jubilance and loathing, sorrow and schadenfreude (or 'Chiadenfreude' as Flames fans have affectionately dubbed it, in homage to former Oilers general manager Peter Chiarelli). But within those larger rivalries, the building blocks that form hatreds, irrational apologetics, the jealousies and gleeful pettiness that we savour, are the individual battles we see played out on the ice.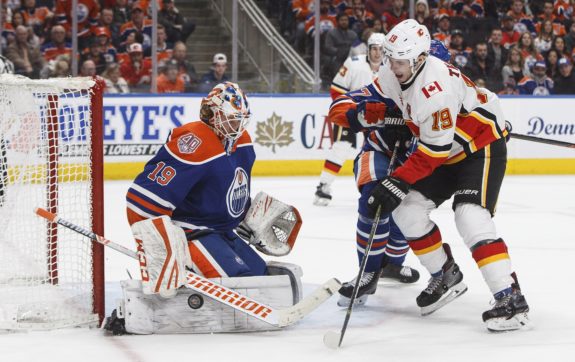 Flames fans might remember when Jarome Iginla was mixing it up with foes like Steve Ott, Willie Mitchell, Sheldon Souray, and even Nashville Predators goaltender Tomas Vokoun. Dion Phaneuf and Sean Avery's media feud might come to mind, or perhaps Robyn Regehr submitting the Oilers' Ales Hemsky to his patented "Tunnel of Death" every game like it was a bad habit. More recently, Kevin Bieksa and Micheal Ferland exchanged trash talk in the media and hits on the ice in the 2015 Playoffs. 
That 'Ferklund,' or whatever his name is, was running around trying to get something going.

– Kevin Bieksa
But what rivalries have lasted? What players on the Flames roster can still single-handedly raise the heat?
Colorado Avalanche
The Avs and Flames met in the 2019 Playoffs. The Avalanche were the lower seed but that didn't stop them from dismantling Calgary in five games after dropping the first one. A painful upset like that often breeds bad blood, and it became particularly painful when Colorado management seemed to troll the Flames by targeting all the same players during the 2019 offseason —and beat general manager Brad Treliving out for them. The Avs even acquired one of Flames captain Mark Giordano's biggest rivals.
Mark Giordano and Nazem Kadri
This one goes back to Kadri's days with the Toronto Maple Leafs
Giordano can do it all on the backend, which is why he won the Norris Trophy a year ago. And 'doing it all' often includes devastating hits. Kadri's been the recipient of those many times, and after a check that sent him sprawling in 2016, Kadri was so incensed that he resorted to threatening the Flames captain with throat-slashing gestures from the bench for which he received a maximum fine from the league. 
That was all before Kadri was traded into the same division as Giordano, right after the Flames lost in the first round to the Avalanche in 2019 and then tried to acquire Kadri from the Maple Leafs (Kadri nixed the trade to the Flames with his no-trade clause). While bad blood between the two players wasn't apparent last season, we'll see if it's renewed in the seasons to come.
Los Angeles Kings
Aside from sharing a division, these two teams don't have much to make them hate each other other than vying for two points. They haven't faced each other in the playoffs since 1993, but player rivalries have a way of raising the stakes—and the entertainment level.
Mark Giordano and Dustin Brown
I've mentioned Giordano's penchant for doling out bone-crushing hits. Well, Dustin Brown can do the same. Both are on the older side now, but this rivalry dates back to their younger years.
Every chance they got, one of these two would line the other up for a check. That was Brown's way from his first days in the league. But for Giordano, this might have been what awakened his love of the physical game. He disliked Brown and targeted him every time he touched the puck. This rivalry is no longer in the spotlight, but it likely set the stage for other rivalries between the Kings and Flames.
Johnny Gaudreau and Jonathan Quick
Johnny Gaudreau loves rising to a challenge, whether that was being told he was too small to play in the NHL or going head-to-head as a young player against the defending Stanley Cup champions (who had one of the best defensive groups and goalies in the league). When Gaudreau scorched the Kings for three goals in a 2014 comeback win by the Flames, it felt like he had arrived. By the end of OT, Kings goalie Jonathan Quick had snapped his stick across the net in frustration. Gaudreau was in his head.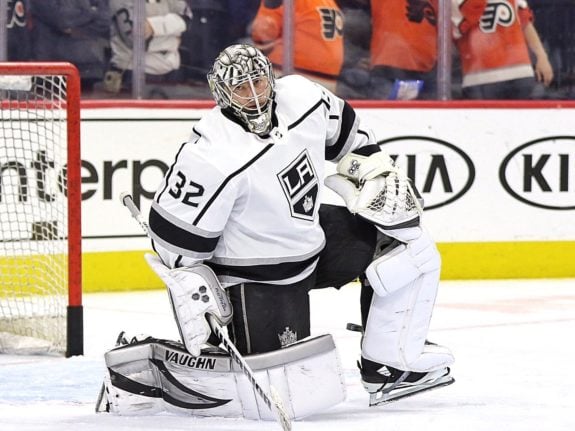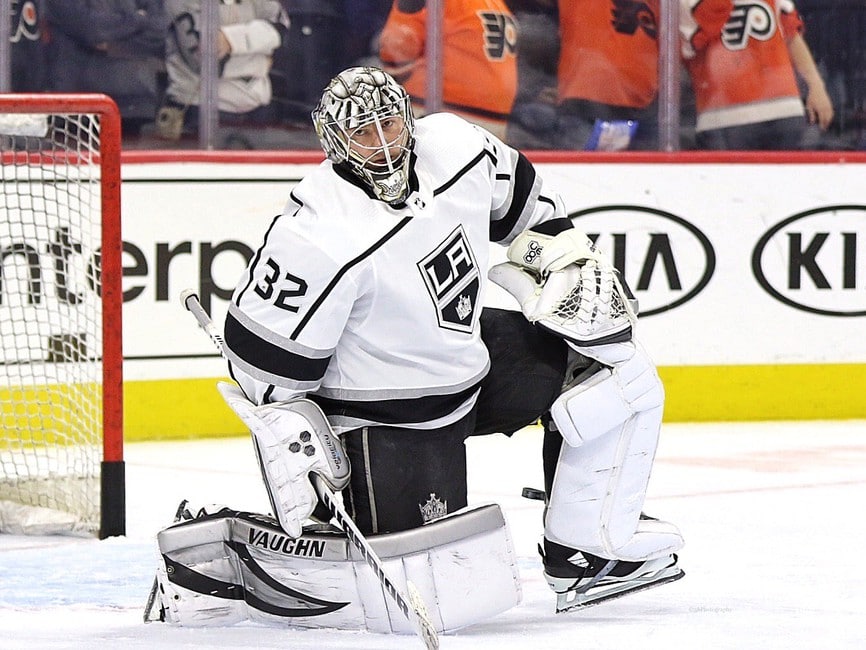 Gaudreau also drove Drew Doughty crazy that game. Especially when he banked the tying goal in off the Kings' best defender late to force overtime. However, that is nothing compared to… 
Matthew Tkachuk and Drew Doughty
Few players can conjure up genuine vitriol, but Matthew Tkachuk is a master. He can crawl inside the opposition's head and live there for months or years. Being the competitor he is, Tkachuk likes to target the other team's best players. 
So, when in a 2016-17 game, the physical combat escalated to the point that Tkachuk accidentally-on-purpose smacked Doughty in the face with an elbow, a beautiful rivalry was born; beautiful for those watching, that is. Doughty hates it.
No respect for him, none. I respect everyone else. I'll never talk to him off the ice.

– Drew Doughty on Matthew Tkachuk
These two have continued to generate storylines since then. And even though the Kings are a rebuilding team, expect the Tkachuk and Doughty confrontations to continue to make games interesting.
Edmonton Oilers
Arguments can be made for other rivalries (Flyers vs. Penguins, Canadiens vs. Bruins, the Islanders vs. the Rangers), perhaps no hockey rivalry is more famous than the Battle of Alberta. With both as competitive as they've been in years, and with recent bad blood that's been spilled, this is the matchup fans on both sides note in their calendars. 
Sean Monahan and Ryan Nugent-Hopkins
Neither of these players is what anyone would call fiery; some have even called Sean Monahan 'boring.' During a heated January game last season, both players shed their stoic demeanours and Monahan earned his first career penalty minutes for fighting. Only a game as big as Calgary vs. Edmonton could incite these two to such madness. Hopefully, we see more of the same in 2020-21.
Mark Giordano and Connor McDavid
It takes a lot to contain Connor McDavid, but that's the task Giordano signs up for every time the Flames and Oilers meet. A recent Norris winner, no one is more worthy than Giordano to undertake the challenge. And when bodies are flying that fast and cornering that sharply, those involved are bound to pay a price. That's exactly what happened at the tail end of the 2018-19 season. Giordano tried to cut off a driving McDavid and knocked him into the net, injuring his leg severely.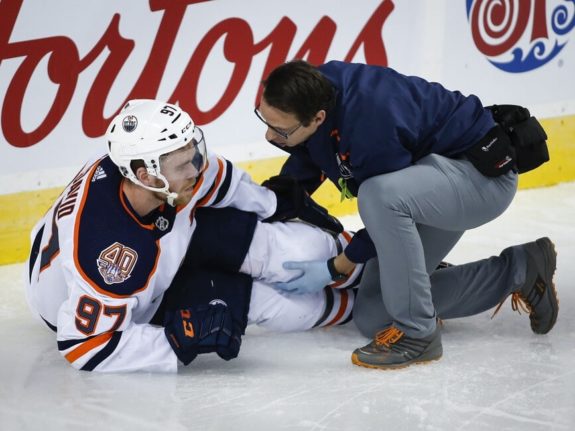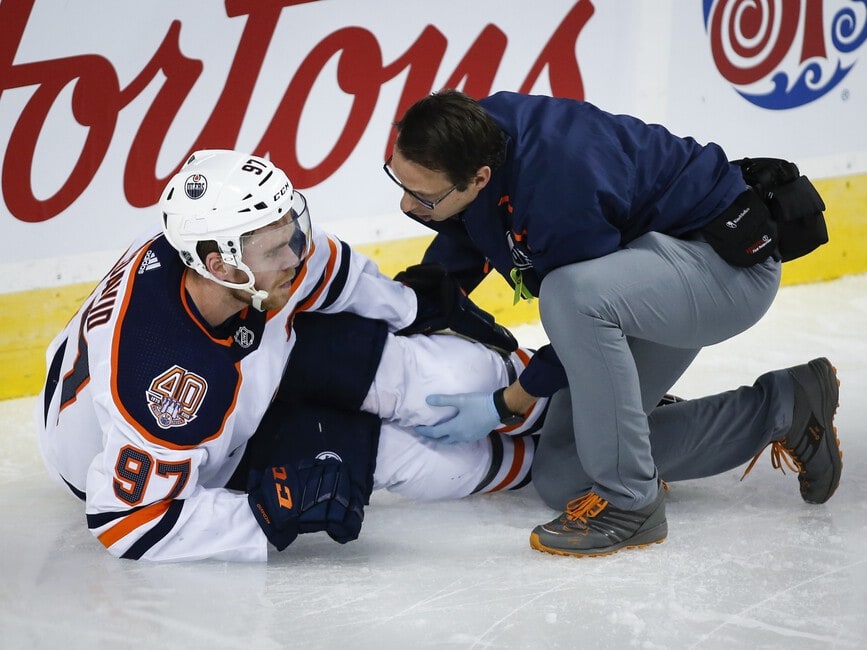 Players and coaches were diplomatic about the whole thing, and Giordano was never punished by the league, but when you have fierce competitors at the highest level, like these two, they don't easily forget. Instead, they use it to push themselves, especially against each other. Flames fans should expect the battles between these two to intensify in the All-Canadian division.
Tkachuk and Zach Kassian
Of all the interpersonal rivalries in the league, this is the big one. Calgary-Edmonton games are already tense, but when Tkachuk saw the chance to target the biggest, baddest player on the other side, he took it – not once, but three times. The Flames forward went hunting. Every time he saw Kassian with the puck behind the net, he took a run at him, and Kassian snapped.
Though Tkachuk was considered an 'unwilling participant' by the league in the resulting fight (leading to a two-game suspension for Kassian), he knew what he was doing and was prepared for the fallout when he decided to strategically goad the big Oilers forward. The Flames scored the game-winning goal on the power play that ensued.
If he doesn't want to get hit, then stay off the tracks. Caught him three times there, so you'd think he'd learn after the first one. If he wants to react like that, we'll take the power play, we'll take the game-winner, and we'll move on to first place.

– Matthew Tkachuk on Zach Kassian
Kassian and Tkachuk were all anyone talked about for days afterward. And with Calgary and Edmonton slated to meet again only a couple of weeks following this incident, the stage was set for more fireworks. The two players fought again at the tail end of the first period of that game to settle the score.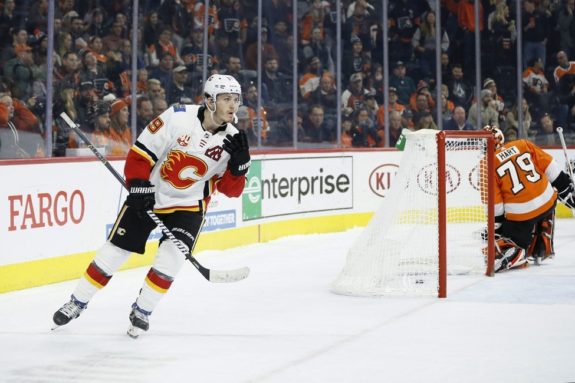 Expect the Flames-Oilers rivalry to keep growing red hot; with all of Canada watching, the stakes haven't been this high since both Alberta teams were superpowers in the 80s. With players like Tkachuk and Kassian front and center, it's going to continue to be an amazing show. 
The State of Flames' Rivalries Looking Forward
Rivalries can turn a nothing game into a can't-miss affair. However, without something to drive the tension, like a playoff game or competition in the standings, the tides of loathing can ebb. As the Kings rebuild and with the possibility of an All-Canadian division in 2021, which would limit matchups between them and the Flames, this rivalry could cool somewhat, even if Doughty and Tkachuk refuse to forget each other.
For a Flames-Avalanche rivalry to reach a full boil, it might take a playoff rematch with a Colorado team that is ascending to the level of perennial Cup contender.
While the Flames and Oilers rivalry continues to glow hotter, the Flames vs. Canucks rivalry isn't what it used to be. Though this iteration of the Canucks is significantly less detestable than the powerhouse team from a decade ago that boasted agitators Ryan Kesler, Alex Burrows, and Kevin Bieksa, this offseason could change things.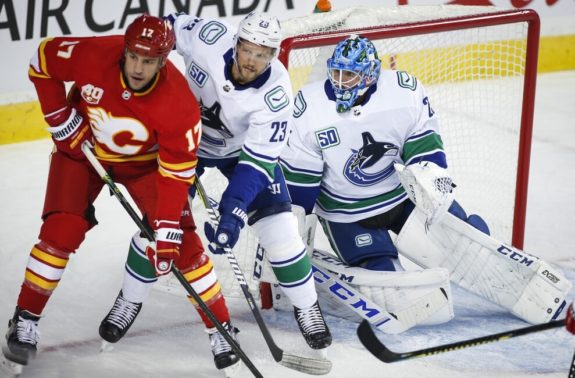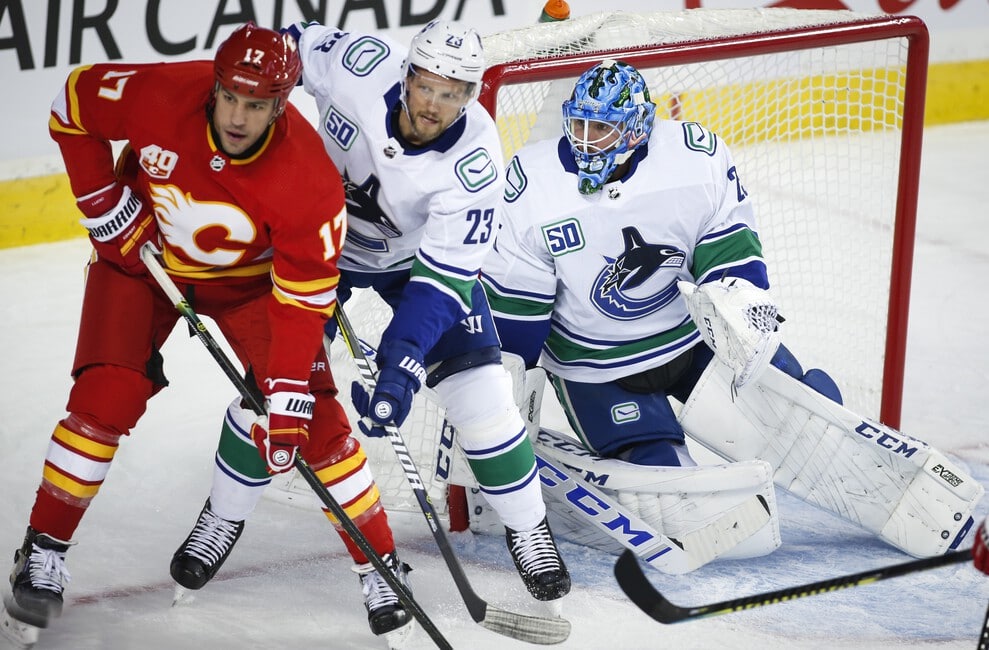 Calgary signed multiple free agents who left Vancouver, and fans there are complaining that the Flames have also stolen the Canucks' historic colors. This might serve to rekindle a rivalry that hasn't had much heat since the first round of the 2015 Playoffs, or when the head coaches of both teams confronted each other in the hallway outside the dressing rooms in 2014.
There's one trend in all this that Flames fans should be especially excited about: The Flames' stars and leaders are at center stage in these interpersonal rivalries. Having role-players like the 2015 Playoffs' version of Micheal Ferland getting fired up is great, but when your best players are invested in the game, that's when magic happens.
---
---
Matt Sabey is a fiction writer, husband, and father to a pair of small boys. Two of his greatest interests all through his life have been the craft of writing and the Calgary Flames. Having both of these passions converge into covering the Flames for THW is a dream come true.