The '12 Days of Christmas' is a classic holiday song first published in its current form in 1908. In a nod to the classic carol, join The Hockey Writers as we count down the 12 Days of Hockeymas. Each day, we will provide you with a piece of hockey history as we eagerly await the start of the 2020-21 NHL season.
Other Flames' Hockeymas Articles:
It's the tenth day of Calgary Flames Hockeymas and I present to you the top 10 Flames centers of all time. While the Flames have had more notable star wingers and defencemen, this list of centerman showcases both offensive and two-way skillsets. Some have played their entire careers in Calgary, while others had a short stint but all have made an impact in their time with the Flames.
10. Marc Savard
Marc Savard starts the Christmas countdown and may have found himself higher on the list if it wasn't for turmoil and an early departure from Calgary. In 211 games across three seasons, Savard was able to put up a respectable 154 points by age 24. His best season came during 2000-01 when he netted 23 goals and 42 assists playing alongside Jarome Iginla.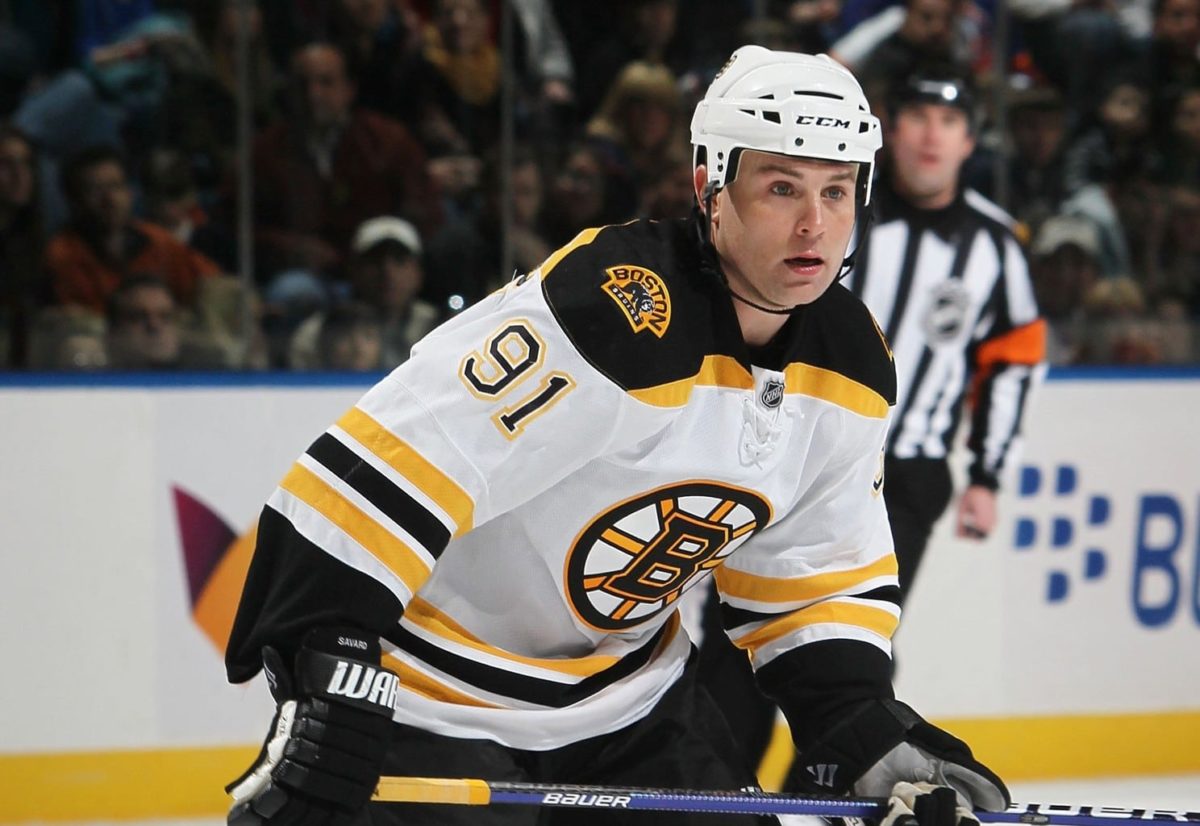 Savard eventually demanded a trade after a public feud with head coach Greg Gilbert who only lasted 121 games behind the Flames bench. Savard was traded in November of 2002 and Gilbert was fired less than a month later. Savard went on to be a point per game player with both the Atlanta Thrashers and the Boston Bruins. He could have been a key piece in the Flames adding to their trophy cabinet in the spring of 2004.
9. Guy Chouinard
Guy Chouinard's season-high point total may have happened down south in Omni Coliseum in Atlanta, Georgia, but his best season happened in the Stampede Corral during the 1980-81 season. Chouinard racked up 31 goals and 83 points in just 52 games that season – that's 1.60 points per game and just 0.04 behind Kent Nilsson's franchise record set that season.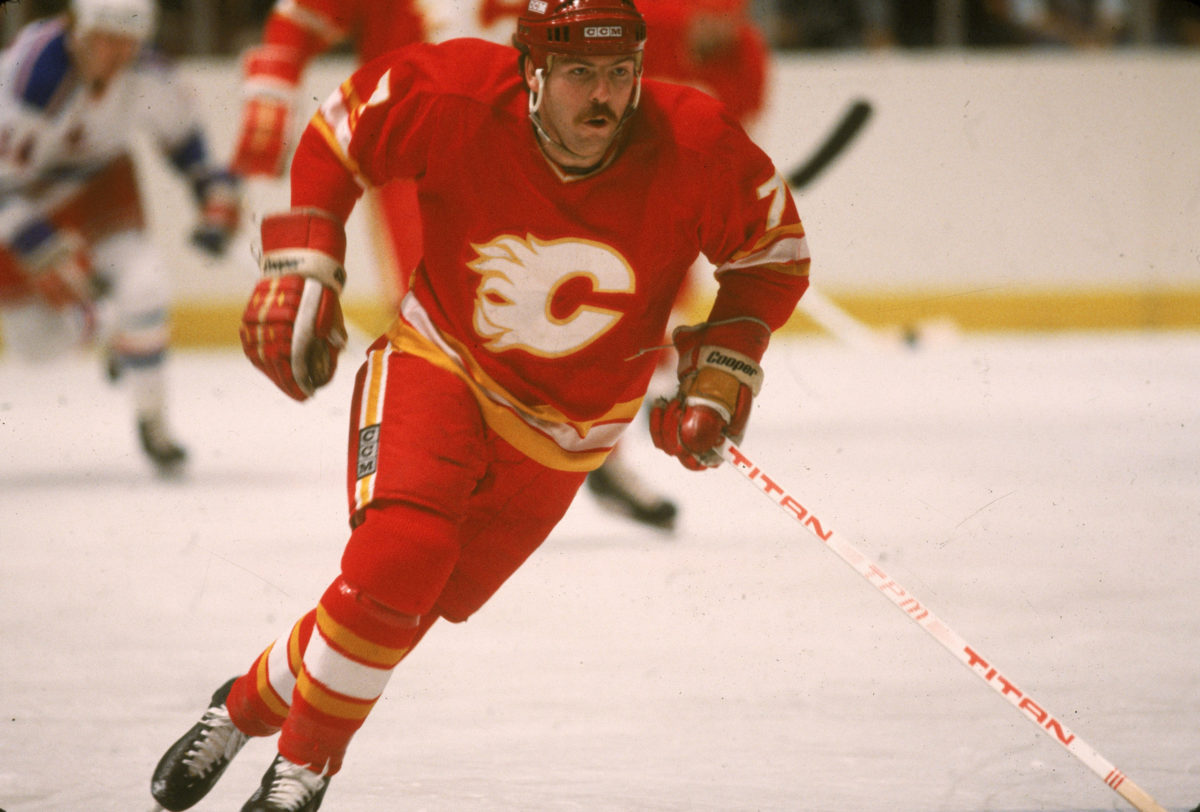 Chouinard then led the Flames the same year with 17 points in 16 post-season games before losing to Minnesota in the semifinals four games to two. In just 196 games with a flaming 'C' on his chest, Chouinard managed 235 points before being traded to the St. Louis Blues for his final season in the NHL.
8. Joel Otto
One of the many key pieces to the Flames lone Cup win in 1989, Joel Otto was a mainstay in the faceoff circle for the Flames for 11 seasons. The big-bodied center scored 23 goals and 53 points during the 1988-89 season, then scored a career-high 19 postseason points, good enough for fourth on the team.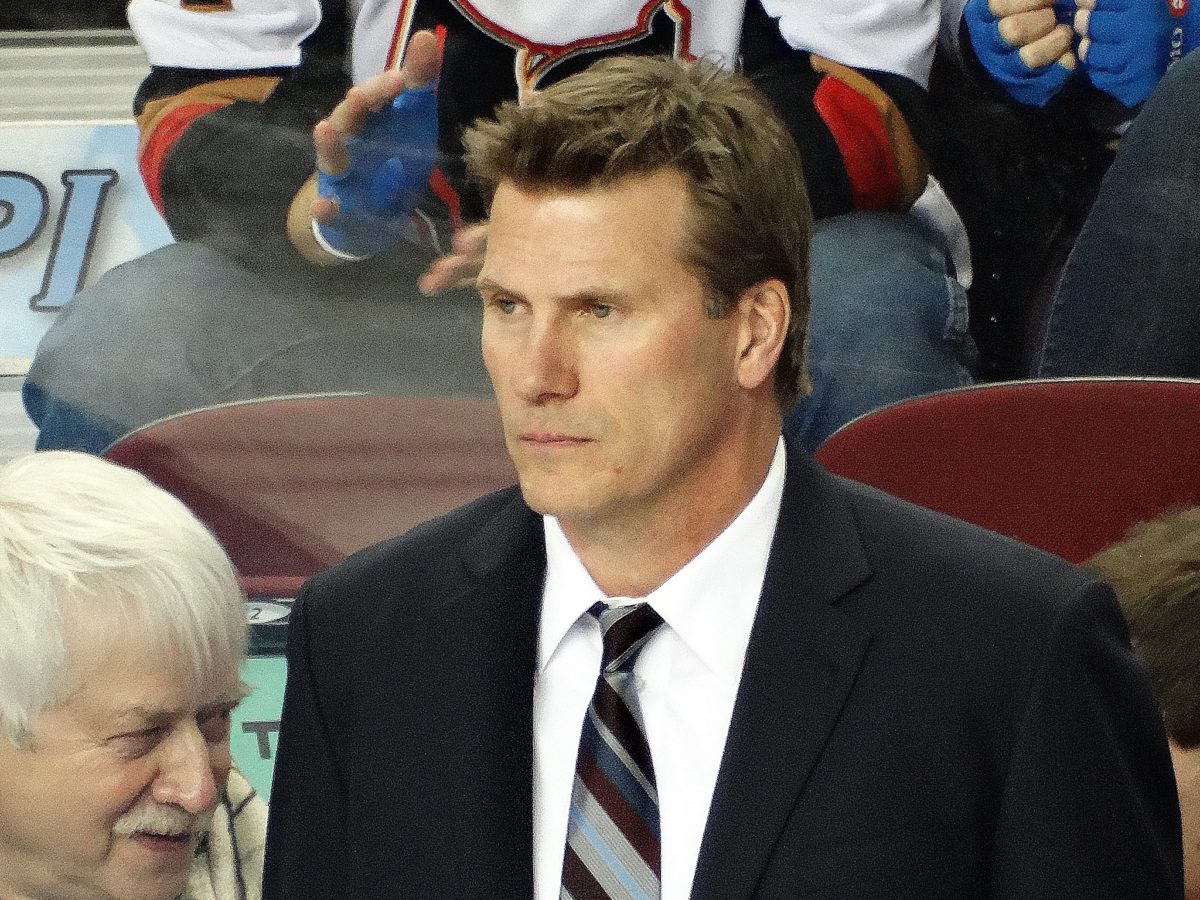 Otto though was more so known for his defensive abilities as he received votes for the Frank J. Selke award in nine of his 14 seasons and was a finalist twice. Otto's big frame gave him the ability to be effective in front of the net and in the faceoff circle, which included many battles against top players like Mark Messier.
7. Sean Monahan
At just 26, Sean Monahan makes the top 10 and will only continue moving up this list. Among these nine other centers, Monahan has the third-most goals and fourth-highest career points per game in a Calgary Flames uniform. Monahan also is already ninth on the franchise's all-time goals list.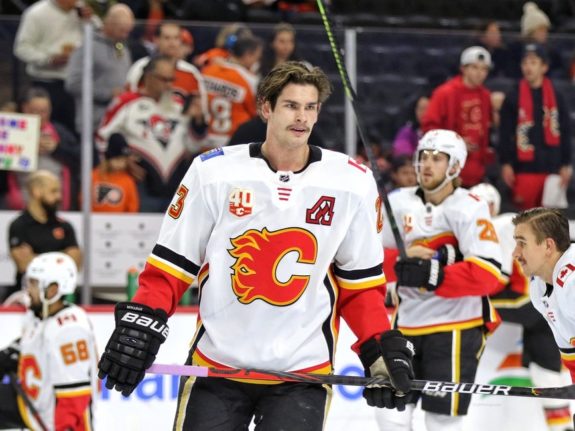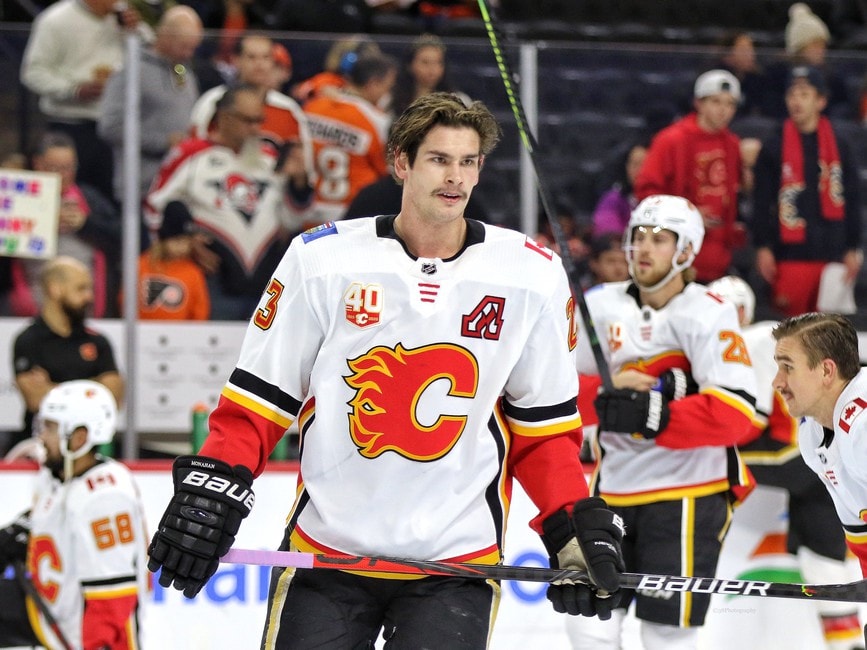 In his first seven seasons with the club, Monahan has eclipsed 20 goals in each season with a career-high of 34 coming during the 2018-19 season. Monahan became the youngest player in franchise history to score 100 goals, passing Joe Nieuwendyk by just 51 days. (from 'Sean Monahan just landed himself inside a pretty tight circle of NHL history makers' Calgary Sun, February 2017)
6. Daymond Langkow
Daymond Langkow makes his way into the top 10 as one of the more underrated players on this list. During the 2006-07 season at age 30, Langkow scored a career-high 33 goals and 77 points, good for third on the team. That season the line of Langkow, Iginla, and Alex Tanguay combined for 252 points.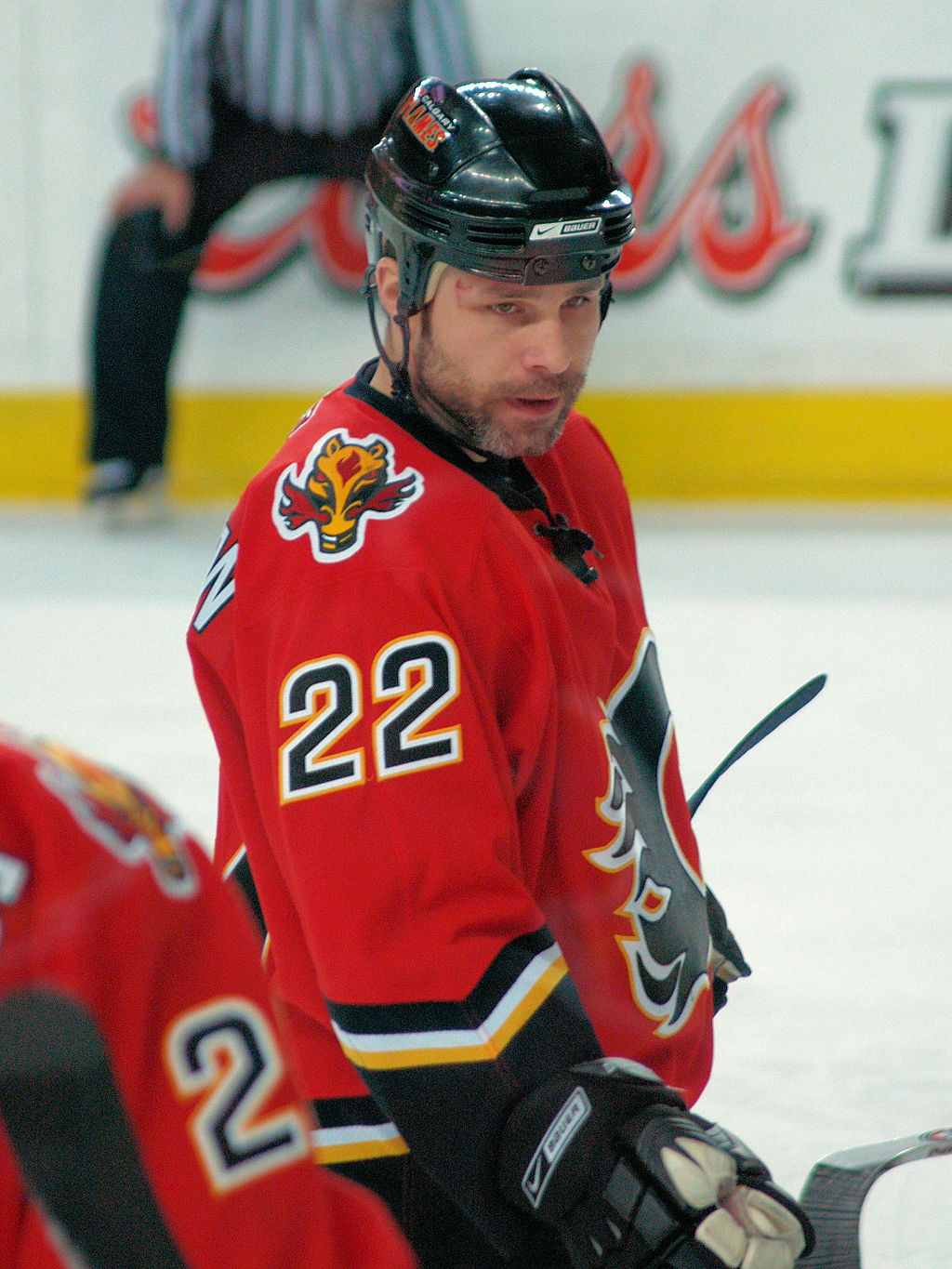 The Corsi statistic (the metric used for puck-possession) became available in his final three seasons in Calgary and over that time he had an incredible 56.1 Corsi for percentage (CF%), his season-high of 57.1% lead the team in 2007-08. Langkow finished his time in Calgary playing 392 games and accumulating 288 points.
5. Mikael Backlund
Mikael Backlund enters the list at No. 5 as the best defensive forward on this list. In his 10 full seasons with the Flames Backlund has fallen below a CF% of 50.0 for just once during the 2014-15 season. In 2017-18 Backlund centred Matthew Tkachuk and Michael Frolik – they were one of the best lines in the NHL that season in terms of possession. Having the lowest career points per game on this list, Backlund more than makes up for it with his two-way capability.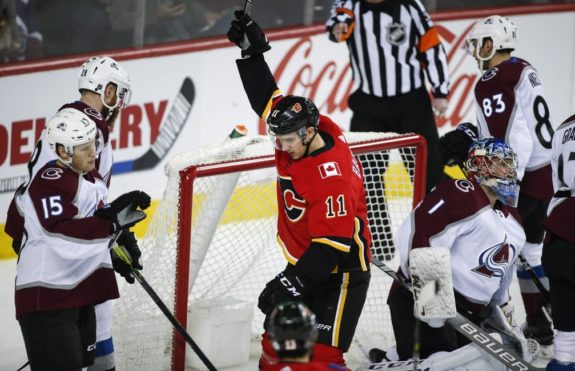 Backlund has been able to quietly become one of the better defensive forwards in the league, including against Connor McDavid. During the 2016-17 season, McDavid had a 35.29 CF% when playing against Backlund. Playing away from Backlund, McDavid had 58.97% of the scoring chances in his favour. Backlund has consistently battled teams' top lines and had continued success in puck possession.
4. Craig Conroy
"Connie" as nicknamed by teammates and fans, has become a face of the franchise from his time on the ice and in the head office. Craig Conroy's best season came in 2001-02 playing alongside, you guessed it, Iginla when he scored 27 goals and totalled 75 points.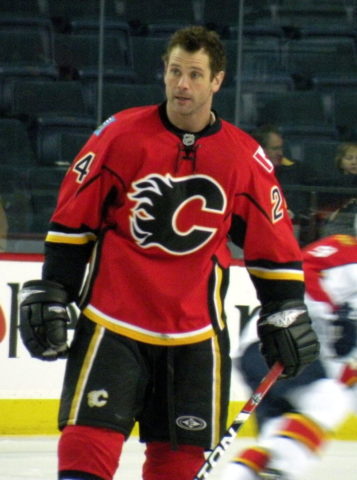 It was during the run to the Cup in 2004 that Conroy became a favourite when he put in his best career playoff performance of 17 points in 26 games. The top line of Conroy, Iginla, and Martin Gelinas led the way as the top three scorers on the team during the run. Conroy finished his playing career with 308 points in 507 games as a Flame. Following retirement, he moved straight to the front office where he is currently an assistant general manager.
3. Doug Gilmour
Doug Gilmour's stay in Calgary was the shortest of the players on this list but he made a big impact during his time playing with the Flames. In just four seasons, "Killer" collected 295 points in just 266 games and he was a key piece of the 1989 Cup-winning team.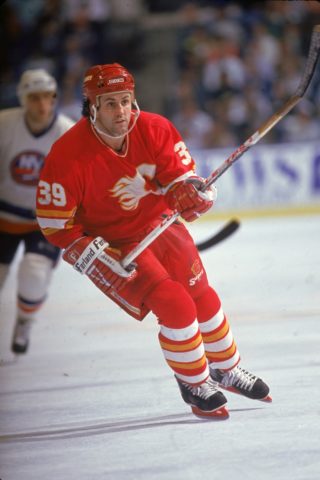 During the 1989 playoffs, Gilmour scored 11 goals and added 11 assists in 22 games, also scoring the Cup-clinching goal. After a contract dispute with management, Gilmour requested a trade and was sent to the Toronto Maple Leafs, a trade that will live in Flames infamy.
2. Kent Nilsson
The first star-player to put on the flaming 'C', Kent Nilsson is still the record holder for points in a season in franchise history with 131. The original 'Magic Man' led the Flames in scoring in all but one season, a season in which he only played 41 games but still managed 55 points. Unless the Flames draft the next McDavid, Nilsson's franchise record will stand for many years to come.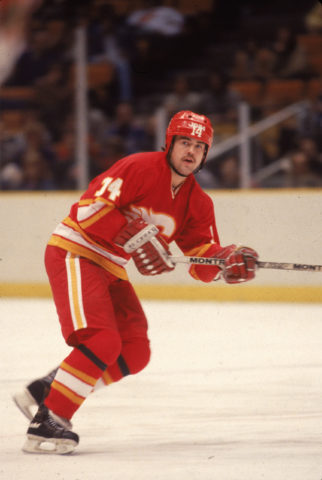 Nilsson was traded after the 1984-85 season to the Minnesota North Stars for a draft pick used on Flames legend Joe Nieuwendyk. Nilsson went on the next season to score 60 points in 61 games which may have been helpful in the Flames' first trip to the Cup Final in 1986.
1. Joe Nieuwendyk
Nieuwendyk burst onto the scene in 1987-88, scoring 51 goals as a rookie, and then again in his second season. Nieuwendyk scored 11 goals in the 1989 playoffs including six on the power play to help the Flames capture the Stanley Cup. He then had his most productive season in 1989-90 scoring 95 points in 79 games.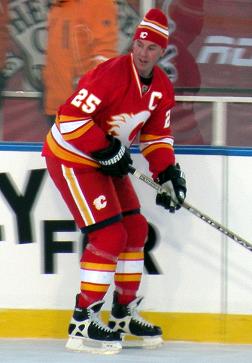 Nieuwendyk finished his career in Calgary with 616 in 577 games before being traded to the Dallas Stars. Like franchise player Kent Nilsson being traded for another franchise player, Nieuwendyk was traded for prospect Jarome Iginla. Number 25 should rightfully have a spot in the rafters alongside numbers 9, 12, and 30.
Related: Blockbuster Trade That Helped Both Teams Turns 20
On the 10th day of Flames Hockeymas, it's clear that the Flames have had their fair share of reputable centermen. Whether they are fan favourites, offensively gifted, or great in the faceoff circle they all have a worthy reason to make my top 10.
---
---