I had high hopes for Sweden this year at the 2021 World Junior Championship. Although my confidence has not disappeared, I'm cautiously pumping the brakes. COVID-19, which seems to have no immediate end in sight, has taken down several integral players that would be playing prominent roles.
Forwards William Eklund (Djurgarden), Albin Grewe (Djurgarden), Karl Hendriksson (Frolunda), and William Wallinder (MODO), along with coach Tomas Monten and several other staff members have been diagnosed with coronavirus forcing them to be sidelined. Joel Ronnmark will be replacing Thomas Monten behind the bench for the tournament in Edmonton.
For Detroit Red Wings fans, this is definitely disappointing. This would be the real first-hand look at Wallinder, who was drafted 32nd overall in the 2020 NHL Draft. However, the biggest disappointment for me is not being able to see Albin "The T-Rex" Grewe in action. From what I understand, he plays a game with tenacity like Vladimir Konstantinov. He hits anything that moves.
The Terror Twins
While this does come as a blow to Team Sweden, they still have a team that boasts two of the premier forwards in all of international hockey: Raymond (Red Wings) and Alexander Holtz (New Jersey Devils). Holtz said of Raymond, "Were rivals during the season, but when we're with the national team, we have played together almost all the time… It's a lot of fun. He's so skilled and such a good hockey player, and he's a great guy as well. I think we can make an even bigger impact than last year. I think this tournament is going to be fun."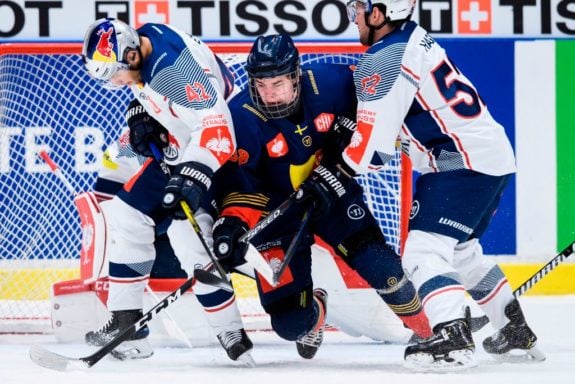 However, they will be missing their third Musketeer Karl Hendriksson, (New York Rangers). The three combined for 24 points (11 goals, 13 assists) in just seven games during the 2019 U18 gold medal championship. Sweden swiftly replaced Hendriksson with fellow Frolunda teammate Theodor Niederbach (Red Wings).
Niederbach is a smallish center that has excellent hockey IQ, and great passing and playmaking. He could be the perfect complementary piece between Holtz and Raymond being trigger men, especially Holtz. Freddie Sjostrom, a former-NHL player (2005-11) and current general manager of the Frölunda's men's team, said, "Theodor has some of the best sense I have ever seen." (From "The Red Wings' top prospects, Swedish pipeline Nik Kronwall's impact", The Athletic, 10/23/20)
Defense
At this point in time, Sweden has not lost any defensemen to the novel coronavirus. With returning players looking to step into larger roles with the departures of Rasmus Sandin and Nils Lundkvist, Philip Broberg (eight points in 23 games), Victor Soderstrom (six points in 12 games), and Tobias Bjornfoot (three points in 15 games) are looking forward to leading the charge. There is also an influx of high-octane new talent joining Sweden in Emil Andrae and Helge Grans.
Andrae plays with a swagger to his game and does not shy away from physical play. At only 5-foot-9 and 181 pounds, I have heard people make Torey Krug comparisons because of the type of unsuspecting smash-mouth hockey he plays along with a goal scorer's touch. Grans is a gifted offensive defenseman. He drives the net and creates traffic banking in rebounds and redirecting shots. He's a gifted skater with a long reach that can get back into position if he finds himself in trouble.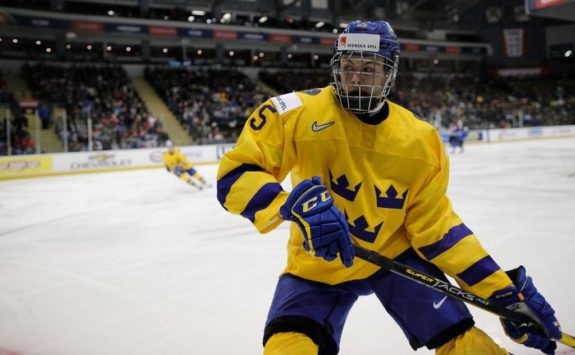 Albert Johannson, the Red Wings' best defensive prospect in my opinion, will also be participating in the tournament. After posting seven points in his first 20 games with Farjestad, he has begun to cool off but is still playing very solid defense. He sees the ice extremely well and has almost no panic level. While Johansson is not greedy with the puck, he will use his booming slap shot from the blue line when he sees an opportunity or will take the role of a forward walking the puck to the net himself if he finds an open lane. This might be a little bit of a hot take, but I think Team Sweden boasts the best defense of the tournament.
Why Does This Matter for the Red Wings?
This article begs the question, why should Red Wings fans care? As it sits right now, Team Sweden boasts five Detroit prospects including the number one prospect in our system (Lucas Raymond). COVID-19 has taken a little bit of a toll on Sweden recently but, nevertheless, they will be strong, fast, and a high-scoring team. The Terror Twins are going to be the hottest ticket in town. With Niederbach centering, I think Red Wings fans will be pleasantly surprised.
---
---