With the 51st selection in the 2020 NHL Entry Draft, the Detroit Red Wings selected from Frölunda H.C., Theodor Niederbach. The selection made by Kris Draper on October 7, 2020, might have sounded something as though the NHL not been forced into a post-Covid, virtual, socially-distanced draft.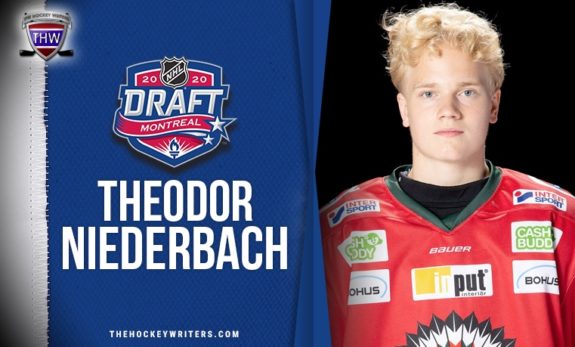 The Red Wings became aware and very interested in Niederbach with their frequent visits to Gothenburg, Sweden to keep eyes on prospects like Gustav Berglund, selected in 2019 (Round 6), 177th overall, Gustav Lindstrom, selected in 2017 (Round 2), 32nd overall, and of course Lucas Raymond, selected in 2020 (Round 1), 4th overall. Niederbach is a right-handed center who is highly offensive, creative, with elite vision.
Great Expectations From Frölunda to Detroit 
Freddie Sjostrom, an ex-NHL player (2005-2011)  and current general manager of the Frölunda's men's team was quoted "Theodor has some of the best sense I have ever seen."(From "The Red Wings' top prospects, Swedish pipeline Nik Kronwall's impact", The Athletic, 10/23/20) That is no small compliment from a general manager of a team that has seen the likes of Erik Karlsson, Rasmus Dahlin, and Robin Lehner in its locker room.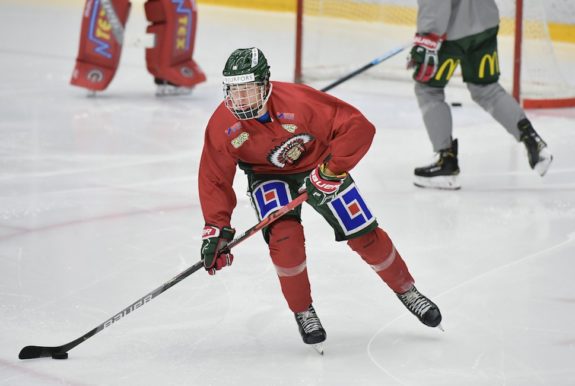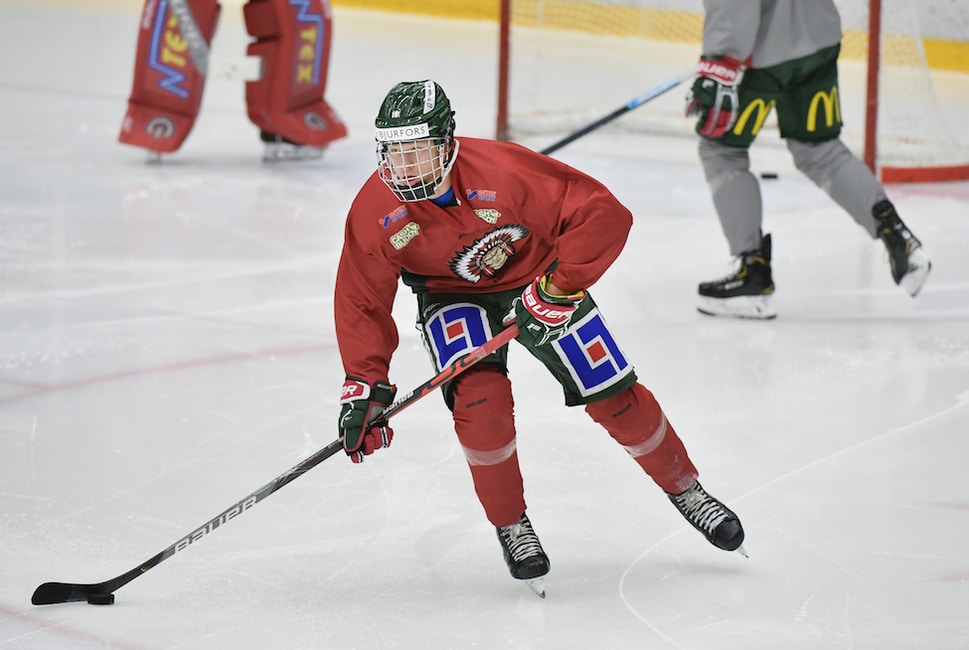 This begs the question: how does a player drop all the way to pick 51 when in his draft year he put up 48 points (15 goals, 33 assists) in just 40 games in the J20 SuperElit and in 2017-18, a meteoric 73 points (38 goals, 35 assists) in just 24 games with KB65. You guessed it, he missed the entirety of the 2018-19 season due to injury. He was diagnosed with osteochondritis dissecans. In short, a painful inflammation of the cartilage and bone joints in his knees. After undergoing successful surgery, he made it back just in time during his draft year. This no doubt scared teams off him, who was once a first-round talent.
You Have Got to Earn It
If we know anything about Detroit draft philosophy, general manager Steve Yzerman and director of amateur scouting Kris Draper covet a high-risk, high-reward player with an emphasis on elite hockey IQ. This year Niederbach is showing that once again he is too good to play in the junior league. So far he has put up 35 points (13 goals, 22 assists) in 19 games, averaging 1.84 points-per-game. This is no doubt attributed to his high hockey IQ, vision, and stick-work. He has been called up to the men's club four separate times.
His average time on ice during those top league games is 1:19. No, this is not a mistake! One minute and 19 seconds. However, there must be a reason even if we common folk don't realize it. Frölunda has a stacked team with plenty of veteran presence.
Raymond found himself in a very similar situation last season. He was buried on the 4th line, barely scraping 10 minutes a night with most of his ice-time coming on the power play. He had ups and downs, flashes of brilliance and flubs, but ultimately earned the trust of coach Roger Rönnburg. Although I'm not sure what you can prove averaging 1:19 of ice time per game, I'm sure Rönnburg has his reasons.
I suppose they figure playing against the competition in the SuperElit is not hindering Niederbach's development, yet, and watching and listening to the players on the men's team is benefiting his game.
Taking Niederbach to the Next Level
Niederbach is listed at 5-foot-11 and 172 pounds. He will need to get bigger and stronger so he can get into the corners and dirty areas because he does tend to get pushed around a little. He also has to work on his skating. Because of the operation, his skating does not stand out. His opponents were often faster than him, but as the J20 season went on he did seem to become more agile. His skating will never be elite but that is not what is going to get him to the next level. His stick-work, playmaking, passing, and his ability to slow down the game will. Most importantly his mind.
He is a highly intelligent player who knows exactly what needs to be done to reach the NHL. Niederbach said of himself," I am a skilled center that can read the game well, but I want to be a complete center who you can trust in all zones. If you want to play center, you have to play in the D-zone and be good there." These are the 2nd, 3rd, 4th, round types of players that the Red Wings need to hit on to become the Leviathan of a team they once were. High-risk, high-reward. Yzerman has a nose for sniffing out these types of later-round players and most importantly developing them.
---
---