The Florida Panthers have re-signed RFA defenseman MacKenzie Weegar to a three-year deal with an AAV of $3.25 million.
The contract is worth $2 million in the first season, $3 million in the second, and $4.75 million in the third, according to Elliotte Friedman.
The signing comes just two day before Weegar and the Panthers were scheduled to go to arbitration on Nov. 8.
Trade Winds Blew, but Weegar Ultimately Stays Put
The 26-year-old Weegar was the subject of many trade talks since last month, with the Boston Bruins, Toronto Maple Leafs, Winnipeg Jets among the teams rumoured to be courting the right-handed d-man.
A deal seemed more and more likely as October went along, especially after Weegar's agent, Mike Ebbs, said on Oct. 19 that he was disappointed by the way negotiations had gone thus far.
There was a belief that Panthers' GM Bill Zito would ship off Weegar in exchange for some scoring prowess as the Panthers lost high-scoring winger Evgenii Dadonov to the Ottawa Senators and have yet to re-sign Mike Hoffman.
Weegar Cashes in on Solid Season
A trade never happened, however. While the Panthers still have work to do to address their needs up front, they can rest a little easier knowing they have a top-four defenseman and Aaron Ekblad's partner locked up at a reasonable price through 2023.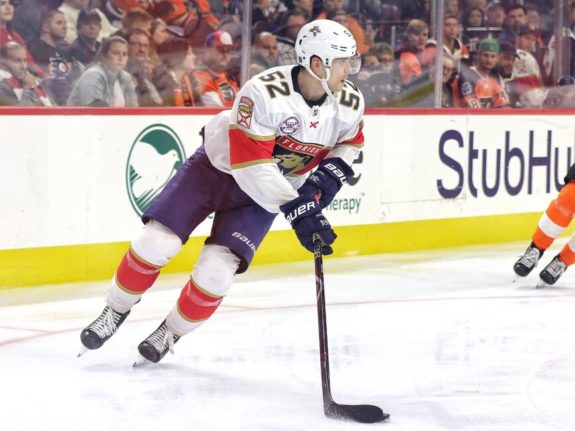 Weegar, chosen in the 7th round of the 2013 NHL Entry Draft, set career-highs in goals with seven and points with 18 in 2020-21. He also averaged a career-best 20:07 of ice time per contest, but was limited to 45 games with a nagging upper-body injury.
Weegar is also an analytics darling. Wrote The Fourth Period's David Pagnotta last month:
Weegar's reliability on the backend and his numbers, especially his five-on-five analytics, have been impressive. While he was on the ice at even strength, the Panthers had 51.7% of the shots (SAT), which put him second on the team. Without him, the team averaged 49% of SAT. Weegar also had the second-hardest deployment among Florida's defencemen, starting 53.6% of his shifts in the defensive zone.
"As for expected goals for and against, Weegar was second on the Panthers and 25th in the NHL – when he was on the ice, the Panthers should have scored 55% of the goals, according to Natural Stat Trick's Expected Goal Percentage, which put him ahead of Ekblad (51.5%)."
The Panthers have been a busy team this offseason and have made a number of moves to address their back-end woes. If they want to be successful this season, they'll need allow fewer than the 3.25 goals per game they allowed in 2019-20.
Related: Panthers Add Toughness & Depth With Early Offseason Moves
Prior to signing Weegar, they signed d-man Radko Gudas and Markus Nutivaara.