A young Håkan Andersson was guiding fishing tours in the Baltic and North Seas during his early twenties. His own playing career had finished before it got started after suffering a knee injury prior to him turning 20. This negative turned into good fortune as he soon thereafter found a scouting position with the Detroit Red Wings.
The Stockholm native continued to scout and fish until 1990 when he was hired as a full-time member of the Red Wings scouting staff at age 25. This would prove to be a good hiring decision by then general manager, Jimmy Devellano.
In the 30 years since Andersson was hired, he has become recognized as one of the sharpest "eyes" in hockey. His identification talents have led to his current appointment as Detroit's Director of European Scouting.
Uncovering European Gems
It does not take long to find a correlation between the Red Wings' success with European, specifically Swedish, players during Andersson's tenure. His effect on the team traces back to the great Nicklas Lidström through to the most recent premium Red Wings selection, Lucas Raymond. Time will tell what kind of impact Raymond has in Detroit, but the list of European players Andersson has factored into drafting is impressive:
| | | |
| --- | --- | --- |
| Draft Year | Round | Player |
| 1989 | 3 | Nicklas Lidström |
| 1994 | 10 | Tomas Holmström |
| 1998 | 6 | Pavel Datsyuk |
| 1999 | 7 | Henrik Zetterberg |
| 2000 | 1 | Niklas Kronwall |
| 2002 | 2 | Jiří Hudler |
| 2002 | 2 | Tomáš Fleischmann |
| 2002 | 3 | Valteri Flippula |
| 2002 | 9 | Jonathan Ericsson |
| 2004 | 3 | Johan Franzén |
| 2008 | 4 | Gustav Nyquist |
| 2009 | 2 | Tomáš Tatar |
Notable European draft picks while Håkan Andersson has been with the Red Wings.
An amazing feature about this list is the fact that only one player was taken in the first round. While the caliber of player on this list varies, they all played more than 500 NHL games. Most importantly, this continuous draft thievery took place as the Red Wings were collecting four Stanley Cups. This meant the team was usually not "flush" with draft picks after using them to bolster the team accordingly.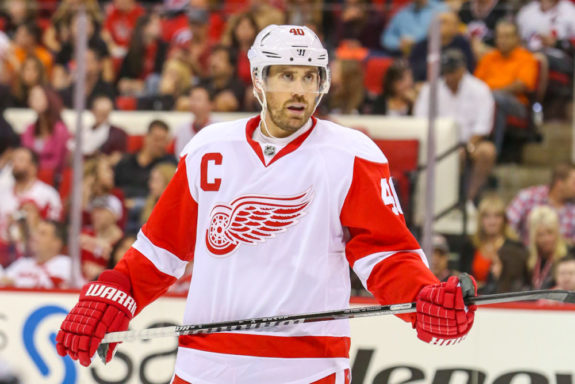 For example, the Red Wings' first selection was not until the fourth round of the 1999 NHL Entry Draft! This, of course, was a result of the back-to-back Red Wing cup victories in 1997 and 1998. Despite their lack of selections, the team was able to "steal" Henrik Zetterberg in the seventh round. In retrospect, the native of Njurunda (Sweden) should have been a top-10 pick in 1999.
Similarly, the Red Wings were not scheduled to make their first selection in 2004 until the third round when they took "the Swedish Mule" — Johan Franzen. In this case, the lack of early picks was the result of a third Stanley Cup in 2002, and last of the Steven Yzerman era.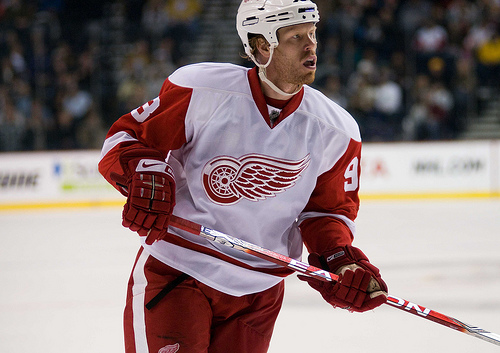 One of the more memorable selections in Red Wings history took place in Buffalo, New York, during the 1998 NHL Draft. Detroit did have a first-round selection that year and took current Associate Director of Player Personnel, Jiri Fischer. However, it was the team's sixth-round selection that most Detroit fans now distinctly recall. Of course, the team selected a young Russian player named Pavel Datsyuk with the 171st-overall pick that year. Andersson's efforts in selecting the Russian superstar are now well documented.
In effect, Detroit kept "stocking the cupboards" — even when they were lacking premium draft picks. This obviously had a big impact on the Red Wings' 25-straight playoff appearances from 1990 through 2016. It was also a big reason why the team was able to capture the 2008 Stanley Cup without longtime captain Yzerman. All of these organizational feats were in part due to the expertise and contributions of the now famous Håkan Andersson.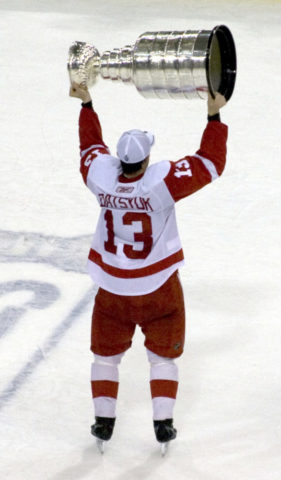 Amongst the scouting community, the Stockholm native has reached near folklore status. It is rare for an individual scout to be recognized for his/her accomplishments before they reach the top echelon of the NHL executive ranks. Not so in Andersson's case, as per the Sports Illustrated feature above.
The Next Chapter
It is exciting to think that at 55, Andersson is basically entering his talent identification prime. Already a winner of four Cups with the Red Wings, he is now helping general manager Yzerman build the next championship team.
My own take, and with no disrespect to former general manager Ken Holland, it appears that the team continued to rely on Andersson as the mid- to late-round specialist. Since Yzerman took over, the team's two first draft selections — Lucas Raymond and Moritz Seider — are the first Red Wing picks selected from a European professional team since Niklas Kronwall in 2000.
Scouting is a difficult task under optimal circumstances and as challenging as the craft is, it is an equally thankless job. Scouts spend countless hours watching prospects 363 days a year (pre-COVID-19, of course) only to have a day or two to prove their worth and value to the organization. Even then, a draft selection can only really be labelled successful or not several years later. The fact that this man has continuously trusted his "eye" and pushed for so many underrated, but great players is a testament to his skill as an evaluator.
During his 30 years with the Red Wings, Andersson has become an instrumental piece in the organizational puzzle. His recommendations and contributions have made an indelible imprint within the team's history. To think that this could only be the mid point is yet another reason for Red Wing nation to be hopeful. It might also make Andersson a future consideration for the builder category within the Hockey of Hall of Fame — if he isn't already.  
For the Red Wings' sake, let's all hope Andersson is a first ballot "builder" entry!
---
---