It has been nearly a year since the Russians were stunned by the Canadians in the third period of the gold medal game in last year's World Junior Championship. With under 12 minutes to go, the Russians held a two-goal lead. The Canadians would score three goals, kill off key penalties, and be saved from a penalty of their own by a TSN camera that hung over the glass.
For the Canadians, jubilation. They had won yet another gold medal. For the Russians, heartbreak. The drought had been extended by another year, thanks to a collapse in the third period of a game that they had all but in the bag.
The Russians haven't won the gold at the World Juniors since 2011, but this is a fresh start once again. They traveled to Edmonton on Dec. 13th and will quarantine before kicking off the tournament on Christmas Day against the Americans. This is the roster they have put together as they attempt to end their drought.
Goalies
Yaroslav Askarov, Artur Akhtyamov, Vsevolod Skotnikov
It's difficult to find a goalie in this tournament to call better than Yaroslav Askarov. The 11th overall pick in last October's NHL Entry Draft is the clear number one goalie for Russia, and he will play a large role in everything they accomplish in this tournament.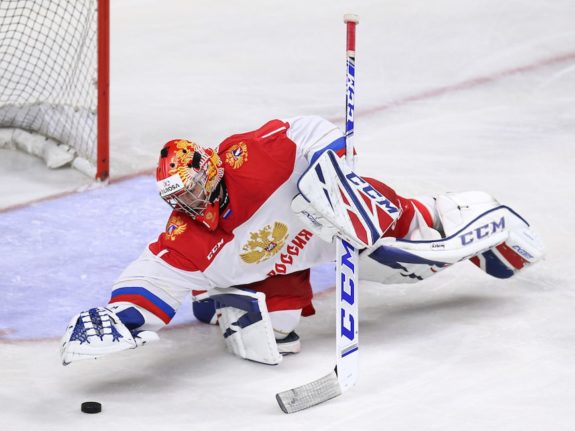 Through seven games in the KHL, Askarov owns a 0.96 goals against average (GAA) and a .962 save percentage (SV%), numbers that should raise some eyebrows, even with the small sample size.
Related: 2021 World Junior Championship Team Russia Preview
In the event that the Russians need to move away from Askarov for any reason, it will be a step down. The question becomes, "how much of a step down would there be?" With Artur Akhtyamov and Vsevolod Skotnikov, it might not be as bad as it could be.
Akhtyamov has played the bulk of his games with Bars Kazan in the VHL this season. In only eight games, he has a 1.58 GAA and a .935 SV%. Both of those stats are improvements on his 2019-20 season in the MHL. Over time, Akhtyamov's numbers have looked better and better.
Skotnikov has played 12 games between the KHL, VHL, and MHL this season, and while his numbers are okay, they aren't quite as good as Akhytamov. Looking at his VHL numbers, in six games, Skotnikov has a GAA of 2.46 and SV% of .907. These are his worst numbers in any league this season, but they aren't stats that will cost you a game.
The crease figures to be the strongest point of the Russian team in this tournament, and even if they do have to move away from Askarov for any reason, Akhtyamov and Skotnikov should be able to hold down the fort.
Defencemen
Roman Bychkov, Kirill Kirsanov, Yegor Shekhovtsov, Artemi Knyazev, Yan Kuznetsov, Shakir Mukhamadullin, Daniil Chayka, Semyon Chistyakov
The Russians will have a relatively inexperienced defensive core when this tournament gets going, but Shakir Mukhamadullin appears to be ready to become the number one option for the Russians. Having a 6'4 defenceman who can do all the little things right as Mukhamadullin can do will be big.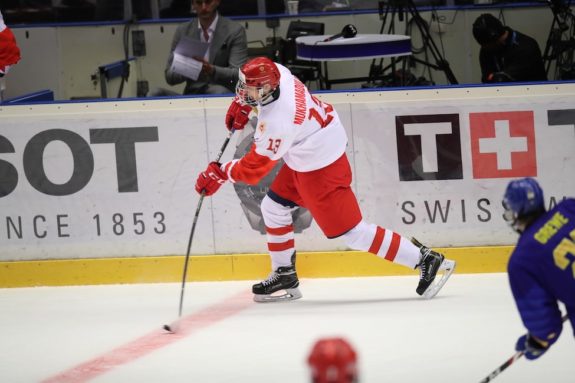 The Russians only have two more defencemen who were drafted before the end of the second round in the NHL Entry Draft. Artemi Knyazev was drafted 48th overall by the San Jose Sharks in 2019, and Yan Kuznetsov was taken 50th overall by the Calgary Flames in this past draft. Both of those players figure to play important roles on the team.
Other names to pay attention to are Roman Bychkov and Semyon Chistyakov. Both players should add some depth to the Russian defence. Chistyakov should get the bulk of his minutes towards the back of the lineup, while Bychkov still needs to be sorted out.
For some 2021 NHL Entry Draft interest, look no further than Daniil Chayka and Kirill Kirsanov. Chayka projects to be a late first-round pick, and Krisanov projects to be a late second-round pick. This defence is young and will likely be the weak point of this team, but it's not the worst lineup ever.
Forwards
Mikhail Abramov, Rodion Amirov, Daniil Bashkirov, Egor Afanasyev, Zakhar Bardakov, Arseniy Gritsyuk, Yegor Chinakhov, Maxim Groshev, Vasily Podkolzin, Yegor Spiridonov, Marat Khusnutdinov, Vasily Ponomaryov, Ilya Safonov, Vladislav Firstov
Two members of the Toronto Maple Leafs will headline the Russian's forward group. Both Rodion Amirov and Mikhail Abramov have been impressive in their games this year. Abramov has scored 14 points in nine QMJHL games before the league suspended play, and Amirov has scored eight points in 23 games in the KHL.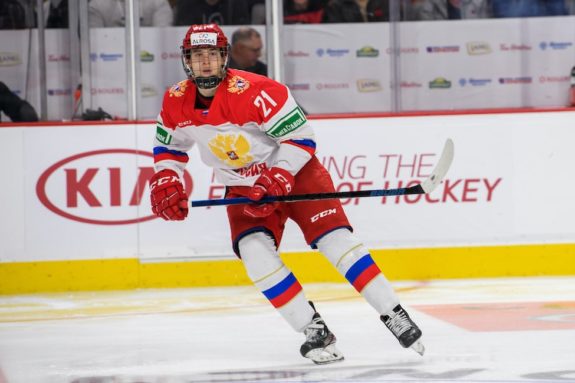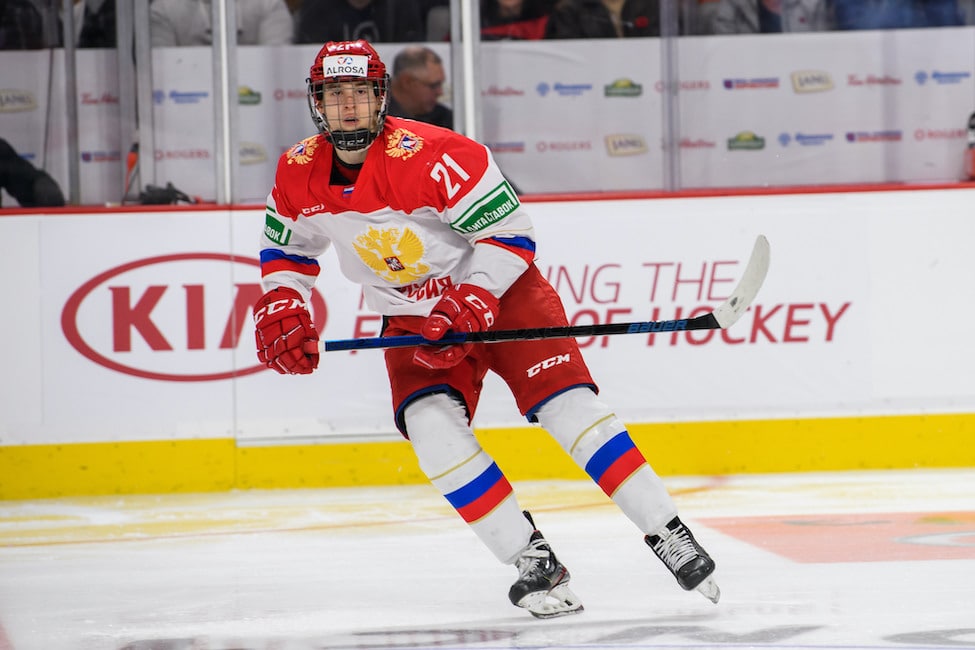 Beyond that, the Russians will rely on players like Marat Khusnutdinov, Vasily Podkolzin, Arseniy Gritsyuk, Yegor Chinakhov, and Maxim Groshev. The Columbus Blue Jackets raised some eyebrows when they picked Chinakhov in the first round. Some mocks didn't project him to come off the board until the third round, but he has proven so far that they may have made the right choice.
Related: Maple Leafs Pick Rodion Amirov 15th Overall
Chinakhov has scored eight goals and added seven assists in 27 KHL games with Avangard Omsk. Just one season ago, he was playing exclusively in the MHL, and while his numbers were impressive there, this season's numbers are possibly even more so. To be doing this against grown men is impressive, so look for Chinakhov to make a splash in this tournament.
The Russians have also named Podkolzin their captain.
"The guys are burning with desire to show their potential at the tournament," said Igor Larionov, the team's head coach. "As coaches, we believe in our players and our chances of success. Vasily Podkolzin, who is with this team for the third successive year, will be our captain. He is a true leader. The assistant captains will be chosen at a later date. The players are training well and have given us a headache concerning the squad selection; it is a nice problem to have, though."
"I would like to thank the management group for trusting me to be the team's captain," said Podkolzin. "In my previous two World Junior Championships, I have experienced both positive and negative emotions, but the preparation period is the best. I really enjoy how the team becomes a family. This is an experience which we all need to enjoy and savour!"
If you are looking for an underdog to root for, the Russians have one of those too. Look no further than Egor Afanasyev. A 6'3 winger with a good shot and good playmaking ability is something everyone would want to get their hands on.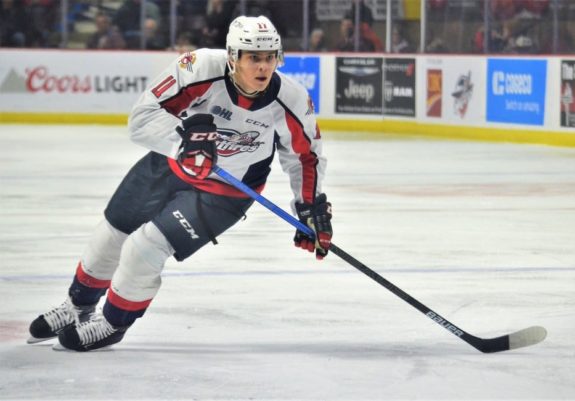 Afanasyev scored 67 points in 62 games with the Windsor Spitfires last season. Since then, he has moved back to Russia, with the OHL yet to begin their season. He has suited up in six games across the KHL and MHL and in those six games has scored four goals and added a single assist.
Bottom Line
On paper, the Russians have the makeup of a team that is going to score a bunch of goals, and while they have a young defensive core, they have the goaltending to bail them out. They're a team that should score a lot of goals and give up very few. If that's not a recipe for success, I don't know what is.
"The team has trained excellently during this two-week period in Novogorsk," said Roman Rotenberg, general manager and first Russian Ice Hockey Federation vice-president. "The latest modern technologies have been used. We are constantly in contact with the coaches, we have a warm, family-like atmosphere within the team. Coronavirus testing? We're not going to reveal all of the details of the training process, but I can say that we don't have any problems and the guys are working hard. Everyone is healthy and ready. 25 players will make the trip to Canada."
---
All the 2021 World Junior Championship Team Information:
Austria — Team Preview — Roster
Canada — Team Preview — Roster
Czech Republic — Team Preview — Roster
Finland — Team Preview — Roster
Germany — Team Preview — Roster
Russia — Team Preview — Roster
Slovakia — Team Preview — Roster
Sweden — Team Preview — Roster
Switzerland — Team Preview — Roster
USA — Team Preview — Roster
Selection Camp Invites by NHL Team
Draft Eligible Players to Watch
One Player to Watch for Each World Junior Team
7 Predictions for the 2021 World Junior Championship
---
---