With the 11th Pick in the 2020 NHL Entry Draft, the Nashville Predators Have Selected Yaroslav Askarov From the SKA-Neva St. Petersburg of the KHL.
About Yaraslov Askarov
On talent alone, Yaroslav Askarov is almost certainly a top-5 player in this draft. However, two major factors made it almost impossible to predict where he would go in the draft other than simply the first round. First, he's a goaltender, and the development timeline on goalies can be so entirely unpredictable that teams could shy away from using a high pick on him. Second, he's currently under contract for SKA in the KHL and as with all Russian players, there are concerns about when he would be able to finally come over and join the team that drafted him.
Related: Our Free NHL Draft Guide
What isn't up for debate, however, is how high the ceiling on the Russian netminder is. Arguably the best goaltending prospect since Carey Price, Askarov is the rare combination of size and athleticism that makes him a can't miss prospect. While the time it will take for him to come to the NHL and establish himself as an elite goaltender is unknown, that's about the only thing that is when it comes to Askarov.
THW Prospect Profile Excerpt
Askarov has been on the radar for years, regularly playing above his age. He's just 17 years old still, but has already played a game in the KHL, he represented Russia at the 2020 World Junior Championship (granted, it wasn't his best showing), and last season he played in the World Under-18 Hockey Championship at 16, practically single-handedly defeating one of the best American U18 teams ever assembled. For those who didn't know him before the U18s, this definitely put him on the map.
If you still weren't aware of him, you likely heard about him after the 2019 Hlinka Gretzky Cup, where he led Team Russia to a gold medal victory. His statistics in that tournament were the best of any netminder in the history of the tournament, finishing with a 1.25 goals against average (GAA) and a .960 save percentage (SV%).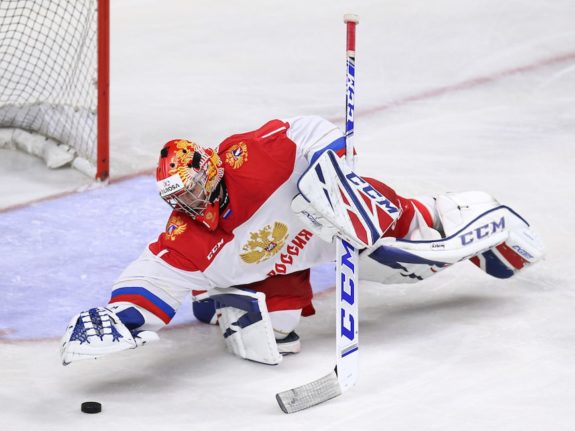 So, what makes Askarov so great? His mobility is something so unique to watch. His upper body has minimal movement, only moving when he needs it to. But his lower body is almost constantly shaking in the net, looking like he's jittery or bouncing in the net. Some say this keeps him engaged and focused. It's very different, but it works for him.
His movement in the crease is near perfect, pushing across the net effortlessly, combining athleticism with almost perfect edgework. On top of this, Askarov is a textbook netminder.
He anticipates the puck well, his rebound control is incredible, his stance and positioning are great. His glove hand is likely his best trait, as he has the ability to make game-changing glove saves, getting his team into a game immediately. One criticism I've seen is that he can go down a bit early sometimes, resulting in him getting beat high. It's not always an issue, but it is there. Having that as one improvement to make at 17? I'll take that any day.
How This Affects the Predators' Plans
The Predators are entering an area of limbo at the goaltending position. Pekka Rinne is beginning to show his age while one-time heir apparent Juuse Saros has yet to grab the reins. Askarov provides the Predators with their next franchise netminder while having a bridge in Saros from Rinne to Askarov. What could have been a position of question now looks to be crystal clear.
---
---