With the 9th Pick in the 2020 NHL Entry Draft, the Minnesota Wild Have Selected Marco Rossi From the Ottawa 67's of the Ontario Hockey League.
About Marco Rossi
Marco Rossi is as complete a player as they come, and if it wasn't for his height at 5-foot-9 he would likely be a consensus top-five pick. Rossi has the potential to become a legitimate first-line contributor at the NHL level and will wow fans with his electric offensive ability and high-end commitment to playing a 200-foot game. Rossi's ability to take over a game is seldom matched by anyone in the class and is a reason why he was selected at this point in the draft.
THW Prospect Profile Excerpt
"The CHL Import Draft is a bit of a crap shoot sometimes. Teams try their best to identify a European prospect who is not only talented but willing to join their team in North America. If a team nails the pick, it dramatically changes the fortunes of that team for years to come. The Ottawa 67s used the 18th overall pick in the 2018 Import Draft on an Austrian by the name of Marco Rossi. That's called hitting a grand slam.
Rossi has been everything for the 67s since coming to North America. He helped them get to the OHL Finals last season before losing a tough series to the Guelph Storm. He's followed that up by winning the CHL scoring title with 120 points in just 56 games. The 67s were well on their way to clinching home ice through the duration of the OHL playoffs before the season was canceled. Rossi was at the center of it all and could eventually hear his name called as the league's Most Outstanding Player.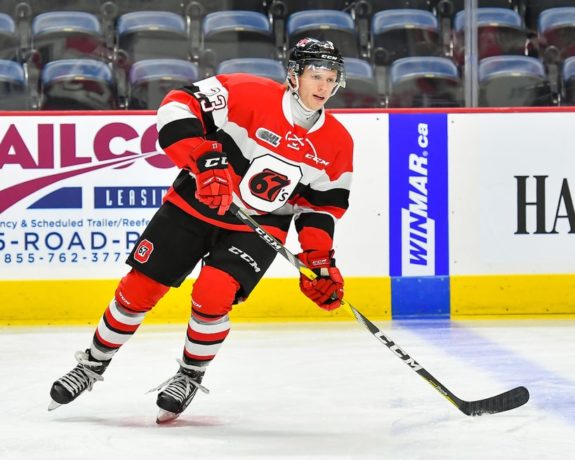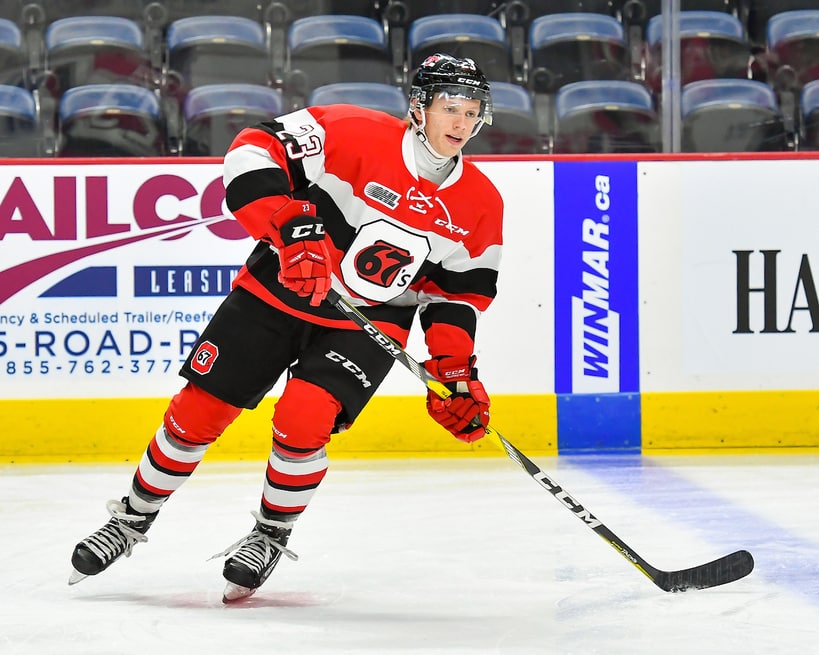 The first thing that stands out about Rossi is his confidence. He's not only confident in every situation on the ice, he's confident about himself and what he can be. He knows he's good and he's not afraid to be honest about that. I asked him straight up earlier in the season how good he thinks he is. He had a simple one-word answer for that. 'Good.' The way he said that spoke volumes.
On the ice, Rossi does everything. He played most of the season as the top-line center. He created offense almost every time he stepped on the ice. He has a knack for knowing when to turn up the dial or when to hold back to wait for a better opportunity. His awareness and vision are off the charts. But then in a flash, he's gone because his skating is very much above average in both acceleration and straight-line speed. He can beat opponents on the rush and can also track you down from behind if necessary.
Related: 2020 NHL Draft Guide
What makes Rossi scary good is how effective he is defensively. As his teammate Kevin Bahl said to me, Rossi can protect the puck and is deceptively strong with the puck. Bahl said he can't knock Rossi off the puck in drills. So if you had any question about size and strength here, let that sink in.
There really is no downside to the game Rossi brings. The one thing I do wonder going back to the size argument is can he be a center in the NHL? There are some in the industry that are asking the same question. But just knowing how confident he is and how hard working he is, Rossi will continue to get stronger and will aim to silence those doubters. He won't be returning to the OHL so it is NHL or Europe for him next season. Regardless it's the right move as he needs to play against men. Whoever drafts Rossi is getting one of the most valuable players in this entire draft."
Full player profile can be found here
How This Affects the Wild's Plans
What a way to replace your franchise center in Mikko Koivu. The Minnesota Wild pair incoming Russian superstar Kirill Kaprizov with a dynamic Austrian center in Marco Rossi. The Wild deserve an injection of excitement and skill into their lineup and they'll be getting that for years to come with that duo.
The Wild have a few more holes to fill and I doubt they are done for this offseason. A one-two punch of Rossi and Joel Eriksson-Ek down the middle will make the Wild an imposing threat in the Central Division. With that pick, the Wild get a bona fide star prospect in Rossi who could could eventually be a top-five player out of this draft.
---
---
Fan of the Anaheim Ducks for my whole life. I'm a die hard fan living in London, Ontario. Excited to be writing about the team I love. Talking all things Ducks on the Forever Mighty Podcast!