Looking ahead, the 2020 NHL Draft is the next major event on the hockey calendar. The time, the lead-up to it provides a perfect opportunity to look back at the progression of the Boston Bruins' 2019 selections. Boston selected five prospects after trading its second-round pick to the New Jersey Devils and a fourth-rounder to the Chicago Blackhawks. The Bruins also sent a seventh-round selection to the Carolina Hurricanes but added the New York Rangers' seventh-rounder.
Following a Stanley Cup Final appearance, Boston picked four forwards and a defenseman. Two came from the U.S., two from Europe and one from the Canadian junior ranks. Here's what they've been up to since draft night:
John Beecher, C (U.S. NTDP)
John Beecher, the 30th overall pick, spent last season tallying 16 points in 31 games as a freshman for the University of Michigan (from 'For Johnny Beecher, brother's experience means he takes nothing for granted,' Michigan Daily, 03/06/2020). Beecher was named to the Big Ten All-Freshman team and scored a game-winner against then-No. 6 Penn State on Dec. 6. He also won 52 percent of his faceoffs and blocked 14 shots.
The Wolverines' season was halted by the COVID-19 pandemic before the start of the Big Ten tournament, but they won their final three games. Beecher found the net twice during that streak. Michigan opened practice for the 2020-21 season Sept. 1.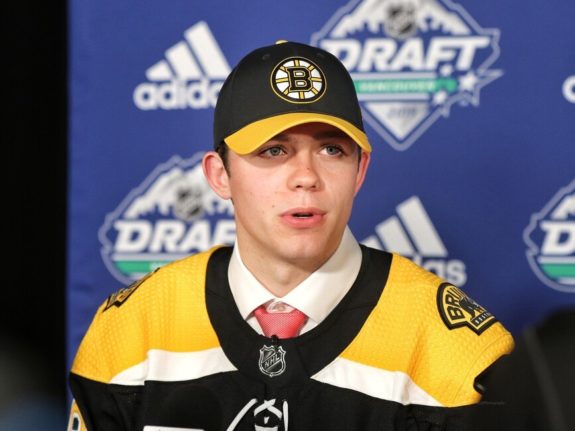 "He's been thrust into that because of his skill and talent," Michigan coach Mel Pearson told the Boston Globe in November. "You forget he's 18, especially when he's 6-3, 210 pounds. He's got so much to learn still, about day to day life, and adversity, and socially, how to carry yourself. Everything. It gets fast-forwarded sometimes, but he does a good job. We've talked to him quite a bit about his leadership role, body language on the ice, how he handles people." (from 'Bruins first-round draft pick John Beecher making his way in college hockey,' Boston Globe, 11/22/2019)
Quinn Olson, LW (AJHL)
The Bruins' third-round pick, No. 92 overall, Quinn Olson was playing on Minnesota-Duluth's top line as a freshman (from 'College men's hockey: Bulldogs new-look top line builds chemistry together in Colorado Springs, Duluth News-Tribune, 03/04/2020). He had seven goals and eight assists for the two-time national champions and was named the team's Rookie of the Year. The Bulldogs were poised for another run at a championship, ranked fifth when the postseason was canceled.
"He breaks up a play and then makes a little play, a little cycle," Bulldogs sophomore Jackson Cates told the Duluth News-Tribune in early March. "He's so good down low cycling where he is elusive and can get some shots."
Roman Bychkov, D (MHL)
Boston's only defensive selection in 2019, Roman Bychkov was plus-29 in 62 games for Loko Yaroslavl last season after the Bruins made him a fifth-round pick. He had seven goals and 19 assists. Loko Yaroslavl is off to a hot start this season, leading the MHL's Western Conference with 18 points.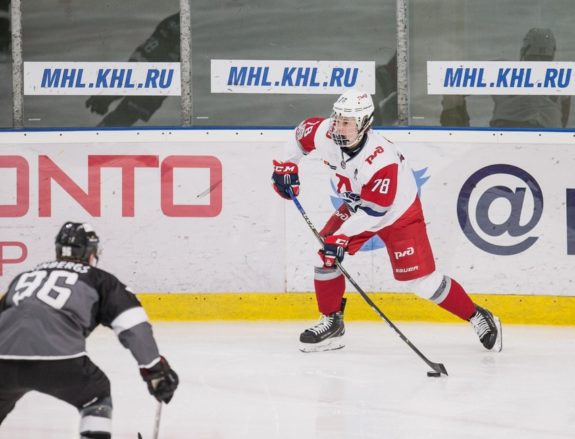 Bychkov, the 154th overall selection in 2019, played in four games and is yet to record a point.
Matias Mantykivi, C (Finnish Liiga)
Matias Mantykivi, a sixth-rounder, split time between Saimaan Pallo's U-20 team and the senior squad. He played two games for the junior squad and 42 at the senior level, amassing three goals and three assists.
Mantykivi also played eight games on loan with Ketterä, dishing seven assists. He'll play full time for SaiPa's senior team this season.
Jake Schmaltz, LW (USHL)
The North Dakota commit helped the Green Bay Gamblers finish third in the USHL's Eastern Conference. He tied for third on the team with 32 points – 13 goals and 19 assists. Jake Schmaltz, a seventh-round pick (No. 192 overall), will remain in Green Bay this season, whose season kicks off in early November, and join the Fighting Hawks next year.
Looking Ahead
The 2020 NHL Draft will take place Oct. 6-7. Boston lacks a first-round pick after trading for Ondrej Kase, and the Bruins won't pick until No. 58 overall in the second round. They once again have five selections – they're missing the aforementioned first-rounder, while their fourth-round pick is headed to New Jersey as part of the Marcus Johansson swap.
---
---