With every nation announcing their preliminary rosters for the 2021 World Junior Championship, the anticipation is mounting as we count down the days to Christmas and the start of the tournament. This year's showcase begins on Christmas Day rather than Boxing Day, so hockey fans will have another gift to open in addition to their other presents under the tree.
The tournament is still a go for the time being, despite the rising COVID-19 cases in the province of Alberta, where they hope to hold the annual showcase of burgeoning NHL talent. It was announced after the NHL playoffs that the IIHF planned to follow the league's example and hold it in a similar bubble to those aforementioned playoffs.
Related: THW World Junior Guide
The start of selection camp has not gone well for Team Canada so far as they have already recorded some cases. They have been quarantined since Nov 23 and will be able to resume practices come Dec 6. They still have 46 players in camp, and will have a little over two weeks to whittle down their roster to the required 25 players. Unfortunately, the coaching staff will not have the luxury of seeing their players in action against anyone other than Team Canada, as the games against the U SPORTS all-stars were canceled as a result of the quarantine.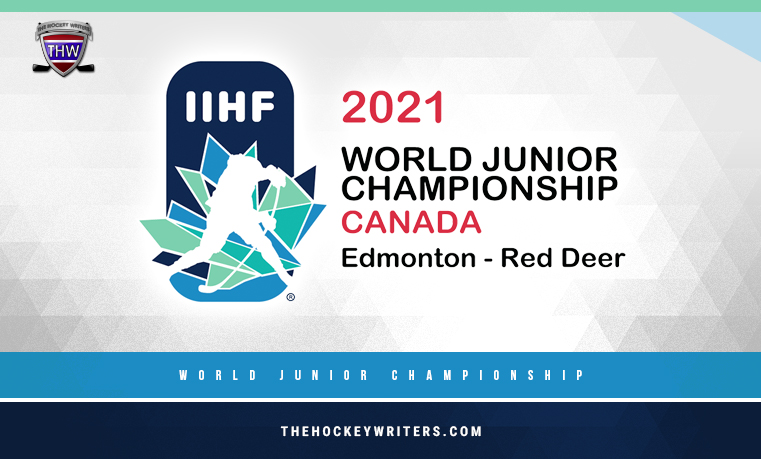 This year's tournament will feature Canada, Russia, Finland, Sweden, Czech Republic, Slovakia, Switzerland, Austria, Germany, and the United States. Among the invites are 142 NHL-affiliated prospects. Of those 142, there are 52 first-round picks and 78 selections from the 2020 NHL Draft that was just completed in October.
The Detroit Red Wings lead the way with 11 players vying for a spot on their respective country's rosters. They will be led by 2020 fourth-overall pick Lucas Raymond. The only team that doesn't have any representation is the St. Louis Blues. Every other franchise has at least one prospect in the running.
Related: Jake Sanderson & Jamie Drysdale: A Hockey Rivalry Waiting to Happen
To help you through the selection camp process, we've created another invites guide to which prospects are representing the various NHL teams. Once the final rosters are set, look out for our annual roster breakdown by NHL team guide.
World Junior Players Sorted by Their NHL Teams
Anaheim Ducks (7)
D Thimo Nickl – Austria – 2020 fourth-round pick (104th)
D Jamie Drysdale – Canada – 2020 first-round pick (6th)
D Jackson LaCombe – United States – 2019 second-round pick (39th)
D Henry Thrun – United States – 2019 fourth-round pick (101st)
C Albin Sundsvik – Sweden – 2020 sixth-round pick (160th)
C Trevor Zegras – United States – 2019 first-round pick (9th)
C/RW Sam Colangelo – United States – 2020 second-round pick (36th)
Arizona Coyotes (3)
D Victor Söderström – Sweden – 2019 first-round pick (11th)
C John Farinacci – United States – 2019 third-round pick (76th)
RW Aku Räty – Finland – 2019 fifth-round pick (151st)
Boston Buins (3)
D Roman Bychkov – Russia – 2019 fifth-round pick (154th)
C Matias Mäntykivi – Finland – 2019 sixth-round pick (185th)
C/LW John Beecher – United States – 2019 first-round pick (30th)
Buffalo Sabres (4)
D Ryan Johnson – United States – 2019 first-round pick (31st)
C Dylan Cozens – Canada – 2019 first-round pick (7th)
RW Jack Quinn – Canada – 2020 first-round pick (8th)
LW John-Jason Peterka – Germany – 2020 second-round pick (34th)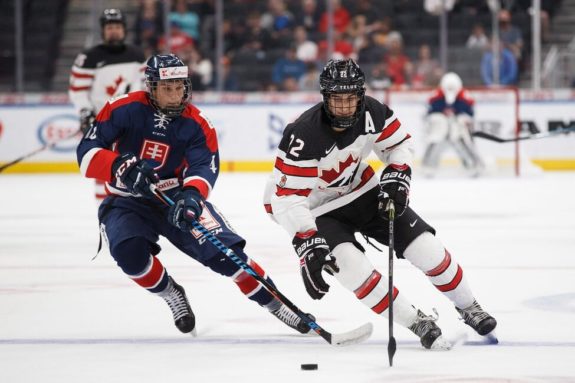 Calgary Flames (4)
G Dustin Wolf – United States – 2019 seventh-round pick (214th)
D Yan Kuznetsov – Russia – 2020 second-round pick (50th)
LW Jakob Pelletier – Canada – 2019 first-round pick (26th)
C Connor Zary – Canada – 2020 first-round pick (24th)
Carolina Hurricanes (6)
C Vasili Ponomaryov – Russia – 2020 second-round pick (53rd)
LW/RW Noel Gunler – Sweden – 2020 second-round pick (41st)
LW/RW Zion Nybeck – Sweden – 2020 fourth-round pick (115th)
RW Seth Jarvis – Canada – 2020 first-round pick (13th)
C Jamieson Rees – Canada – 2019 second-round pick (44th)
C Ryan Suzuki – Canada – 2019 first-round pick (28th)
Chicago Blackhawks (7)
G Drew Commesso – United States – 2020 second-round pick (46th)
D Michael Krutil – Czech Republic – 2020 fourth-round pick (110th)
D Alex Vlasic – United States – 2019 second-round pick (43rd)
C Kirby Dach – Canada – 2019 first-round pick (3rd)
C Landon Slaggert – United States – 2020 third-round pick (79th)
LW/RW Michal Teplý – Czech Republic – 2019 fourth-round pick (105th)
LW Lukas Reichel – Germany – 2020 first-round pick (17th)
Colorado Avalanche (4)
D Justin Barron – Canada – 2020 first-round pick (25th)
D Bowen Byram – Canada – 2019 first-round pick (4th)
D Drew Helleson – United States – 2019 second-round pick (47th)
C Alex Newhook – Canada – 2019 first-round pick (16th)
Columbus Blue Jackets (3)
D Samuel Knazko – Slovakia – 2020 third-round pick (78th)
C Mikael Pyyhtiä – Finland – 2020 fourth-round pick (114th)
RW Yegor Chinakhov – Russia – 2020 first-round pick (21st)
Dallas Stars (3)
D Thomas Harley – United States – 2019 first-round pick (18th)
C Mavrik Bourque – Canada – 2020 first-round pick (30th)
C Daniel Ljungman – Sweden – 2020 fifth-round pick (154th)
Detroit Red Wings (11)
G Jan Bednar – Czech Republic – 2020 fourth-round pick (107th)
D Eemil Viro – Finland – 2020 third-round pick (70th)
D Donovan Sebrango – Canada – 2020 third-round pick (63rd)
D Gustav Berglund – Sweden – 2019 sixth-round pick (177th)
D Albert Johansson – Sweden – 2019 second-round pick (60th)
D William Wallinder – Sweden – 2020 second-round pick (32nd)
C/RW Albin Grewe – Sweden – 2019 third-round pick (66th)
C/RW Theodor Niederbach – Sweden – 2020 second-round pick (51st)
C/LW Robert Mastrosimone – United States – 2019 second-round pick (54th)
LW/RW Elmer Söderblom – Sweden – 2019 sixth-round pick (159th)
RW Lucas Raymond – Sweden – 2020 first-round pick (4th)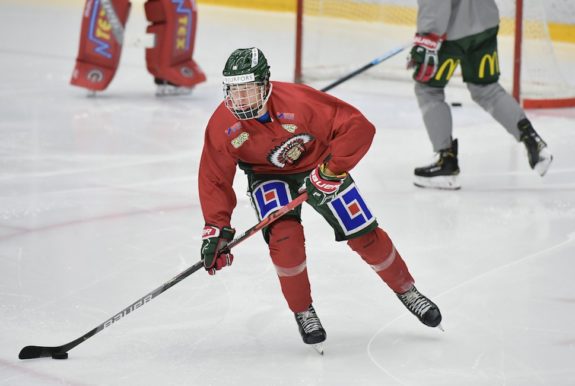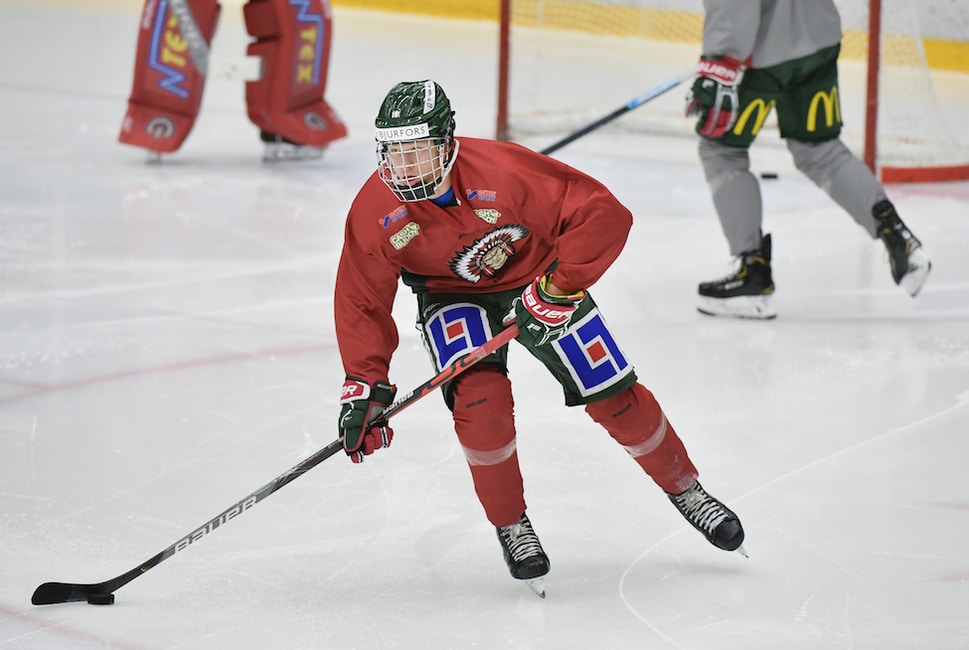 Edmonton Oilers (2)
D Philip Broberg – Sweden – 2019 first-round pick (8th)
C/LW Dylan Holloway – Canada – 2020 first-round pick (14th)
Florida Panthers (6)
G Devon Levi – Canada – 2020 seventh-round pick (212th)
G Spencer Knight – United States – 2019 first-round pick (13th)
D Kasper Puutio – Finland – 2020 fifth-round pick (153rd)
C Anton Lundell – Finland – 2020 first-round pick (12th)
RW Cole Schwindt – Canada – 2019 third-round pick (81st)
LW Emil Heineman – Sweden – 2020 second-round pick (43rd)
Los Angeles Kings (10)
G Lukas Parik – Czech Republic – 2019 third-round pick (87th)
G Juho Markkanen – Finland – 2020 fourth-round pick (112th)
D Jordan Spence – Canada – 2019 fourth-round pick (95th)
D Tobias Björnfot – Sweden – 2019 first-round pick (22nd)
D Helge Grans – Sweden – 2020 second-round pick (35th)
D Brock Faber – United States – 2020 second-round pick (45th)
C Alex Turcotte – 2019 first-round pick (5th)
C Quinton Byfield – Canada – 2020 first-round pick (2nd)
LW Arthur Kaliyev – 2019 second-round pick (33rd)
RW Kasper Simontaival – 2020 third-round pick (66th)
Minnesota Wild (8)
D Daemon Hunt – Canada – 2020 third-round pick (65th)
D Ryan O'Rourke – Canada – 2020 second-round pick (39th)
C Marco Rossi – Austria – 2020 first-round pick (9th)
C Marat Khusnutdinov – Russia – 2020 second-round pick (37th)
LW Adam Beckman – Canada – 2019 third-round pick (75th)
LW/RW Pavel Novák – Czech Republic – 2020 fifth-round pick (146th)
LW Vladislav Firstov – Russia – 2019 second-round pick (42nd)
LW Matthew Boldy – United States – 2019 first-round pick (12th)
Montreal Canadiens (3)
D Kaiden Guhle – Canada – 2020 first-round pick (16th)
C/LW Jan Mysak – Czech Republic – 2020 second-round pick (48th)
RW Cole Caufield – United States – 2019 first-round pick (15th)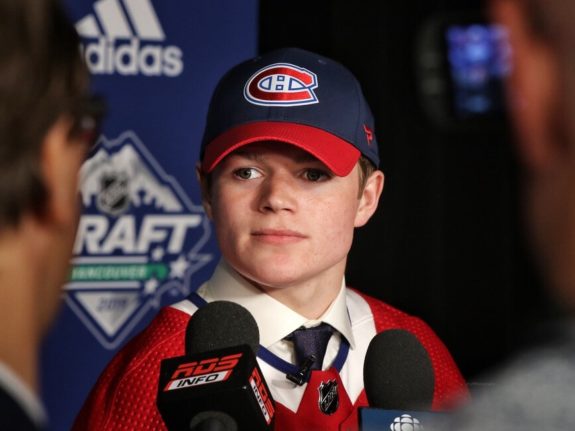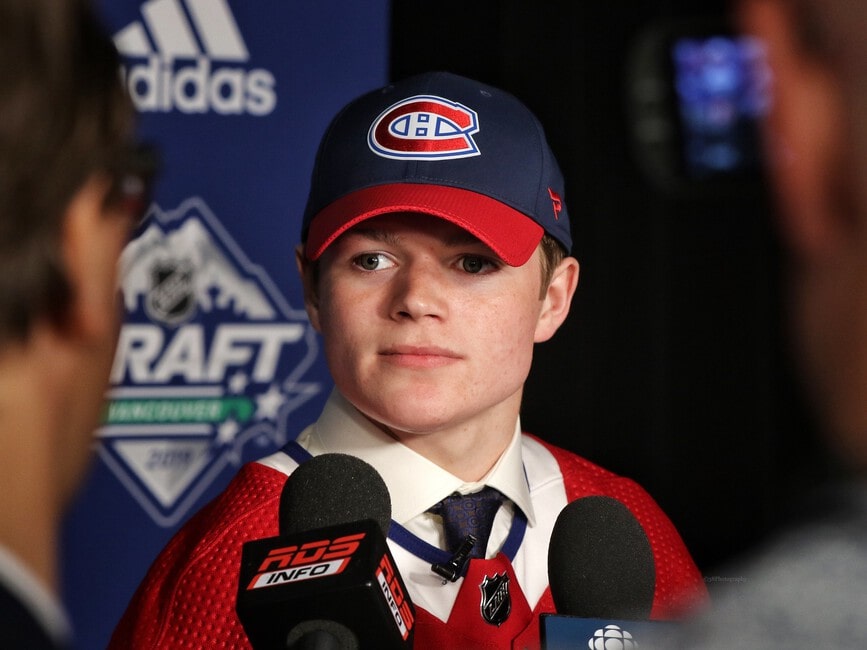 Nashville Predators (5)
G Yaroslav Askarov – Russia – 2020 first-round pick (16th)
D Semyon Chistyakov – Russia – 2019 fourth-round pick (117th)
C Philip Tomasino – Canada – 2019 first-round pick (24th)
C Yegor Afanasyev – Russia – 2019 second-round pick (45th)
C Juuso Pärssinen – Finland – 2019 seventh-round pick (210th)
New Jersey Devils (7)
D Shakir Mukhamadullin – Russia – 2020 first-round pick (20th)
C Patrick Moynihan – United States – 2019 sixth-round pick (158th)
C Jaromir Pytlik – Czech Republic – 2020 fourth-round pick (99th)
RW Graeme Clarke – United States – 2019 third-round pick (80th)
RW Dawson Mercer – Canada – 2020 first-round pick (18th)
LW Arseni Gritsyuk – Russia – 2019 fifth-round pick (129th)
LW Alexander Holtz – Sweden – 2020 first-round pick (7th)
New York Islanders (2)
D Matias Rajaniemi – Finland – 2020 sixth-round pick (183rd)
RW Simon Holmström – Sweden – 2019 first-round pick (23rd)
New York Rangers (6)
G Dylan Garand – Canada – 2020 fourth-round pick (103rd)
D Matthew Robertson – Canada – 2019 second-round pick (49th)
D Braden Schneider – Canada – 2020 first-round pick (19th)
C/LW Karl Henriksson – Sweden – 2019 second-round pick (58th)
LW Brett Berard – United States – 2020 fifth-round pick (134th)
LW/RW Leevi Aaltonen – Finland – 2019 fifth-round pick (130th)
Ottawa Senators (4)
D Jake Sanderson – United States – 2020 first-round pick (5th)
C/LW Tim Stützle – Germany – 2020 first-round pick (3rd)
LW Ridly Greig – United States – 2020 first-round pick (28th)
LW Roby Järventie – Finland – 2020 second-round pick (33rd)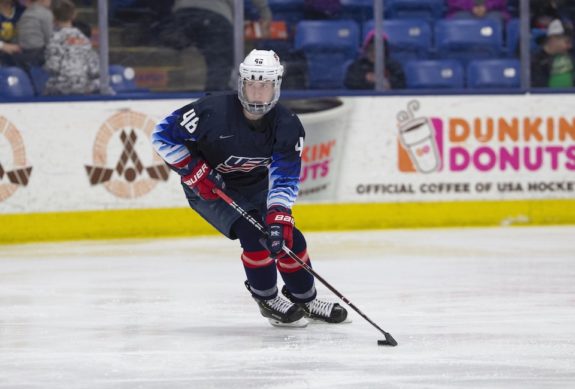 Philadelphia Flyers (5)
D Mason Millman – Canada – 2019 fourth-round pick (103rd)
D Cam York – United States – 2019 first-round pick (14th)
D Emil Andrae – Sweden – 2020 second-round pick (54th)
C Tyson Foerster – Canada – 2020 first-round pick (23rd)
RW Bobby Brink – United States – 2019 second-round pick (34th)
Pittsburgh Penguins (3)
G Calle Clang – Sweden – 2020 third-round pick (77th)
G Joel Blomqvist – Finland – 2020 second-round pick (52nd)
LW/RW Samuel Poulin – Canada – 2019 first-round pick (21st)
San Jose Sharks (4)
D Santeri Hatakka – Finland – 2019 sixth-round pick (148th)
C Thomas Bordeleau – United States – 2020 second-round pick (38th)
C/LW Yegor Spiridonov – Russia – 2019 fourth-round pick (108th)
LW/RW Adam Raska – Czech Republic – 2020 seventh-round pick (201st)
Tampa Bay Lightning (4)
G Hugo Alnefelt – Sweden – 2019 third-round pick (71st)
C Gage Goncalves – Canada – 2020 second-round pick (62nd)
LW/RW Maxim Groshev – Russia – 2020 third-round pick (85th)
RW Maxim Cajkovic – Slovakia – 2020 seventh-round pick (201st)
Toronto Maple Leafs (7)
G Artur Akhtyamov – Russia – 2019 fourth-round pick (106th)
D Topi Niemelä – Finland – 2020 third-round pick (64th)
D Mikko Kokkonen – Finland – 2019 third-round pick (84th)
C Roni Hirvonen – Finland – 2020 second-round pick (59th)
C/RW Mikhail Abramov – Russia – 2019 fourth-round pick (115th)
C/LW Nick Robertson – United States – 2019 second-round pick (53rd)
LW/RW Rodion Amirov – Russia – 2020 first-round pick (15th)
Vancouver Canucks (3)
D Viktor Persson – Sweden – 2020 seventh-round pick (191st)
C Arvid Costmar – Sweden – 2019 seventh-round pick (215th)
RW Vasili Podkolzin – Russia – 2019 first-round pick (10th)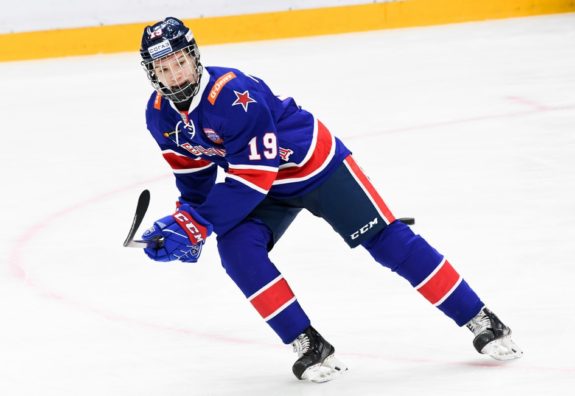 Vegas Golden Knights (4)
D Lukas Cormier – Canada – 2020 third-round pick (68th)
D Kaedan Korczak – Canada – 2019 second-round pick (41st)
C/LW Peyton Krebs – Canada – 2019 first-round pick (17th)
C Brendan Brisson – United States – 2020 first-round pick (29th)
Washington Capitals (3)
D Martin Has – Czech Republic – 2019 fifth-round pick (153rd)
C Hendrix Lapierre – Canada – 2020 first-round pick (22nd)
C Connor McMichael – Canada – 2019 first-round pick (25th)
Winnipeg Jets (3)
D Ville Heinola – Finland – 2019 first-round pick (20th)
C Henri Nikkanen – Finland – 2019 fourth-round pick (113th)
C/LW Cole Perfetti – Canada – 2020 first-round pick (10th)
All roster information provided by Elite Prospects
---
All the 2021 World Junior Championship Team Information:
Austria — Team Preview — Roster
Canada — Team Preview — Roster
Czech Republic — Team Preview — Roster
Finland — Team Preview — Roster
Germany — Team Preview — Roster
Russia — Team Preview — Roster
Slovakia — Team Preview — Roster
Sweden — Team Preview — Roster
Switzerland — Team Preview — Roster
USA — Team Preview — Roster
Selection Camp Invites by NHL Team
Draft Eligible Players to Watch
One Player to Watch for Each World Junior Team
7 Predictions for the 2021 World Junior Championship
---
---