There is arguably no team more dominant at the World Junior Championship (WJC) than Sweden. Since Dec. 26, 2006, they have strung together an incredible 51 wins in a row in the group stage, going undefeated. No one else is even close to that record; Canada is the next highest with 22 group-stage wins from 2002 to 2007. Their streak was put to a stop at the 2008 tournament, when they went up against none other than the Swedes, losing 4-3 in the last preliminary game.
However, during that time, Sweden has only managed to claim a single gold medal back in 2012. Canada, on the other hand, put together an astounding 20 consecutive wins during their 22-win streak and won back-to-back gold medals five years straight. Although the Swedes have captured five silvers and two bronzes, the most recent of which came last year with their 3-2 victory over Finland, their gold medal drought is becoming a personal black mark on the prestigious hockey program.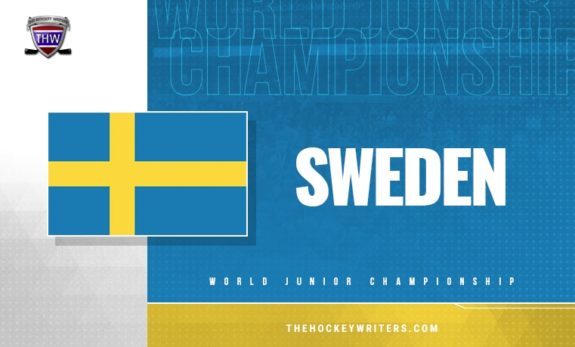 Could this be the year that Sweden finally breaks through? They have one of the most experienced rosters of any team at the 2021 Championship, but their roster was rocked by COVID-19, forcing four players and their head coach to stay home and miss the tournament. They also find themselves in a very tough Pool B where they'll have to face a very strong American team, plus the Russians, Czechs, and determined Austrians, led by 2020 eighth-overall pick Marco Rossi.
It's possible that 2021 may be the most challenging year for Sweden in over a decade, but there's a reason they've ascended to the top of the hockey world. They consistently produce some of the most talented players hockey has to offer, and this year will be no exception. The only question is if it will be enough to claim a medal.
Goalies
Hugo Alnefelt, Calle Clang, Jesper Wallstedt
The Swedes will have three goalies who could step into the starting job. Hugo Alnefelt will have the advantage out of the gate as the elder statesman. The 6-foot-3 netminder finished last year's WJC with a .924 save percentage (SV%), a 2.12 goals against average (GAA), and a shutout, making him the second-best starter behind Canada's Joel Hofer. He followed it up with 18 games in the Swedish Hockey League (SHL), the only U20 goalie to do so, and recorded a .905 SV% and a 2.57 GAA in 18 games with HV71.
Behind him is Calle Clang, a third-round pick by the Pittsburgh Penguins in 2020. He was the best goalie in U18 international competition last season, coming away with a 3-1-0 record, a .939 SV%, and a 2.00 GAA. He's also been on fire in Sweden's second division Allsvenskan, where his SV% is the highest in the league despite playing just eight games so far. He also possesses one of the lowest GAAs at just 1.81 per game.
Then there's Sweden's heir to the goaltending throne, Jesper Wallstedt. He's the top-rated goalie for the 2021 NHL Draft and already has an impressive track record. At 16 years old, he was already dominating the U20 Junior league in Sweden, which earned him a spot on Sweden's U18 team as their third goalie.
The following season, he won a bronze medal at the U17 World Hockey Championships, a silver at the Hlinka Gretzky U18 Tournament, and gold with the U18 team, where he had the lowest GAA and highest SV% of any goalie. Last season, he returned to the Hlinka Gretzky Cup, where he teamed up with Clang to win bronze.
As to who will become the starter, it is anyone's guess. Alnefelt is the most experienced, but both Clang and Wallstedt have the skill to pressure him for the job. It likely will come down to who slips up first — Alnefelt will almost certainly start in the tournament opener, but one mistake and the next guy in line will be given the reigns. Both Clang and Wallstedt are eligible to return next year, too, and getting them in a few starts could really help them in 2022.
Defense
Tobias Bjornfot, Philip Broberg, Victor Soderstrom, Albert Johansson, Emil Andrae, Gustav Berglund, Alex Brannstam, Ludvig Hedstrom
Defense will be Sweden's strongest position this year. They'll be led by Philip Broberg, who returns for his third tournament and will likely be named team captain. While his previous two appearances have been somewhat disappointing, combining for just two points in 11 games, he's made significant steps in his development since then, especially in his two-way presence. Playing regular minutes in the SHL hasn't hurt either, where he's put up eight points in 22 games this season.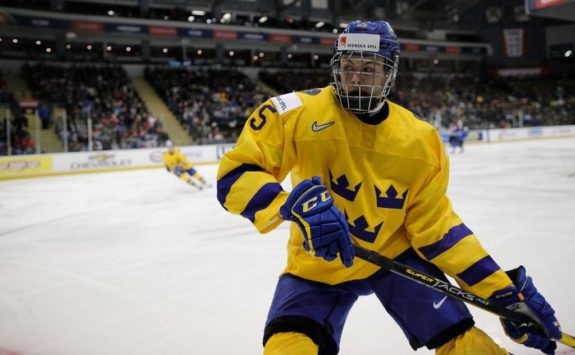 Joining Broberg from last year's team is Tobias Bjornfot and Victor Soderstrom. Bjornfot appeared in three NHL games with the Los Angeles Kings last season before joining the AHL's Ontario Reign, where he scored six goals and 19 points in 44 games. This season, he was loaned to the SHL, where he has three points in 15 games.
Soderstrom's six points in seven games was one of the highest totals among defenders at the 2020 WJC, and he joined the Arizona Coyotes' expanded playoff roster at the end of the season. However, with no upcoming season, he was loaned to Allsvenskan, where he's put up six points in 12 games.
Albert Johansson will likely finish off the top four. Not the biggest name among NHL prospects, he's been one of Sweden's best U20 defensemen this year. The Detroit Red Wings' 2019 second-round pick has played the entire season in the SHL and scored three goals and seven points. He will be joined by fellow Red Wings' prospect Gustav Berglund, a smooth skater who has spent this season in the Allsvenskan and will likely fill out a depth role.
Related: Red Wings Prospects Hope to Capture Gold for Sweden at World Juniors
The Red Wings nearly had another prospect on the roster, but William Wallinder was forced to stay back after a positive COVID-19 test. His absence gives Emil Andrae a chance to separate himself from his countrymen; the two were in close competition approaching the 2020 NHL Draft, being ranked 14th and 15th among Europeans by the Central Scouting Service, but Wallinder eventually won out thanks to his 6-foot-4 size.
However, Andrae was the highest-scoring Swedish defenseman in all U18 competition last season, scoring 12 points in 13 games, and has spent nearly the entire 2020-21 season in the SHL, where he's put up three assists.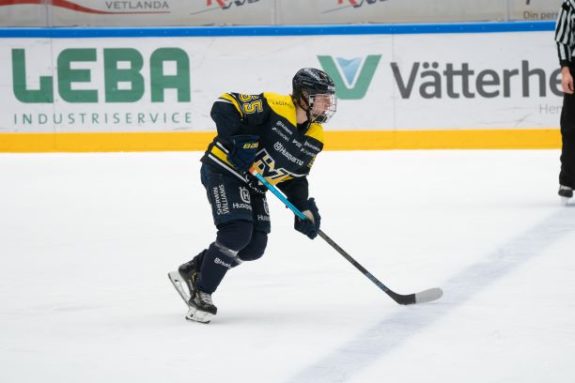 Helge Grans was also expected to have a big showing this year after some sources claimed he could be the third-best defenseman available at the 2020 Draft. However, he was a last-minute cut, and Sweden instead went with the undrafted Alex Brannstam and Ludvig Hedstrom. Hedstrom has been the most productive defenseman on the roster this season, notching eight points in 20 SHL games this season, while Brannstam has been one of the strongest in the Swedish U20 league, where he has seven assists in nine games before being recalled to the SHL.
Forwards
Alexander Holtz, Lucas Raymond, Simon Holmstrom, Arvid Costmar, Emil Heineman, Albin Sundsvik, Elmer Soderblom, Noel Gunler, Zion Nybeck, Theodor Neiderbach, Oskar Olausson, Jonathan Wikstrom, Oskar Kvist, Oscar Bjerselius
If Sweden wins a medal in 2021, it will be largely due to the Terror Twins, Alexander Holtz and Lucas Raymond. As the only two returning forwards, they will be looked to lead the offensive charge, despite still being two of the younger players on the roster. Last year, they finished top-10 in team scoring and were two of the most valuable players for Sweden.
While the pair almost seemed connected at the hip — they both went top-10 in the NHL draft, too — there are some key differences. Holtz is the pure sniper, and his six goals in 19 SHL games this season are proof enough, while Raymond is the more complete, two-way player who is able to make things happen.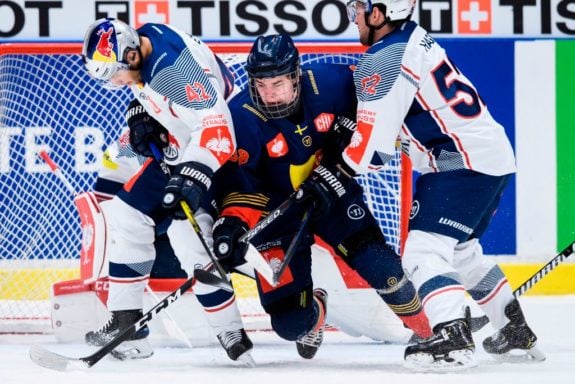 As one of the few returnees and one of their top centers, Karl Henriksson was slated to line up on the team's first line between Raymond and Holtz. In 2020, he teamed up with the youngsters to form one of Sweden's best lines. However, he was one of the players forced to leave the team, and along with hard-hitting Albin Grewe, their departure has left a major hole at center.
One of the more promising options to fill in between the Terror Twins is Theodor Niederbach. He missed all of 2018-19 with a knee injury, but came back strong in 2019-20, scoring 48 points in 40 games in the Swedish U20 Junior league and was selected in the second round of the 2020 Draft by the Red Wings. This season, he's been electric in the U20 league, putting up 13 goals and 35 points in just 19 games. He also owns a strong defensive side and may be able to balance the Twins, giving Sweden a very deadly top unit.
Vancouver Canucks' prospect Arvid Costmar will be another center to watch, as the 19-year-old is one of the most internationally experienced on the roster, having played for Sweden since 2016-17. He has just a single goal in the SHL this season, but has six points in three U20 league games.
However, it's anyone's guess as to who will join them in the top six. Noel Gunler looks like a good bet, as the right wing has spent the entire season with the SHL, scoring four goals in 18 games. Zion Nybeck is another top winger that has also been on fire in the junior leagues, scoring 10 goals in 26 games this season. Simon Holmstrom, the New York Islanders' 2019 first-rounder, just missed the cut last year and could slot in one of the wings, giving a bit more of a veteran presence to the group and will be one to watch, especially with the steep competition for scoring winger spots.
Related: Senators Rolled Dice and Lost at 1993 World Juniors
The final two center spots will likely go to Albin Sundsvik and Oscar Bjerselius. An undrafted 19-year-old, Bjerselius had one of the highest points-per-game rate with 1.80 in nine games with the U20 league this season before joining the SHL. Sundsvik is more of a defensive center, and at 6-foot-2, will likely be tasked with shutting down some of Pool B's top lines.
Oskar Olausson has made a strong case to be one of Sweden's go-to players. Projected to be a late first-round pick at the 2021 Draft, he has the third-highest goal total in the Junior 20 league and the sixth-highest points. He was the only draft-eligible skater to make the team, jumping over 17-year-olds Simon Edvinsson and Simon Robertsson, both projected to go higher than Olausson. William Eklund was another 2021 prospect invited to camp and in the mix to claim a roster spot, but was forced to stay at home after testing positive for COVID-19.
Second-round pick in 2020 Emil Heineman will likely be used in a more defensive role, since he possesses the ability to play anywhere in a lineup and the Swedes lack some forward defensive pressure. He'll likely be joined by another Red Wings' prospect Elmer Soderblom, a 6-foot-7 giant who will replace the hard-hitting Grewe after also testing positive for the virus.
Oskar Kvist and Jonathan Wikstrom round out Sweden's forwards. All are undrafted 19-year-olds that will most likely fit into depth positions, but could be used in some scoring situations. At 6-foot-4, Kvist has a good frame that could make him more of a shut-down guy, while the 5-foot-9 Wikstrom has a good scoring touch that could see him sneak into a bigger role if needed.
Bottom Line
Make no mistake — Sweden is once again a top competitor. The defense, led by a trio of returnees in Broberg, Bjornfot, and Soderstrom, gives them a deadly offensive punch from the blue line. Holtz and Raymond are elite talents on the wing and have the skill to lead the tournament in scoring if they get on to a hot streak, much like Markus Naslund and Peter Forsberg did in 1993. The rest of the forwards are less experienced, but still have plenty of firepower in Gunler, Neiderbach, Nybeck, and Holmstrom. The trio of Clang, Wallstedt, and Alnefelt could be the best goaltending depth for any team this year.
But is it enough? The lack of depth at center could hinder the Swedes, especially against a team like the United States, who are able to ice three dangerous forward lines, and may have a real challenge on their hands if they face Canada or Finland in the playoffs. The defense is also on the smaller side, with just two players standing over 6-foot-1 (Broberg and Berglund). And without their head coach behind the bench, who they have been practicing with up until now, they may struggle to get off on the right foot. Sweden is always a medal favourite, but 2021 will be their biggest challenge yet.
---
All the 2021 World Junior Championship Team Information:
Austria — Team Preview — Roster
Canada — Team Preview — Roster
Czech Republic — Team Preview — Roster
Finland — Team Preview — Roster
Germany — Team Preview — Roster
Russia — Team Preview — Roster
Slovakia — Team Preview — Roster
Sweden — Team Preview — Roster
Switzerland — Team Preview — Roster
USA — Team Preview — Roster
Selection Camp Invites by NHL Team
Draft Eligible Players to Watch
One Player to Watch for Each World Junior Team
7 Predictions for the 2021 World Junior Championship
---
---