The holiday season is upon us, and Christmas is just around the corner. To myself and loads of other prospect junkies, Christmas is synonymous with the International Ice Hockey Federation's (IIHF) U20 World Junior Championship; commonly referred to simply as the World Juniors. It really is the best Christmas present of all! Except for the NHL Draft day or the Draft Lottery for the teams with a seemingly infinite amount of luck. We are looking at you, Edmonton Oilers and New Jersey Devils.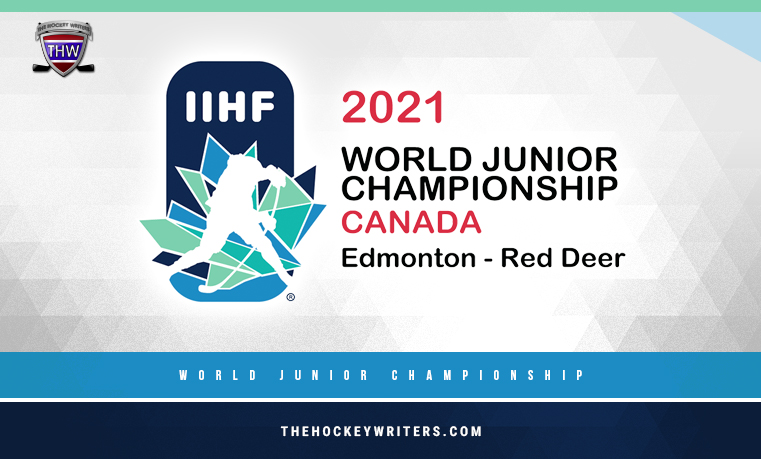 This year, the World Juniors will be held in Edmonton, Alberta. The games are being played at Rogers Place, (home of the Oilers) in a bubble, and without fans due to COVID-19 restrictions.
Related: THW World Juniors Coverage
Normally, being American, I'm for the United States every year. This year, however, is different. Being a fanatical Detroit Red Wings fan, I'm on the Team Sweden train. The Red Wings have six prospects who can potentially make the Swedish roster. I would consider four prospects to be locks and two to come along as reserve players. The young Swedes playing in this tournament know each other very well, but this year's team could potentially see 15 returning players from the 2019 U18 team that defeated Russia to win the gold medal.
With those 15 potential returning players, Sweden looks to be an intimidating team. One Red Wing prospect is sure to lead the charge.
Lucas Raymond
Lucas Raymond drafted fourth overall in the 2020 NHL Entry Draft is a lock for Team Sweden. He has taken a major step forward this year after spending all of last year on Frolunda's fourth line in a limited role. He is now slotted on the second line playing an integral role and driving the top power-play unit from the wing. In 18 games, he has accrued 11 points (five goals, six assists).
Raymond will certainly be paired with fellow "Swedish Terror Twin" Alexander Holtz. Holtz has the reputation for being the trigger man while Raymond is the set-up guy, although Raymond has displayed an extremely effective wrist shot, which was on full display when he earned a hat-trick including the overtime game-winner in that 2019 U18 gold medal game.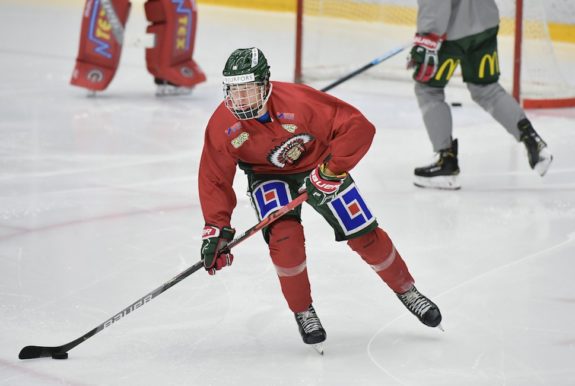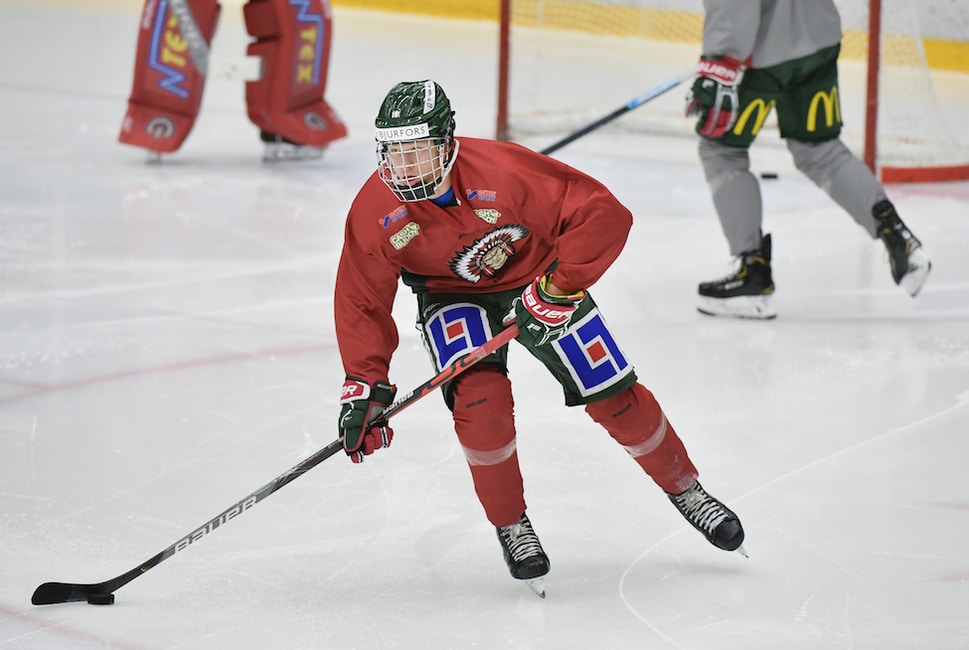 The man expected to center Raymond and Holtz is none other than Karl Henriksson. Henriksson is Raymond's teammate on Frölunda and was the only player to put up more points (nine) than Raymond (eight) and Holtz (seven) in the 2019 U18 tournament. Collectively, this line combined for 24 points (11 goals, 13 assists) in just seven games. If these three end up playing on Sweden's top line, they will be relied on heavily. 
Theodor Niederbach
Theodor Niederbach is smart. So smart, in fact, that Frölunda general manager Freddie Sjostrom was quoted, "Theodor has some of the best sense I have ever seen." (From "The Red Wings' top prospects, Swedish pipeline Nik Kronwall's impact", The Athletic, 10/23/20) That is exactly what you want from a centerman, let alone one projected to play a second or third-line role. He has 35 points (13 goals, 22 assists) in the J20 Nationell. He has yet to register a point with the men's club as it seems he has earned his promotion, but that is difficult when most nights he is averaging below 2 minutes.
There are a plethora of players who could benefit from his high hockey I.Q. and crafty stick work. A couple of options are Zion Nybek, a sniper with a wicked wrist shot, and Noel Gunler, a player who creates space well with his skating and has an elite shot.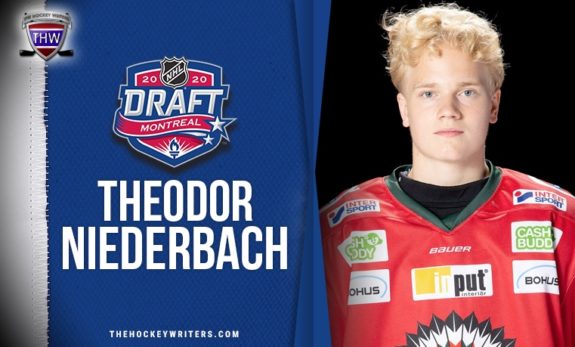 Two more options are Simon Holmström, an elite skater who is trusted in all situations, or even 2021 draft-eligible William Eklund, who is off to a fantastic start with Djurgårdens IF, amassing nine points (six goals, three assists) in 13 games alongside Niederbach. One thing is certain, whoever gets the opportunity to play with Niederbach will surely benefit.
Albin Grewe
I love Albin Grewe. He has deceptively slick hands for the brand of hockey he plays. He goes to the dirty areas, kills penalties, gets to the front of the net, blocks shots, and has a knack for getting under his opponent's skin. His nickname is T-Rex and he wreaks havoc whenever he is on the ice. His competition level is through the roof and he will hit anything that moves. He is willing to do anything to help his team win and that is why I believe he will be critical to Sweden's success. He can easily slot in on the fourth line.
Albert Johansson
Albert Johansson is extremely poised and calm with the puck. A very fluid skater with surprising stick work and deking abilities. He takes the puck end-to-end more often than not, breaking through five back-checking opponents before he ultimately gets a shot off. In 16 games, he has earned six points (three goals, three assists), which is not a small feat for a defenseman in the SHL.
The more you watch him, the better he seems to become, walking the line with ease and not being afraid to shoot the puck. He would pair well with Tobias Bjornföt, Victor Söderström, or Phillip Broberg. All four are gifted two-way defenders who skate exceptionally well. This way, if one is caught out of position, the other can cover.
Potential Reserves
Elmer Söderblom is a 6-foot-7, 227-pound behemoth. In the 2019-20 season, he absolutely dominated the J20 SuperElit (though I suspect his size was a major factor). In 36 games, he earned 55 points (29 goals, 26 assists). He would be able to slot into a fourth line role, if necessary. He is a surprisingly smooth skater with decent hands but has yet to register a point against superior tiers of competition. 
William Wallinder is an excellent fluid skater. At 6-foot-4 and 192 pounds, he might be one of the best skating defensemen in his draft. He carries the puck well and makes a clean first pass, although he does have the tendency to involve himself too much in the offensive zone, therefore missing defensive assignments. Also, Team Sweden may have the best defense corps in the entire tournament, likely making Wallinder a reserved player.
Final Thoughts
Scott Wheeler of The Athletic Says, "If the Swedes are going to keep their group play winning streak alive, it's going to be driven by the best defense in the tournament, a dangerous power-play, and a hot goalie." (from, "World Juniors 2021 roster projections. Scott Wheeler picks teams and medals," The Athletic, 11/2/20)
The four to six Detroit prospects are some of our very best prospects, with tremendous skill, upside, and potential to make the NHL. At the end of the day, I think Detroit fans will be pleasantly surprised and even more optimistic of the future come mid-January. 
---
---