In the second part of this series, I will be taking a look at the top Swedish players that are eligible for the 2021 NHL Draft. Over the past few years, Sweden has been a breeding ground for talent and has produced top talent such as Rasmus Dahlin, Elias Pettersson, Alexander Holtz and Lucas Raymond.
This year is no different as they have really good players that are all over the rankings. With talent all over the place, there are going to be players available at every corner of the draft, but these players in my opinion are going to be gone very early on. Without further ado, here are five Swedish players to watch for the 2021 NHL Draft.
Fabian Lysell
One of my favourite players coming out of Sweden in this coming draft, Fabian Lysell makes his presence felt in every zone. Playing for Frolunda HC J20 of the J20 Nationell this season, he has accumulated three goals and 11 assists for 14 points in 11 games.
What impresses me the most about his game is the fact that he can wreak havoc on defenders with his elite skating ability. He is able to get to top speed in an instant and is great at driving around guys on his way to the net. He loves to shoot the puck and is able to get it off in an instant. Whether he has defenders draped on his back or is alone in the slot, he is able to pick and choose where he wants to put the puck and capitalizes on his scoring chances.
Lysell is also very good at controlling the pace of play. When he is coming through the neural zone, he is able to quickly cut back and assess his options in front of him. He is great at recognizing passing lanes and pounces on the opportunity to dish the puck to his teammate.
With Lysell being at more than a point-per-game pace this year, it will be interesting to see whether he gets the promotion to the Swedish Hockey League (SHL). He is currently averaging 15:27 of ice time per game while playing with Los Angeles Kings prospect Theodor Niederbach and William Hallen and is looking really solid. He is a favourite of mine to make Sweden's team for the upcoming World Junior Championship and I am really excited to see how he will progress as the season goes on.
William Eklund
William Eklund is a player who has really impressed me over the past few months. Having started out the year in the SHL with Djurgardens IF, he has managed to get off to a hot start, collecting five points in eight games.
What impresses me the most about Eklund's game is the fact that he is always giving it his all when he is out on the ice. Whether the puck is on his stick or on an opponent's stick heading the other way, he is always moving his feet and reads the game really well. He plays with an active stick and averages about 0.80 takeaways in the defensive zone every game.
Eklund is also a very dangerous threat in the offensive zone as well. With his skating ability, he is able to open up passing lanes in the middle of the slot and is able to deposit a crisp pass on his teammate's stick for a high-end scoring chance. Eklund is also a relentless forechecker. When the puck is dumped into the offensive zone, he is hunting it down and is always putting pressure on the defender.
So far this season, he has gotten the chance to show how talented he is with the ice time he's been given. Currently averaging 19 shifts per game and 15:27 of ice time, he has gained the trust of his coaches and showed that he can show up when it matters the most. As the season progresses, I expect he will get more ice time if he can maintain. His level of play has proven that he is someone who should not be reckoned with.
Simon Edvinsson
A big, smooth-skating defenseman, Simon Edvinsson is part of a great group of young defenders eligible for the 2021 NHL Draft. Currently playing for Frolunda J20 of the J20 Nationell, he has scored one goal and collected four assists for five points in 12 games.
What impresses me the most about Edvinsson's game is the fact that he is great at both ends of the ice. When he is in the offensive zone, he is great at dishing out the puck to his teammates and is great at dancing across the blue line to open up passing lanes for others. He has a quick, accurate wrist shot and is great at getting it on the net. He uses his skating ability to be quick in the transition game and can make a quick cut towards the middle of the ice before getting a shot on net.
Standing at 6-foot-4, Edvinsson is also capable of making his imprint on the game in the defensive zone. Given his long reach and the fact that he reads the game so well, he is able to anticipate passes and effectively intercept them. When the puck goes into the corners. he uses his size to his advantage and is able to win puck battles. Another thing I like about him is the fact that when a forward is bearing down on him with the puck, he is able to drive them to the outside and limits their ability to find a good option in front.
If Edvinsson continues to play this well throughout the season, I would be very surprised to see him last until the middle of the first round. Every team would love to get their hands on a guy like him and I imagine many teams will keep a close eye on him as the season rolls on.
Simon Robertsson
A player who I think could be near the top of some scouts' list when all is said and done, Simon Robertsson has one of the best shots I've seen amongst players his age. Currently playing for Skelleftea AIK J20 of the J20 Nationell, he has managed to collect seven goals and eight assists for 15 points in 12 games.
What caught my eye with Robertsson, as mentioned above, is his release with the puck on his stick. Like fellow Swede Alexander Holtz, Robertsson has the unique ability to score from almost anywhere in the offensive zone. Whether that be the top of the face-off circle or from a weird angle on the side of the net, Robertsson knows where to find the open spaces and goalies have to be aware when he has the puck.
Robertsson is also a player who works his tail off at both ends of the ice. Whether that be going hard on the forecheck when the puck is dumped into the offensive zone or killing off a penalty (he averages 1:57 of shorthanded ice time every game), he is always moving his feet and shows why he is so versatile.
If he continues to play at this level, I would be very surprised to not see him get to play in some SHL games over the next few months. Robertsson is one of the premier talents coming out of Sweden this year and I'm excited to see how his game continue to grow.
Jesper Wallstedt
The top goalie prospect in this year's draft, Jesper Wallstedt has the chance to become an elite goalie one day. Currently playing for Lulea HF of the SHL, he has produced a record of 2-2-0 to go along with a 1.92 goals against average and .929 save percentage.
Standing at 6-foot-2, Wallstedt has the height that NHL teams are looking for. What makes his game stand out so much is the way he moves in his net and how calm he is when under pressure. If there is a pass made across the slot, he is able to use his lower-body strength to propel himself to the other side of the net and makes incredible acrobatic saves often. His positioning is also a very strong point of his game. He is able to track the puck through traffic and rarely lets out bad rebounds.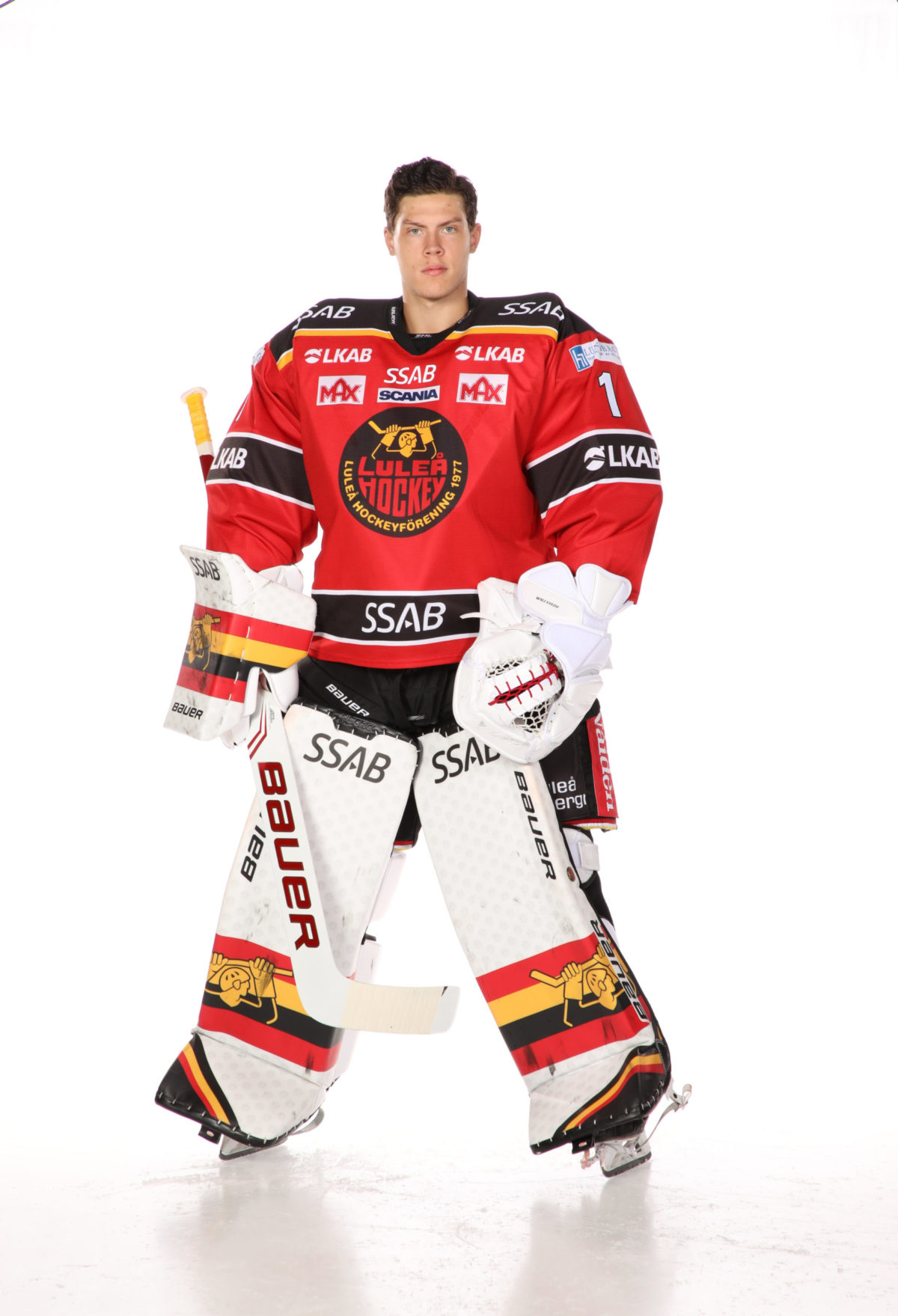 Briefly mentioned above, Wallstedt is amazing under pressure. He is always so calm in the crease and even while facing a ton of shots, he is able to stay focused and not get fazed. I would compare him to someone like Carey Price in this regard. As a goalie, it is crucial that you are able to get over a bad goal and he has shown that he capable of getting dialled in very easily.
With Wallstedt out with a reported concussion, it will be interesting how long he will be sidelined for. He has been extremely impressive as a 17-year-old playing in Sweden's top league and has shown why he is a force to be reckoned with. I would be very surprised if he didn't make the World Junior Championship squad for Sweden or was at least in the running for a spot. It has been a spectacle to watch him so far this season and I am excited to see how his game develops further when he returns from his injury.
Bright Future
Like Finland, Sweden has a really bright future ahead of them. There is continually better competition all around the world and it will be exciting to see how their next wave of superstars fare over the nest few years. It is already a treat to watch them and I cannot wait to see what they will be able to accomplish in the lead-up to the 2021 NHL Draft.
All stats were provided by InStat Hockey
---
---