Hockey Canada has announced its list of players set to participate in a 28-day selection camp in Red Deer, Alberta. Forty-seven players, including a total of 26 first-round picks, are expected to touch down in western Canada in the next two weeks, with selection camp officially starting on Nov. 16.
Among the 47 players are six returning faces from last year's gold medal-winning team, as defensemen Jamie Drysdale and Bowen Byram rejoin the likes of Quinton Byfield, Connor McMichael, Dylan Cozens, and Dawson Mercer up front.
At first glance, this team is stacked. Similar to last year, there is depth up and down the lineup, with a healthy balance of scoring ability, size, and experience. Plus, the addition of Kirby Dach, who will be joining the team on loan from the Chicago Blackhawks, makes Team Canada all the more dangerous as they begin their title defense.
Here's an early look at some of the names you can expect to see don the maple leaf come Boxing Day, as well as those who seem to be on the outside looking in at the start of camp. To make matters more intriguing for myself, I've decided to omit all returning players as they are all but guaranteed to return.
Strong Candidates: Forwards
Kirby Dach
It's important to note that Dach is pretty much a lock, along with the rest of the returning players. Being the only player at camp with substantial NHL experience, expect the former third-overall pick to be seen as a leader and a big contributor offensively.
Enjoying a solid rookie season where he posted 23 points in a small sample size of 64 games, Dach seemed to hit his stride during the playoffs where he notched a respectable six points in nine games. Playing mostly on Chicago's second line, the World Junior tournament will only bring more confidence to Dach's game as he continues to develop as a player.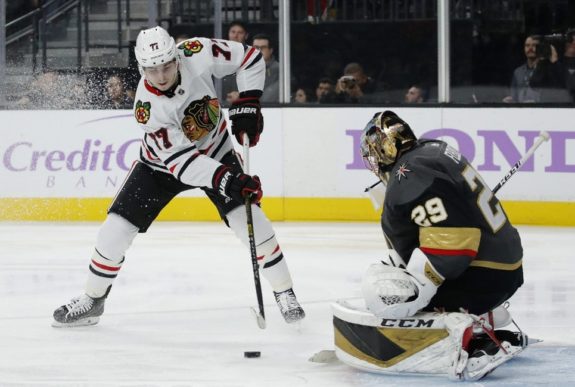 Expect the former Saskatoon Blade to centre one of Canada's top two lines, likely playing between Cozens and McMichael. Standing 6-foot-4, Dach and Byfield have the potential to become one of the most dynamic one-two combinations in the whole tournament.
Cole Perfetti
Perfetti returns to Team Canada's invitation camp with extra motivation. Being cut from last year's team, he will likely want to prove he belongs this time around. After torching the Ontario Hockey League (OHL) this past season with the Saginaw Spirit, Perfetti will be surrounded by a plethora of familiar faces when he hits the ice in Red Deer.
A dynamic scoring talent with an electrifying release, Perfetti was taken 10th overall by the Winnipeg Jets in the 2020 NHL Entry Draft. Already a proven goal scorer, the former Vaughan King will look to provide Team Canada with a lethal scoring option from the left side.
While I don't see Perfetti earning top-line minutes and outplaying one of Canada's returnees, he could certainly find himself with significant power play time and could contribute in more of a top-six role.
Seth Jarvis
Widely regarded as a "value" pick from this year's draft, the soon-to-be Carolina Hurricane will be given a great opportunity to showcase his arsenal of skills. While doubling his point totals in three fewer games played with the Portland Winter Hawks, Jarvis' offensive game is just the tip of the iceberg when it comes to his on-ice ability.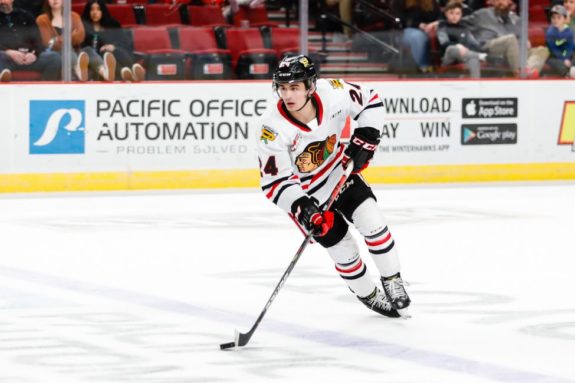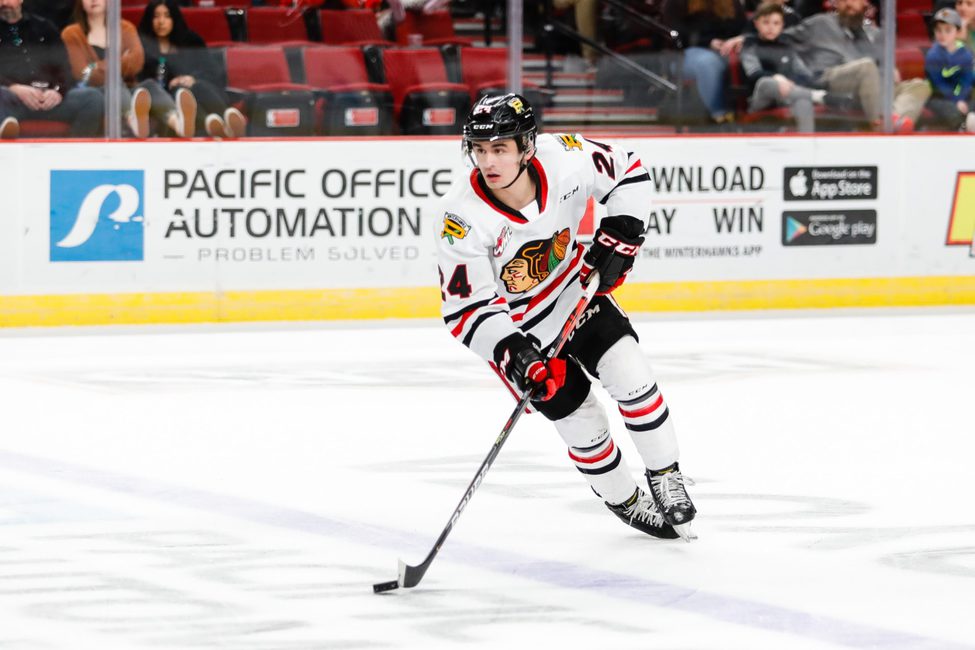 A gifted playmaker, Jarvis uses his speed to effectively work his way around defenders. While not being the tallest player on the ice, he uses his creative skill set to avoid hits and make plays. With his offensive touch, I could easily see him playing alongside a scoring threat in Perfetti and potentially being a fourth forward on a power-play lineup.
Alex Newhook
Another player returning after being cut last year, Newhook enters camp with a much better shot at making the team. Following a productive season with Boston College (where he averaged over a point per game), he has made tremendous strides in his game since last season and continues to show signs of NHL potential.
A fantastic skater, Newhook provides a high-octane motor for Canada to work with. His electrifying agility makes him an ideal candidate to move the puck through the middle of the ice while his dynamic playmaking ability and scoring touch should drive Canada's possession numbers way up.
While the Colorado prospect will be facing stiff competition when camp opens up, he has all the right tools to become an effective player on an international stage. And while he only stands 5-foot-11, his speed alone should allow him to compete with some of the world's best young talent.
Peyton Krebs
Possessing a robust two-way game, Krebs could be that defensively reliable centre that Canada needs to fill out their bottom six. A smooth and shifty skater, Krebs has proven his reliability at both ends of the ice, averaging over a point per game and captaining the Winnipeg Ice this past season.
Defensively, the Calgary-native maintains a reliable mindset, disrupting plays and dropping back to aid in backchecking efforts and breakout attempts. Up front, he's an effective contributor, often showing off his puck handling skills while constantly monitoring for high-pressure scoring chances.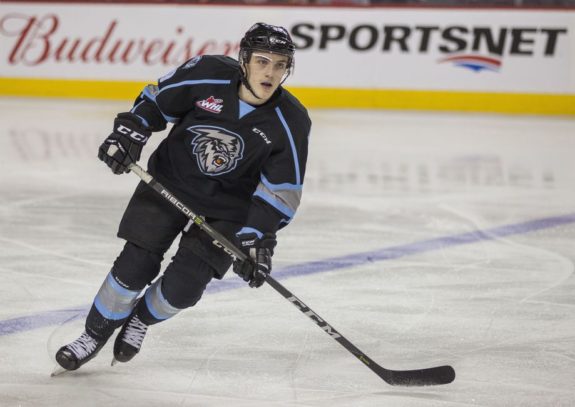 With Krebs being a two-way specialist, he could, without a doubt, fill out a bottom-six role with Team Canada. His complete, 200-foot game could provide the Canadians with much needed depth to contrast their offensively inclined roster.
Hendrix Lapierre
Another name looking to prove doubters wrong, Lapierre is set to dazzle at selection camp. While his health has been questioned at times, he has shown flashes of brilliance in small sample sizes over the past two seasons. Now fully healthy, he's gotten off to another blazing start in the Quebec Major Junior Hockey League (QMJHL), already registering eight points in the first four games of the season.
Considered by many as the "steal of the first-round," Lapierre slipped to 22 where he was picked up by the Washington Capitals. Already having the chance to show off his skills on the international stage at the 2019-20 Hlinka Gretzky Cup, Lapierre will be looking to carry over his international success to this year's installment of the World Juniors.
Dylan Holloway
Similar to Krebs, Holloway is another player who would be incredibly effective in a bottom-six role with the white and red. While not being the most talented player offensively, the University of Wisconsin product certainly compensates for that will his all-around ability.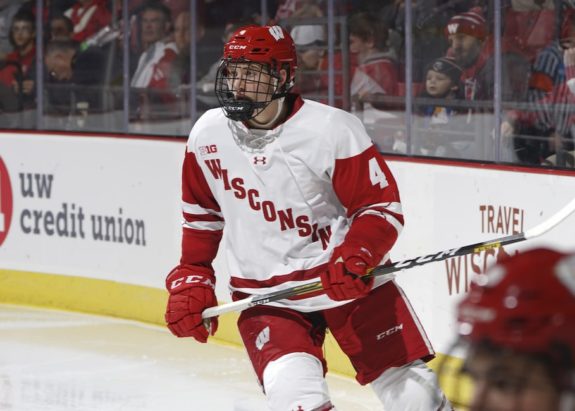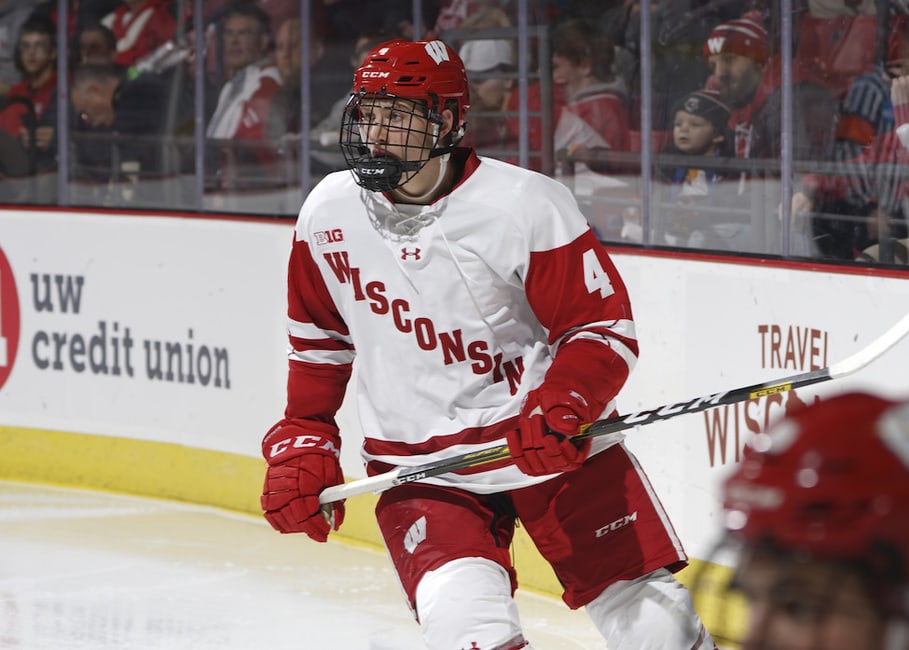 Weighing in at over 200 pounds, Holloway uses his size incredibly effectively, shielding the puck from defenders and engaging in puck battles along the wall. He promotes a defensively reliable game and could certainly be a key depth piece for the Canadians. (from 'Dylan Holloway badly wants to tug on Canadian jersey at world juniors,' The Telegram, 10/31/2020)
Defense
Braden Schneider
Looking to join Drysdale and Byram on Canada's blue line is recent first-round pick Braden Schneider. A big body on the back end, the New York Rangers' prospect is an effective contrast to the offensive instincts of Drysdale and Byram.
At 6-foot-2, 209 pounds, Schneider is known for the physical presence he brings to any defensive structure. With that being said, he isn't a slouch offensively as he's still quite mobile despite his stature. He also contributes well off the rush and on the power play, which could land him an effective top-four role with Team Canada.
Matthew Robertson
Yet another big body, Robertson is almost a carbon copy of Schneider expect he's two inches taller. Yet despite that, the current Edmonton Oil King is a quick-thinking player who moves the puck extremely well during zone breakouts.
Using his size to his advantage in almost every situation, Robertson can provide some stability on Canada's back end, as he's had experience playing in high-leverage situations. Being the Oil Kings' alternate captain for the past three seasons, Robertson would be a welcome addition to an already established leadership group.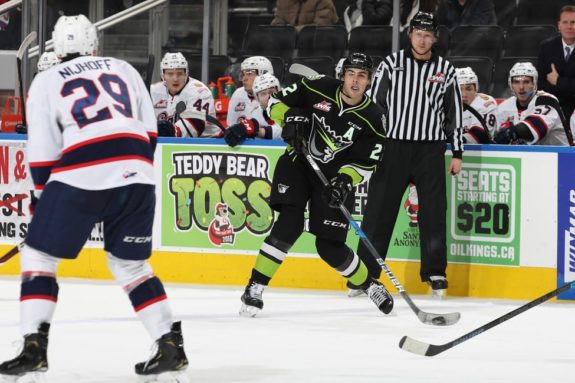 Taken 49th overall by the Rangers in 2019, Robertson has enjoyed some productive seasons in the Western Hockey League (WHL). The 19-year-old will provide Canada with a variety of options as they try to straighten out their defensive pairings.
Thomas Harley
Harley should be a notable name heading into selection camp as he's blossomed into a top-pairing, shutdown role with the Mississauga Steelheads, averaging nearly a point per game in the process. Going so far as to suiting up in a playoff game for the Dallas Stars this past season, he has embraced his essential role in the OHL.
Known for his effective reach and smooth skating ability, Harley gives Team Canada a reliable pillar on defense, as he uses his size effectively and is difficult to beat laterally. Playing alongside other notable offensive talents in James Hardie and Cole Schwindt (who also got an invite to camp), Harley knows how to compete with offensively inclined players and he's moulded his passing game to fit that particular style of play.
While still not a lock to make the team, Harley's calming presence on the blue line should make him more than just a favourable candidate amongst the 15 defensemen invited.
Goalies
Dylan Garand
Out of the five goalies invited to Canada's selection camp, Garand is currently the lead candidate to command the crease. Posting a stellar .921 save percentage (SV%) and 2.21 goals against average (GAA) in his first full season with the Kamloops Blazers, Garand's consistency and calmness between the pipes could land him the starting job when the dust settles.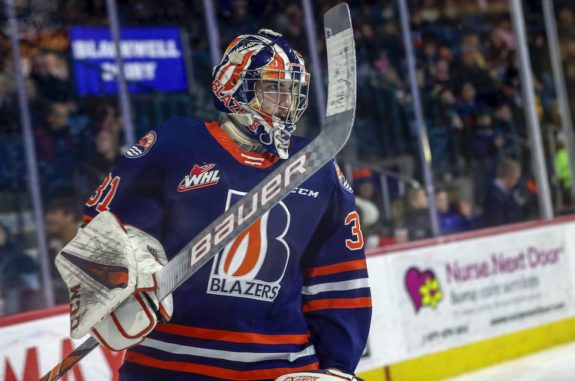 While this may not be a dogfight in the crease compared to last year, the competition for Canada's starting job could still be fiercely competitive. With goalies looking to prove themselves more than anything this year, Garand certainly won't be a lock for the starting role.
Taylor Gauthier
Gauthier has showed some impressive signs of improvement during his second season with the Prince George Cougars. Knocking his SV% up to a .917 compared to .899 the season before and dropping his GAA from 3.25 to 2.93 are certainly promising signs for Gauthier as he makes his way to Red Deer.
What makes the competition between Garand and Gauthier even more intriguing is that the two were teammates during the 2018-19 Hlinka Gretzky Cup. Just to refresh your memory, Canada saw Gauthier post a stellar .943 SV% and a 1.11 GAA in two tournament games en route to a gold medal. Just some food for thought as the two now duke it out for a starting role on Canada's U20 team.
On the Bubble: Forwards
Shane Wright
It's no surprise that Wright makes a compelling case to make the team as the 16-year-old averaged over a point per game in his rookie season with the Kingston Frontenacs. Oh, and he's also just the sixth player ever to be granted "exceptional status" by the Canadian Hockey League (CHL), which is part of the reason why he was able to torch the OHL this past season.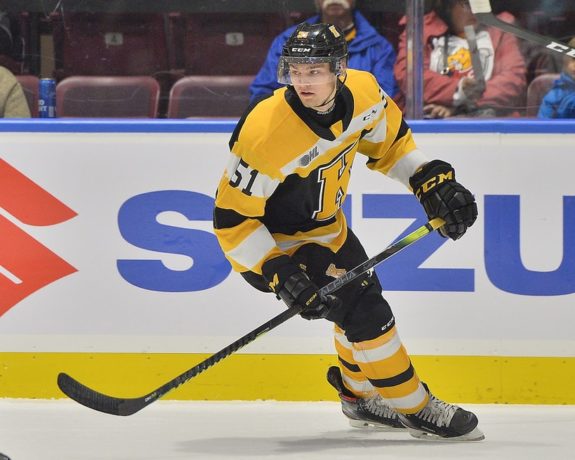 A projected top prospect in the 2022 NHL Draft, Wright could continue to make history should he find himself on Team Canada. He could join an exclusive club of players, including Connor McDavid and Sidney Crosby, who have had the honour of donning the maple leaf at just 16 years old. With Wright's offensive talent and his outstanding skating ability, he should give older players a run for their money when camp opens up.
Philip Tomasino
Described by some as a "Swiss-army knife," Tomasino is another player that makes a strong case for a roster spot. Splitting time with the Niagara Ice Dogs and Oshawa Generals this past season, Tomasino averaged over a point per game, an impressive feat for a player who prides himself on his two-way ability.
A fearlessly aggressive puck mover, Tomasino's versatility as both a playmaker and goal scorer is what makes him an ideal player to have in any lineup. The question now is will he impress Canadian management enough during camp to leapfrog a roster favourite.
Connor Zary
Zary's game draws a lot of parallels with that of Perfetti's as both are lethal scoring options down the middle and possess extraordinary releases. His strengths continue to be his ability to receive passes in any capacity and at any speed, as distribution fuels his offensive game and allows him to maximize his potential.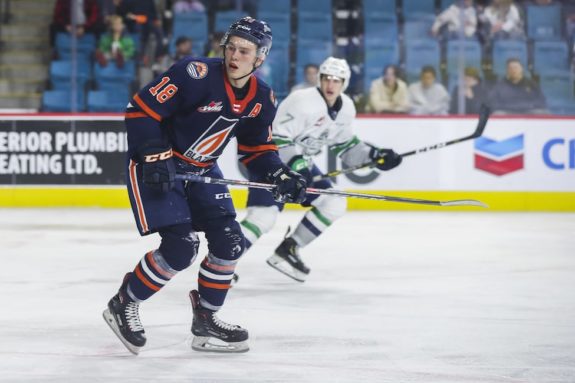 While posting impressive offensive numbers over the past two seasons, Zary has continued to produce at a consistent level in the WHL. The challenge he faces, however, is that while his numbers are dominant, they aren't as dominant compared to some of the other names invited to selection camp; a common problem when bringing a plethora of high-end talent to one place.
Ryan Suzuki
Suzuki rounds out the crop of forwards currently on the outside looking in as the Hurricanes' prospect will look to provide Canada with an increased level of depth throughout their lineup. Noted as a balanced skater with excellent vision, Suzuki has developed into quite the deceptive player, making an impact in all aspects offensively.
Should he find himself with a roster spot come December, I expect him to slot into the bottom-six nicely. With that being said, his effort level has been questioned at times, so it'll be an uphill battle to outperform some of the favourites throughout selection camp.
Defense
Ryan O'Rourke
O'Rourke may very well be one of the more unknown names entering camp, but I'm sure most people will be familiar with him should he make Team Canada. He was named captain of the Sault Ste. Greyhounds in his rookie season, which should tell you all you need to know about his presence on and off the ice.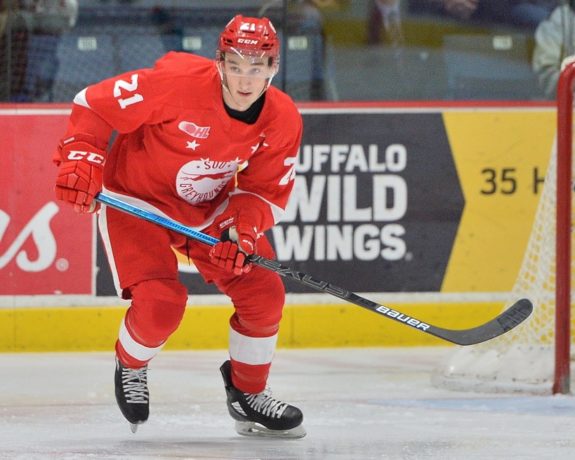 "Ryan O'Rourke is a born leader with an old-school mentality, qualities he exhibited even before being named the second 17-year-old captain in the history of Sault Ste. Marie of the Ontario Hockey League."

Mike. G. Morreale, NHL.com Staff Writer
A second-round pick by the Minnesota Wild in 2020, O'Rourke would most likely facilitate a bottom-pairing role at the World Juniors. Known as a nasty and robust defenseman, the Pickering-native could make Canada's d-core even more feared than it already is.
Owen Power
Power is certainly a dark horse to make the team, being one of the youngest invited to camp. However, that will certainly not stop him from challenging the older players for a roster spot. Being one of the tallest players at 6-foot-5, it's his strong skating abilities and offensive productivity that make him not only a dangerous player, but also a top prospect for the 2021 NHL Draft.
At 17 years old, Power will all but certainly have another crack at representing Canada at the World Juniors should he be cut this year. However, after a productive season in the United States Hockey League (USHL) with the Chicago Steel, I wouldn't put it past him to surprise some people out of the gate and compete for a spot on the team.
Goalies
Brett Brochu
A little undersized for a goalie, Brochu is my dark horse candidate to man the crease for Canada. After an impressive rookie season where he posted a .919 SV% and a 2.40 GAA with the London Knights, Brochu could be a top goalie prospect by the end of his junior career should he keep improving.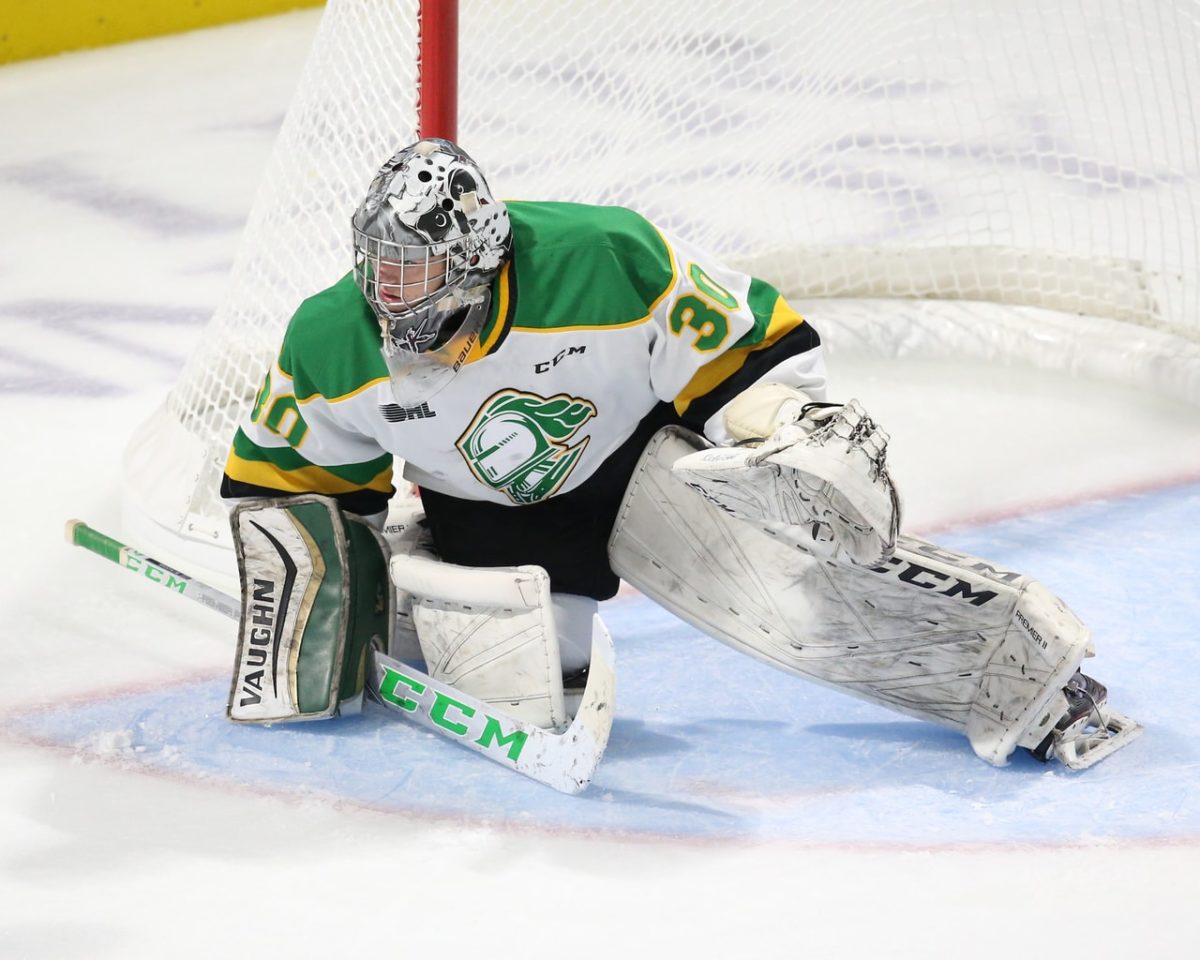 At the moment, I give the upper hand to both Garand and Gauthier as they simply possess more experience than the younger Brochu. However, with a strong camp, Brochu could sneak his way into the goaltending conversation.
An Exciting Month Ahead…
Evidently, it's impossible to predict every roster player that will hit the ice at the end of December. Why go with Suzuki's two-way ability over Jack Quinn's raw talent? Why include two younger defensemen as dark horse candidates? Why not include Justin Barron or Samuel Poulin? All good questions without immediate answers.
Remember, this is only selection camp and countless cuts are still yet to be made. Even with this year's expanded rosters (where each team will feature 22 skates and three goalies compared to the usual 20 skaters and three goalies), over 20 of the players invited will find themselves watching the tournament from home. To stir the pot even further, Team Canada is still awaiting a decision from the Rangers on whether Alexis Lafreniere will be returning to the tournament which, of course, only thickens the plot of the whole roster discussion.
With that being said, this is an exciting time for hockey fans across the world. The World Juniors represents a glimpse into the future, where the world's best U20 talent compete against one another in a historic tournament. And with Canada set to defend their title, the months ahead should be ripe with anticipation.
Who do you want to see on Team Canada? Who do you think will make it? What players will be the X-factors for Canada's success?
---
---